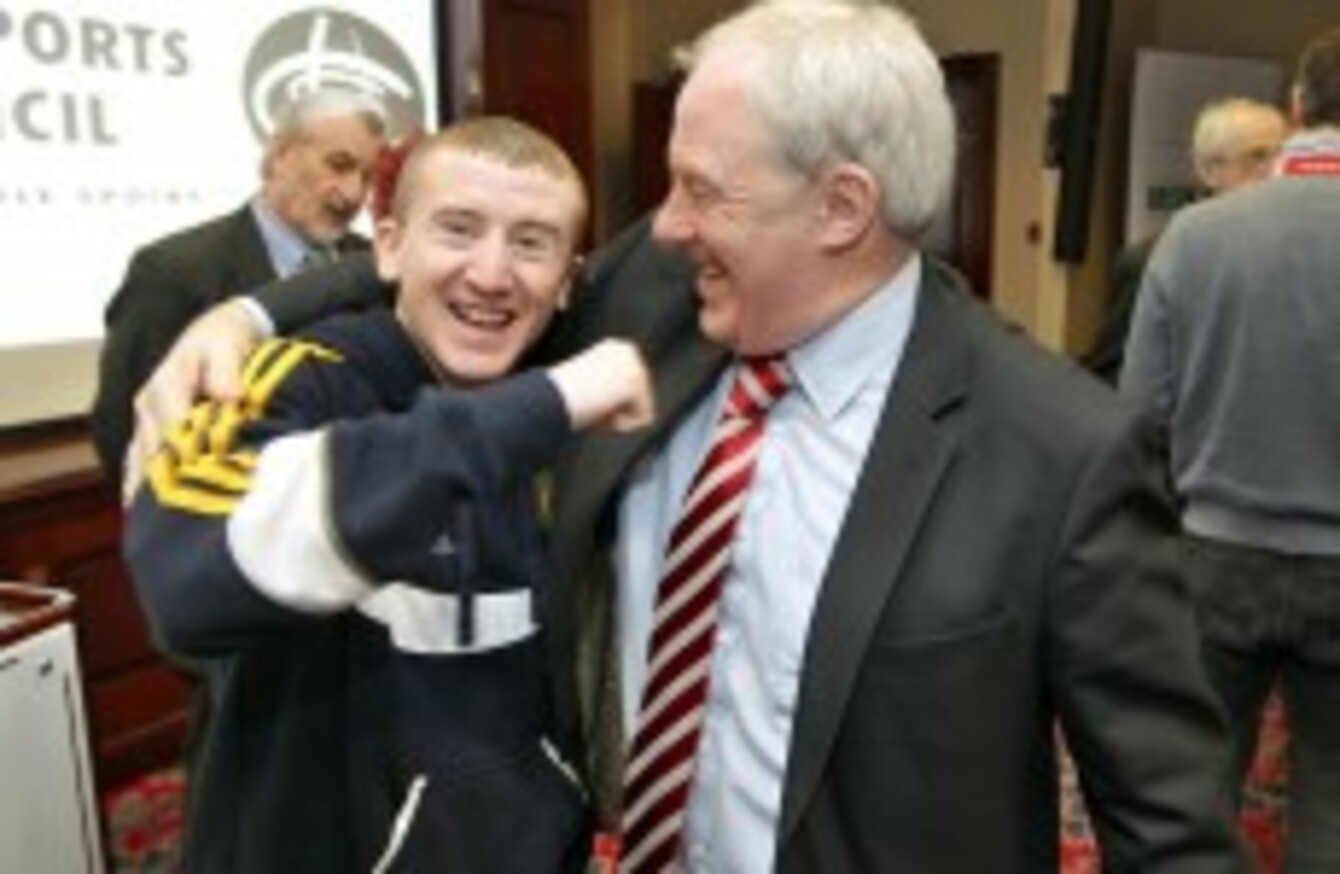 Boxer Paddy Barnes with Michael Ring TD, Minister of State for Tourism & Sport.
Image: ©INPHO/Morgan Treacy
Boxer Paddy Barnes with Michael Ring TD, Minister of State for Tourism & Sport.
Image: ©INPHO/Morgan Treacy
JOHN TREACY, THE chief executive of the Irish Sports Council (ISC), has aimed for a repeat of Ireland's success in Beijing as a "reasonable target" for this year's London Olympics.
Treacy was speaking today as the ISC confirmed details of a €10.5 million funding package to support the country's top athletes in 2012.
Twenty-two senior athletes — including Derval O'Rourke, Jason Smyth, Katie Taylor and Mark Rohan — have been awarded top-level "podium" grants of €40,000 this year, the highest sum currently distributed by the ISC under the International Carding Scheme.
But some of the country's Olympic qualifiers will have to make do with significantly lower funding, which is determined in accordance with a four-year cycle which finishes later this year. Ciarán Ó Lionáird, 10th in the men's 1500m at last year's World Championships, receives €20,000 as a "world class" athlete while marathon runner Ava Hutchinson is designated at "international" level, for which she receives just €12,000.
"A very significant investment"
In total, €2.34 million has been pledged to carded athletes for the coming year, an increase of €20,000 from last year. The bulk of today's funding package, €6.68 million, will be channeled through 20 national sports bodies for use in their high performance plans, as well as supporting the Olympic Council of Ireland and Paralympics Ireland.
A further €1.5 million has been budgeted for the Irish Institute of Support which provides training and support services to athletes, coaches, performance directors and other support personnel.
Today's funding announcement brings the total investment for the current four-year cycle to €40 million, which has yielded 102 medals at international championship level so far. Seventy medals were won in the four years from 2005 to 2008, supported by a similar level of funding.
Speaking at today's announcement, Kieran Mulvey, chairman of the ISC, described the 2012 funding as a "very significant investment package for our top athletes."
"I made a commitment in December 2010 that there would be no reduction in high performance funding up to the London 2012 Olympic & Paralympic Games. That promise has been honoured," Mulvey said.
It has been a remarkably successful few years for Irish sport and there is a real return on taxpayers' investment by our elite sportspeople. We wish them the very best for the exciting year ahead.
Michael Ring TD, Minister for Tourism & Sport, was also present at today's announcement.