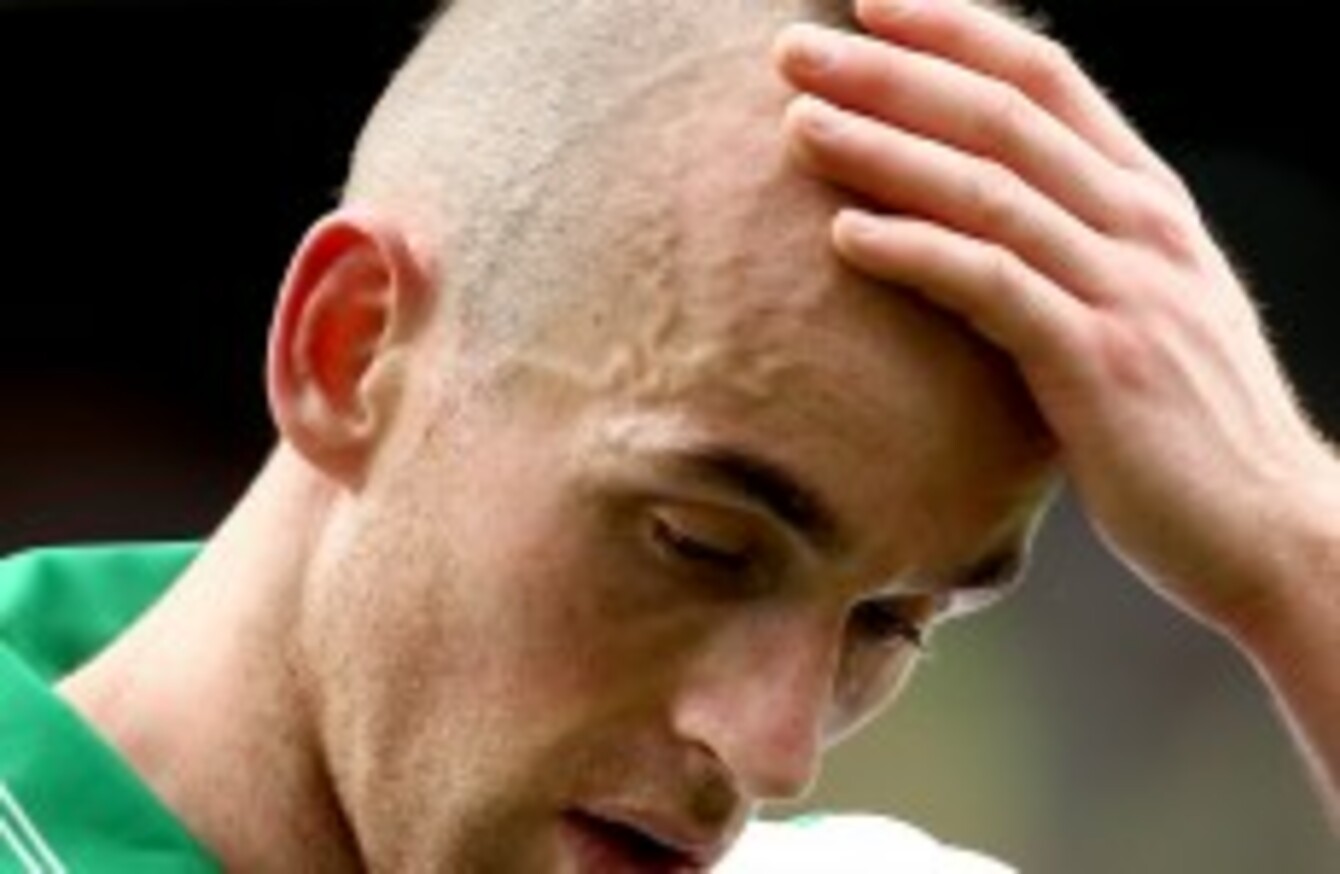 Steven Lavin feels his head, perhaps in disbelief, after Limerick's loss to Kerry.
Image: ©INPHO/James Crombie
Steven Lavin feels his head, perhaps in disbelief, after Limerick's loss to Kerry.
Image: ©INPHO/James Crombie
WHEN IT COMES to recalling the big sporting events that have shaped your life, hair– as in, the hows and whys of its wearing– probably isn't going to be the trigger that defines a memory.
Yet, Carlos Valderrama is first and foremost a hairstyle. Rene Higuita, too. Even Kevin Keegan, for all his mid-Seventies heroics, survives in the public consciousness as little more than a perm with (occasionally mad) skillz.
For every heroic haircut that's beloved of the public, though, there's a misstep just waiting to give credence to Shakespeare's old adage:
There's many a man has more hair than wit.
Defeat cast Limerick's Stephen Lavin among the latter, mounding ignominy on disappointment, but sometimes even victory isn't enough to redeem a tale of scissors (or hairdryer) run amok.
Simon "The Wizard" Whitlock

Thumbs up? Thumbs down, sir, thumbs down. Every darts player needs a "thing" and Whitlock made this business up front, party at the back number his.

Alexi Lalas

With all the stars and facial hair, he could be Whitlock's marginally cooler, more ginger brother. The current president of the New York Red Bulls, Lalas was the most recognisable member of the USA's 1994 World Cup team.Source: Neal Simpson/EMPICS Sport

Marek Hamsik

World Cups have always encouraged style gambles. How else do you explain Hamsik's hair gel-laden electric shock effort from South Africa 2010...Source: Martin Rickett/PA Archive/Press Association Images

Carlos Valderrrama

... or the South American majesty of Carlos Valderrama?Source: Matthew Ashton/EMPICS Sport

Ciaran McDonald

Lavin's Travis Bickle might rank among the worst of the GAA's recent offenders, but doesn't even bear comparison with McDonald's 2004 flirtation with corn rows. A pestilence upon the sporting stylescape, this isn't the last our slideshow's seen of this look.Source: ©INPHO/Andrew Paton

David Beckham

The then England captain unleashed cornrows upon an unsuspecting public way back in 2003. Short-lived but influential, without Beckham's timely intervention Ciaran McDonald would have been just another loudmouth from Mayo.

Andre Agassi

It's not a "proper" mullet unless it's allowed to roam free over the shoulders. As such, 1980s Andre Agassi becomes the first on our list. Long, no perming, no colour: textbook.

Dennis Rodman

Before the internet was born, Dennis Rodman was one of the NBA's baddest badboys. He liked to kick photographers, dress in drag and, important for our list, express his mental state in terms of hair colour. It spent most of the mid-Nineties as an uncoordinated mess.Source: Steve Lipofsky/Press Association Images

Ian Poulter

Though I hate breaking with the rules of child psychology and actually giving him the attention he craves, no list like this would be complete without Ian Poulter's attention-seeking haircut from the 2003 Irish Open. Designed to be a certain kind of terrible, it managed to be even worse.Source: Paul Faith/PA Archive/Press Association Images

Gervinho

The result of a horrific childhood accident? Some sort of cultural emblem lost in translation? Crap hair? Regardles, we'll be seeing a lot more of the Ivorian's mystifying hairline this season.Source: Adam Davy/EMPICS Sport

Tiger Woods

There have been worse offenders, sure, but watching Tiger Woods' 2003 hair dye experiment unfold in all its patchy glory was offensive precisely because of its timidity. It was like watching the lamest kid in the class try desperately to fit in.Source: Andrew Parsons/PA Archive/Press Association Images

Kevin Pietersen

South African born Pietersen is edgy and rebellious in cricketing terms. Unfortunately for him, that's still pretty sad by most people's standards.Source: Chris Young/PA Archive/Press Association Images

Isaac Boss

It was a mullet for a while, but scrum half Boss's hair only really came into its own when it was evolved into a mullet/dreadlocks hybrid. His status as one of Eddie O'Sullivan's 'impact subs' probably rested on the nauseating effects of this epic 'do.Source: Mike Egerton/EMPICS Sport
Who have left on the barber-room floor?