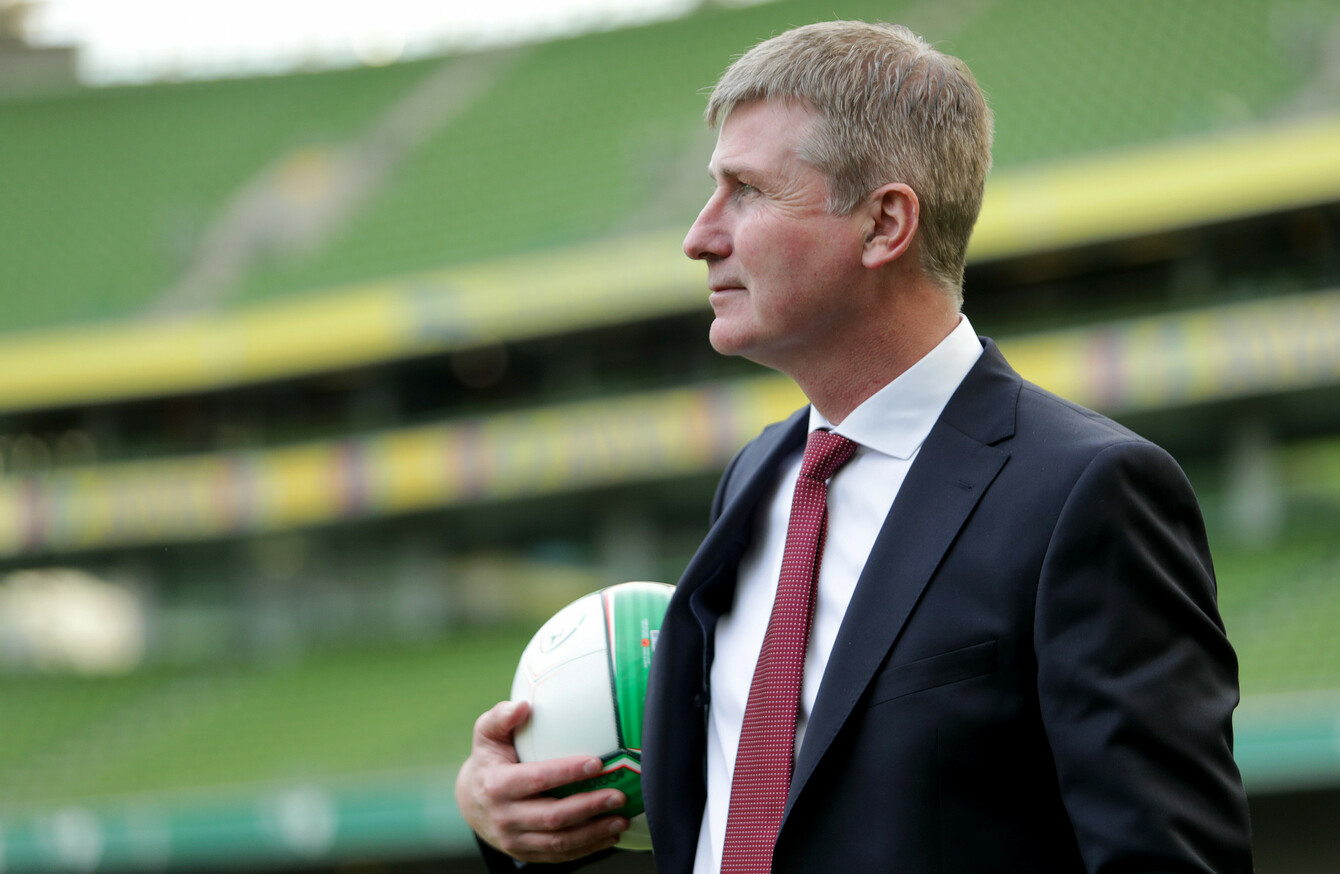 Ireland U21 manager Stephen Kenny.
Image: Laszlo Geczo/INPHO
Ireland U21 manager Stephen Kenny.
Image: Laszlo Geczo/INPHO
STEPHEN KENNY HAS spoken about the challenges he faced in finding his birth mother after he was adopted at a young age.
The new Ireland U21 manager spoke at length to RTÉ's Marian Finucane to reflect on his appointment as well as the succession plan which positions him to take over as senior team manager in 2020.
As he shared details about his career, his life in football and managing Dundalk, he also opened up about his childhood and spoke candidly about his relationship with his adopted parents.
"My mother and father raised me brilliantly, in terms of having a very content family life," he said.
"They adopted me at a very young age. I had pursued it, to try and find my family origins, and that accelerated when my dad died.
"So, I went and pursued the situation. It can be very slow finding out information – you only get bits.
"I went and met a social worker and talked to the people at Letterkenny Hospital. They were very good and the social worker was brilliant.
They have information but they can't give it to you. They have it sitting in a file – but they can only give you some of it. That can be quite frustrating, you know?
"You're sitting across from someone who's reading stuff about you, that you're not entitled to know about yourself.
"We had various meetings. I got some news and some of it was a shock to me. I wasn't one of those angry adopted kids that felt abandoned."
The 47-year-old had made certain assumptions about the situation his birth mother was in when she gave him up, and was surprised to find this was in stark contrast to reality.
"I had squared with myself that it was possibly a woman who was 17, 18, 19, 20 when she had me in 1971. It wasn't unusual in that situation for someone to give up a child.
"I felt that it might end up being a girl in a difficult situation. I'm a product of that really, that's just how I felt.
"What I found out wasn't what I expected.
My mother had given me up in her thirties. I thought it would be a young girl who was pregnant, so that was a real shock. A real, real shock. I couldn't believe it.
"I got some more information. In 1971 it was difficult for women, but she was a professional woman.
She obviously had a good career, so that was strange that you were part of a lifestyle decision.
"I don't know enough about it yet, but it raises questions as to whether or not you were wanted.
"That's traumatic for anyone."
He continued: "This was an ongoing process, you're getting little bits of information. Over months, you're getting all these little details.
"She subsequently got married and had two girls. It was only a year and a half ago, but we are tracing her.
"I got a call from a social worker when I was driving into Oriel Park one morning and the social worker rang me to say: 'We've found your mother. I have bad news for you – she died a couple of years ago.'
"It was a strange sensation."
The former Dundalk boss went on to explain that his adoptive parents were fully supportive of his decision to find out more about his birth mother.
"They were always very open about it.  We've always been very open about it in our family.
"They said whatever you want to do, you go ahead and do it."
Subscribe to our new podcast, Heineken Rugby Weekly on The42, here: