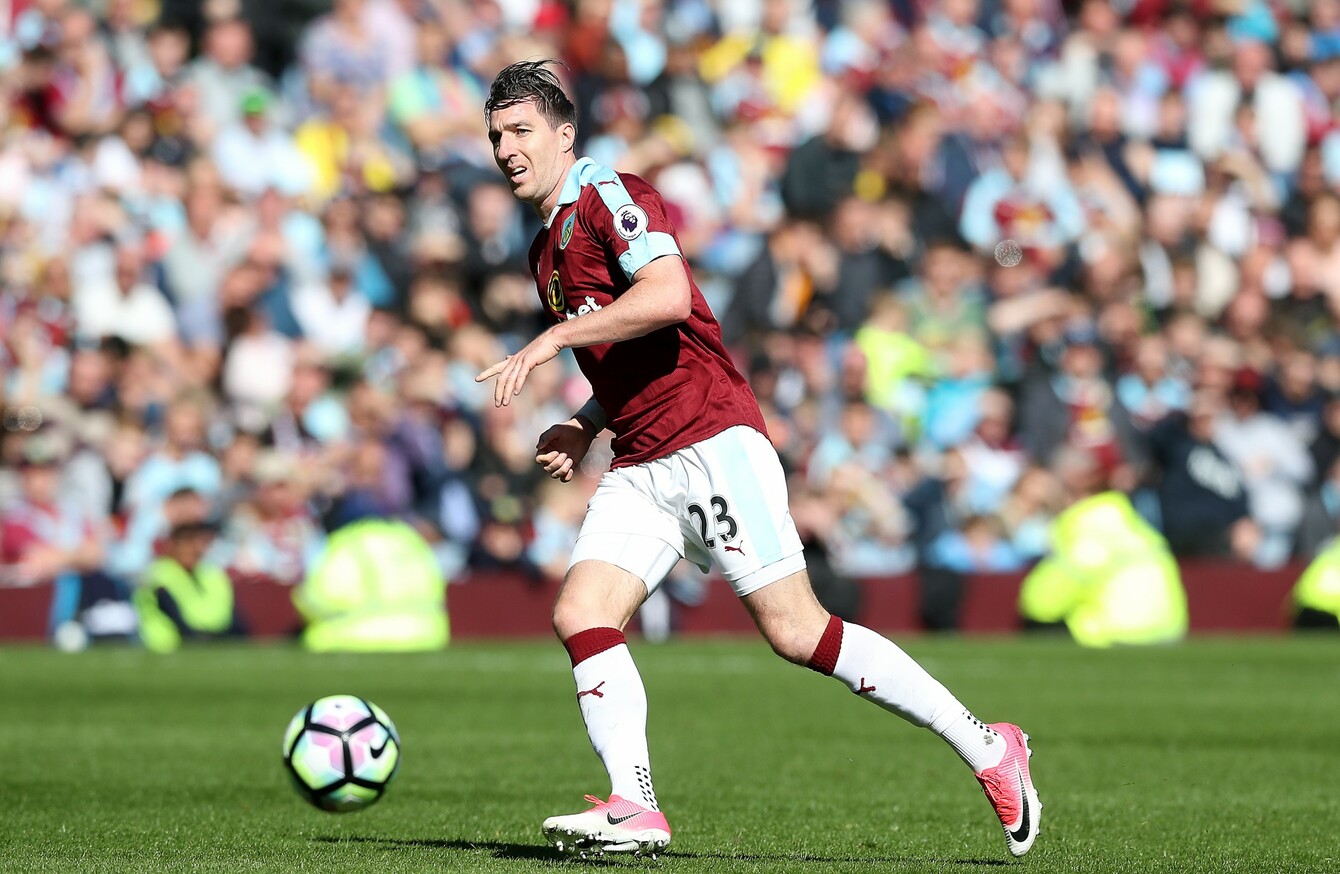 Stephen Ward made 45 appearances in all competitions last season.
Image: Martin Rickett
Stephen Ward made 45 appearances in all competitions last season.
Image: Martin Rickett
STEPHEN WARD SAYS he was more than happy to provide a positive character reference for Jon Walters as Burnley considered whether or not to sign the striker.
The Dubliner knows Walters well from the pair's many years spent together in the Ireland set-up.
A respected individual at Turf Moor, Burnley consequently sought Ward's opinion before electing to seal the £3 million capture of the experienced forward from Stoke.
I sent him a text and he said that he knew there was a possibility he would be leaving Stoke," Ward recalls. "He found out during the international break but didn't really know where he was going. (Burnley) asked me about him before numerous times because it looked like he might become available previously at Stoke.
"(I get asked) not so much about players' ability because the manager knows them inside out. More so a character reference. With the Irish lads, I always say the same thing, we all get along well and there are no problems. The three lads that have come in have slotted straight into the group brilliantly."
And has Ward ever had to provide a negative character reference?
No, no, no," he smiles. "Thankfully, I've only ever been asked about lads close to me."
Walters' arrival takes the number of Irish internationals at Burnley to five, a development that Ward is pleased with.
Myself and (Kevin) Longy have been here a couple of years, then Jeff (Hendrick) came and Robbie (Brady) as well and Jonny. It's a good core, we're all very close, as everyone is. I think Jonny is going to be a great signing for us, he's exactly the breed of player that our manager likes. He will be a real asset for us."
And, of course, our Irish lads are in demand again and ever-obliging, for snapshots and autographs. pic.twitter.com/oyJRrUzqhP

— Burnley FC (@BurnleyOfficial) July 11, 2017
Having played 45 times in all competitions during a hectic 2016-17 campaign, Ward was relieved to get three-and-a-half weeks off following last month's World Cup qualifier between Ireland and Austria.
I needed it to be honest because I was struggling with a few injuries at the end of the season," he admits. "The manager was good as gold, he gave us (Irish lads) that little bit of extra time. We only missed a couple of days of the pre-season because the lads were back on the 6th for this trip (for a training camp in Kildare in Carton House ahead of their friendly with Shamrock Rovers last night) and we came back on the 10th.
"I think it was important for me — at the end of last season, I'd nicked my cartilage again, I was playing all the way through up to the summer.
I didn't really run in the off-season, I just swam, just to give my knee a complete rest for the three-and-a-half weeks or so.
"You go out running again, you're pounding your joints again. So I literally just stayed off, I did a bit of swimming and just a bit of rehab in the gym. So far, I've felt the benefit of it and it's feeling strong at the minute. Touch wood it stays that way.
Everyone's the same. Jonny (Walters) was in a similar position with his knee and we were speaking about it and the doctor advised to have three weeks' rest, but it's difficult as a player because you want to keep ticking over.
"Your focus turns to pre-season and you want to make sure you're in good nick to run… I think everyone goes away and you just have to do what's right for your own body."
DUBLIN | Speed through a time-lapse of the lads' training session in Dublin. pic.twitter.com/4r8XTlKjdz

— Burnley FC (@BurnleyOfficial) July 13, 2017
For high-level athletes, the routine of training and going to the gym becomes almost an addiction, to the point where footballers such as Ward find it difficult to resist adhering to this demanding schedule even when given time off.
You're sort of looking at the calendar — every day (during the off-season) is closer to being back in. That's the one thing about football, it never stops. You finish the season and you're straight into international games. You finish them, you're already concentrating on the new season.
"We had a great year last year as a squad — to stay in the Premier League was a great achievement.
But that's gone and everyone's going to expect us to do a similar job this year. It's going to be tougher. So we still have to make sure we prepare throughout pre-season."
Ward is determined not to repeat the scenario he experienced at previous club Wolves who, like Burnley, punched above their weight in the Premier League for a period, but were ultimately relegated after three seasons in the top flight.
Burnley finished 16th in the table last season, which represented overachievement in many people's eyes, and Ward admits finishing in a similar position again in 2017-18 would constitute a success.
So many clubs nowadays, and it happened to me at Wolves, once you stay up the first year, clubs get carried away," he says. "They feel like they can go from finishing 15th in their first year and then straightaway the chairman is saying: 'We've got to finish in 14th, 13th, 12th…'
"People can lose that sort of respect of how hard the Premier League is, because when they do it once, they think it's automatically going to happen again.
I think that's one thing our manager will always have — if you offered him 17th place he would probably feel like he'd want us to do better, but it would mean that we've stayed in the Premier League again and for a club like Burnley to do that in any way possible for a second consecutive season, it's a massive, massive achievement."
From a personal standpoint, Ward similarly cannot afford to feel any sense of complacency, after the club signed highly-rated defender Charlie Taylor from Leeds to challenge for the left-back spot.
I knew there was always going to have someone coming in, Flano (Jon Flanagan) went back (to Liverpool after a loan spell at Burnley) and we don't really have anyone. We need competition everywhere and that just keeps everyone on the edge. I was pleased with how I did last year, I had a decent season and I want to continue to improve this year and it starts in pre-season."
The42 is on Instagram! Tap the button below on your phone to follow us!