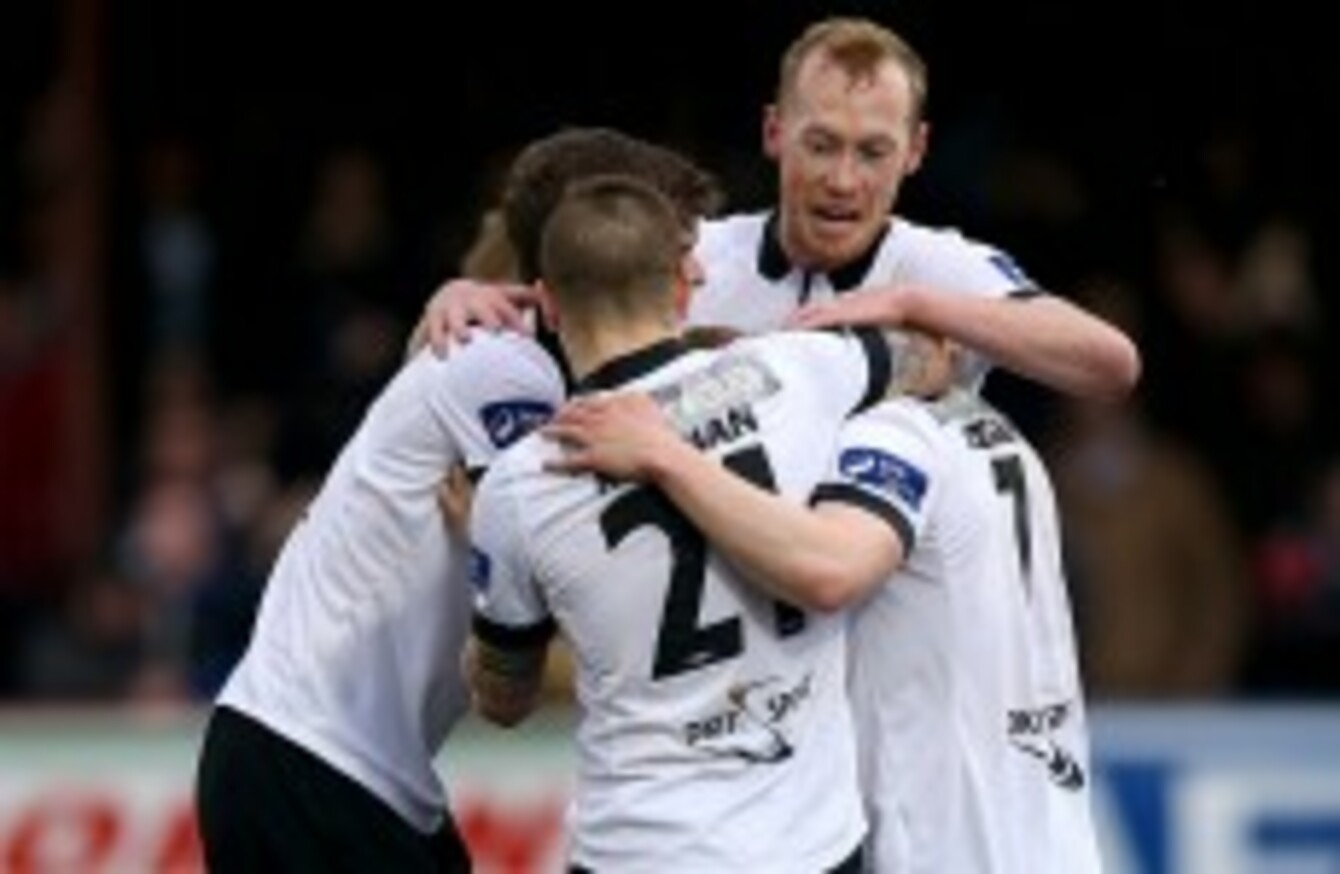 The Dundalk players celebrating on Friday night.
Image: Donall Farmer/INPHO
The Dundalk players celebrating on Friday night.
Image: Donall Farmer/INPHO
THIS DUNDALK TEAM are a joy to watch right now.
They play without any fear and that is down to Stephen Kenny's style of management. It has been hugely effective for them so far.
At the moment, they are probably the fittest team in the league and that is a considerable advantage to them. They are a very young squad and are running teams into the ground. There is an awful lot of movement from the front six or seven players and they are pulling people all over the place.
You could see in that in the win over Sligo Rovers on Friday night when they had them pinned in for most of the game with wave-after-wave of attacks.
You look at the top teams in Europe and they all tend to have really attacking full-backs. I'm a huge fan of attacking full-backs and it is brilliant to see Dundalk's two getting forward so often. St Pat's are the same in that regard.
It's a key factor in any successful team and Sean Gannon and Dane Massey give them so many options going forward.
Their best form of defence is through attack. A good example of this was the first goal on Friday night. Richie Towell closes down the throw-in inside the Sligo half with a really good hunger to win the ball. They are keeping teams in their own half and aren't letting them out at any stage.
Chris Shields deserves a lot of credit for the job he has done as he really complements the way they are playing at the moment in the middle of the park.
I've done that role myself in the past and it is all about discipline. Once you know you're appreciated in that role then you don't have a problem playing in it.
In the past, people have overlooked just what a really good defensive midfielder brings to a team. As well as being a screen for the backline, he is also the guy who is starting the attacks because he is constantly involved in the turnover of play and getting moves going. It's hugely important.
They have looked quite strong defensively but I don't think they have been really tested because of the way they are playing.
If Dundalk are going to win the league, they are going to have to do it that hard way. They are top of the table in May and history doesn't tend to be kind to table-toppers at this stage of the season.
It's very difficult to lead from the front for a long period of time because it takes its toll mentally. I hate getting drawn into this league-winning talk at this stage of the season because I've been there so often and it becomes very tough from a mental point of view when you're leading.
There is no pressure on them at the moment — it's just not there. That goes for everybody because whether you're at the bottom or the top, you feel you've got the time to pick up points.
As it moves towards the latter stages of the season, it becomes more pressurised as the opportunities to pick up points become fewer and fewer.
Last season would have been a very good learning curve for them because they were there or thereabouts but when they were beaten by St Pat's at home they drifted away.
However, the players have experienced that and that is a huge plus because come that time of the season again, they will hopefully know how to react better.