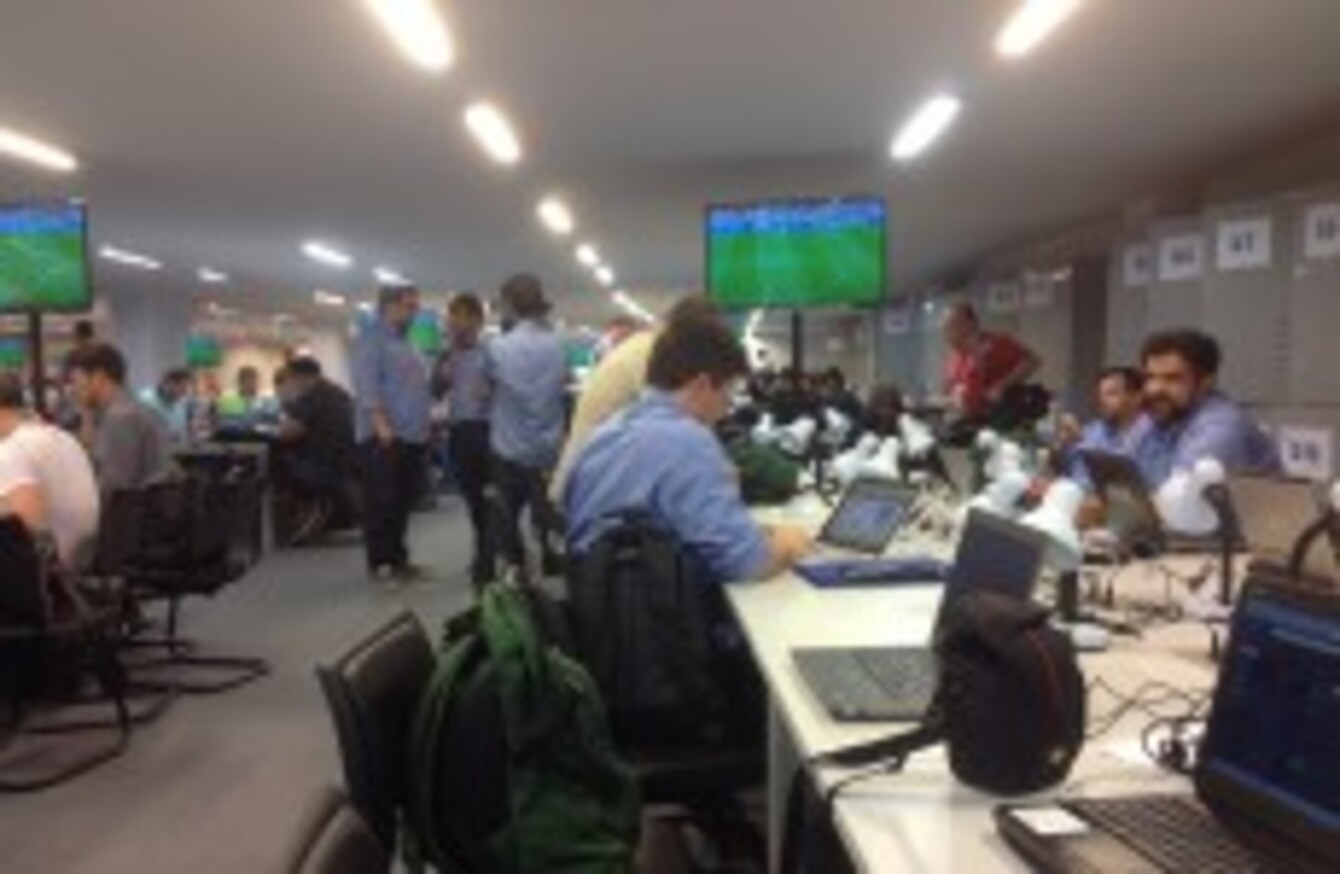 A scene from a non-invaded press room in Brazil.
Image: MIkey Stafford.
A scene from a non-invaded press room in Brazil.
Image: MIkey Stafford.
1. "In the purple glow of the FIFA Fan Fest, watching drunk fans slow-motion zip-line toward the blinding yellow figure of Fuleco, the cartoon armadillo who is the World Cup's official mascot.
"The uniformed guards behind the Fan Fest's metal detectors, while not requiring you to open your bag, grope it hard along the edges. "Para grenadas," one said to me. For grenades."
Brian Phillips is in Rio for the World Cup and his dispatch for Grantland is well worth your Sunday morning time.
2. "In an unprepossessing industrial suburb, about a 45-minute drive out of São Paulo, is where football fans will find Willy Wonka's factory.
"Like many buildings in the main city, it does not look like much from the outside – in fact, it looks disarmingly small – but this may well be a ruse to put off the less myopically devoted because inside is a veritable mecca for football (and sticker) fans. For this, you see, is Panini HQ."
If that isn't enough to make you want to read Hadley Freeman in The Guardian, then you're just not a proper football (sticker) fan. 
3. "Eight years on, and Spain have revolutionised what constitutes "boring." Boring is now dominating a game, playing the majority of the contest in the opposition half, with multiple technically skilled playmakers exchanging rapid passes and looking for space to play a through ball. This is now "boring." You don't revolutionise what constitutes boring without revolutionising football overall."
For ESPN, Michael Cox mourns the fall of Spain and their incredible tiki-taka revolution.
Be part
of the team
Access exclusive podcasts, interviews and analysis with a monthly or annual membership.
Become a Member
4. "As the second half slipped away, so did Spain's vital signs. Casillas, the captain who lifted the trophy four years ago, wore a haunted look. Diego Costa, the man Spain had 'signed', had departed to insults, unable to score. And Xavi, the ideologue of a philosophy this team espoused, never even took to the field. There was symbolism in his absence. He will probably not be back; Casillas may not be either. Between them they have 289 caps and every medal there is
Not had enough of Spain? This Sid Lowe reaction to their loss to Chile would be brilliant even if his deadline hadn't been shortly after the full-time whistle.
5. "Griffin mentioned to Salmon that another player was getting on his nerves and asked Salmon to talk to the offender. Salmon relayed the message to the player, a future NBA All-Star, who chose to unlace his shoes and leave the gym rather than test Griffin any further. "A lot of guys used to pick on him," Salmon said of Griffin. "The streets would say he didn't duck the work. That means he didn't run from a fight. He didn't want to fight, but he would."
Jonathan Abrams writes for Grantland on the life and death of Eddie Griffin.