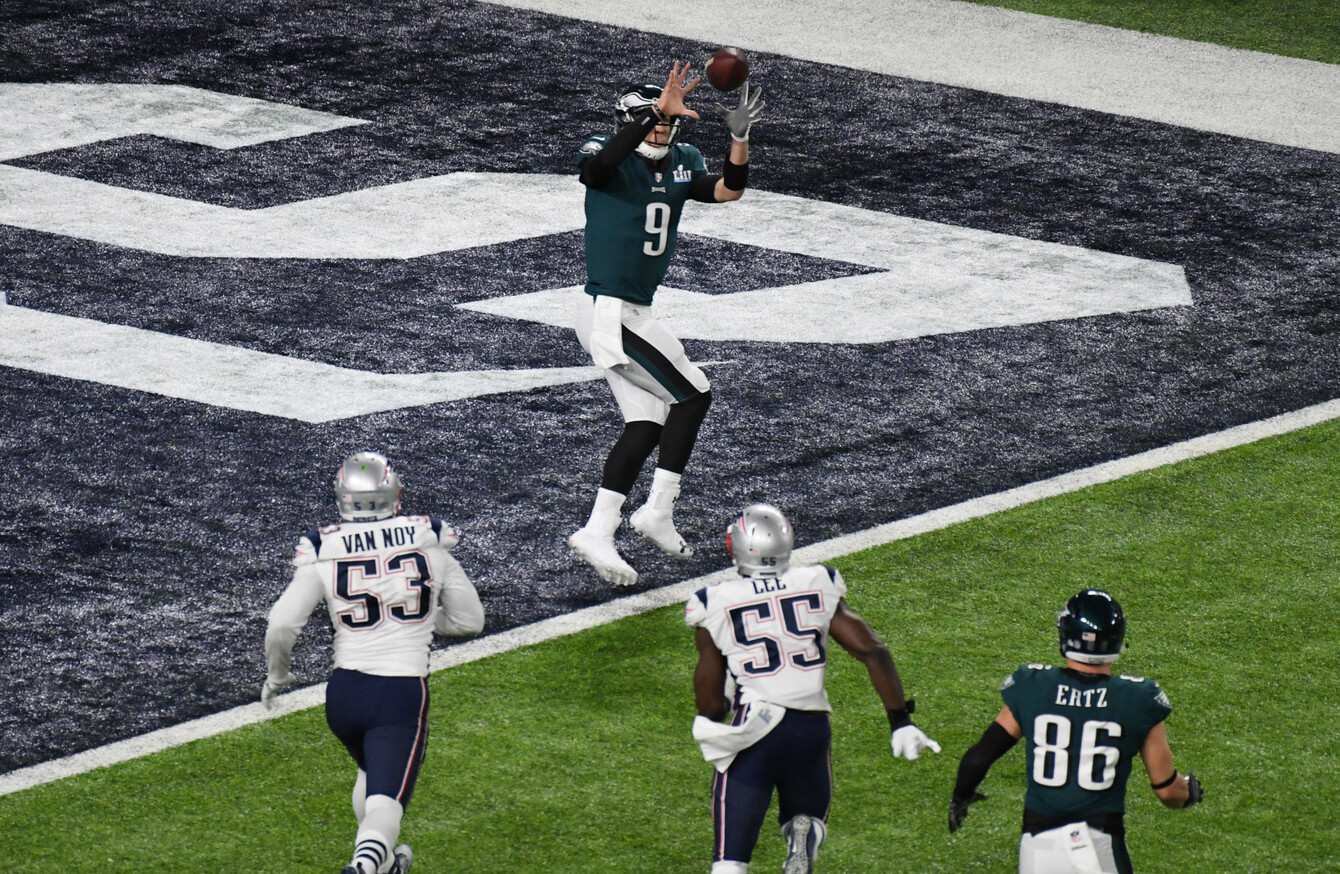 Nick Foles catches a touchdown pass in the second quarter.
Image: SIPA USA/PA Images
Nick Foles catches a touchdown pass in the second quarter.
Image: SIPA USA/PA Images
IF YOU MISSED Super Bowl LII last night, but I told you that Tom Brady passed for 505 yards, three touchdowns and no interceptions, you'd probably think the New England Patriots won the game.
If I added that they scored 33 points, turned the ball over just once and did not punt all game, you'd be almost certain they won.
But football is about three phases, and while the Patriots won on offence, they lost on both defence and special teams. And they lost to a team that played more like New England than New England themselves.
WHAT. A. PLAY.@Eagles throw up the trick play to Nick Foles for the touchdown... ON FOURTH DOWN!

Incredible.#SBLII | #FlyEaglesFly pic.twitter.com/FYHjhl6knX

— NFL UK (@NFLUK) February 5, 2018
The above play — Target Left Bunch, Philly Special — will be the highlight of this Super Bowl for decades to come.
But as sexy as that play design is, look a little closer and you can see it should have been called back for an illegal formation as the Eagles only have six men on the line of scrimmage, not the seven required.
It was one of a number of calls — in any other game this season Corey Clement's touchdown would have been ruled an incomplete pass — that went Philadelphia's way, but the Patriots have benefited enough from inconsistent officiating this year that they can hardly have much cause for complaint.
And lest I be accused of taking anything away from Philadelphia, I'm not. Last night, Philly out Patrioted (it's a word) the Patriots and are deserved Super Bowl champions.
Despite giving up 33 points, the Eagles dominated the time of possession and converted 62.5% (10 of 16) of their third downs — the league average during the season was 38.5%. And this wasn't against any old defence, but the best third down defence in modern NFL history.
It's worth remembering too that, in a terrible Christmas match-up with the Raiders, this very same offence converted just one of 14 third downs (7%) against a historically bad Raiders' defence. That is quite the swing.
On fourth down, the Eagles were even better, going two for two. The first was obviously the brilliantly designed touchdown above. But ESPN's Bill Barnwell had a great statistic this morning that showed the second conversion was actually much more important.
The fourth-down call on the goal line was worth 3.4 percentage points of win expectancy, while the less conventional fourth-and-1 in the fourth quarter was far more valuable and worth 7.3 percentage points of win expectancy even before the Eagles converted. Given that Philly came into the game with a 42% chance of winning, those two play calls alone might have swung the game Philadelphia's way."
Credit for the play calling must go to Doug Pederson who realised that field goals were not going to win this game and that — unlike the Falcons last year — when you have the Patriots on the ropes, you have to deliver an RPO outta nowhere to finish them off.
Not so special teams
Going into this game, the Patriots had the league's third rated special teams unit but the kicking unit in particular had a night to forget.
Not only did they miss an extra-point — the second Super Bowl in succession they've managed to do that — but a terrible hold by Ryan Allen disrupted Stephen Gostkowski's timing earlier in the game, resulting in a 26-yard filed goal colliding with the upright.
Their kick off unit wasn't much better, with the Eagles starting their drives, on average, six yards closer to the end zone than the Patriots all night.
On defence, as long as I live, I'll never understand the decision to keep Malcolm Butler on the sidelines.
Even if it was, as Bill Belichick tried to claim afterwards, for football rather than disciplinary reasons, it was clear from early on that Eric Rowe was a liability and Foles picked on him over and over in the game.
For all his genius, leaving a guy who played 98% of defensive snaps crying — during the national anthem at least — on the sideline while your secondary is being torched is not good coaching, regardless of the point your trying to make.
Fly Eagles Fly
But it's actually difficult to find much fault with New England, for as bad as they were on defence, it's not like Philly was much better giving up 613 yards.
For reference, teams with 600 or more yards were 38-0-1 before Sunday making the Patriots' defeat historic in nature.
In fact, the much vaunted Eagles defensive front did little in the game until they produced the Super Bowl's defining play with the strip sack of Tom Brady.
Before that, it was actually a pretty good game for Brady with his total QBR coming in at 88.3, the third best mark he's recorded all season.
Indeed, Jim Schwartz didn't have much of an answer for the 40-year-old, or Rob Gronkowski, but it didn't matter.
The Eagles did play badly on defence — the stats don't lie — but it didn't matter.
The greatest quarterback to ever play the game had one of his best Super Bowl performances, but it didn't matter.
For the first time in their 84-year history, the Philadelphia Eagles are Super Bowl champions, that's all that matters.
The 42 is on Instagram! Tap the button below on your phone to follow us!