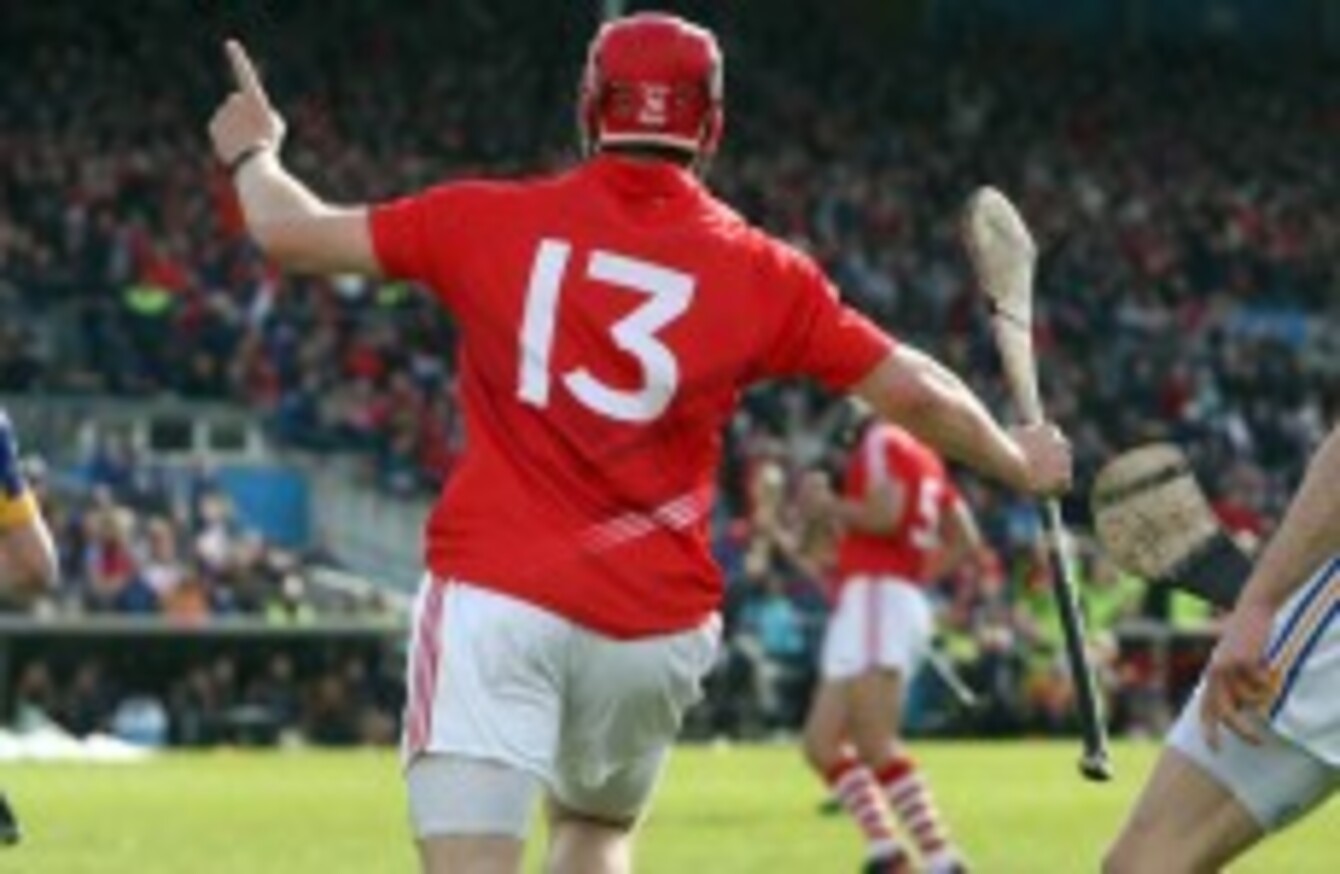 Luke O'Farrell scores a decisive goal against Tipperary
Image: ©INPHO/Donall Farmer
Luke O'Farrell scores a decisive goal against Tipperary
Image: ©INPHO/Donall Farmer
THINGS ARE LOOKING up in Cork.
From zero to 60 in 3.5 months, Jimmy Barry-Murphy's side already look contenders for championship silverware.
That will come after they contend for the league title with Kilkenny in a couple of weeks' time and that challenge will be more indicative of where they are at.
Because as of now, what Cork fans have seen is a great audition for the 2012 show. The filming only truly begins when the Rebels take the stage against Tipperary or Limerick on June 24 – two months from now.
It's the sort of crazy GAA scheduling that will make JBM doubly-happy that he has a league final to prepare for, to keep minds focused.
There are plenty of factors for the league semi-final win over Tipperary and as much as youth swung the pendulum, so too did experience.
Niall McCarthy was starting his first game of the league, and the Carrigtwohill man was probably the difference between the sides. No other player directly contributed to more scores than he.
McCarthy put away 0-3 himself and assisted for 1-4. Pa Cronin might have been awarded man of the match but, on reflection, it was the man outside him on the half-forward line who did the most telling damage.
The knowledge that Cork have more quality forwards than they do starting positions is a fantastic headache for Barry-Murphy to have. Jamie Coughlan – who started at 10 – has shown promise in the league while Conor Lehane has done far more than that. Cathal Naughton, with the best set of wheels in the game, looks set to deliver on his when he returns from injury.
The decision to leave Lehane on the bench rings of JBM keeping his powder dry for the Munster championship semi-final, which he surely expects (privately) to be against Tipperary rather than Limerick.
In the drawn game, Lehane was at times chasing back on Paudie Maher – who started that game at wing-back – and the young Midleton man had far more success in full-forward where he scored his goal.
Niall McCarthy has returned in excellent form for Cork ©INPHO/Billy Stickland
Now while we certainly feel Lehane is good enough to trouble any wing-back in the country, it was noteworthy how devastating from the bench his speed was against a tiring Tipp defence in the league semi-final. No doubt Shane Maher would not have thanked his goalkeeper for presenting the 19-year-old with his first point via an errant puckout.
In terms of assists, the Cork forwards are happy to pass to the man in a better position because they know they one good turn will be rewarded by another. Eighteen times did their six starting forward create chances for a teammate; the figure was 11 for Tipperary. The Rebel defence also limited Tipp to just two points in the final 18 or so minutes after Eoin Kelly's goal: one from Brian 'Buggy' O'Meara, the other off a free won by full-back Paudie Maher.
To finish so strongly will have been a major boon and will convince Rebels fans that this team have staying power. They came back late in the drawn game with Tipp, beat Kilkenny and Dublin down the stretch while only Galway outchased them in a tight game.
Despite how they are sometimes portrayed, this is not a fledgling Cork side. Not one player who started on Sunday is without prior championship experience. It might be the case that few have extensive championship exposure but Shane O'Neill, Sean Og O hAilpin, Eoin Cadogan, John Gardiner, Cronin, McCarthy, Paudie O'Sullivan and Horgan are all established inter-county hurlers.
This season is continued progression from what Denis Walsh had started. It was far from perfect in 2011 – the Galway defeat told us that – but the cables were laid down in the last few years. With the switch to JBM, the power is now flowing.
For another panel to lose the experience of Ben O'Connor mid-league, it might have been cataclysmic. All the more impressive that his name has rarely been mentioned.
What was impressive on Sunday was that the loss of their leader and captain, Donal Og Cusack, did not unduly hamper Cork. Not only did Anthony Nash fill the spot ably but he also out-Cumminsed Brendan Cummins in Cummins' own patch by putting over a free from his own '45. If you wanted to drive the boot in on your near neighbours, it was a fine way to do so.
The league final has us on a promise and, in many ways, it is important for Cork to at least push Kilkenny to their limit. It might not be a full-strength Kilkenny side because of injuries but it will be very close to that for Cork. As it has been for most of the league as JBM builds confidence and a settled team.
In other words, perhaps Cork have already shown their hand. It looks strong but the summer will tell us to what extent.