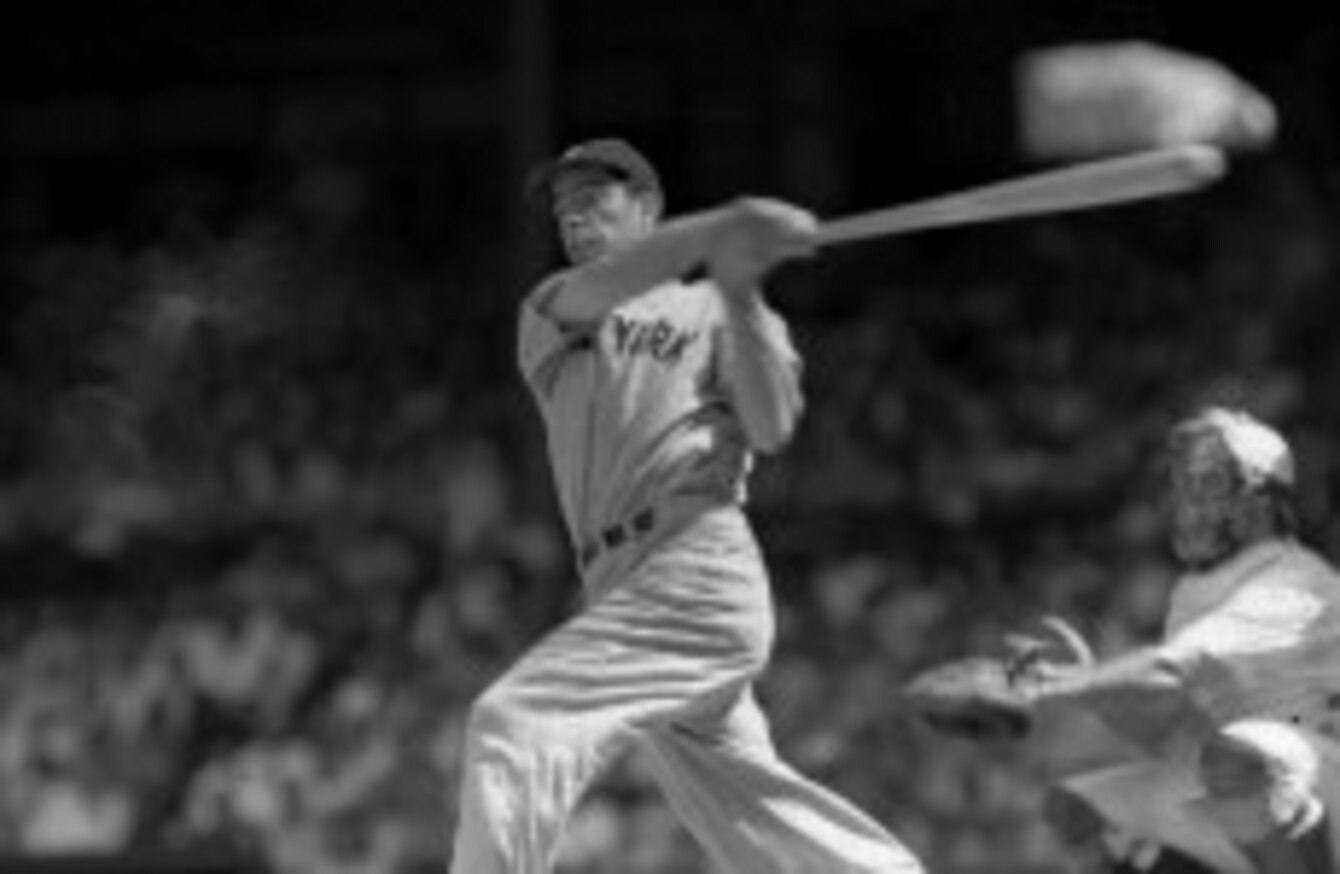 Joe DiMaggio in full, majestic flow way back in 1941.
Image: /AP/Press Association Images
Joe DiMaggio in full, majestic flow way back in 1941.
Image: /AP/Press Association Images
Our selections this week come courtesy of not one, but two of The Score's finest, meaning that there should be (nearly) enough here to keep you occupied for a full seven days. Enjoy.
1. "It's obvious the Premier League is a closed shop that can be opened only with the application of around a quarter of a billion pounds. In England in the past decade there have been three different champions. That's the same as Spain, Italy and Portugal, poorer than France (four), and Germany and Russia (five)."
A balanced and informed antidote to the glitzy, misty-eyed "best league in the world" bromide spouted by Sky Sports and its affiliates, the Guardian's resident footballing philosopher, Jonathan Wilson, sets the league's performance against that of its European competitors.
2. "At what point do you start betting against great champions being, well, great? For the first time since 2002, Federer will finish a year without a Slam title. Similarly, it's the first time since 2006 for Williams. They're both 30 and they're suffering more shocking losses as the years tick by. Has the inevitable decline arrived?"
Having set the standard in the men's and women's game for most of the last decade, modern tennis's great Grand Slam accumulators are beginning to look shadows of their former selves. But for Sports Illustrated contributors Courtney Nguyen and C.W. Sesno, each has a measure of greatness left in the tank. The question is: who's got more to give?
3. "Most people who kick a ball, like most people who put words down on paper, do so with little distinction: they could be anyone. The more one masters the impersonal demands of technique, however, the more a personal style begins to emerge. Beckenbauer, Cruijff, Pele, Zidane: these figures are as unmistakable on the pitch as are Joyce, Woolf, Nabokov, and Updike on the page."
Giles Harvey, reviewing Simon Kuper's Soccer Men for the New Yorker, begins his article by riffing on the inadequacy of the footballing lexicon, and builds to an elaborate and stirring analogy between literary and sporting creativity. Contains more good sense than a busload of Jamie Redknapps.
4. "Another writer might have phoned from New York to set up the interview, but Talese preferred a more direct approach. He wrote DiMaggio a letter to let him know he was coming, then flew to San Francisco in February 1966. After leaving a few phone messages that went unreturned, Talese returned to his chosen method of approach: The haberdasher's son would show up at his subject's front door, polite, persistent, and immaculately dressed, and take his chances…
"So Talese just showed up at DiMaggio's restaurant. And that's when the trouble started."
Gay Talese's 1966 profile of Joe DiMaggio for Esquire ranks among the most influential magazine features of all-time, and with good reason. Here, in a feature entitled "Director's Cut: Silent Season of a Hero", Grantland's Michael MacCambridge revisits the text, reproducing it in full along with a series of footnotes drawing on Talese's personal account of the piece's troubled inception. Brilliant stuff.
5. "Mm. I'm rather sorry we missed the chance to run something similar a few days into the Dominique Strauss-Kahn business. 'If the hotel maid's claim is proved false,' it might have read, 'should she be deported?' Let's hope that in the future, media organisations seeking new revenue streams will explore the possibility of lucrative, X Factor-style phone polling on these hot-button issues. Text the word MARTYR to 80051, or UPPITY to 80052."
Like many's a thoughtful onlooker, the Guardian's Marina Hyde was incensed by the manner in which the debate surrounding Patrice Evra's allegations of racist abuse immediately fell foul of fan bias and moral cowardice. In the clear, biting prose that's become her trademark, her mid-week column set its sights on a footballing culture riddled with hypocrisy.
6. "Best had come in along the goal line from the corner-flag in a blur of intricate deception. Having briskly embarrassed three or four challengers, he drove the ball high into the net with a fierce simplicity that made spectators wonder if the acuteness of the angle had been an optical illusion."'What was the time of that goal?' asked a young reporter in the Manchester United press box. 'Never mind the time, son,' said an older voice beside him. 'Just write down the date.'"
Norman Giller counts himself fortunate to have been able to spend a career labouring in the shadow of Hugh McIlvanney, a giant of sports journalism. In an article for the Sports Journalists' Association, he attempts to identify the qualities that set his hero apart from other, less gifted contemporaries.
New Zealand coach Graham Henry faces the media in Auckland on Friday. (Ross Land/AP/Press Association Images)
7. "What defines Ireland in these qualifiers is not their style, no matter how much some may will it to be. And it's certainly not under-performance. It's a lack of over-performance. All the way through, Ireland have played precisely like the team they are: a third seed in a pretty mediocre group. They have got exactly what they deserved from each game, bar Moscow. The consistency has been extraordinary. They have played exactly to their level with no deviation either way; they have drawn a straight line freehand."
One of my favourite Irish writers, Fredorrarci, charts Ireland's route to the play-offs for Run of Play.
8. "A dreadlocked old man walking with two canes makes his way to a stool at center court. The PA announcer says that this is Clarence Clemons, which I find hard to believe. Only a little while ago — August 8, 1975 — I saw Clarence Clemons for the first time, at the Akron Civic Theatre. I walked around the building afterward, snuck through the stage door, and thanked Bruce Springsteen for the greatest show I'd ever seen. Behind him stood the Big Man holding a fifth of Jack Daniel's, laughing as he drank — lit from within, he seemed like the coolest cat on the planet. I walked over and shook his huge, hot hand. Thirty-five years later, from Rosen's seat, I watch the shrunken Big Man rest his back against the stool, pluck his sax from its stand, plant wide his feet, and blow a slow, shimmering anthem, each lush, lonely note a requiem.
Then the court is cleared for takeoff."
Uh-oh. There's a book – by Scott Raab – and it's not going to be pretty for LBJ. Clue: it's called the Whore of Akron. Here's an excerpt on Esquire.
9. "A domestic league has surely never been as superior as Serie A in the late 80s and early 90s. It was so seductively chic and suffused with gravitas that the world's best players were drawn to Italy like VIPs to the coolest afterparty. Goals may have been at a premium but the entertainment was of a subtler kind. Serie A wowed its disciples with an intimidatingly high technical and tactical quality. The whole business – and it was business, not pleasure – was so otherworldly, and conducted with such operatic intensity, that you felt it should have been the subject of one of Grandpa's bedtime stories rather than available through a BSB Squarial."
Rob Smyth rewinds the tape on Sampdoria's scudetto win in the early 90s for impressive new venture, FCF.
10. "'After the accident, I was in the (infield) hospital when they wheeled Dan in,' said a subdued Tracy. 'I could see it was bad. Real bad. I went and talked with Dario (Franchitti), Tony Kanaan and Justin Wilson, and they were like,  - We heard he's stable and his vitals are good. – I told them,  -Guys, that's not what I just saw. – Ten minutes later, they came in and told us he had passed.'
The hours that followed became a blur of sadness, sorrow and anger; emotions that Tracy still struggles to understand."
Sirius Speedway's Dave Moody speaks to driver Paul Tracy after last weekend's tragic IndyCar accident, which claimed the life of Dan Wheldon.
11. "The huge timber entrance gates made Max Lonsdale shudder with apprehension, but not as much as the image waiting to greet him at the other end of the driveway. Sir Alex Ferguson had advanced a yard or so from his front door and was standing stock still, hands on hips, face expressionless and eyes boring into the visitor edging tentatively towards him.  Clutching a sheet of paper and a DVD from his days with Macclesfield, Lonsdale was about to submit a job application that took Ferguson's breath away."
John Edwards, in the Daily Mail, introduces one of the cheekiest chaps we've ever encountered. Fair dues.
12. It's not writing – but, if you watched wrestling, and hell, even if you didn't, this short ESPN documentary on Scott 'Razor Ramone' Hall is amazing, if heart-breaking.