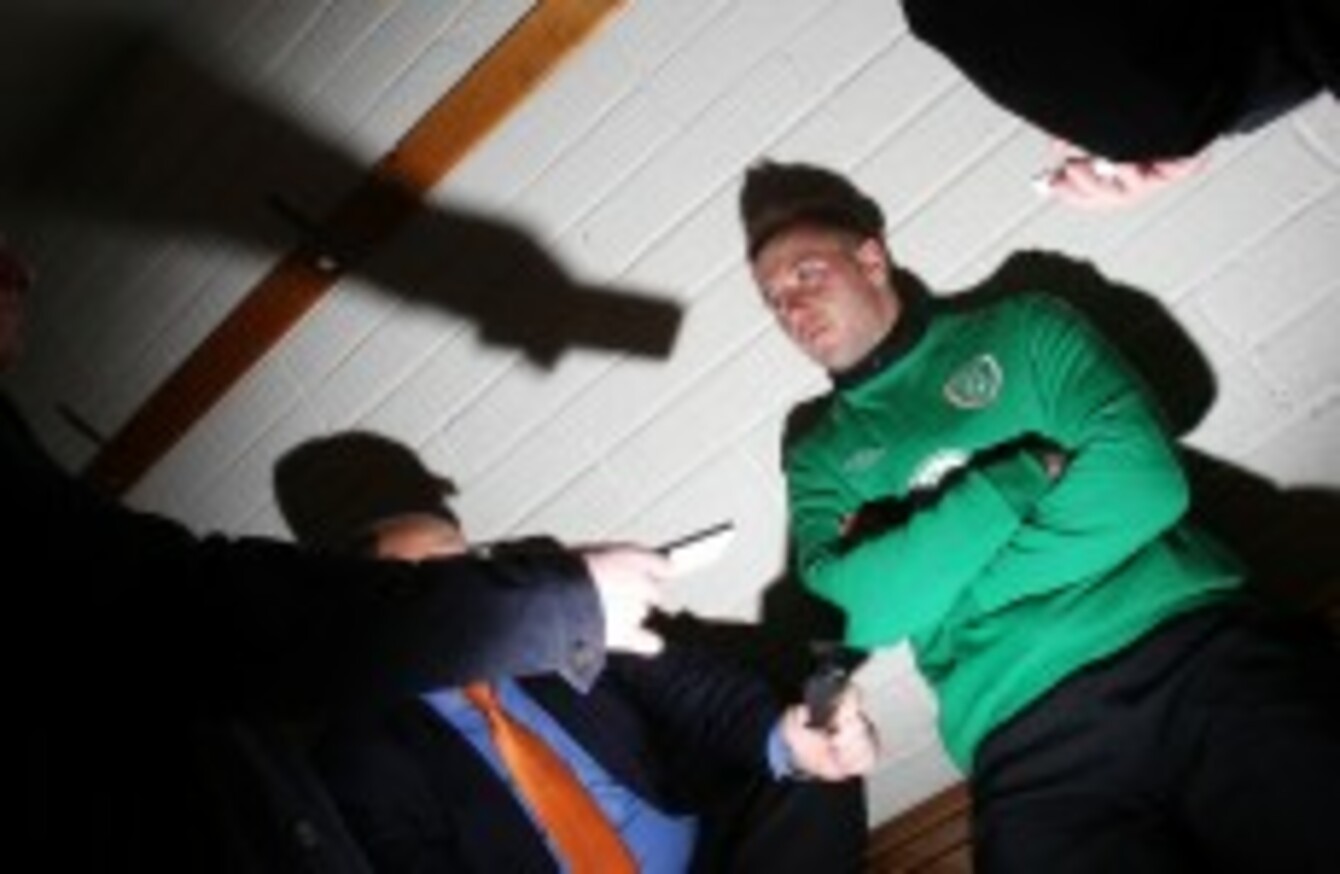 Simon Cox meets the press at Malahide this week.
Image: INPHO/Donall Farmer
Simon Cox meets the press at Malahide this week.
Image: INPHO/Donall Farmer
1. "It also helps to have a bit of genius, and here Rooney's began to reveal itself. Over the past decades, visualization has become increasingly common in sports, numerous studies suggesting that mental imagery coupled with repetitive training helps the brain create neural patterns, like building a circuit inside a computer. Earl Woods trained Tiger this way. Olympic sprint champion Michael Johnson pictured himself winning his races before they started. Wayne Rooney, a child in Croxteth, knew none of this. But he devised visualization techniques that he uses to this day."
ESPN The Magazine featured Wayne Rooney as their cover boy this week. And the interview lives up to the billing.
2. "Manchester City came through the sternest of challenges from QPR to win by the minimum of margins in ideal conditions at the Etihad Stadium on Sunday last. There was a healthy attendance of 48,000 in Manchester to see Edin Dzeko and then Sergio Aguero pop up late on to turn defeat on its head, and win their side its first senior 'A' championship in 44 years. But for long spells the home supporters would have been on the edge of the seats in what was a ding-dong battle. City, wearing all blue with hooped socks, were fastest out of the traps but racked up plenty of wides early on and despite playing against a breeze, Rangers were more than holding their own."
Shane Stapleton reimagines last week's dramatic Premier League denouement at Eastlands… as a GAA match report.
3. "She had no idea, back then, that he was sick. She had no idea he was losing his mind. Something neurological, the doctors are now saying, some kind of sludge blocking pathways in his brain. Would it have made a difference if she knew? Of course it would have. But you can't think like that. And you can't give a shit about people whispering behind your back. You hear about Fred McNeill? Star linebacker for the Minnesota Vikings back in the '70s and '80s. Ended up going crazy, and his wife, Tia, couldn't handle it, so she walked out. It's not like that, not even close, but whatever. People can think what they think."
GQ's Jean Marie Laskas asks how can we keep watching the NFL in the face of evidence of long-term damage.
4. "There was only one thing people were talking about on Monday morning. The picture of Vincent Kompany holding the Premier League trophy aloft was plastered over the front pages of the local newspapers, radio phone-ins discussed the incredible final day at length and Manchester United fans had to contend with a torrent of terrible office jokes. But this wasn't Manchester, it was Belfast – a city which, for better or worse, is completely obsessed with the Premier League. This phenomenon is hardly unique to Ulster – there were "Seismic Sunday" celebrations all over the world – but Northern Ireland seems to be slowly forgetting about its own domestic game."
Has Northern Ireland forgotten about it's own game, Keith Bailie asks at the Football Ramble.