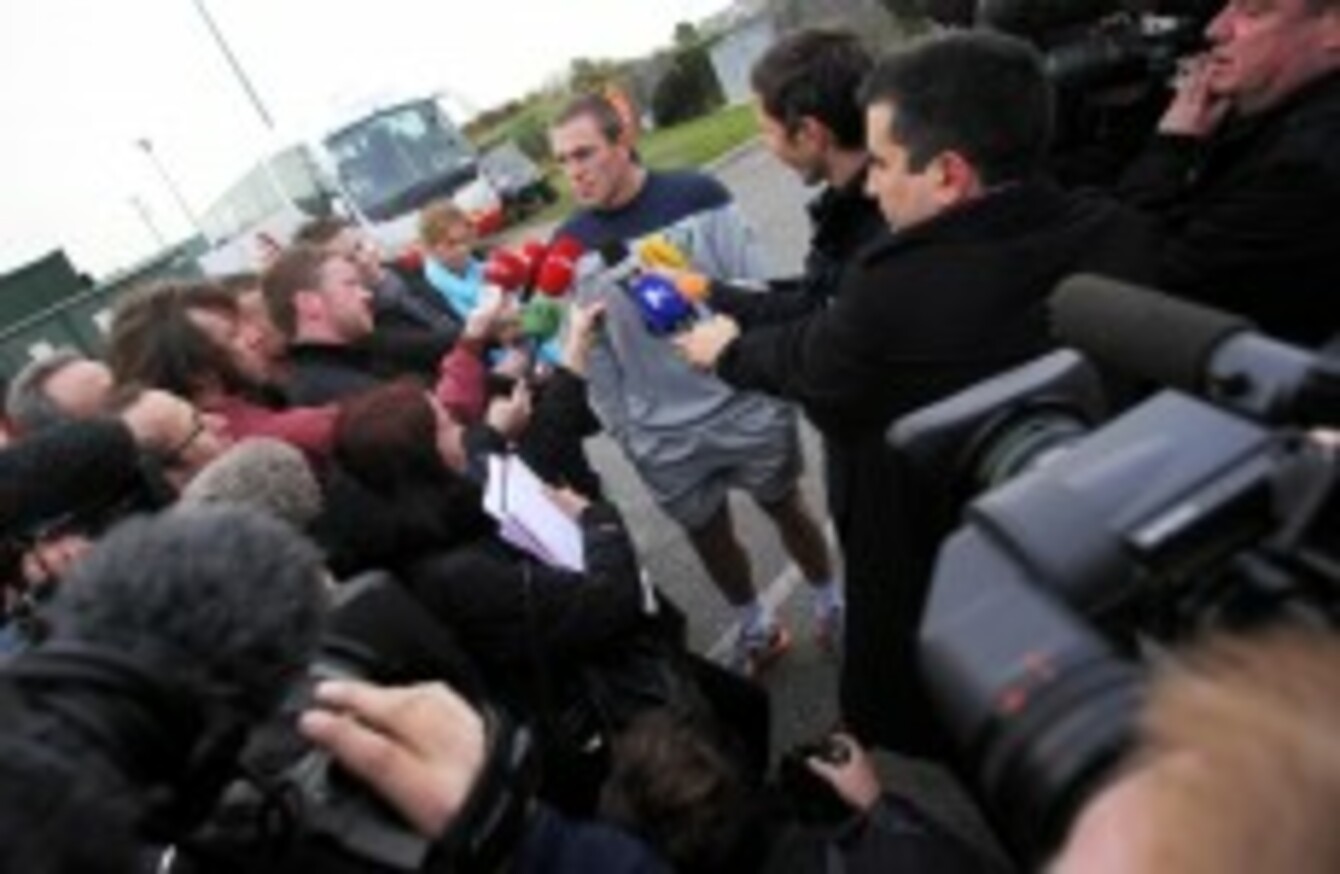 Image: INPHO/Donall Farmer
Image: INPHO/Donall Farmer
1. "The view from the manager's office at Molde FC must be the most magnificent in world football. If he shields his eyes against the low winter sun, the boss can look out from his desk in the Aker stadium across a sparkling fjord to a range of snow-encrusted mountains.  To his left, next to the stadium, expensive clapperboard houses fringe the quayside where swanky yachts are moored. If it were 20 degrees warmer here, no one would bother with St Tropez. But the view of the present incumbent has always been more extensive. Ole Gunnar Solskjaer's eye has long been drawn 700-odd miles south west, beyond those mountains, to England. And his recent success has only added to his world view."
The Telegraph's Jim White travels north to meet the former Old Trafford hero after a stunning first season in management.
2."Bolt is so far ahead of the field that he can be joyful, playful and relaxed. It would be interesting if two or three people could challenge him. He doesn't lose a lot of sleep over what happens in the first 10, 20 or 30 metres. But at 50m he knows what he has to do. When he gets to 50m there's not usually a lot of traffic around him, so it would be interesting to see if he got to 50m, 70m, even 80m and three guys were still with him. Would he run a crazy time or would he fold?"
Neil Duncanson asks how many more barriers can sprinters break and is there a human speed limit in the Guardian?
3. "A defensive coach at Penn State for 32 years, including 23 as coordinator, Sandusky was a revered figure, responsible for the program's Linebacker U reputation and at one point the man in line to succeed Joe Paterno — if and when JoePa ever retired. But in 1999, Paterno told Sandusky he would not, in fact, be the next head coach, and Sandusky abruptly announced that he would retire after the '99 season at 55. Though at an age when many coaches are still in their prime, Sandusky never returned to the college sideline, instead working full time at The Second Mile, a charity for at-risk children that he founded in '77. In 2002, Sandusky began volunteering at Central Mountain High, working with players and sitting in the booth during games. By '08 he was a full-time volunteer."
Whether or not you've been following the shocking, alleged, child abuse scandal at Penn State, Sports Illustrated's cover story – by L. Jon Wertheim and David Epstein – is worth your time."
4. "White players always said to me:  – You can call me 'a white so and so', I don't mind. – But that's because society has indoctrinated us over the past 400 years to think that that's like saying 'you handsome so and so'. That's why white players aren't offended. They're empowered. Black people aren't empowered; 99 per cent of black individuals would be offended being called 'a black so and so' because we've had 400 years of being dehumanised. We don't know whether the allegations about John Terry and Luis Suárez are true. What we do know is that it's happened before. The words they are alleged to have said have been said in the past year but it hasn't been reported. Now and then there's an incident and people are surprised. I'm not. I know it's there."
Henry Winter speaks to Liverpool great John Barnes about Terry, Suarez and Sepp Blatter.
5. "What is certain is that Celtic Park is far from the hotbed of pro-terrorist support which the club's enemies would like to portray it as. It is Celtic's away following which is more prone to vocal IRA backing, and even then on varying scales. Such attitudes are frowned upon by the decent element of the Celtic support, let alone the good people of Ireland who would shake their heads at such sentiment booming out from Tynecastle to Tannadice. Celtic are rightly proud of their Irish heritage. There should be no problem with the club celebrating that. Nor does that, in any way, represent sectarian behaviour."
Ewan Murray offers this thoughtful piece on the debate about the issue of pro-IRA at Celtic Park.

6. "9:45 PM, 23 October 2011. Auckland, New Zealand. It's half-time in the final of the 2011 Rugby World Cup. All around the country, people are wondering the same thing: If New Zealand stages a highly successful World Cup and the All Blacks lose in the final, what the hell are we going to do?"
If you haven't already checked out The Classical, do so. Why not start with this piece from Linda Hui?