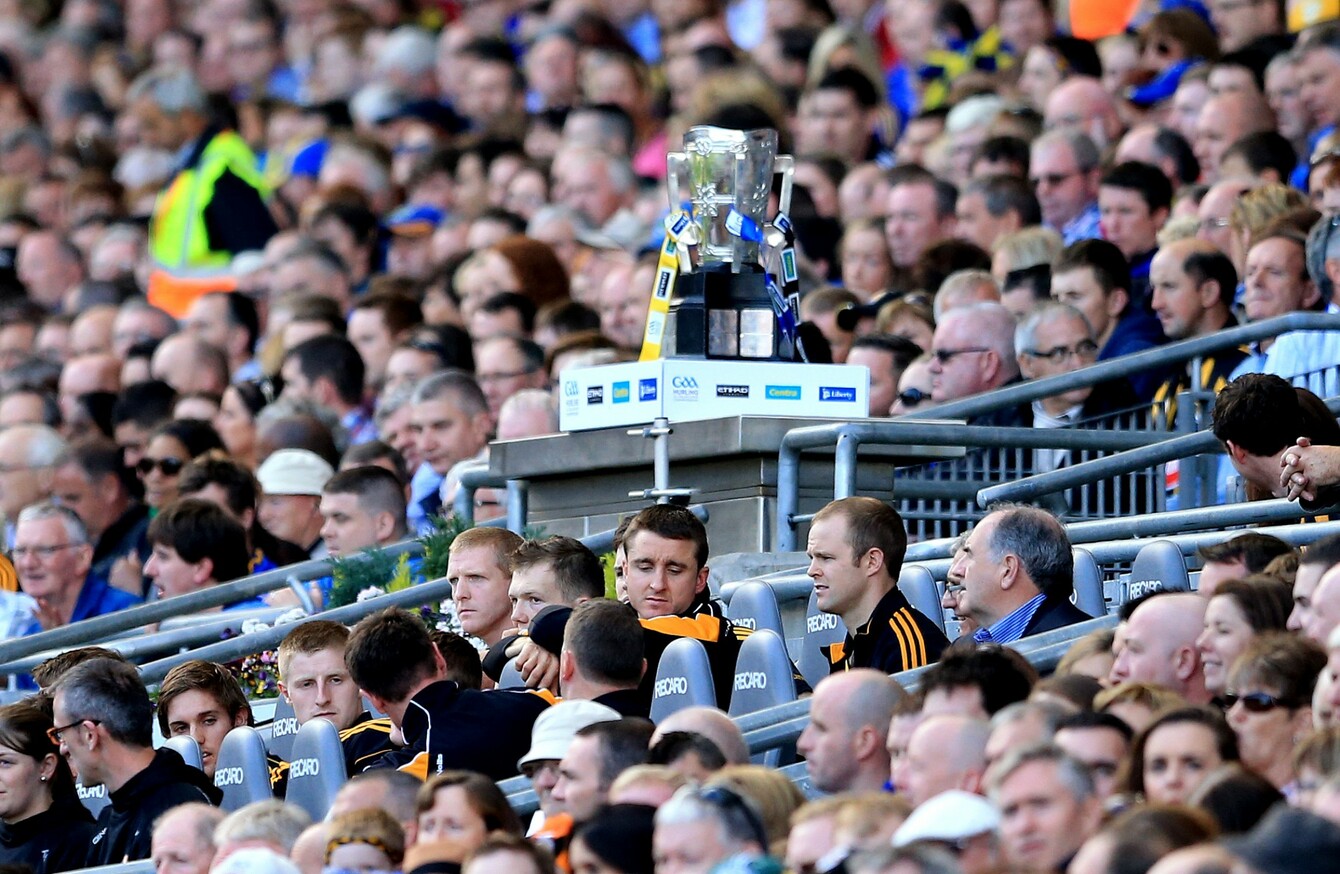 Image: James Crombie/INPHO
Image: James Crombie/INPHO
A RADICAL CHANGE to the format of the All-Ireland senior hurling championship, which would see the competition begin in April, has been proposed by the St Mary's club in Tipperary.
St Mary's are calling for the Allianz Leagues to be concluded by March, thereby allowing for the All-Ireland championship to begin shortly afterwards.
The motion, which will go before Thursday evening's annual convention in Tipperary, would see the top nine teams in the country play eight games in a League style 'open draw' format on every second weekend, beginning in April.
Kilkenny, Tipperary, Cork, Waterford, Limerick, Clare, Galway, Wexford and Dublin would receive two points for a victory in the competition, with the provincial championships retained.
Clonmel-based St Mary's want every other weekend made available for club matches and while the provincial competitions would be retained in knockout format, the club is proposing that they be started and finished prior to the open draw competition beginning in earnest.
The motion also reads: "When teams meet in the provincial competition these games double up as both provincial championship games and open draw games.
"In effect, when teams from the same province meet in their provincial championship, the result influences two competitions simultaneously (provincial and open draw).
"Provincial finals are held as usual and provincial champions are determined. Three points are awarded to provincial champions.
"The open draw component of the All-Ireland championship involving pairings who had not previously met at provincial level would continue until all 9 teams had played 8 games inclusive of provincial and open draw games.
"Extra time to be played in the event of matches finishing on an equal score line.
Be part
of the team
Access exclusive podcasts, interviews and analysis with a monthly or annual membership.
Become a Member
"The top two teams qualify for the semi-finals with the next four teams being entered into a draw for two preliminary semi-finals.
"The All-Ireland final takes place in late August/early September. The team with the least number of points at the end of the year is relegated to the Christy Ring competition and one team from the Christy Ring competition is promoted. Review on an annual basis."
Another St Mary's motion to be discussed is calling for no player to represent Tipperary on more than one panel in either hurling or football in a single championship season.
If a player is later dropped from a panel, he becomes a 'free agent', and can link up with another squad.
The Burgess club has put forward a motion proposing that a player who is fouled in a hurling game may be allowed to take the resultant free from the hand.
For technical fouls (for example over-carrying), or where the non-fouled player takes the free, the sliotar must be struck in the traditional fashion.
The Inane club, meanwhile, is calling for all action replays to be shown on the big screens at Croke Park.