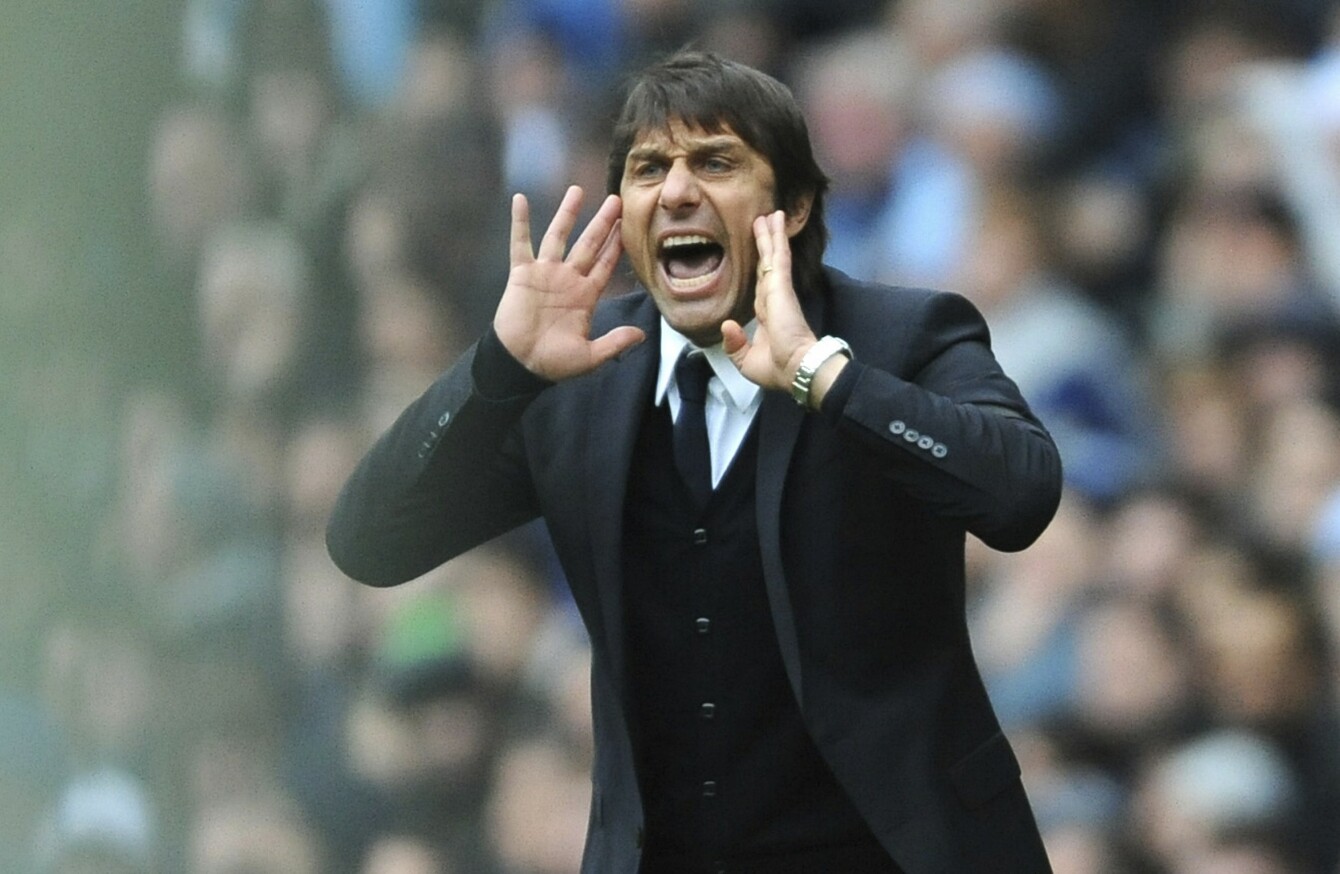 Chelsea boss Antonio Conte.
Image: Rui Vieira
Chelsea boss Antonio Conte.
Image: Rui Vieira
"ASIDE FROM GETTING married and having children," said Wayne Bridge after his I'm A Celebrity Get Me Out Of Here exit, "it's been the best experience of my life."
"Really?!" wondered watching Chelsea fans. As good as it sounds, surely three weeks in the jungle with Carol Vorderman can't have topped scoring the winning goal in a Champions League quarter-final? How can a prolonged diet of dung beetles and kangaroo penis be better than winning Premier League, FA Cup and League Cup medals?
But then Chelsea's successes often seem to be slightly less glorified than they should be.
Saturday's win over Manchester City was as good as its gets when it comes to heavyweight Premier League tussles, a high watermark for Antonio Conte's impressive early reign, even before City spontaneously combusted in the closing stages. And Conte dodging the post-match press conference to catch the train home only added to the sense of a perfectly-executed heist.
But just minutes after the final whistle the club released a statement of apology to former player Gary Johnson for the abuse he suffered in the 1970s at the hands of then chief scout, Eddie Heath. They also admitted paying £50,000 (€59,000) to Johnson in 2015 to maintain his silence, treating him as a common legal claimant, rather than someone grievously harmed while under the club's protection.
They are far from the only club guilty of inadequate handling of sexual abuse, but if you are one of the many people who simply don't like Chelsea, this was grist to the mill.
Not that you needed another reason. Take your pick: the old Chelsea Headhunter legacy of racism and hooliganism; the belligerence of the Ken Bates era (remember him? The former owner who wanted to erect an electrified perimeter fence around the Stamford Bridge pitch? Real charmer); the Roman Abramovich takeover and its infusion of ill-gotten roubles from the post-Communist Russian kleptocracy; and, of course, Jose Mourinho: there's always been something to dislike about Chelsea.
The only time in recent memory that attitudes to Chelsea softened a bit was under the stewardship of Carlo Ancelotti. Football's most likeable manager, he bore the madness of having Abramovich as a boss with good grace and a permanently arched eyebrow. Martin O'Neill said recently that Ancelotti was his favourite rival manager, for the way he would join John Robertson, O'Neill's assistant, for a cheeky cigarette in the bootroom before matches.
But in general, while Chelsea have been among English football's most successful clubs of the last twenty years — four league titles, six FA Cups, four League Cups, a Cup Winners Cup and a Champions League is not a bad haul — they just don't tend to feel the love as much as their peers.
Though their legendary manager was often guilty of outrageous bastardry, Alex Ferguson-era Manchester United always projected a sense of glory that intoxicated even neutrals. Liverpool's miraculous 2005 Champions League success inspired a cottage industry of stage plays, movies and books, whereas Chelsea's unlikely 2012 win is often regarded as a weird historical anomaly. Arsene Wenger, meanwhile, determinedly carries on his life's work, widely admired, like Claude Monet dabbing away at his Water Lilies while World War I rages a few hundred miles away.
But now, with Conte's team riding high, is it finally time to like Chelsea?
Take the obvious stuff: Abramovich is now only one of many objectionable Premier League club owners, John Terry has been largely put out to pasture and Mourinho has moved on to make other people's lives miserable. Conte, meanwhile, has built a team so perfectly engineered that his old employers, the Agnellis of Fiat reknown, would be impressed.
Like one of those earthquake-proof Japanese skyscrapers, they wobbled and creaked under the force of consecutive onslaughts from Tottenham and City, but snapped back into shape with astonishing resilience.
There's something admirably ego-free in the way the Italian has shaped his team so far. Referring to himself as a tailor, he adapted his tactics to suit the players at his disposal rather than vice versa. This contrasts with Guardiola, who is now cutting a late 1960s Brian Wilson figure, plinking away derangedly in his sandbox, trying to recreate the Pet Sounds magic of Barcelona, but with Nicholas Otamendi on bongos.
While putting an indelible stamp on his team, Conte is at the same time refreshingly unshowy as Premier League managers go. His modest command of English has provided few moments of press conference theatre, while post-match interviews are free from grenade-throwing, distraction-generation and self-aggrandisment.
And the players, like schoolchildren responding to a firm-but-fair master, no longer seem so loathsome. David Luiz, always the friendly face of football, is back and thriving, Eden Hazard is no longer the malingering malcontent of last season, and even Diego Costa has cut out the scratching and niggling of old.
So it might be time to admit that it's okay to appreciate Chelsea, even if that might be a harder idea to stomach than the worst bushtucker trial.
The42 is on Instagram! Tap the button below on your phone to follow us!