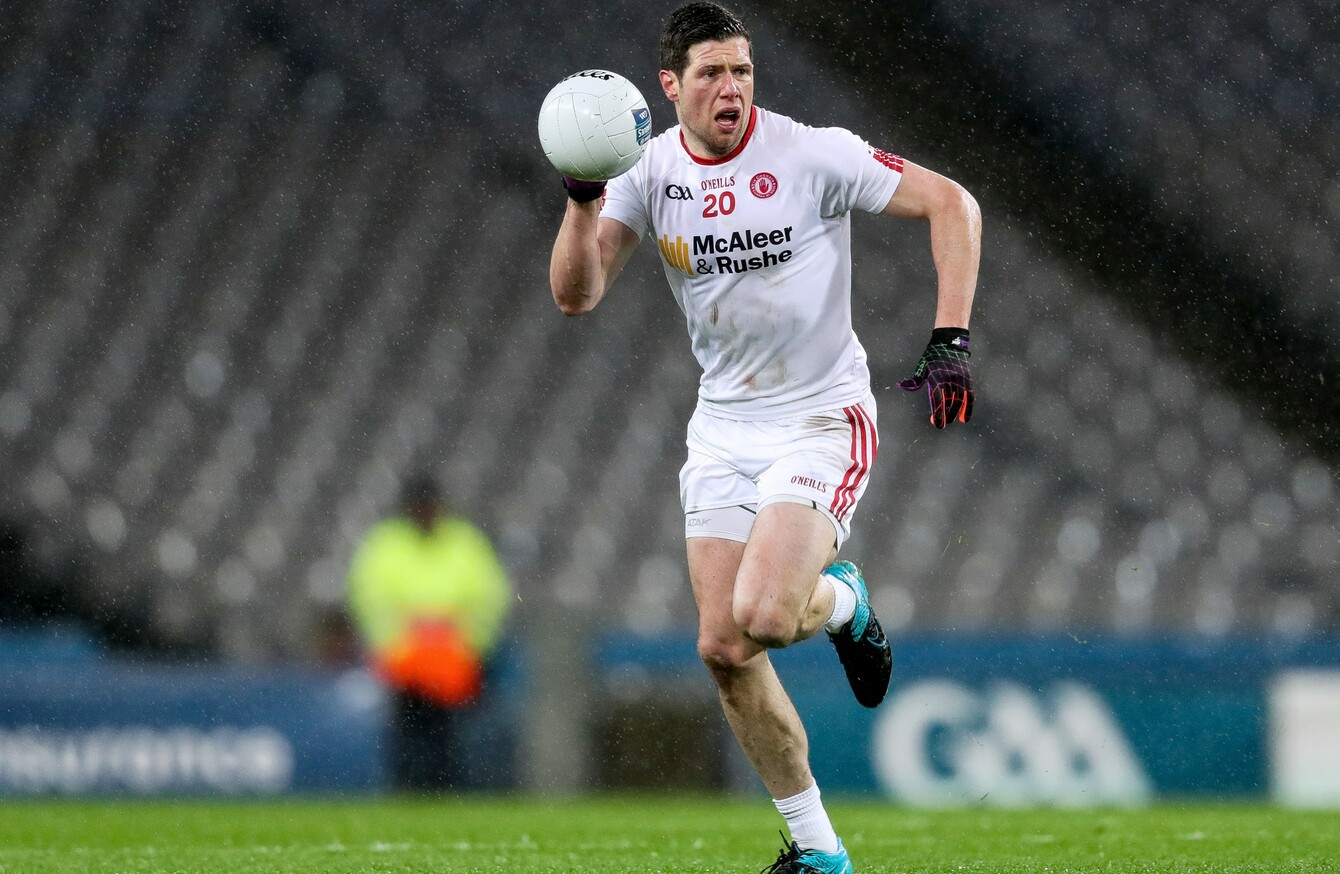 Tyrone's Sean Cavanagh.
Image: Tommy Dickson/INPHO
Tyrone's Sean Cavanagh.
Image: Tommy Dickson/INPHO
I KNEW I'D seen that look somewhere before.
Last month Henry Shefflin became the first GAA player to have his portrait hung in the National Gallery. Artist Gerry Davis chose to paint Shefflin standing in his club field in Ballyhale, hurley slung over his shoulder — but dressed in civvies, not the colours of club or county.
I figured Davis had chosen to put Shefflin in the drab uniform of the late-thirtysomething male — brown shoes, jeans and blazer, pocket square peeping defiantly — as a poignant illustration of sporting mortality. The great man gazes into an uncertain future, his hurling life, literally, behind him.
And the look on his face? Remember that bit at the end of Goodfellas, when Henry Hill stares at the camera and confronts the reality of his post-Mafia existence: "I'm an average nobody… I get to live the rest of my life like a schnook."
Or maybe not.
"He did an amazing job," Shefflin said of Davis's work. "I would have been a very focused and driven individual, I suppose that's captured."
Hey, it's art — it means whatever you want it to mean.
Source: TheJournal.ie/YouTube
Sean Cavanagh is currently trying to delay joining the ranks of the schnooks. The great Tyrone player has admitted that this Sunday's Ulster Final will almost certainly be his last.
In fact, he should have already played his last. "I told everybody that I love in my life that last year was it," he told me at a GAA sponsor's press event on Monday.
The All-Ireland quarter-final defeat to Mayo last August, in which he was sent off, changed everything. He couldn't leave it like that.
He and his wife Fionnuala did not speak about it in the hours and days afterwards, but it was one of those silences between married people that say everything.
I'm going back. I know you are. I have to. I know you do.
These conversations are often better that way. Just ask Chanelle McCoy. There can have been few better depictions of the end of a sportsman's career than Being AP, the documentary that charts the final months of her husband's glittering life as a jockey. It is only a slight exaggeration to describe McCoy's attitude to retirement as if it were a terminal disease.
In one remarkable scene, following a discussion about injured jockeys, Chanelle suggests that it might be the right year to call it a day.
Why on earth would any year be a good year to call it a day," McCoy replies, with disgust. "What happens now? Suddenly I go from doing everything I wanted to do for the last 25 years, to waking up and thinking… What happens then?
"Well listen, there'll be a few lunch boxes to pack for you, honey," Chanelle jokes. "There'll be a few bins for you to take out!"
"Seriously," McCoy spits.
McCoy fears that life as a schnook awaits.
Cavanagh and McCoy actually bumped into each other last year, as the Tyrone captain revealed in a fascinating interview with Kieran Cunningham of the Irish Daily Star earlier this year, and the two talked about a prospect which Cavanagh said "genuinely scares me".
He also admitted that he'd set up a new business in part to replace the buzz of football. Like many GAA players who look like they were put on this earth to play sport, it sometimes seems unfair that they must also pursue mundane occupations.
But the reality of having to live a normal life at least prepares GAA players for the retirement's pseudo-death. Sean Cavanagh & Co Chartered Accountants is four months old and the Tyrone midfielder has been juggling his bid for a seventh Ulster title with the demands of running his own firm. He got home from the office on Sunday night at 10pm, "just in time to catch the football on the Sunday Game".
He asks me about his beloved Manchester United signing Romelu Lukaku — he'd have preferred Alvaro Morata — and talks about his daughters, Eva and Clara, who are there for the photocall. He wants to know if rearing boys is different from girls, revealing that he and Fionnuala are expecting a third child later this year.
He has lots to look forward to when the time comes, and lots to look back on. But it's not over yet.
There may yet be a few more months of towering catches, inspirational long-range points and glimpses of the famous shuffle that always hoodwinks defenders even though they must surely know what is coming — the Jedi mind trick of Gaelic football manouevres.
It's nine years since he produced the performance of a lifetime to help Tyrone defeat Kerry in the 2008 All-Ireland Final, each of his five points from play coming at crucial moments in that game's gripping flow, each one a sickening body blow for a Kingdom side throwing everything at their opponents.
This year might be the first time since that day that he can look around him and see a team capable of lifting Sam Maguire.
Or maybe not. "I generally don't tend to dwell too much on anything I've done in the game. I'm just that type of person that I'm always looking ahead. I'm optimistic about what's ahead."
Whatever it is, like McCoy and Shefflin, he'll never be an average nobody. Or, indeed, a schnook.
The42 is on Instagram! Tap the button below on your phone to follow us!