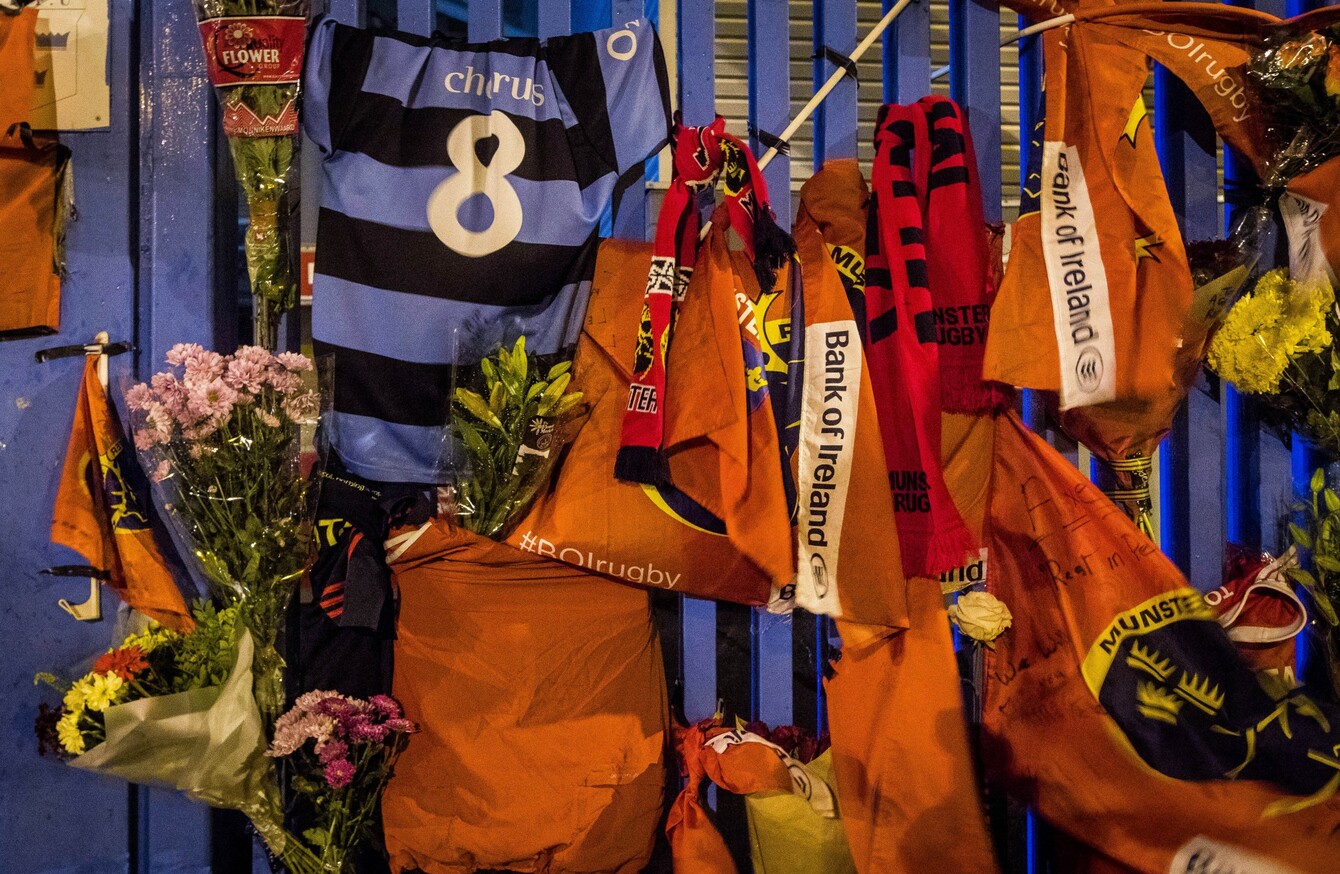 Image: Ryan Byrne/INPHO
Image: Ryan Byrne/INPHO
IT IS ABSOLUTELY right that Munster will play a rugby match at Thomond Park tomorrow. Even while at the same time it seems completely wrong.
It felt that way watching Munster captain Peter O'Mahony attempt to compose thoughts about Anthony Foley on Wednesday, while being crushed by his personal grief on one side and the responsibility of his job on the other.
How could O'Mahony and his teammates be expected to focus on the minutiae of a match less than 24 hours after burying "the man, the friend, the coach and the brother" they lost last Sunday?
O'Mahony's position on the dividing line between Foley's close family and friends and the greater rugby world forced him into being the public face of private sorrow. A press conference had to be held, and as Munster captain he had to speak, but he too had lost someone he loved.
It was hard to watch because while emotional outpouring has never been more fashionable, actual grief remains taboo. We do not like to be near genuine mourning, not just because it is difficult to watch others in pain, but also because of the proximity it puts us to that which we dread the most.
I thought of the Foley family while reading an excerpt, published recently by The Sunday Times, from a book written by the husband of Hélene Muyal-Leiris, killed in the Paris terrorist attacks. Antoine Leiris's account of that terrible Friday night and the months that followed as he dealt with raising their 17-month-old son Melvilalone is almost unbearable to read.
The small details of loss are heartbreaking: bath time, once a ritual filled with fun and affection, now all wrong. The child squirms in Antoine's arms; he still expects her to open the bathroom door. "He knows that Papa is sad. He sees the gaping hole appear in our life. An invisible monster comes out to drag us down there. We cry. Slowly, the hole closes up. We are still here."
At times this week the knowledge of the pain the Foley family were enduring made one question the simultaneous celebration of the man's rugby life. From Sunday afternoon the airwaves filled with stories recounted by emotional and affectionate teammates, opponents and friends. His role in Munster's quest for the Heineken Cup, his renowned rugby brain, his dry sense of humour. An already legendary sporting life was being immortalised, as is normal when something like this happens.
But how could we talk about rugby when two boys had lost a dad? It was for this reason that O'Mahony broke down on Wednesday: the public veneration of the rugby man felt meaningless against the loss of the father, husband, son and friend. "I'm not going to do him justice here," O'Mahony said, knowing words would never be enough.
And yet, at the same time, it was only proper for those of us on the outside to celebrate his achievements.
"He who has a why to live for, can bear almost any how," wrote Nietzsche, and if ever there was someone who got the importance of having meaning to one's life, it was Anthony Foley.
Be part
of the team
Access exclusive podcasts, interviews and analysis with a monthly or annual membership.
Become a Member
Old footage of that fabled Munster journey replayed this week provided a reminder of just what Foley and his comrades achieved. Aside maybe from Roy Keane's fluctuating place in national affections, Munster's was the most compelling story in Irish sport throughout the first decade of this century. Out of a few treasured historical fragments, they built a legend; and they built it on loyalty, friendship, honesty, a fair bit of craic, and a lot of love.
As we've been reminded this week, no one loved more than Foley.
So while it momentarily felt like a larceny to the family's grief to indulge in tales of rugby glories, where Foley was concerned the lines were blurred; the private and professional, family and club, life and sport – where did one start and the other end?
Antoine Leiris writes about the bewildering intrusion of the everyday – a man coming to read the gas meter – into his grief after the death of his wife. The everyday tasks of tomorrow's game will feel like that to the Munster family: warm-ups, kicking practice, the coin toss. The grim march of life, going on, as it does.
It's trite to say that Munster v Glasgow should go ahead because it's what Foley would've wanted, even if it is probably true. The result of the match doesn't matter, but someday soon the results will matter again. Perhaps tomorrow can mark a start to putting Munster back where they were when Foley played for them. That's something he would have wanted.
But it's right that it goes ahead mostly because the public celebration of Foley must have its conclusion, and the private grieving allowed its space.
"I think the main thing is we're there for Olive and the kids," said O'Mahony, speaking as the broken-hearted friend, rather than Munster captain.
"We've just got to be there for them now. It's not about us. It's not about anything else. It's about minding them now over the next few weeks."
His two worlds as one, Foley would have approved.