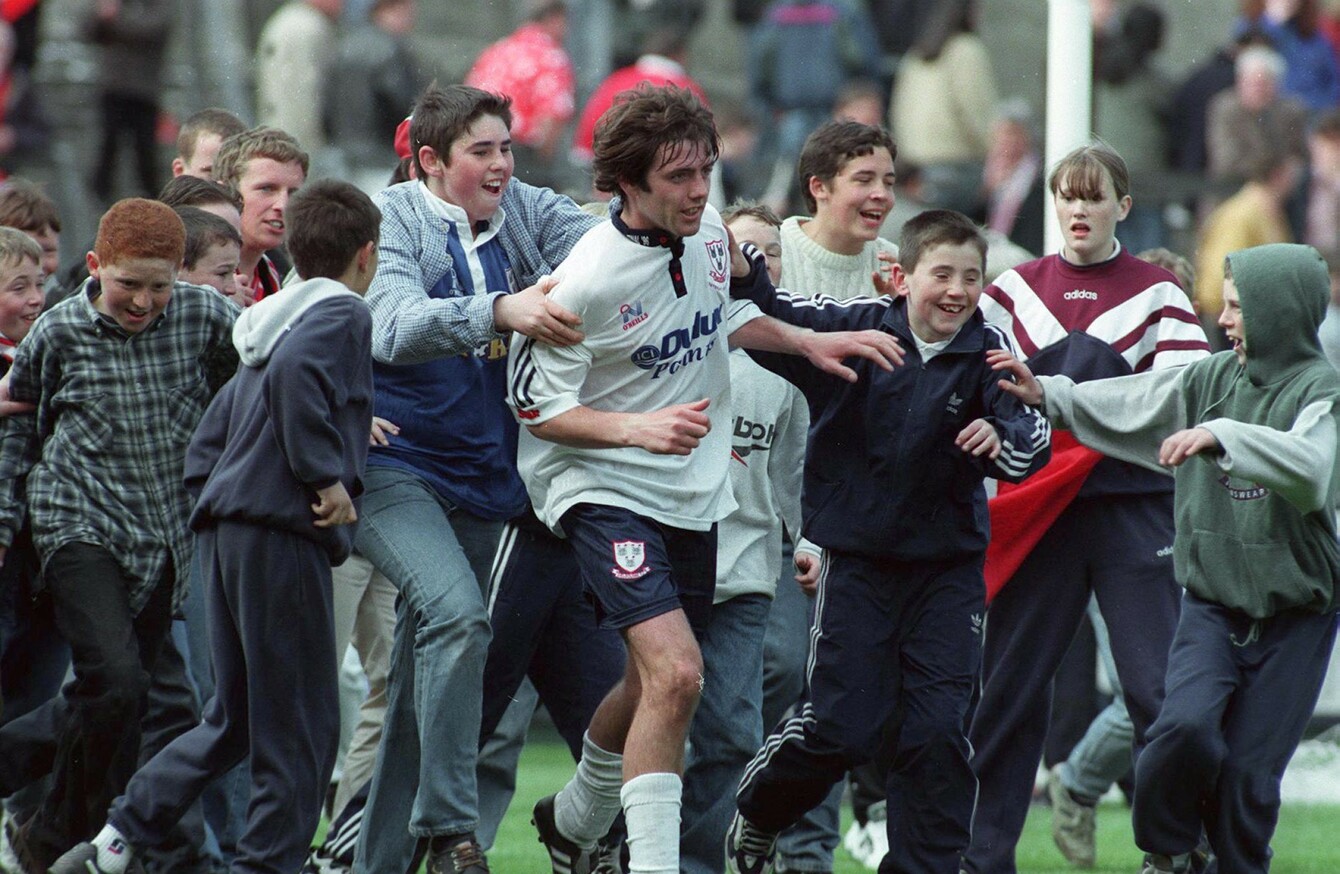 Tony Sheridan of Shelbourne is mobbed by fans after the 1996 FAI Cup final ends in a draw.
Tony Sheridan of Shelbourne is mobbed by fans after the 1996 FAI Cup final ends in a draw.
THERE ARE MANY footballers who would be more than happy with the career Tony Sheridan had.
It takes a special player to make his Premier League debut at the age of 18, and Sheridan was indeed that.
The Dubliner caught the eye as a teenager at Coventry, and his talent even led to rumours that Liverpool were considering a bid for the player during Graeme Souness' time in charge of the club, while there was even talk of an Ireland call-up prior to the 1994 World Cup.
Ultimately, however, Sheridan's stint in England ended prematurely. He left Coventry in 1995, after making just nine Premier League appearances with the club, returning home and enjoying a more successful period with Shelbourne in the League of Ireland
Now 41, he was recently appointed assistant manager to Alan Rogers at Isle of Man team Elann Vannin, while he also spends time coaching youngsters at Terenure Rangers and Lakelands these days.
Reflecting on his short stint in England, Sheridan now admits he lacked the focus needed to succeed in top-level football, suggesting a sense of complacency ultimately contributed to his downfall.
I got a slice of the apple pie very early and you just think, 'that's it, you've made it,'" he tells The42. "Unfortunately, that was only the start of climbing the ladder and unfortunately I thought I was at the top — I didn't fulfil my potential. But that's life. I've gone back to teach other kids that are going away. 'This is what you don't need to do if you want to be successful in your football career.'"
As well as warning young footballers of the pitfalls he succumbed to, Sheridan also has another invaluable piece of advice for anyone trying to make it in the game.
I'm trying to instil it into the young kids I'm coaching in Ireland — be comfortable on the ball. That's what I learned — no disrespect to the League of Ireland, but you've got players, where there's a player beside them, and they're afraid to give him the ball. The Barcelonas, the Real Madrids and the continental teams aren't afraid because they have trust in the players. That's what I try to teach our young kids. You've got to trust in your teammates. So you've got to believe and trust in your ability and the players around you.
On his time in England, he adds: "I took a lot from it. Little mistakes that I made from my career, I can go back and tell kids (of my experience).
"If I knew then what I know now, things would be completely different. But hindsight is a strange thing — you never know what's going to happen. I just have to suck it in — this is a new chapter for me (in the Isle of Man) that I want to succeed in, and I'm sure Alan (Rogers) and (director of football) Dave (Crennell) feel the same."
Source: LewisQ/YouTube
While Sheridan failed in England as a youngster despite his obvious ability, the former midfielder subsequently became a star in the League of Ireland, with the Dubliner an integral part of an extremely talented Shelbourne side in the mid-to-late 1990s.
In his first season at the club, Sheridan was named FAI National League Player of the Year, while helping the Dublin-based side win two FAI Cups on the bounce.
It is no surprise, therefore, that he rates then-Shels manager Damien Richardson as being among the best he's ever worked with.
I've worked with some great managers. Terry Butcher was my first manager. Then Phil Neal, Bobby Gould and Ron Atkinson. When I came home to Ireland, I worked with Damien Richardson, Dermot Keely, Ronny McFaul in the North. Obviously, I worked with Pat Fenlon and some great players that became successful managers.
"I've learnt a lot from them. Probably the two best managers I had were Bobby Gould (at Coventry) — great for player management — and obviously Damien. Damien wanted to play football and that's something I wanted to do as well."
However, once again, there was a lingering sense of underachievement during his League of Ireland days. Sheridan and Shels missed out on the league title on the final day of the 1997-98 season, while to compound their woe, the team were also denied a third FA Cup triumph in a row by Cork City, following a tight 1-0 win for the Leesiders in a replay, after their first match had finished scoreless.
Richardson departed as manager following this bitterly disappointing end to the season, with Sheridan following him through the Shels exit door just a year later, as the club finally claimed an elusive league title in the campaign following his departure — thereby beginning a run of five championship successes in the space of eight years in the absence of their beloved star player.
In 1999-2000, Sheridan spent a period with Portadown, before another ill-fated spell in Britain, as he joined Cardiff City, only to be promptly released without playing a first-team match.
Further fleeting stints at Shelbourne (twice), Dublin City, Waterford United, Glenavon and Shamrock Rovers followed, but Sheridan failed to ever consistently recapture his early-career form.
Looking back on life as a player, the former star admits there is a sense of regret with regard to certain issues in particular. Despite enjoying the best football of his career at Shelbourne, Sheridan feels more success could have been derived from this bittersweet period.
"We had a good team, but unfortunately, we didn't win as much as we probably should have with the team.
It was the whole team in Shelbourne — you had the likes of Greg Costello, Mick Neville, Stephen Geoghegan, Declan Geoghegan, Pat Fenlon. We had great players and a great little rapport between us.
"I couldn't say anything bad about the lads, the only thing we'd be disappointed about is we should have won more. We won two cups, but should've probably have been winning the league. For the last year of Damien's tenure we should have won the treble to be truthful, because we were the best team in the league, but unfortunately, we threw it away."
And finally, the conversation turns back to those early days at Coventry. Surely making his debut just after turning 18 in the Premier League would have been an incredibly nerve-racking experience? On the contrary, says Sheridan, who gives an intriguing insight into his mentality in the process.
I never get nervous (in football)," he says. "As I said to one of the lads before I did my final assessment of the Uefa B licence, I was more nervous doing that then I was (playing football at any level).
"For me, (football) is like being a kid in Funderland Park. Messi's the same — and I'm not comparing Messi to myself — but it's like it doesn't matter if there's 80,000 people there or one person there, Messi still goes out and does the same thing. That's the same as myself, nothing in football phases me, because at the end of the day, it's only a game. Obviously you want to win, but there's no point in getting nervous.
As I always say to the young kids on a Saturday and a Sunday, you worked all week for this game, now go out and enjoy it. That's important — there shouldn't be any pressure on the kids.
"I spoke to parents about this — I'm not the manager, but I give a dig out (at Terenure Rangers), because my young lad plays with them as well. The manager gives me a little bit of input into the teams, which is good for the kids, because they kind of look up to me. I say: 'Work hard Wednesday and Friday, do what you've been doing in training and don't be afraid to do it.' At the moment, it seems to be working, because they're doing really well."
The42 is on Snapchat! Tap the button below on your phone to add!