Good evening everyone, you're very welcome along to what promises to be a thrilling night of Champions League action as Tottenham prepare to face Ajax in the first leg of their Champions League semi-final tie.
Tottenham versus Ajax. Now let's be honest here, who on earth could have predicted this? Both sides have caused massive upsets to passage into the final four, with neither having reached the decider in well over two decades when a Louis van Gaal-led Ajax last won this famous competition in 1995.
Spurs have never won Europe's highest honour before, with today's matchup just the second time in the club's history to play in a European Cup semi-final — last time out they came up short 4-3 against a Eusebio-inspired Benfica in 1963.
Today's game is so exciting because it seems so out of the ordinary. Tottenham, granted, have appeared in the Champions League for the last three seasons, but have never passaged further than the quarter-finals before today.
Ajax, meanwhile, always caricatured as a fallen giant of the European game, have rolled back the years. Erik ten Hag's youthful, vibrant, attacking side are reminiscent of days of old under Johan Cruyff and Rinus Michels all those decades ago.
Yui Mok Yui Mok
Spurs overcame Manchester City in the most dramatic of circumstances a fortnight ago, with Raheem Sterling's goal ruled out by VAR in the 95th minute without any doubt one of the most dramatic moments in modern football.
Ajax, on the other hand, put mighty Juventus to the sword last time out, leaving Cristiano Ronaldo and his team-mates with egg on their face as the Serie A champions' quest for a first European title since 1996 continues for another year.
Both sides fully merit their place in today's semi-final, but surely no-one could have predicted Tottenham against Ajax at the start of the season.
Don't forget, Ajax had to passage through the qualifying rounds to reach this season's Champions League. Incredibly, their journey to tonight's game in London began against Austrian outfit SK Sturm Graz last July, nine months ago.
It promises to be a dramatic night of football ahead. Stick with us for the ride, kick-off is coming up in just over an hour's time at 8.00pm. Today's game is live on RTÉ 2, Virgin Media Sport and BT Sport 2 if you're near a TV.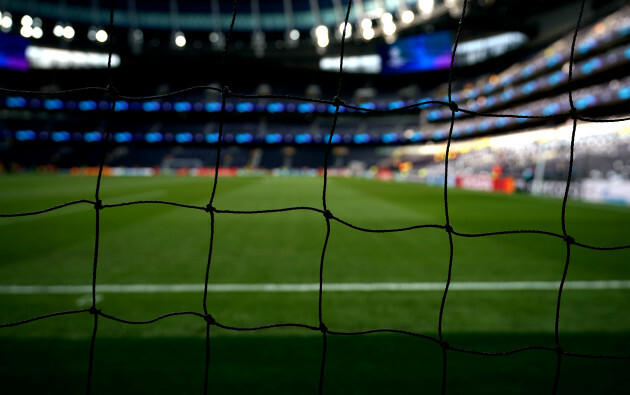 John Walton John Walton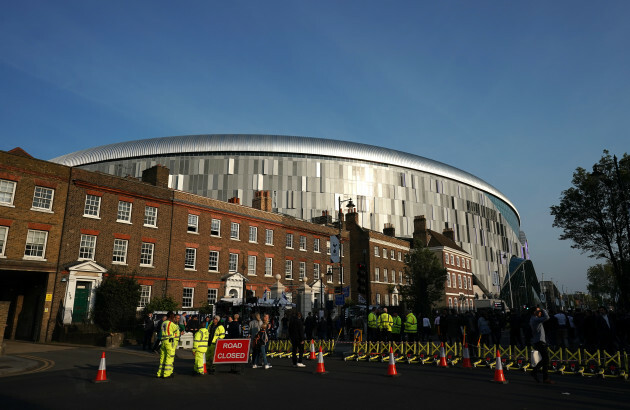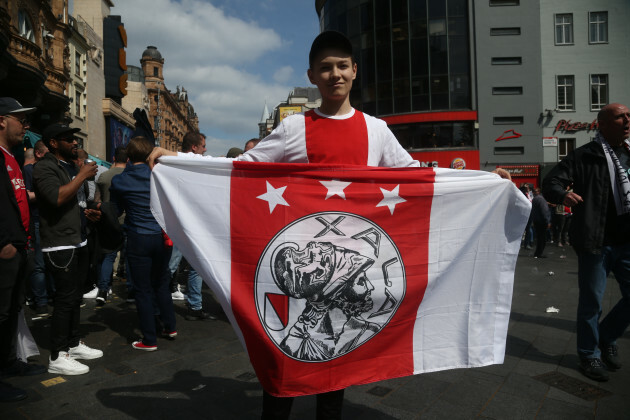 Let's get started with tonight's team news…
#THFC: Lloris (C), Trippier, Sanchez, Alderweireld, Vertonghen, Wanyama, Rose, Eriksen, Dele, Lucas, Llorente.@WilliamHill odds (18+) https://t.co/UTGkpi6vxV#UCL ⚪️ #COYS pic.twitter.com/Z5KPWVoYqD

— Tottenham Hotspur (@SpursOfficial) April 30, 2019
All names! 👥#UCL #totaja pic.twitter.com/j7LYFrU7NH

— AFC Ajax (@AFCAjax) April 30, 2019
TEAM NEWS: Mauricio Pochettino has a significantly depleted squad for tonight's semi-final, with Harry Kane, Son Heung-min, Harry Winks and Erik Lamela all ruled out.
The Spurs boss makes two changes from the side which fell 4-3 to Man City at the Etihad but went through on away goals. Davinson Sanchez comes in to replace Sissoko, while goalscoring hero in Manchester last time around Fernando Llorente replaces Son up front.
Ajax were given the weekend off by the Dutch FA and come into tonight's away leg with four league wins in a row, as they seek a historic treble this season. Manager Erik ten Hag makes no changes from his side's 1-1 draw in Turin against Juventus two weeks ago.
Tottenham: Lloris, Trippier, Sanchez, Alderweireld, Vertonghen, Rose, Wanyama, Eriksen, Alli, Lucas Moura, Llorente.

Substitutes: Gazzaniga, Foyth, Walker-Peters, Davies, Dier, Skipp, Sissoko.

Ajax: Onana, Veltman, de Ligt, van de Beek, Neres, Tadic, Blind, Schone, de Jong, Ziyech, Tagliafico.

Substitutes Varela, Sinkgraven, Huntelaar, Mazraoui, Magallan, Dolberg, de Wit.
Not long to go before kick-off, about 45 minutes until action gets underway at the new Tottenham Hotspur Stadium (it badly needs a catchier name). Who's going to come out on top tonight? Let us know below.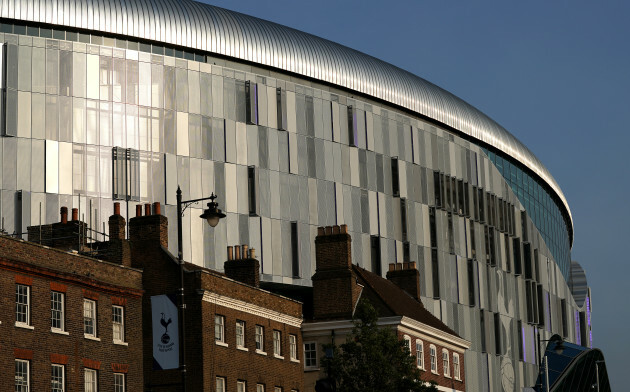 John Walton John Walton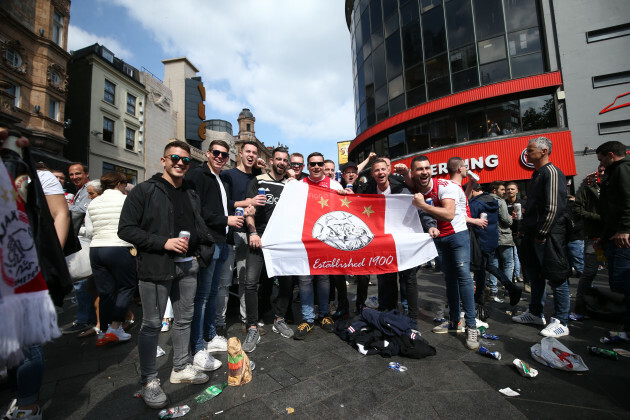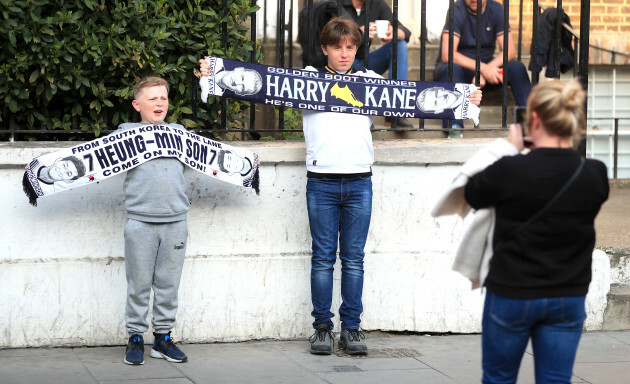 The teams are making their way out onto the pitch as the Tottenham fans make themselves known with a sing-song. Kick-off is just moments away now. A cracking atmosphere for what promises to be a cracking game.
Apr 30th 2019, 8:02 PM
1'
KICK-OFF: We're underway at the new Tottenham Hotspur Stadium for the first half!
Apr 30th 2019, 8:05 PM
3'
What you would call a "pacey" start to this game as both sides fly the ball up and down the pitch. Plenty of energy about the place, Ajax well rested after their weekend off from domestic affairs while Spurs must battle on after a deflating defeat to West Ham.
Apr 30th 2019, 8:07 PM
4'
First chance for either side as Donny van de Beek finds his way into the box in a dangerous position. He tries to send a cross into the area, but Davinson Sanchez does well to block the ball out for a corner kick.
Apr 30th 2019, 8:09 PM
6'
The corner is booted clear at the first hurdle and falls to van de Beek again, but the midfielder absolutely slices his shot and it flies comfortably over Hugo Lloris' crossbar.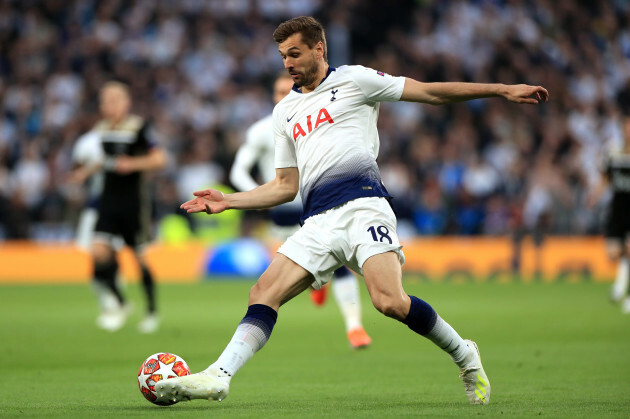 Mike Egerton Mike Egerton
Apr 30th 2019, 8:10 PM
8'
A strong start inside the opening few minutes from the visitors here. Erik ten Hag's side are dominating in midfield and are causing Eriksen and Wanyama quite a bit of trouble trying to get a foothold of the ball.
Apr 30th 2019, 8:11 PM
9'
Almost an opening chance for Spurs down the other end. A sloppy piece of defending sees Dele Alli win the ball high up the field. He tried to pick out the Fernando Llorente in behind enemy lines, but the Spaniard just wasn't switched on and failed to make the required run in time.
Apr 30th 2019, 8:13 PM
10'
Ten minutes on the clock. Both sides still trying to figure one another out here, but Ajax are looking very confident early doors, demonstrating the same intensity and high pressure which was so successfully catching Real Madrid and Juventus off guard.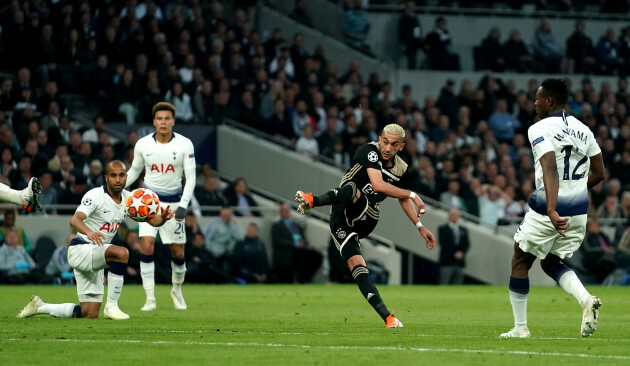 John Walton John Walton
Apr 30th 2019, 8:15 PM
12'
Hakim Ziyech latches onto the ball after a neat passage of combination play. He surges through into space, but Victor Wanyama does really well to cover up ground and dispossess the young Ajax forward when he was picking up speed. Great defending.
Apr 30th 2019, 8:16 PM
14'
Danger now, as George Hamilton would say. The ball falls to Ziyech again on the edge of the box and he lines up a curling effort on his left boot. Hugo Lloris braces for impact but is not called into action as former Ajax man Jan Vertonghen provides a crucial block.
Apr 30th 2019, 8:17 PM
15'
GOAL! TOTTENHAM 0-1 AJAX (VAN DE BEEK 15)
Ajax take the lead! Another brilliant passage of passing play sees Ziyech pick out Donny van de Beek inside the box with a killer through ball low along the ground. The midfielder is narrowly onside — with buckets of space and plenty of time he picks out Lloris' bottom corner with a close-range finish.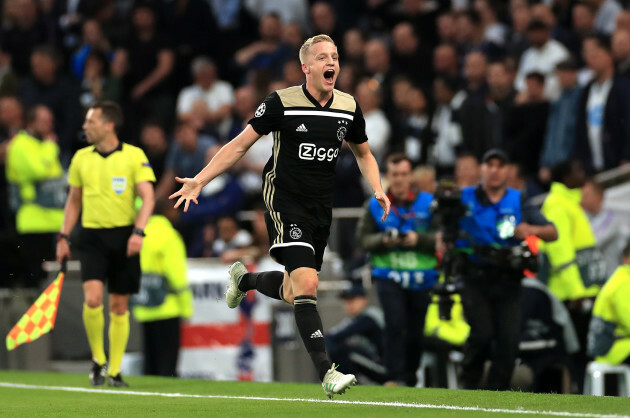 Mike Egerton Mike Egerton
Apr 30th 2019, 8:20 PM
17'
There was absolutely no-0ne near van de Beek there as he carefully picked his spot. It looked like Spurs might have been trying to play an offside trap, but they were really caught wanting there. A massive setback early on for the Londoners.
Apr 30th 2019, 8:21 PM
19'
Ajax are full of confidence now and are hunting for a second right away. Danny Rose is flagged up for a foul, Ziyech crosses in the resulting free-kick, but his cross is headed wide for a corner by Sanchez. The visitors applying so much pressure right now.
Apr 30th 2019, 8:22 PM
19'
Another chance for Ajax. Ziyech's corner picks out David Neres unmarked on the edge of the box, but his sliced, left-footed shot is blocked by the back of Jan Vertonghen closing down space.
Mike Egerton Mike Egerton
Apr 30th 2019, 8:24 PM
21'
Tottenham try to find a response after a sustained period of Ajax dominance. Christian Eriksen ventures forward through midfield and tries to loft a crossfield ball to meet the run of Llorente, but Barcelona-bound Frenkie de Jong recovers well and heads the ball clear.
Apr 30th 2019, 8:28 PM
23'
Chance! It really should have been 2-0. A superb one-two between Ziyech and van de Beek sees the goalscorer clean through on goal. It was a tricky angle for van de Beek and his shot is saved well by Lloris coming off his line. In fact, he might have been better crossing that actually.
Apr 30th 2019, 8:29 PM
27'
Close! Two great chances in as many minutes. This time it's Tottenham firing at the other end. A Tripper free-kick swung dangerously into the box finds Llorente completely free with the goal at his mercy. The ball is slightly too high for the forward through, and he cannot steer the ball on target to try and test Andre Onana between the sticks.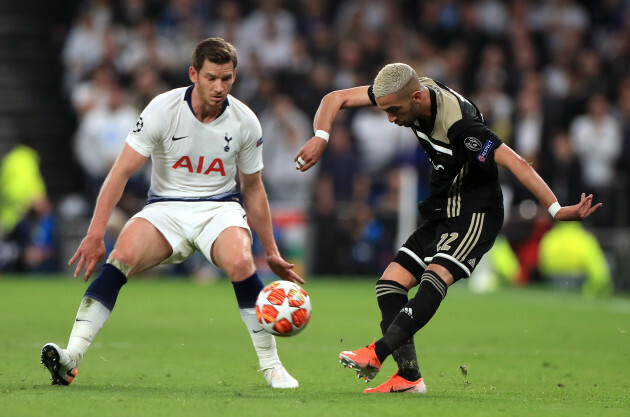 Mike Egerton Mike Egerton
Apr 30th 2019, 8:33 PM
30'
Spurs have responded in the last few minutes trying to find an equaliser but Erik ten Hag's men are still very much in control of this affair. The hosts are depleted of so many of their star men, particularly missing Kane and Son up front, and are struggling to gather any kind of pace or cutting edge in attack.
Apr 30th 2019, 8:34 PM
32'
Two Tottenham bodies down inside the Ajax box now. Jan Vertonghen and Toby Alderweireld both seemed to collide with Ajax goalkeeper Onana as he tried to punch a cross clear. The medics are on and it seems Vertonghen's face has been cut open as blood streams down his face.
Apr 30th 2019, 8:36 PM
34'
There's a pause in play now as Vertonghen receives attention from the Tottenham doctors. It seems like the Belgium international's nose has been busted with that collision inside the box.
Mike Egerton Mike Egerton
Apr 30th 2019, 8:39 PM
36'
The defender's jersey is splattered with blood and he goes off to receive further attention as Spurs go down to 10 men temporarily. It was a nasty clash Vertonghen took there, but thankfully he is able to get back to his feet and walk off of his own accord to be assessed and possibly get a new shirt.
Apr 30th 2019, 8:41 PM
39'
There may be an issue of concussion with Vertonghen. The defender returned to play for a brief few moments but seems to be signalling to the Spurs bench that he is not okay to go on. He is replaced by Moussa Sissoko off the bench.
Apr 30th 2019, 8:44 PM
41'
Mauricio Pochettino forced into an early switch in this game, a goal down and now losing one of his key defenders. There will be at least seven or eight minutes of stoppage time added on at the end of the first half.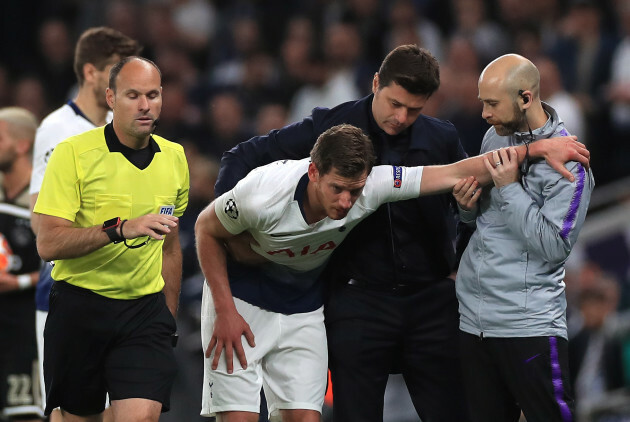 Mike Egerton Mike Egerton
Apr 30th 2019, 8:45 PM
43'
Tottenham starting to get a bit more of a foothold on the game now, pushing bodies higher up the pitch in the hope of finding Eriksen, Alli and Llorente in attacking positions.
Apr 30th 2019, 8:46 PM
44'
A really good chance for Ajax against the run of play. David Neres sprints free on goal and looks like potentially having a one on one with Hugo Lloris. His first touch is quite poor though and that gives Davinson Sanchez the chance to get back and gather possession. Really great defending when it was needed by the Colombian.
Apr 30th 2019, 8:47 PM
45'
There will be five minutes of stoppage time to come at the end of the first half.
Apr 30th 2019, 8:50 PM
45'
Spurs prodding and probing looking for that equaliser. Danny Rose ventures forward and wins a throw, the subsequent ball into the box causes quite a bit of panic for Matthijs de Ligt and Daley Blind — but Fernando Llorente can't get the ball down to strike on goal.
Imago / PA Images Imago / PA Images / PA Images
Apr 30th 2019, 8:51 PM
45'+4
Close! A chance right at the end of the first half for Tottenham. Toby Alderweireld peels away and meets Christian Eriksen's floated free-kick. The defender lofts an excellent header which looks like nestling into the top corner, but it comes down over the crossbar instead of under it.
Apr 30th 2019, 8:52 PM
45'+5
HALF-TIME: TOTTENHAM 0-1 AJAX
We're a quarter of the way there in this Champions League semi-final tie.
Ajax lead at the break in London thanks to Donny van de Beek's well-taken finish from close range after an excellent passage of passing play with just 15 minutes on the clock.
There has been plenty of lovely passing play from Ajax so far, with Erik ten Hag's side once again demonstrating supreme confidence and ability with and without the ball.
The Dutch league leaders have enjoyed 58% possession and have carved out six shots compared to Spurs' four so far. Mauricio Pochettino's side have had decent chances to level, but look a little bit stiff without Harry Kane and Son Heung-min up front.
The injury suffered by Jan Vertonghen will surely be a major talking point, too, as he looked to have potentially suffered concussion.
The Belgium international was part of a serious collision involving team-mate Alderweireld and Ajax goalkeeper Andre Onana.
His face was covered in blood, however Vertonghen was let back on before being brought back off again after signalling to the bench that he wasn't okay.
More to action to come very shortly!
Apr 30th 2019, 9:00 PM
45'+5
Apr 30th 2019, 9:09 PM
46'
SECOND-HALF: We're back underway for another 45 minutes.
Apr 30th 2019, 9:10 PM
47'
Chance for Tottenham right away in the second half. Fernando Llorente provides some exceptional skill to keep the ball away from two defenders inside the box, volleying the ball to himself left and right — only for his shot to be blocked and cleared.
Apr 30th 2019, 9:13 PM
49'
Ajax fly down the other end as the second half begins at a furious pace. Tagliafico carves out a chance as Spurs back-peddle in defence, but the forward drags his shot wide from distance.
Apr 30th 2019, 9:15 PM
51'
Another opportunity for Tottenham, who are looking significantly more confident in attack now. Lucas Moura heads the ball down where Dele Alli is free, but his powerful volley is well saved by Onana on his line.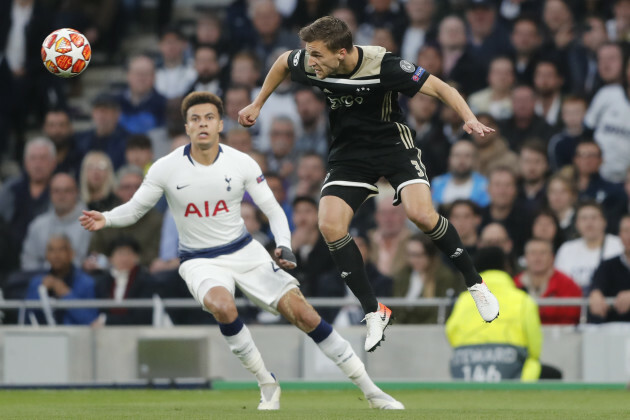 Frank Augstein Frank Augstein
Apr 30th 2019, 9:16 PM
52'
A rapid counter-attack from the visitors down the other end. Some poor defending from Alderweireld allows Ziyech through down the right. He crosses into the box, but the ball is sent right back to him. Spurs get enough bodies back to cover, though, and Davinson Sanchez eventually slides the ball clear. A real moment of panic there.
Apr 30th 2019, 9:20 PM
55'
Alli is close again. Much, much better build-up play from the hosts as Lucas Moura finds Kieran Trippier, who in turn crosses into the box for Alli. He rises highest and meets the ball with a firm connection, but the England midfielder's effort flies the wrong side of the crossbar.
Apr 30th 2019, 9:22 PM
58'
A sustained period of pressure from Tottenham now. Christian Eriksen toys with his opponents and tries to nick a through ball towards Moura, but de Ligt is on hand to head the ball to safety. Ajax hanging on at the moment.
Frank Augstein Frank Augstein
Apr 30th 2019, 9:25 PM
60'
Half an hour remaining after a barnstorming start to the second half. Ajax still maintain that 1-0 lead, but the confidence and ease of passing which they enjoyed all throughout the first half has subsided. Neres, Tadic and Ziyech are becoming a little bit isolated up top as things stand.
Apr 30th 2019, 9:27 PM
63'
Lucas Moura with another header, but it loops high into the air and is comfortably caught by goalkeeper Onana. Meanwhile Joel Veltman picks up a yellow card after being penalised for pulling out of Dele Alli.
Apr 30th 2019, 9:29 PM
64'
Some brilliant, brilliant defending from Moussa Sissoko there. Ajax managed to carve out a rare attack in this second half with David Neres twisting and turning down the right wing. Sissoko tracks all the way back from midfield and outmuscles the winger with strength and composure before winning a free-kick.
Mike Egerton Mike Egerton
Apr 30th 2019, 9:32 PM
68'
More good work from Sissoko sets Moura free racing at a back-peddling Ajax defence. Moura zips free and his a handful of options to pass to, but Nicolas Tagliafico manages to close down the space and nick the ball away. Moura should have done a bit better there and maybe should have released the ball earlier to a team-mate.
Apr 30th 2019, 9:34 PM
69'
Great goalkeeping from Onana there. Sissoko sends a magnificent crossfield ball towards the run of Danny Rose who is entirely free on his own sprinting into the box. It's a one on one battle to reach the ball first between Onana and Rose, and the Ajax shot-stopper wins.
A hairy moment for Spurs. Dusan Tadic miraculously finds the ball at his feet right in front of goal. He dodges past one challenge and then another, but his low right-footed shot is blocked down by Toby Alderweireld crucially.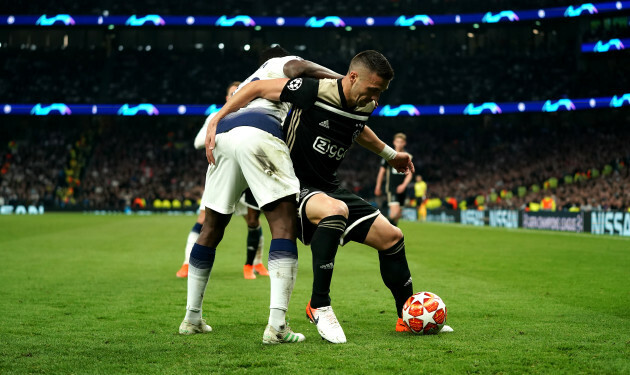 John Walton John Walton
Apr 30th 2019, 9:39 PM
74'
Close! Danny Rose is doing really well in attack. He latches onto Christian Eriksen's pass inside the box, but the England defender's low shot is blocked away by Joel Veltman at the last minute.
Apr 30th 2019, 9:43 PM
78'
Off the post! David Neres almost doubles Ajax's lead as the end of the second half approaches. The Brazilian smashes the bottom of Hugo Lloris' post after an excellent run from team-mate Ziyech on the opposite wing. Neres struck low as Lloris stood flat-footed, but his shot bounces back out to Spurs' relief.
A late set of changes from Mauricio Pochettino as Welsh international Ben Davies replaces Danny Rose off the bench. Juan Foyth is also on for the final few minutes, replacing Kieran Trippier at right back.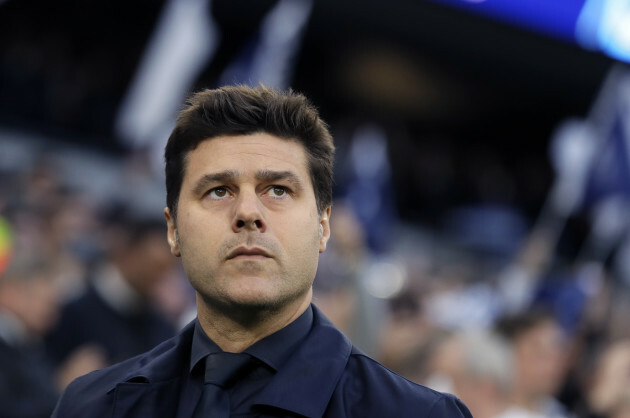 Kirsty Wigglesworth Kirsty Wigglesworth
Apr 30th 2019, 9:47 PM
82'
Another header for Spurs, but no breakthrough. Toby Alderweireld rises high and meets a cross in the air, but the ball comes off a combination of his head and shoulder before looping over the Ajax crossbar. Frustration starting to build.
Apr 30th 2019, 9:49 PM
85'
Five minutes to go in London as Tottenham still chase an equaliser. Pochettino's men have enjoyed the upper hand ever since the interval, but just haven't been able to be clinical and take their chances.
A second change from Erik ten Hag as Klaas Jan Huntelaar comes on to replace Hakim Ziyech off the bench. The Dutch striker is 35-years-old these days, but he honestly doesn't look a day over 27.
SIPA USA / PA Images SIPA USA / PA Images / PA Images
Apr 30th 2019, 9:54 PM
90'
There will be three minutes of stoppage time to come at the end of the second half.
Apr 30th 2019, 9:55 PM
90'
Lucas Moura with a volley on the edge of the box. He latches onto the ball from Fernando Llorente's knock-down, but the Brazilian spins his effort well wide. It just doesn't seem to be Tottenham's night with a couple of minutes left to go.
FULL-TIME: TOTTENHAM 0-1 AJAX
It's all over! Ajax secure another famous European result on the road as Donny van de Beek's well-taken goal after 15 minutes is enough to give the Dutch league leaders the lead in the tie and a crucial away goal.
The visitors looked supremely confident and impressive throughout the first half, but were forced to dig deep under pressure after the break as Spurs went in search of a decisive equaliser which never materialised.
Erik ten Hag's men have one foot in this year's final in Madrid, but Tottenham will come back swinging in Amsterdam with the return of Son Heung-min from suspension and potentially Harry Kane too.
Thanks a million for joining us this evening — you can read our full match report from tonight's game here and you can also check out Paul Fennessey's player ratings here too. Cya!
⏰ RESULT ⏰

ℹ️ Ajax claim impressive first-leg victory at Tottenham
⚽️ First-half Donny van de Beek goal secures away win

🤔 Who was the star man tonight?#UCL pic.twitter.com/2Wyj2NFw0g

— UEFA Champions League (@ChampionsLeague) April 30, 2019
Subscribe to our new podcast, The42 Rugby Weekly, here: