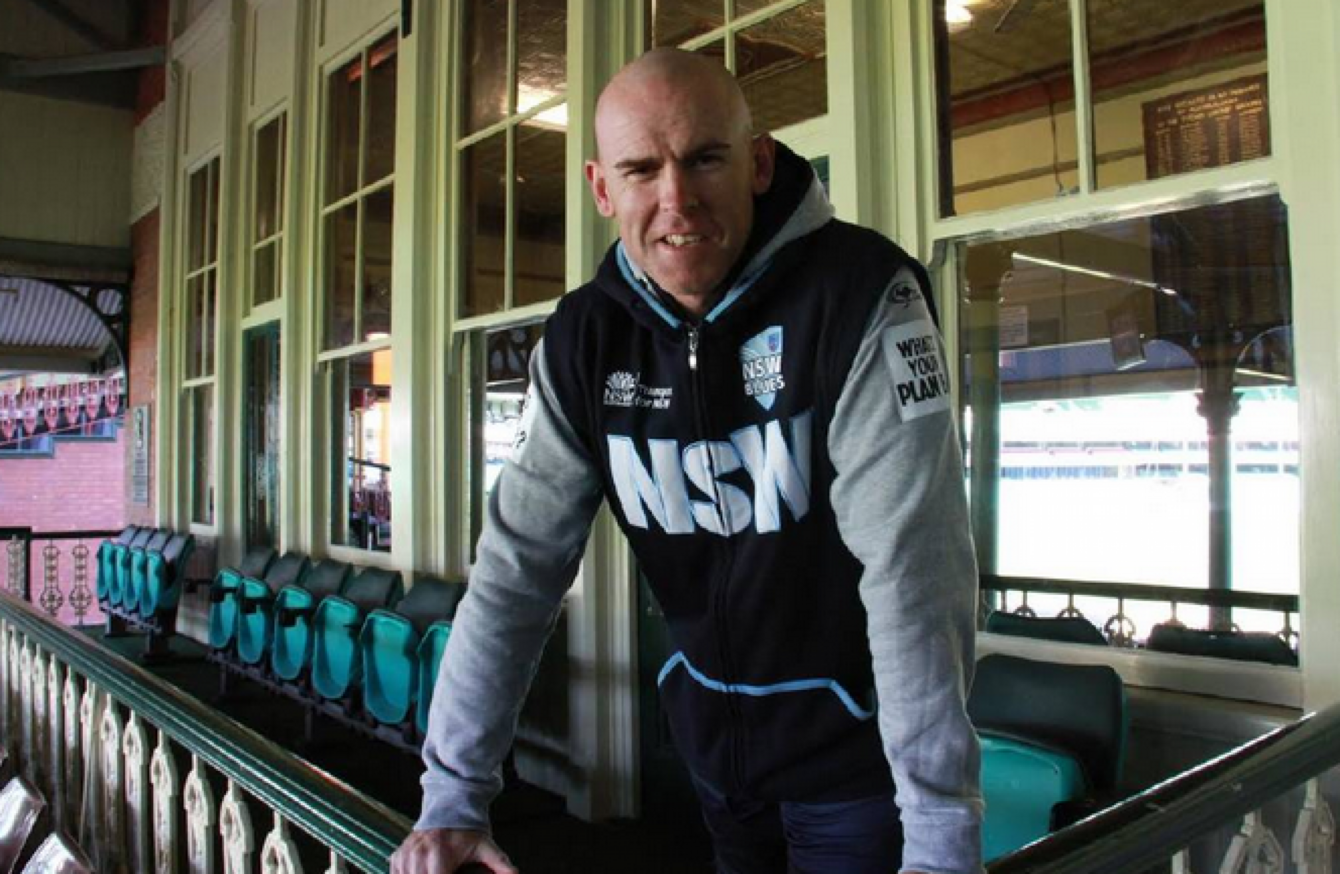 Johnston became New South Wales head coach in July.
Image: Cricket NSW
Johnston became New South Wales head coach in July.
Image: Cricket NSW
REWINDING TWO YEARS, there's a charming photo of Trent Johnston and his young family in Dublin Airport. It's a matter of days before Christmas and Ireland had just returned from Dubai where they completed the final leg of a prodigious treble.
Returning home, bearing gifts in the form of three pieces of silverware, his children, Claudia and Charlie, are both proudly clutching a trophy each. It was the final chapter of Johnston's grand career with Ireland, a fitting end for someone who had become a transformative figure.
The following day, he was announced as Ireland women's head coach, instantly turning his attention to planting the seeds for his, and his family's, future. The impression was that Johnston's future lay in Ireland, and his lasting legacy would extend beyond his playing days.
Cricket Ireland appreciated his worth, even as he embarked on a journey up the coaching ladder, and his experience, determination and appetite for betterment was an invaluable resource.
But it's funny how things can work out and how a career, albeit rarely, can revolve in a full circle. Two decades after leaving Sydney in search of a spark to ignite his faltering cricketing existence, Johnston is back in Australia.
"It was an extremely difficult decision," Johnston says of leaving Dublin. "It was a lot harder on Vanessa, Claudia and Charlie, especially Claudia being a 15-year-old girl in school growing up with all her friends.
"We had a great support network in Dublin with Vanessa's family so to leave was a hard decision. But I've been extremely lucky for the support I've received throughout my career and am very grateful."
Although the decision to decamp to the other side of the world came after much consideration, it was an opportunity too good to turn down. For so long the heartbeat of Irish cricket, Johnston was in-demand elsewhere.
In July 2014, the former Ireland captain announced with a heavy heart that he would be leaving to assume a dual role at New South Wales.
"To return home is something I certainly didn't expect," he explains to The42. "I probably didn't know what I was going to do when I retired until I went to Holland with the Ireland A team. It was on that trip I realised it was something I wanted to do.
"I love cricket, it's been my life since I was a kid, so I wanted to stay involved and potentially with Irish cricket. It wasn't to be at that particular time but I'm extremely fortunate the way things have worked out."
By his own admission, Johnston didn't capitalise on his early promise as a young fast-bowler at New South Wales. He shared a dressing room with Australian luminaries such as Mark Taylor, Michael Slater and Brett Lee but didn't grasp his opportunity.
His first-class career was over before it started and he found himself in the shadows. He turned to Ireland, first arriving on these shores in 1995 as a professional in the then sub-standard Leinster League.
TJ, as he was universally known, settled in Dublin, married an Irish woman and soon gained citizenship. His international debut came late, in 2004, but he would go on to play 67 ODIs, 33 first-class and 30 T20I matches for his adopted country.
Johnston's reputation spiralled. He transcended Irish cricket, spearheading the team's ground-breaking World Cup campaigns in 2007 and 2011, and his ability to inspire assured New South Wales that he was the man for the job.
Initially his role was to assist head coach Trevor Bayliss and co-ordinate the state's pathway structure. As it transpired, he would assume full control when Bayliss was drafted in by England to resuscitate their ailing international side.
"To progress through to the head coach's job is something I didn't expect for a few years but I suppose I was in the right place at the right time," he admitted. "This is my home state so I know the culture, the mentality and the way they play their cricket.
"To leave an organisation you didn't take your chances at and come back all these years later is something I never even thought was possible. Everything has gone well so far but I'm probably not the best person to ask, the players would be in a better position to make that call."
It was a baptism of fire. As a coach with little experience, Johnston's first major assignment was to manage a dressing room full of international stars. Australia captain Steve Smith, David Warner and Mitchell Starc all ply their domestic trade at the Sydney Cricket Ground.
"You've got to listen to yourself, you're the coach," he adds. "There are some pretty big players in there and it was pretty daunting at first but it's your job to guide them.
"It's still a bit of challenge but the divide between players and coach isn't massive. I'd get involved in a lot of sessions, in the gym and stuff and that helps to help create those relationships.
"Especially for me just coming in, it was important to do that but I'm so lucky to leave one home and move back to another home. The players made me feel welcome and embraced what I had to say.
"You can't let reputations get in your way, you can't be worried about them either. If New South Wales didn't think I was ready for the job, they wouldn't have given it to me."
Johnston's honeymoon period in the job has been hugely encouraging. His no-nonsense, committed playing style has translated into a modern coaching philosophy which sees him immerse himself within the playing squad, taking part in practice and net sessions.
While Ireland fans will watch from afar with great satisfaction as one of their own continues to makes waves, there will also be an element of what might have been.
For so long, Johnston was the Irish head coach in waiting. It was patently clear he had all the attributes to make the transition into coaching a seamless one – but Cricket Ireland were unable to offer him what he wanted.
When Phil Simmons decided to end his hugely successful tenure at the end of the World Cup in March, Cricket Ireland were tasked with finding a suitable successor. Had Johnston still being working within the organisation, he may well have been the leading candidate.
"I've always wanted to coach Ireland but the time wasn't right. When I left, Phil was still in charge and then the position became available but I was comfortable in my own skin and with the decision I made.
"I will always be grateful to Irish cricket for the opportunity to play 10 years of international cricket. There will always be a part of me which will want to go back – but the timing has to be right."
Be part
of the team
Access exclusive podcasts, interviews and analysis with a monthly or annual membership.
Become a Member
"But maybe coaching that group of players would have been the wrong decision because I was so close to them, I think that would have been wrong.
"I had to go away and get experience and for me coming to New South Wales is probably the second biggest job in Australian cricket, so there's no better place to do that than here."
As Johnston headed Down Under, there were murmurings of an underlying tension between him and Cricket Ireland. He had helped transform the organisation from an amateur footing into one of the most progressive governing bodies in Ireland.
But sadly, from the outside looking in, the relationship appears to have been damaged along the way.
"It was made pretty clear that the powers that be that there wasn't really a position for me," Johnston continues. "There's a lot of things I could say to you but I wouldn't want to put it on record.
"I'm not really there on a day-to-day basis, so it's probably not for me to comment but there's certainly things I would change if I was to come back to Ireland. I think they need to be careful about sticking with players who haven't performed.
"I've seen some good, young players coming through Craig Hogan's academy and maybe they should be given their chance before the next World Cup.
"I'll always keep an eye on the results and keep in contact with the boys and you just never know where life can take you. If the position comes up in another couple of years, I might be in a better position to go and take that on."
For now, however, Johnston is fully occupied by life in Sydney. His kids have settled into their new schools and Claudia, a talented hockey and cricket player, is already taking full advantage of the opportunities Australia has to offer.
She is part of the New South Wales U18 cricket squad while Charlie will represent the state at the National Primary Schools Championship in Brisbane next month.
"I couldn't be prouder of what they've achieved in the last year. Claudia has her moments when she misses her friends back home but her sport and academic performances have come on so much.
"Charlie is a happy-go-lucky kid, he just wanted to know if he could charge his iPhone over here. We didn't have too much to worry about but they're both doing great.
"Hopefully I can stay at New South Wales for a few more years and see them through school but moving around is just the nature of the beast.
"In a few years time, we can be a bit more flexible but for now I'm loving being back home and very fortunate to be here."