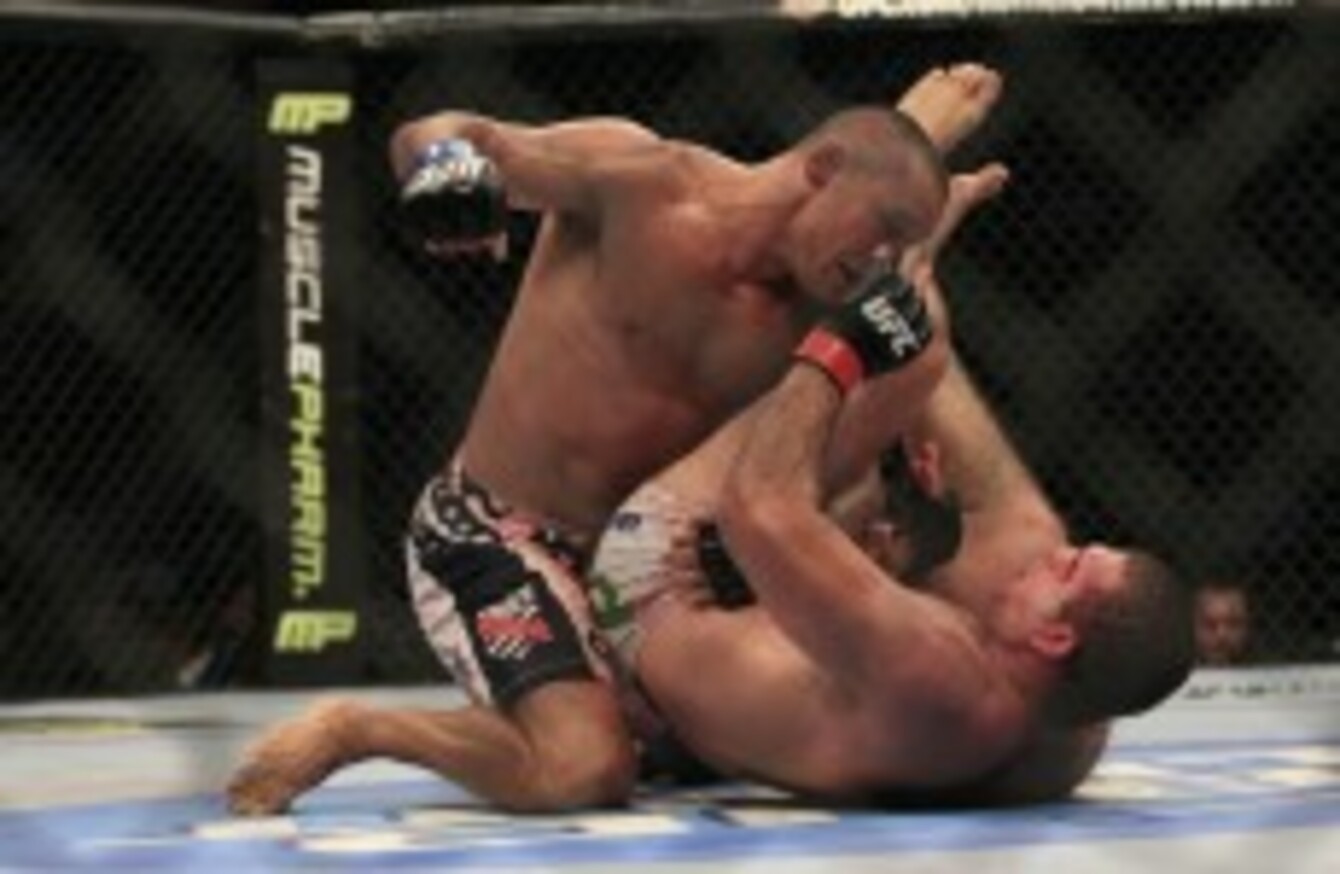 Henderson gets on top of Shogun during their first fight in November 2011.
Image: AP/Press Association Images
Henderson gets on top of Shogun during their first fight in November 2011.
Image: AP/Press Association Images
BRAZIL IS THE preferred UFC destination this weekend and a mouth-watering rematch between Mauricio Rua and Dan Henderson tops the bill.
Their enthralling battle back at UFC 139 was voted one of the best fights ever as the two played out a back and forth old-school punch up and we're hoping for more of the same this time round.
Antrim's Norman Parke has made the long journey to South America with every intention of continuing his steady progress up the lightweight ranks as he faces a relatively new face on the UFC circuit, Leonardo Santos.
Predictably the card is stacked with plenty of Brazilian talent with some of the fighters who performed well in "The Ultimate Fighter: Brazil" getting their chance to shine, one of which is Cezar Ferreira who takes on CB Dollaway in the middleweight division.
Others to keep an eye out for include Fabio Maldonado as he takes on Gian Villante, Rony "Jason" who faces Steven Siler and Diego Brandao on the undercard against Will Chope.
More of the same please
The first fight between Dan Henderson and Mauricio Rua was a bloody back and forth battle that could have gone either way as each man had their chance to finish before the decision finally fell to the judges.
Despite dominating the first three rounds and repeatedly rocking Rua, Henderson faded fast in rounds four and five and "Shogun" came very close to sealing what would have been an epic come from behind win.
That bout in 2011 was to be the last time "Hendo" tasted victory as he has fallen to three straight defeats since and although Rua has lost two of his last three, he looked quite impressive when beating James Te Huna last time out.
In all honestly this doesn't seem like it will play out like it did first time round. Henderson has been slowing down for years and only his huge right hand has allowed him to keep competitive in recent times. The ban on testosterone replacement therapy [TRT] could also spell the end of his career so this could well be his last fight.
His KO loss last time out against Vitor Belfort was the first time that he had been stopped in that manner and is perhaps a yardstick of where he is in his career now.
"Shogun", buoyed by his decent performance last time out, should be the aggressor here and like every other opponent who has come before him, if he can avoid Henderson's right hand power-bomb then he stands a good chance of picking up another victory here.
Source: MrDownwardo/YouTube
No walk in the Parke for Norman
Antrim's Norman Parke has proven to be a reliable sort in his UFC career to date racking up a quietly impressive 3-0 record.
His opponent Leonardo Santos, despite being 34, has only one UFC bout under his belt, a submission victory over William Macario in TUF: Brazil 2.
Parke has progressed well in every fight with his stand-up in particular improving. While he doesn't possess huge KO power in his hands, he throws combinations well which compliments his strong judo base and makes him a very hard man to wear down.
Santos does have a strong BJJ pedigree so taking the fight to the ground might not be the best plan.  Expect Parke to pick his shots on the feet before trying for a takedown to score points on his way to another decision victory.
Source: BloodstreamMMATV/YouTube
Best of the rest
Cezar Ferreira has impressed since his UFC debut a couple of years ago picking up three wins in a row with the last one being a split decision victory of Daniel Sarafian. CB Dollaway also has a victory over Sarafian under his belt but has been a little more erratic in his career with a 7-5 record.
He was a little unlucky to be on the wrong end of a split decision against Tim Boetsch last time out and may edge the grappling stakes in this bout but Ferreira is sharper on the feet and could land a KO victory in front of his own Brazilian support here.
There are always fireworks when Fabio Maldonado enters the octagon as his boxing background allows him to stand and trade with most fighters. Glover Teixeira demolished Maldonado in their fight but he was able to absorb some significant strikes before succumbing to the doctor's orders.
He has since won two in a row but remains the underdog against a more athletic and varied opponent in Gian Villante who is not as one-dimensional as Maldonado but still must be wary of the Brazilian's boxing pedigree. Villante must take it to the mat if he is to win this one.
The bout between Steven Siler and Rony "Jason" is a coin flip while Mairbeck Taisumov is favoured to win his fight against Michel Prazeres.