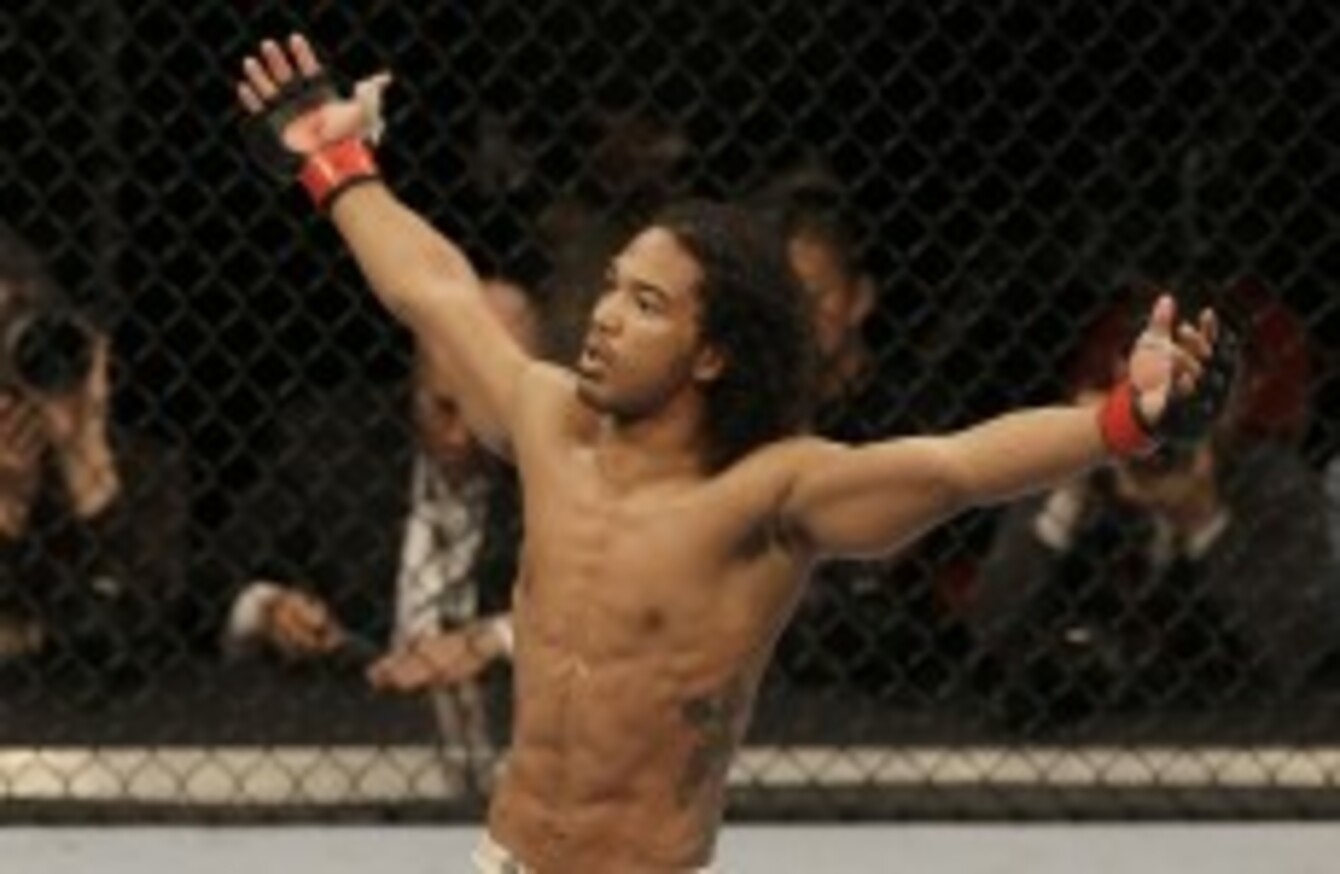 Henderson is hoping to make his way back towards the top of the lightweight ladder with a win against Khabilov tonight.
Image: AP/Press Association Images
Henderson is hoping to make his way back towards the top of the lightweight ladder with a win against Khabilov tonight.
Image: AP/Press Association Images
DANA WHITE AND the rest of his team keep up the current relentless pace of UFC events this weekend in New Mexico with a top class card.
Former lightweight champion Ben "Smooth" Henderson continues his route back to the top of the division against Dagestani sensation Rustam Khabilov.
Predictably, Albuquerque native Diego Sanchez features prominently on the card as he takes on Ross Pearson in what promises to be a blood and thunder barnstormer.
Elite flyweights John Dodson and John Moraga both want another shot at champion Demetrius Johnson so must prevail here in order to get that chance while Erik Perez and Bryan Caraway battle it out in the bantamweight division.
There will be a lot of movement in the lightweight division after this event as Rafael dos Anjos takes on Jason High and Yves Edwards is looking to move up the divisional ladder as he takes on Piotr Hallmann.
Henderson will have his work cut out against Khabilov
Who would have thought that Dagestan would be such a hotbed for MMA? Khabib Nurmagomedov, and Ben Henderson's opponent this weekend Rustam Khabilov, are blazing a trail for the Russian Republic in the UFC at the moment.
But just as American fighters are mostly associated with a base in wrestling, Russian and Eastern European fighters have a strong base in Combat Sambo and seeing the success that Fedor had using this style, you can see why Khabilov and his counterpart are already so well respected.
That said, it could be a bit too soon for Khabilov to make that step up to headliner after just three UFC fights. In Ben Henderson, he faces a man who is well versed in five-round and championship fights and all that go with them.
Khabilov surprised many in his last fight when instead of relying on his Sambo, he out-boxed and out-struck Jorge Masvidal, showing that he is anything but one dimensional.
He will have his work cut out to do the same against Henderson and he faces the added dangers of "Smooth's" unrelenting wrestling skills and unparalleled athleticism.
Henderson did struggle to a split decision win over Josh Thomson last time out but he managed to eke out the victory, which is probably his strongest attribute and he will more than likely do that again in this match-up.
Source: Lyotodossantos/YouTube
Sanchez a dream for fans and nightmare for opponents
The crowd in Tingley Coliseum will go absolutely bananas when Diego Sanchez enters the arena to take on Ross Pearson as he helped put Albuquerque on the MMA map when as he was the middleweight winner of The Ultimate Fighter 1.
Sanchez is a fan favourite all over the world as he gives his all every time he enters the octagon and is never afraid to go out on his sword, something that has happened a bit too frequently for him in recent contests.
Sanchez's ability to draw his opponent into a slugfest has helped him in some of his previous fights but he will struggle with this tactic when he comes up against the cool head of Pearson.
The Sunderland native is a neat and tidy boxer who likes to do damage from the inside and as neither are renowned for their takedown ability, this one should mostly take place on the feet.
This fight seems to be set-up in Pearson's favour as he can pick apart Sanchez while standing but if he is caught at all expect Sanchez, with the backing of the crowd, to swarm ferociously and pickup an unexpected win.
Source: Brutha Muzone/YouTube
Best of the rest
John Dodson and John Moraga have both already had a shot at flyweight gold but both have fallen short. With the division being as shallow as it is, neither are more than a couple of wins away from another crack at the champ.
Dodson and Moraga have fought each other before on a different promotion with Dodson picking up the unanimous decision that time and as Demetrious Johnson is the only man to beat Dodson in the UFC, favour lies with him in this fight.
Rafael dos Anjos should prove to be too strong everywhere when he takes on Jason High while Piotr Hallmann and Yves Edwards' bout is a coin-flip affair.
Erik Perez should continue his impressive start to life in the UFC with a win over Bryan Caraway.