Liveblog
A huge weekend of Champions Cup action is underway, with Irish eyes set on France first this afternoon.
Ulster face a tricky assignment against Clermont Auvergne in this crucial Pool 3 tie. The northern province are currently top of the table, but Clermont are just one point behind.
As we all know, Dan McFarland's men are on a good run at the minute — but face a Clermont side who have won 30 of their last 31 games in the tournament.
Kick-off this afternoon is 1pm, with the game live on BT Sport 2. We'll do our best to keep you up to date here, with team news and all the usual build-up to follow.
Here's a look at the two XVs that will go head-to-head at the Stade Marcel-Michelin.
Ulster have made just two changes to the team that beat Munster last time out, with Jordi Murphy and Marcell Coetzee returning for the all-important clash.
Clermont, on the other hand, are without Georgian prop Davit Zirakashvili, who's out with an elbow injury, but scrum-half Morgan Parra returns to captain the side on his 250th appearance.
Alexandre Lapandry and Nick Abendanon also return after being rested last time out, while former Scotland captain Greig Laidlaw is among the replacements.
Ulster
15. Will Addison
14. Robert Baloucoune
13. Luke Marshall
12. Stuart McCloskey
11. Jacob Stockdale
10. Billy Burns
9. John Cooney
1. Jack McGrath
2. Rob Herring
3. Marty Moore
4. Alan O'Connor
5. Iain Henderson (capt.)
6. Sean Reidy
7. Jordi Murphy
8. Marcell Coetzee
Replacements:
16. Adam McBurney
17. Eric O'Sullivan
18. Tom O'Toole
19. Kieran Treadwell
20. Matthew Rea
21. David Shanahan
22. Bill Johnston
23. Matt Faddes
Clermont
15. Nick Abendanon
14. Damian Penaud
13. Isaia Toeava
12. George Moala
11. Alivereti Raka
10. Camille Lopez
9. Morgan Parra (capt.)
1. Etienne Falgoux
2. John Ulugia
3. Rabah Slimani
4. Paul Jedrasiak
5. Sebastien Vahaamahina
6. Arthur Iturria
7. Alexandre Lapandry
8. Fritz Lee.
Replacements:
16. Yohan Beheregaray
17. Loni Uhila
18. Sipili Falatea
19 Sitaleki Timani
20. Alexandre Fischer
21. Greig Laidlaw
22. Jake McIntyre
23. Apisai Naqalevu.
"Do or die, win or bust" says Brian O'Driscoll on BT Sport, in reference to a massive weekend of Champions Cup action.
This is certainly a big one across the water in France. A top of the pool showdown, a home quarter-final on the line with Harlequins and Bath out of contention.
How do you see this one going?

The fans are in the spirit anyway…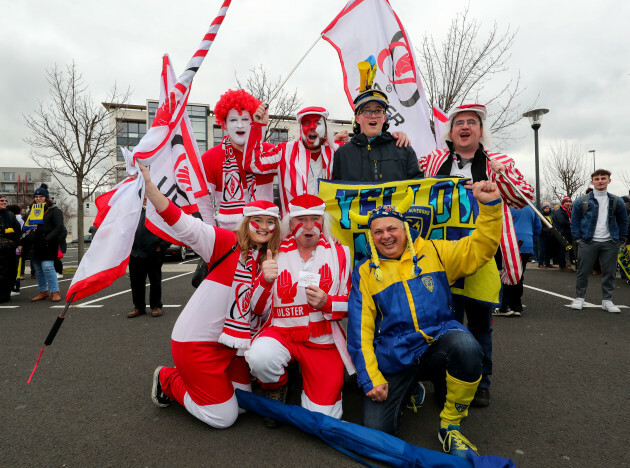 Source: Billy Stickland/INPHO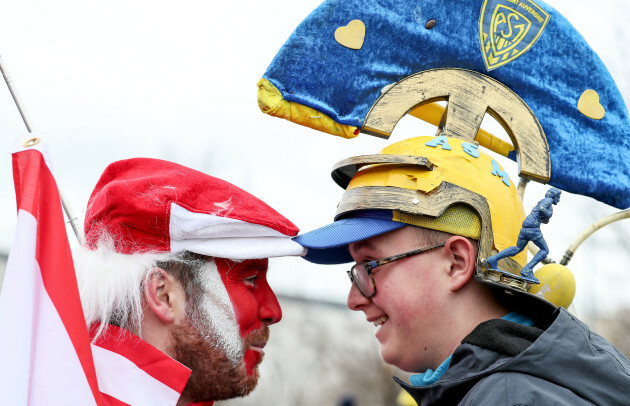 Source: Dan Sheridan/INPHO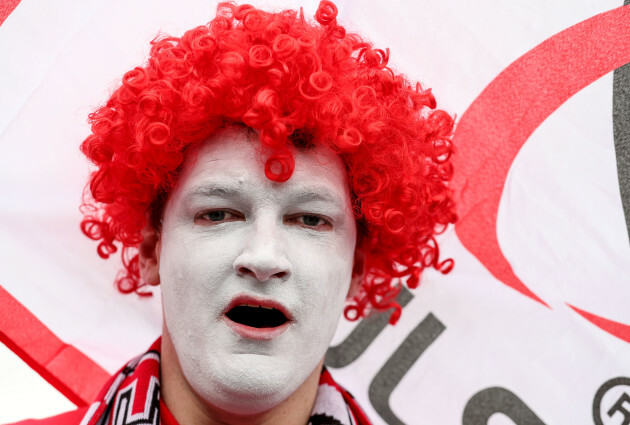 Source: Dan Sheridan/INPHO
When Clermont are playing well, it's arguably one of the biggest challenges in European rugby.
Dan McFarland recognises the "stiff test" facing his side, but seems to think they can get the job done.
"He's a very good player," Clermont boss Franck Azémasays of high-flying John Cooney, noting that they have their homework done on the Ulster star.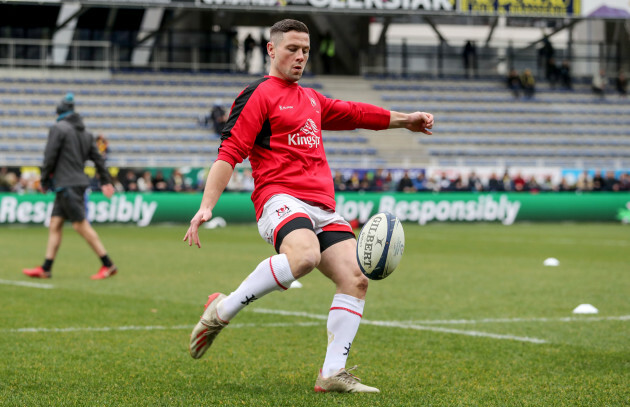 Cooney warming up this afternoon. Source: Dan Sheridan/INPHO
Just five to go, so here's a bit of pre-match reading courtesy of Adam McKendry, who's over there for The42 today.
A chat with Will Addison, who is going to Clermont in expectation, not in hope.
"If that's the challenge for Ulster, then Clermont are facing something similar in return given the province's seemingly improved stocks in recent weeks across the board," McKendry writes within.
"For instance, John Cooney is the form nine in European rugby right now. Stuart McCloskey and Jacob Stockdale are coming off immense games against Munster. Jack McGrath and Marty Moore have rediscovered their peak form as starting props. Jordi Murphy and Marcell Coetzee are back in the fold after a week off through injury.
"Of course, you can add Addison to that list too. The elusive full-back has had his fair share of injury problems, but now since he's been back and fit again he's been at his mercurial best for Ulster, as 24 defenders beaten in just six appearances would attest to."
It's colourful and loud, and there's a serious buzz — as always — in the Stade Marcel Michelin. This has the potential to be an absolute cracker…
KICK-OFF: Ulster got us underway there, playing from right to left. Mathew Carley is the man in the middle. A bright, energetic start from the visitors. They're driving, so, so close to the line…
Huge carries and some nice offloads got the Ulstermen into the rhythm. They've really put Clermont under pressure early on, and have been rewarded with a penalty. What a start.
Ulster 3-0 Clermont
John Cooney makes no mistake, splitting the posts from right before them on three minutes.
That all happened very fast, we can just about catch our breaths again. It's noisy, there are drums and shouting and roaring, and both sides are up for this. Clermont win a penalty and opt for the line. John Ulugia's delivery goes to hands, and for the first time, they look powerful, driving into Ulster's 22.
Clermont 3-3 Ulster
All square. Just like he did at the World Cup, Camille Lopez slots over a lovely drop goal. We really do have a game on our hands early on.
TRY! Ulster 8-3 Clermont (8 mins)
It's that man, John Cooney, once again!
Ulster 10-3 Clermont
What wonderful phase play from Ulster there — a huge carry from Jack McGrath really lifted things. And that charge and offload from Marty Moore wasn't bad either. Both props involved to release the scrum-half, textbook stuff. There were handbags just after Cooney crossed the line, but that was all cleaned up fairly quickly. And the man of the moment then went on to add the extras.
Ulster 10-3 Clermont
The hosts weren't getting much of a sniff of the ball there as Ulster were happy to go through the phases. They battled hard and stayed patient, though, intercepting at the breakdown to force a penalty and relieve some pressure. Their line out is certainly a threat, and there's a scrum awarded off the back of it.
Ulster 10-3 Clermont
McFarland's side eventually clear their lines, but it turns into a bit of a kicking battle over and forth as both sides fail to find touch. Cooney tries to play Stockdale in over the top, but his kick ends up going out. Not this time…
Ulster 10-6 Clermont
Clermont win a penalty on the charge, and Parra opts to go for the posts. His effort sails over in his 250th game for the club.
Ulster 10-6 Clermont
Incredible work from McCloskey, who heaped pressure on Clermont near the line. His tackle brought the ball loose, leaving Ulster with a great opportunity but Clermont keep them out. Parra sees yellow for being offside in the middle of it all, blocking down Cooney's throw.
Ulster 10-6 Clermont
Another penalty in a great position, and Cooney goes for the corner. But the line out breaks down, and Clermont are let off the hook.
It must be noted that Addison is having some game. Incredible in the air, he's pumping momentum into Ulster. There was a brilliant moment in the build up to that involving himself, Marshall and Balacoune. Super platform.
Ulster 10-6 Clermont
Fritz Lee penalised there, but Ulster fail to create much from it. That's because of the brilliant Clermont defence. Penaud held Stockdale up, and himself and his troops drive the Ulsterman over the touchline. Few more handbags, but nothing concerning. The atmosphere in the stadium is just crazy!
Ulster 10-6 Clermont
Plenty of niggle, that's for sure. Clermont are enjoying a bit more of the ball now and have settled into it all much more over the last few minutes. Lopez is driving them on, along with Alivereti Raka who's beginning to come to the fore more and more.
Ulster 10-6 Clermont
Raka is nearly caught out on the defence with Cooney almost in as Ulster capitalise on an error. But he somehow comes out of it all with the ball, making mince meat of the opposition. Clermont charge up the field from there, and it looks like they're in for a try with electric speed. But Jesus, what a try-saving tackle from Baloucoune, who drives the Clermont player into touch.
Ulster 10-6 Clermont
Lovely rugby from the hosts, Ulster were stretched. Moala was the player who Ulster kept out, by the way. Parra is back on the pitch and Clermont are back to 15 men. The scoreline is still the same as when he left.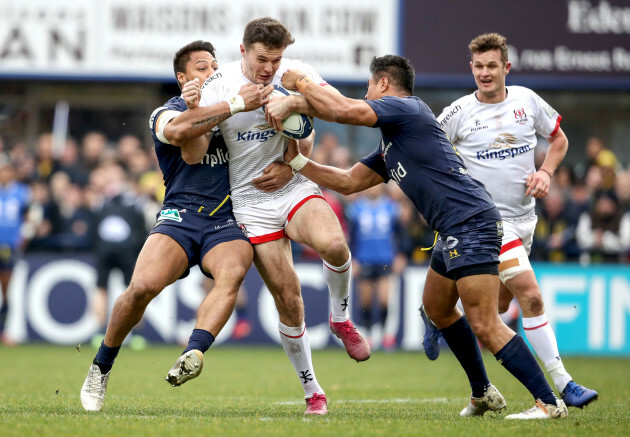 Source: Dan Sheridan/INPHO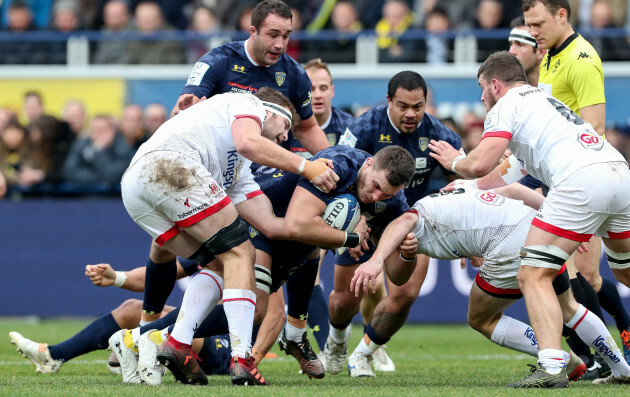 Source: Billy Stickland/INPHO
Ulster 10-6 Clermont
Unreal defence from Addison there, who covers Marty Moore's back and cuts out Jedrasiak. Ulster have been dominant, and go in search of more points on the board before half time… Luke Marshall is swallowed up, though. Ulster win another penalty and play advantage, but the ball was turned over on the ground. The Irishmen go for the corner, but Fischer's sheer presence forces them to hold onto the ball for too long.
HALF-TIME: Ulster 10-9 Clermont
Parra nails a penalty at the end there to bring the hosts within a point.
Before that, McCloskey was penalised for high tackle and Lopez fired it into the 22. Another one given away then for an offside, Lopez goes again and Cooney comes back to gather, so we return for the penalty. Clermont are told to kick at goal, and that's what they do.
The tightest of tight scorelines over in France after an interesting opening 40. But who else but John Cooney has Ulster's noses in front. Any thoughts on the opening half?
All to play for in France, still. Ulster started well with Cooney and Addison the standouts. They could go on to rue missed chances, however. Clermont still look dangerous and they won't be too worried that they're just one point down.
SECOND-HALF: Clermont get us going again. and the ball falls into the arms of Marshall. Sitaleki Timani is on for the hosts.
Ulster 10-3 Clermont
It's Fritz Lee he's on for, seems like an injury. Clermont start soft, with Henderson to the fore for Ulster. A brilliant tackle on Parra, but Clermont soon get their own back. Cooney gets swamped after a scrum, Fischer doing the job and winning a penalty.
Parra hits an uncharacteristic wide as he opts for the posts. A let off for Ulster, as Clermont got the chance to take the lead for the first time.
Ulster 10-9 Clermont
Clermont have definitely brought a greater intensity since half-time, they're beginning to exert a greater influence on the game. Another Ulster scrum, but Clermont absolutely dominate it. Moore doesn't look too well after it, he's heavily strapped and limping but on he goes.
Ulster 10-9 Clermont
After hammering Ulster in the scrum, Lopez finds touch and Clermont have a good attacking platform. The camera switches to their manager, who has a big smile on his face. He knows what's coming…
OOOF! The hosts rattle through the phases and it looks like they cross for a try… checking all with the TMO now.
TRY! Clermont 14-10 Ulster (48 mins)
It's Rakka who grabbed it, a threat for Ulster all day. The on-field decision was no try, that Rakka didn't make it and Moore was offside. The replay deems he touched the line with the ball.
Clermont 16-10 Ulster
And they add the extras.
Clermont 16-10 Ulster
Things go from bad to worse for Ulster. Moore, who had been limping, comes off for Tom O'Toole. Addison is then replaced by Matt Faddes, a worry after he had a superb first half. They won't give up though, that's for sure, but this will really test them.
Clermont 16-10 Ulster
The hosts are definitely on top physically at the moment, particularly in the scrum. But Ulster bite back with a more positive showing in the latest one — Coetzee claims the ball and carries on with a huge one. They enjoy some possession, Stockdale involved in a lot of it, and they have a bit more momentum. Burns releases O'Connor, he offloads to Marshall but the latter is nailed by Abendanon on the 22.
Clermont 16-10 Ulster
Another scrum and then another penalty for Clermont after an error from O'Toole. Lopez, from quite some distance, nearly finds touch at the Ulster 10m but Stockdale keeps the ball in play. The visitors look a little more threatening again, as they play through the phases.
Clermont 16-10 Ulster
They're in a good position, with O'Toole, Herring and Burns all involved. They could do with some points so the push is really on. The whistle goes at a really frustrating time, however, there's a Clermont player down and the referee won't let play continue around him. Ulster had their tails up and looked threatening there.
Clermont 16-10 Clermont
George Moala was the injured party but he's back up on his feet and looks okay. Testing his knee, though. Ulster have a scrum 5m out now.
Clermont 16-10 Ulster
Eric O'Sullivan is in for McGrath, by the way. Eventually, the scrum gets going after a delay. Cooney gets the ball in and Coetzee breaks off it. Ulster in a great position here. They've been awarded a penalty but play on in search of the five points.
Clermont 16-13 Ulster
Eventually, we go back to the pen, which was awarded for an offside. Cooney is lining it up right under the posts — should be three points. Yes, not a bother.
Clermont 16-13 Ulster
Clermont introduce some reinforcements — three in, three out. We'll get the names there if there's a lull in the next few minutes, but not sure there's going to be. Clermont will want to respond fast to end Ulster's momentum.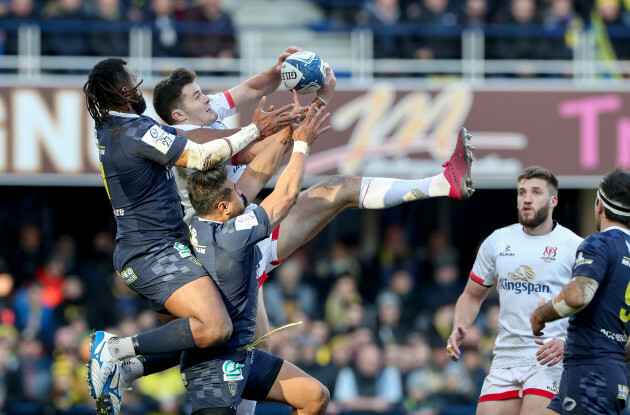 Source: Billy Stickland/INPHO
Clermont 19-13 Ulster
Parra splits the posts with a penalty as his last act, before making way for Greg Laidlaw.
Clermont 19-13 Ulster
It was Henderson who was penalised on the floor, by the way. We're back underway, and Raka has just nailed Luke Marshall. The crowd are loving it. Big, big hit. We have a break in play and the home fans are singing and making their voices heard.
Clermont 19-13 Ulster
Matthew Rea and Kieran Treadwell look ready to come into the madness, the noise in the stadium is absolutely outrageous and Raka is driving it all on the field. They're really buzzing at the minute, and give Ulster a scare off the back of the scrum.
Raka carries and releases Penaud up the right with a lovely offload. He chips ahead over the line, and the covering Cooney can just gather over the dead ball line. A 5m scrum for the hosts as they look to put the game to bed.
Clermont 23-13 Ulster
Laidlaw sends over a penalty to put 10 between the sides, and this one is slipping away from Ulster. What happened in the run up to that was the visitors Ulster held firm, and the ball went loose — but they had conceded a scrum pen in the build-up.
Clermont 23-13 Ulster
Fischer's superb efforts continue for the hosts as they keep piling on the pressure. Not much Ulster can do as the noise rises and rises.
The above is named Man of the Match.
TRY! Clermont 27-13 Ulster (77 mins)
Moala powers over to put the icing on the Clermont cake.
Clermont 29-13 Ulster
And Laidlaw adds the extras. Another great conversion as the game is put to bed.
Clermont 29-13 Ulster
Ulster are on the hunt for something to take the bad look off the scoreline. They're finishing like they started — strong — but a big hit goes in and they're overturned… Clermont make a break up the pitch but they're kept out.
FULL-TIME: Clermont 29-13 Ulster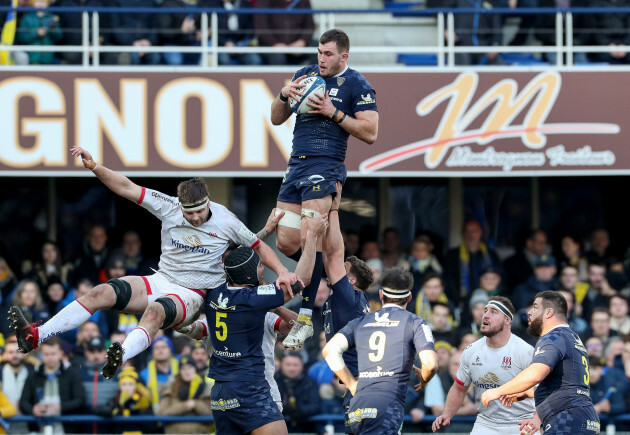 Source: Billy Stickland/INPHO
That's that. A game of two halves, perhaps, with Clermont bursting to life and catching fire in the second half. They were way more direct and much more physical, took their opportunities when they needed to while Ulster struggled. Perhaps the northern province will rue their early missed opportunities, but they definitely didn't have enough in the end.
"The hardest game we've had all season," say Clermont afterwards.
Clermont's pool to win now if they beat, correction, Harlequins next Sat. Ulster will seal one of the 3 best r/up spots by beating Bath, but regrets... they'll have few. #ClermontUlster

— Gerry Thornley (@gerrythornley) January 11, 2020
A full match report will follow on The42 in the coming minutes, with plenty of reaction and analysis to come over the next few days. We're focusing on Connacht and Tolouse next and you can follow the liveblog below.
That's all from this one. Thanks for reading, and enjoy your evening.
Contribute to this story: