ON THE FIELD, Johann van Graan's influence on Munster is becoming more and more apparent as their attacking game takes shape and takes them towards a likely Champions Cup pool win.
Off it, the past week has been a sharp reminder that the South African is still new in the job as he became the face of a club mounting a defence for recruiting Gerbrandt Grobler.
The lock, who was banned for two years in 2015, has kick-started much debate by simply returning from injury and being available to play for Munster.
Is rugby obligated to give second chances to proven doping offenders? Must Munster be the place for that rehabilitation to happen? What message does it send about a supposed 'zero tolerance' environment to cheating on this island? Is it indicative of a wider doping issue in Ireland?
In the days that followed Van Graan taking the stance that everyone makes mistakes and deserves a second chance, the debate raged. Grobler was left on 'A' team duty to complete his return from injury and, yesterday, Van Graan said he understood why there has been such a voracious and passionate reaction to the subject.
"Doping is wrong," said the South African when the topic of Grobler bubbled up again at Munster's UL training base.
"You can never say anything good about it. In Gerbrandt Grobler's case, he had a two-year ban from World Rugby. He served his ban, went to another club (Racing 92), Munster signed him."
As Van Graan points out the timeline, it becomes crystal clear that this is not a mess of his making. He has inherited a PR grenade.
What last week appeared like a defence of Grobler's pharmaceutical history and Munster's decision to employ him, comes down to his role as the new figurehead in the southern province. He feels that he must protect his players.
"I am the coach of Munster at this stage. I am not going to comment on any process. I said what I wanted to say last week. It's my responsibility to take care of all of the people at Munster at this stage and that I can do it well."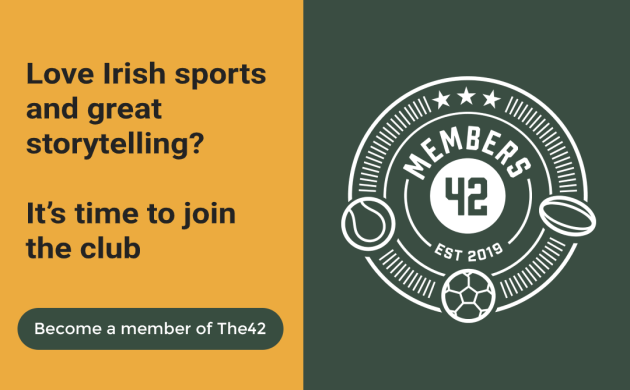 As captain, Peter O'Mahony has a responsibility for Munster players too. He is also one of the people placed in an extremely difficult position by the signing. The skipper issued a firm statement of support for a man he will soon pack down with in the red of Munster.
"GG, he's done his time. He's done his two years from Wada," says O'Mahony.
"As far as I'm concerned: Munster signed him, he'd played 20 games or whatever for Racing then we signed him obviously on good terms. (There were) good references that we got, obviously, as we do for all our signings, and he's come here.
"He's struggled with injury, (but) he's been a great guy to have around the place.
"He's working very diligently on his rehab and he's struggled a little bit mentally at times with that, because he obviously wants to come and play, which is what every rugby players wants to do.
"He's been great for us and we'll certainly stand by him.
"As far as we're concerned, he's done his time and that's the end of it."
For players, perhaps. But that two-year ban is a difficult shadow to escape from.
– First published 01.05, 17 Jan