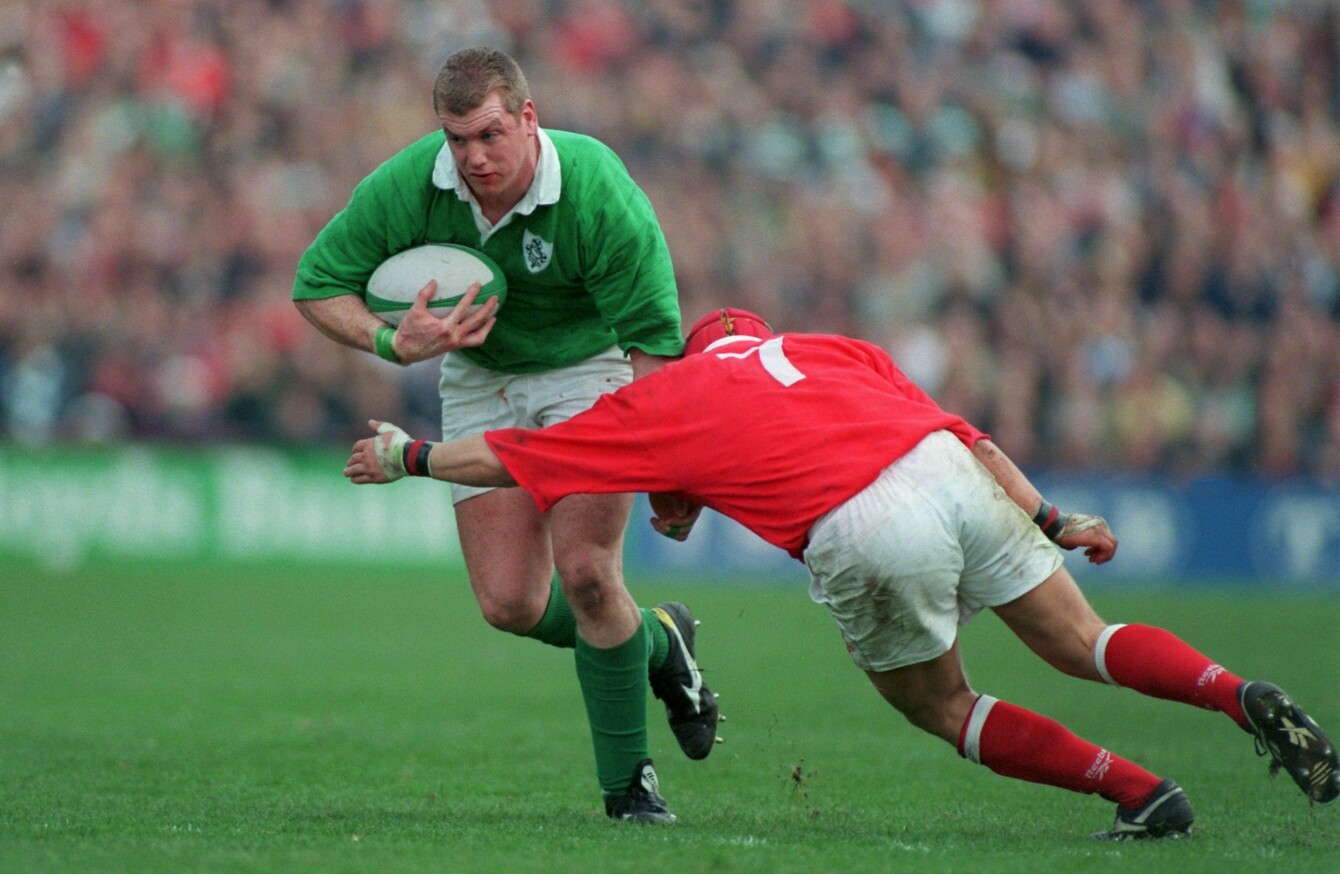 Costello won 39 international caps for Ireland.
Image: EMPICS Sport
Costello won 39 international caps for Ireland.
Image: EMPICS Sport
WE'VE ALL BEEN there.
Whether it be pretending to score a vital goal in the World Cup, the crucial try in the Six Nations or winning the race to claim an Olympic gold medal – we have all placed ourselves in that position.
In fact, on the afternoon of 23 June 2016, there were probably hundreds, if not thousands, of 'little Robbie Bradys' across the country, recreating that goal against Italy.
All aspiring athletes have the dream of representing their country, but very few actually do. Even less get to do it at the highest level in two sports, which makes Victor Costello's accomplishment so remarkable.
Most people will remember Costello as the rugby player who represented Ireland 39 times before retiring in 2007, but it is easy to forget that he also represented Ireland in the shot put event at the Barcelona Olympics in 1992.
"My old man was a shot putter, so I just followed in his footsteps. I did athletics in the summer and rugby in the winter," Costello tells The42.
The former back row won his first national shot put title aged just 16, before going on to win four more before the 1992 Games.
"I had good technique, the bigger you are the better, so I was further down than other guys, but it's not a glamorous sport when it comes to track and field.
"The 1992 Olympics was a reasonable goal at 21. But I would never had continued the shot put as a career. At the time I was seeing as far as it could take me."
After finishing in 11th position in his qualifying group in Barcelona, the former London Irish player decided to leave the shot put behind and concentrate solely on rugby.
"In the field events there is camaraderie, there are a lot of red blood males in the field events, we are different physically and different mentally.
"With rugby, it's different being a team sport. There are greater expectations on you, but if you win or lose, you get to share the same excitement and same disappointment with your teammates.
"If I failed to perform doing the shot put, I was letting myself down, nobody else. But playing rugby, I would have Shane Horgan or Denis Hickie shouting 'what the fuck' if I had missed a tackle.
"But my advice would be to find a niche, and play as many sports as you can. Back then I could go off and do shot put for a year or two, and you had time to go to college. But seasons are so long now and with all the tours, players really only have two weeks off in July.
"Rugby is now a career, it wasn't the case 20 years ago, but professional rugby was always going to happen, 1995 was watershed moment.
"The IRFU was very quick in adapting from professionalism and got the benefits. They had success with Leinster reaching the semi-final in Europe in 1995 and then Munster dominating."
And the former Blackrock College forward believes that Athletics Ireland could learn a lot from their counterparts in the IRFU.
"In many ways, Athletics Ireland was ahead of other sports in terms of sports science, but never had the branding. There was no glamour, no Brian O'Driscoll. You had Sonia [O'Sullivan], but that was about it, but she was based in the United States.
"I remember the national sprinters out at Belfield using the street lamps for light, there wasn't the same facilities as there were in the GAA or rugby.
"In 1995,  Eric Elwood for example, would have had three caps but would have been recognised more in a couple of weeks, than athletes performing at the highest level in their sport for years.
"But, it's totally different. Playing for Leinster or Ireland you'd be playing in front of a huge crowd, when I was throwing, there may have been three people there."
"There have been so many wonderful athletes in Ireland that never had the facilities and structures to make it.
"For Sonia to get to the top of the world, she had to work two or three times as hard as somebody in Team GB, for example. She may not have had the same opportunities here, but she still trained hard and worked hard."
The corruption that has dominated the Olympics has resulted in a more subdued build up to this year's event in Rio, but Costello feels that it is difficult to compare the event to playing for Ireland in rugby.
"The Olympic opening ceremony is the greatest show on earth. The Olympics is commercial, but is great to be part of, if you are at the top.
"For example, take Usain Bolt he's an elite athlete, but at the bottom it's hard to survive.
"Competing in the Six Nations is totally different though. Lansdowne Road is more intimate.
"You know the crowd from the clubs, from the provinces. you have friends and family there for this day supporting you and the green jersey. You really have the crowd behind you. I felt like I was representing all the number 8′s in the county. There is more of a connection to the crowd."
But as more and more money filters through rugby union, and as players become fitter, stronger and faster, then temptation for some players to take performance-enhancing drugs, will no doubt increase with higher rewards on offer.
"In track and field, if you can throw further or run faster then you're the best. Rugby is more of a game of opinions.
"I will always stand by rugby. If a guy was taking drugs you will know. There are so many games, you're practically living in a hotel for a year.
"If there is a guy suddenly lifting more or running faster, everyone will know. I'm not naive and so there are no performance-enhancing drugs in rugby.
"There were doubts over the South Africa team before, particularly in 1995 (when they won the Rugby World Cup).
There are always going to be cheats and corruption. Those days there were random tests, and they didn't target the top performers at the Olympics. If you threw a record throw, you wouldn't necessarily have been tested.
American Randy Barnes, who holds the current outdoor and indoor world record for the shot put, was banned from competing for over two years in 1990 for doping (including the 1992 Olympics), two months after he broke the outdoor record, which still stands.
Barnes, who won a silver medal in the 1988 Games, went on to win gold in Atlanta, but again tested positive in 1998, this time for life, but still retains his medals.
"I was breaking my ass for 10 years in the shot put and then something like that happens. And then you have somebody like Sonia and the Chinese running passing her by out of the blue.
"Rugby is more of an intimate environment though, it would be harder to mask. Some will it say it's naive. But I wouldn't say it was at a high level in Ireland anyway. I believe in the structures in the IRFU."
Having represented Ireland in both the Olympics and in rugby union, Costello knows how it feels to compete at the highest level in both sports, both in and outside of the Games and he can appreciate why some of the world's top golfers have opted not to go to Rio, including Ireland's Rory McIlroy and Shane Lowry.
"My initial reaction was that the Olympics is not a money-producing event. Look at the circuit, would people in the 10 or 20 in the world want a gold medal more than Rory McIlroy? That's not to say now they don't want to take part.
For golfers they could have other chances in the the next 20 to 30 years to play in the Olympics, for the majority of other athletes it is realistically only a 10 year window.
"The IOC (International Olympic Committee) need brand names to turn up like Steffi Graf, or the American 'Dream Team' in the basketball. But there is not a lot of time off during the year, and it may be hard to fit it in.
"If it was London, would they go? The Brits put on one hell of a show, but there is a bit more violence in Brazil and you also have the Zika virus too."
After spending all of his adult life representing Ireland, there was no doubt a huge void for Costello to fill, when he decided to retire in 2005.
We're all too familiar of tales of former sports stars struggling to cope once they leave the spotlight. It's virtually impossible to replace the adrenaline rush, the intensity of competition and the responsibility of playing.
But the former Ireland forward set himself a new challenge of becoming a commercial pilot.
"It is very hard to replace sport – the camaraderie, the successes and also the failures. Very few rugby players will have made enough money to retire full-time, so after I finished playing I went to the United States.
"I had 10 years of playing rugby and had to get out of the country, so many of my friends were preparing for pre-season.
"At 35, Ryanair game me the opportunity and in many ways it is similar to being a rugby player; you have to wake up early, be disciplined, and work unsociable hours."
But you get the feeling no matter what Costello tried his hand at after rugby, he would do just fine.
The42 is on Snapchat! Tap the button below on your phone to add!