Liveblog
Cork's Mark Coleman and Waterford's Shane Bennett will be in opposition tonight. Source: INPHO
Result
Cork 2-17 Waterford 1-19
**************************
Evening and welcome along to our coverage of tonight's Bord Gáis Energy Munster U21 hurling semi-final. It's Waterford entertaining Cork in Walsh Park with the winners set to face Limerick in the final.
So there's one late change to the Cork team that was announced last night. Senior forward Luke Meade is out as expected after breaking a finger in last Sunday's final against Clare.
Cork
1. Patrick Collins (Ballinhassig)
2. Sean O Donoghue (Inniscarra)
3. Eoghan Murphy (Sarsfields)
4. David Griffin (Carrigaline)
5. Billy Hennessy (St Finbarrs)
6. Darren Browne (Kanturk -captain)
7. Mark Coleman (Blarney)
8. Paul Leopold (Sarsfields)
9. Darragh Fitzgibbon (Charleville)
10. Chris O'Leary (Valley Rovers)
11. Declan Dalton (Fr O' Neills)
19. Aaron Myers (Sarsfields)
13. Robbie O'Flynn (Erins Own)
14. Shane Kingston (Douglas)
15. Michael O'Halloran (Blackrock)
Subs
16. Eoghan Healy (Ballymartle)
17. David Lowney (Clonakilty)
18. Conor Cahalane (St Finbarrs)
20. Jack O'Connor (Sarsfields)
21. Tim O'Mahony (Newtownshandrum)
22. Dave O'Neill (Mayfield)
23. Seadna Smyth (Midleton)
24. Dayne Lee (Na Piarsaigh)
And here's how Waterford will line up.
Waterford
1. Billy Nolan (Roanmore)
2. David Prendergast (Lismore)
3. Conor Gleeson (Fourmilewater)
4. Darragh Lyons (Dungarvan)
5. Jordan Henley (Tallow)
6. Conor Prunty (Abbeyside)
7. Callum Lyons (Ballyduff Lower)
8. Andy Molumby (Cappoquin)
9. Colm Roche (Shamrocks)
10. Jack Prendergast (Lismore)
11. Cormac Curran (Brickey Rangers)
12. Shane Ryan (De La Salle – captain)
13. Patrick Curran (Dungarvan)
14. Shane Bennett (Ballysaggart)
15. Peter Hogan (Ballygunner)
Some big names in action tonight. On the Cork side, there are Munster senior winners in Mark Coleman, Darragh Fitzgibbon and Shane Kingston. For Waterford, Conor Gleeson, Shane Bennett and Patrick Curran provide plenty of experience.
Limerick were hugely impressive last night in booking their place in the decider on 26 July.
So who's your tip to win this? We're close to throw-in at Walsh Park.
Waterford 0-1 Cork 0-1
1 mins – Lightning start. Point after 15 seconds from play by Waterford's Cormac Curran, then Declan Dalton replies from a free for Cork.
Cork are backed by a strong wind in the first half of this game.
Referee tonight is Fergal Horgan from Tipperary.
Cork 0-2 Waterford 0-1
5 mins – Dalton misses a free from distance but then makes no mistake from play to edge Cork in front.
Yellow card for Cork's David Griffin as he unseats Patrick Curran 20 yards from goal.
Waterford 0-2 Cork 0-2
7 mins – We're all square again as Curran dusts himself down before knocking over the free.
Cork 0-3 Waterford 0-3
8 mins – Superb from Dalton as he splits the posts from a sideline cut for a point for Cork. Waterford instantly reply with a neat score from Colm Roche.
Cork 0-4 Waterford 0-3
10 mins – Two years ago he was the Cork goalkeeper at minor level but Dalton certainly making his mark outfield tonight. Another free brings his tally to 0-4.
Cork 0-5 Waterford 0-3
11 mins – We've had another scorer for Cork other than Dalton. Michael O'Halloran shooting over from distance when he was picked out by his defence with space and time available to him.
Cork 0-5 Waterford 0-4
12 mins – Fine score by Shane Bennett cuts the deficit that Waterford face.
Cork 0-7 Waterford 0-4
16 mins – Bit of a scoring impasse is broken by Cork midfielder Paul Leopold, on target from distance, and then Dalton clips over one from play after good work by team-mate Sean O'Donoghue.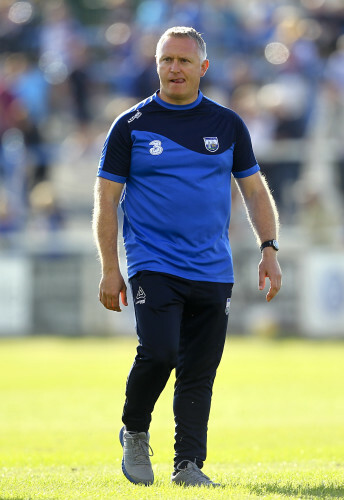 Waterford manager Sean Power
Cork boss John Meyler Source: Ken Sutton/INPHO
Cork 0-7 Waterford 0-5
19 mins – Second point of the night from Colm Roche.
Cork struggling with their deliveries and shooting with that wind. Seven wides so far.
Curran doesn't hit a free cleanly for Waterford and it's tipped away underneath the crossbar for a '65 by Cork defender Eoghan Murphy.
Cork 0-7 Waterford 0-6
23 mins – Curran makes amends from the resultant '65 as he points it.
Cork 0-7 Waterford 0-7
25 mins – Curran slots over another free, this time after Roche is fouled.
Cork 0-8 Waterford 0-7
26 mins – Dalton continues to inspire Cork as he points another sideline cut.
Cork 0-9 Waterford 0-8
28 mins – Better approach work from Cork with Billy Hennessy and O'Donoghue involved in a move that culminates in Darragh Fitzgibbon pointing. Waterford respond with an excellent score from Colm Roche.
Yellow card for Cork's Sean O'Donoghue for a challenge on Bennett.
Sub: Cork bring in Tim O'Mahony to their attack for Aaron Myers.
Cork 0-10 Waterford 0-8
31 mins – Brilliant impact by O'Mahony to field a high ball, turn and race towards goal where he was pulled down by Conor Gleeson. Yellow card for the Fourmilewater man. Dalton points the resultant free.
Flag
Half-Time: Cork 0-10 Waterford 0-8
So a two-point advantage for Cork at the break. The half finished with a Shane Ryan point attempt hitting the post for Waterford. Finely balanced and interesting second half ahead.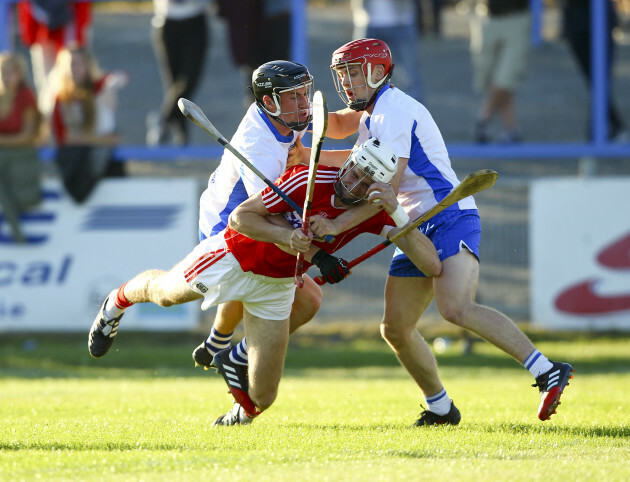 Cork's Tim O'Mahony is fouled by the Waterford defence.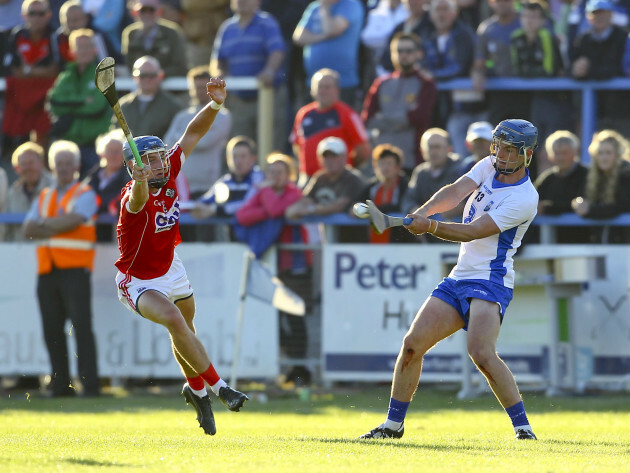 Waterford forward Patrick Curran gets his shot away under pressure. Source: Ken Sutton/INPHO
Cork 0-10 Waterford 0-9
31 mins – Patrick Curran fires over an early free to cut the gap Waterford face to one
Sub: Eoghan Healy came on at half-time for Sean O'Donoghue in the Cork team.
Waterford 0-10 Cork 0-10
33 mins – Peter Hogan is fouled and Curran points another free. Draw game now.
Cork 0-11 Waterford 0-10
34 mins – Dalton bombs over a free from distance as Cork hit the front.
Cork 0-12 Waterford 0-11
35 mins – Marvellous by Darragh Fitzgibbon. He went on a mazy run from deep, passed off to Tim O'Mahony got possession back in return and hit over a super point. Then Cormac Curran hits over a brilliant score for Waterford after he turned over Billy Hennessy.
Flag
Goal for Cork from Robbie O'Flynn!
Cork 1-12 Waterford 0-11
37 mins – That could be a big breakthrough. Robbie O'Flynn shoots to the net but all the credit goes to the fielding ability by Tim O'Mahony who gathered, cut through and offloaded to the Erins Own man.
Sean O'Donoghue and Patrick Curran challenge for a high ball.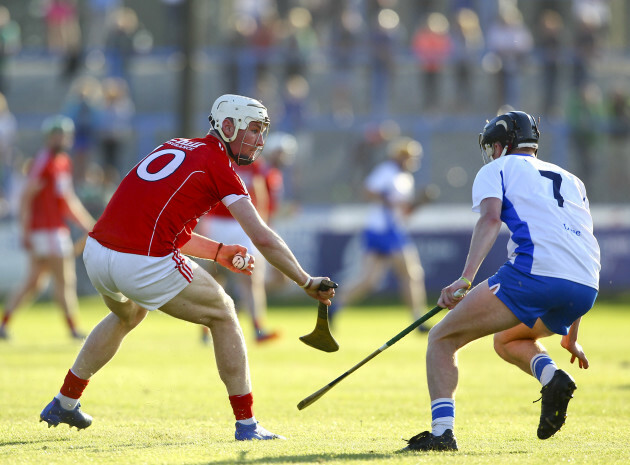 Cork's Chris O'Leary is faced by Waterford's Callum Lyons. Source: Ken Sutton/INPHO
Cork 1-13 Waterford 0-12
40 mins – Darragh Fitzgibbon has been excellent for Cork, a third point of the evening for him there. Roche replies for Waterford.
Cork 1-13 Waterford 0-13
42 mins – Patrick Curran on target with a point from play for Waterford.
Subs: Waterford bring in Darragh Lynch and Edmond O'Halloran for Molumby and Lyons.
Yellow card for Waterford's Jordan Henley.
Cork 1-14 Waterford 0-13
44 mins – Dalton, who was fouled for that free, on target again for another point for Cork.
Cork 1-14 Waterford 0-14
49 mins – Foul on Shane Bennett and Patrick Curran supplies the point from the free.
Sub: Andrew Casey in for Waterford for Cormac Curran.
Cork 1-14 Waterford 0-15
50 mins – That's a superb point from Colm Roche, he's been a standout for Waterford tonight.
Sub: Cork bring in Jack O'Connor, a minor last year, for Shane Kingston.
Conor Prunty did an excellent job in the Waterford defence tonight nullifying the threat of Kingston.
Two points in it, eight minutes left.
Flag
Goal for Waterford from Shane Bennett!
Waterford 1-15 Cork 1-14
52 mins – The Cork defence fail to clear their lines and Waterford pounce with Andrew Casey setting up Bennett to finish cleverly from close range.
Yellow card for Prunty as he drags down Darragh Fitzgibbon when the Cork midfielder raced through.
Cork 1-15 Waterford 1-15
54 mins – Level again as Dalton points the close-range free.
Sub: David Lowney in for Cork for Chris O'Leary.
Waterford 1-16 Cork 1-15
55 mins – Coleman is blown for over-carrying in the Cork defence and Curran punishes him with a pointed free for Waterford.
Waterford 1-17 Cork 1-15
57 mins – Curran makes no mistake from another free. His accuracy has been excellent tonight.
Wides for Waterford from Peter Hogan and Andrew Casey.
Waterford 1-18 Cork 1-15
58 mins – Curran launches it over from play after being cleverly picked out by Darragh Lyons.
Sub: John Paul Lucey in for Waterford for Shane Ryan.
Waterford 1-18 Cork 1-16
60 mins – Dalton fires over a long-range free for Cork.
Five minutes of injury time to be played.
Waterford 1-19 Cork 1-16
61 mins – First point of the night from Jack Prendergast.
Waterford 1-19 Cork 1-17
61 mins – Fitzgibbon fouled again and Dalton knocks over the free for Cork.
Fitzgibbon shoots wide for Cork from a narrow angle.
Flag
Red card for Cork's Darragh Fitzgibbon.
The Charleville man is dismissed for a pull across goalkeeper Billy Nolan.
Flag
Substitute Jack O'Connor was fouled!
Declan Dalton to take it.
Flag
Flag
Full-Time: Cork 2-17 Waterford 1-19
What a dramatic finale. Cork somehow pulled it out of the bag for a game that Waterford looked to have wrapped up.
Declan Dalton was outstanding for Cork with Patrick Curran excellent at the other end for Waterford.
So Cork will take on Limerick in the Bord Gáis Energy Munster U21 hurling final in the Gaelic Grounds on 26 July. That's all from us, thanks for joining in.
Contribute to this story: