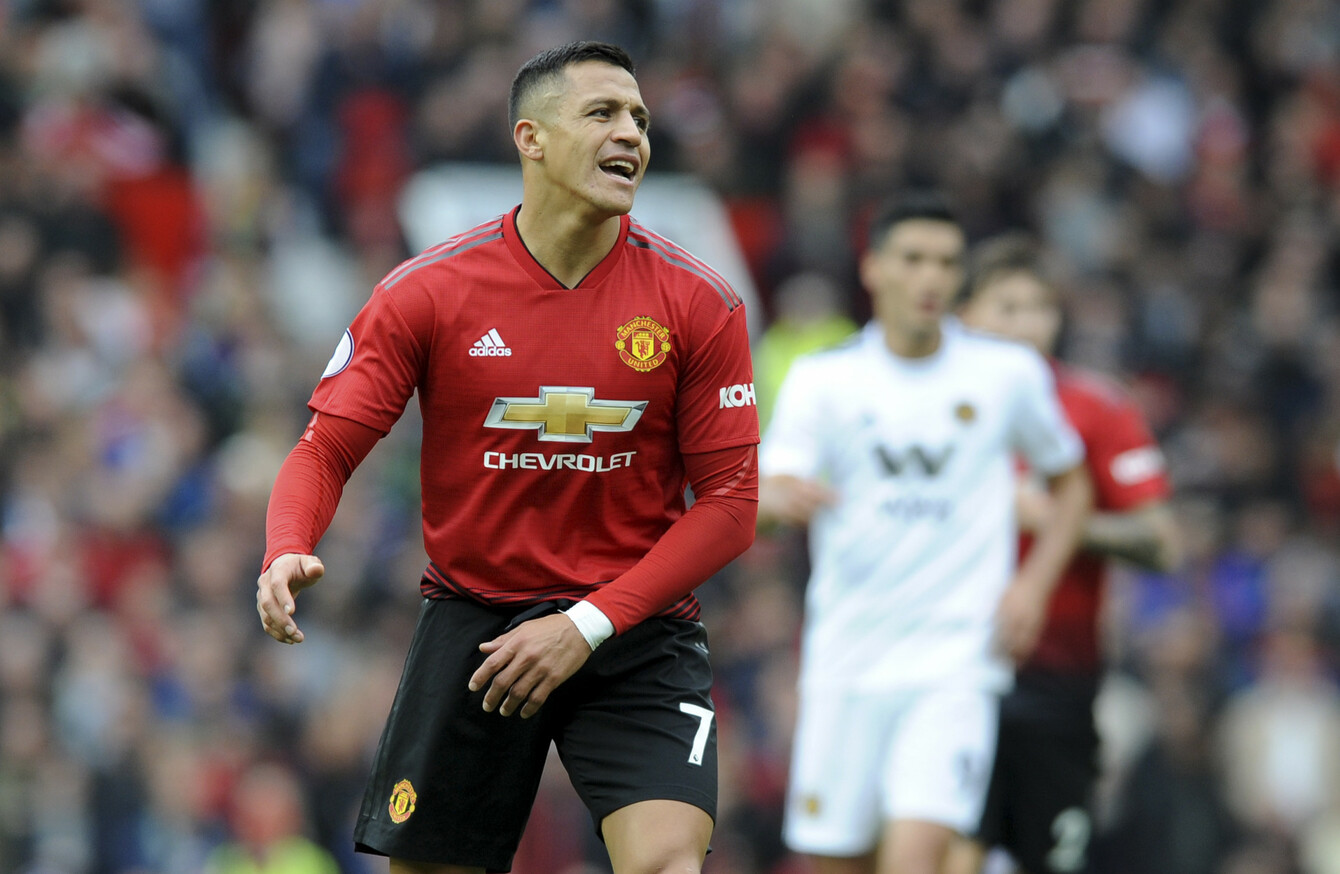 Alexis Sanchez reacts during the English Premier League soccer match between Manchester United and Wolverhampton Wanderers at Old Trafford.
Alexis Sanchez reacts during the English Premier League soccer match between Manchester United and Wolverhampton Wanderers at Old Trafford.
IT'S THE QUESTION on many football fans' lips: what is going on with Alexis Sanchez?
The Chile international arrived at Man United amid high expectations.
With rivals Man City also hoping to persuade Sanchez to join their club at the time, the transfer felt like a coup for Jose Mourinho's side.
According to reports, Sanchez would be paid £400,000-per-week — the highest salary in the Premier League at the time ahead of Paul Pogba (£280,000), Kevin De Bruyne (£280,000), Romelu Lukaku (£250,000) and Zlatan Ibrahimovic (£220,000).
These funds were clearly exorbitant, but the rationale was that it would be money well spent provided Sanchez delivered on the pitch. And there was a general feeling that the attacker would significantly boost his new team — headlines such as 'Alexis Sanchez can take Man United back to the top' epitomised the prevailing mood in January 2018.
Yet so far, Sanchez has failed to live up to expectations at United. Last season, he scored just three goals in 18 appearances for the Red Devils.
Since the beginning of the new campaign, he has played five times and failed to score once. Despite, in stark contrast with many Premier League stars, having the advantage of a proper rest over the summer with Chile not being in the World Cup, Sanchez has started the season slowly.
The 29-year-old has not completed 90 minutes since United's opening day victory over Leicester. He has now gone 831 minutes without scoring a Premier League goal. He had a lower pass accuracy (69.7%) than any other outfield United player that started against Wolves at the weekend. For the third Premier League game on the bounce, he was substituted, with Juan Mata coming on in his place after 61 minutes at Old Trafford.
So what has gone wrong? Why has a player who averaged almost a goal every second game for Arsenal (80 goals in 166 appearances to be precise) rarely found the net this year?
There are a couple of schools of thought. You could blame Jose Mourinho for his negative tactics and there is an element of truth in this perception, as the Portuguese coach's style would not be as expansive compared with a Pep Guardiola or even an Arsene Wenger. But while Mourinho may not be the world most renowned attacking specialist, it didn't stop the likes of Didier Drogba, Cristiano Ronaldo and Zlatan Ibrahimovic from scoring prolifically under his watch.
There is another theory that Sanchez has lost his hunger for the game, owing to the excess wages he is being given. This claim, too, seems unlikely to be true. Why would the star suddenly lose his hunger at 29? He has been earning millions for a long time now and his wages would have increased dramatically as far back as 2011, when he moved to Barcelona for €26 million. That high-profile switch didn't stop him then from maintaining his status as one of the best attackers in Europe, so why would his thinking be any different now? 
There is the hope among United fans that Sanchez is simply undergoing a blip and will be back to his best soon, but the most worrying scenario is also a viable one.
Footballing prodigies have had a history of burning out prematurely. To cite a couple of examples, Wayne Rooney, Fernando Torres and Michael Owen all got plenty of exposure to top-level football before they turned 18. All three were considered world-class players at one stage or another. But by the time each of them hit 30, they were a shadow of their former selves and in irreversible decline as footballers.
Sanchez leaves his 20s behind in December, and he has plenty of work to do to convince fans that his transfer won't be looked back on in years to come as akin to the big-money deal that saw ex-Spain international Torres move from Liverpool to Chelsea and subsequently flop badly for the Londoners.
And what Sanchez also has in common with the aforementioned trio is that he too was a prodigy — the Tocopilla native was just 16 when he made his debut for Chilean side Cobreloa.
In the early part of his career, Sanchez's game had two defining characteristics — there was the attacking talent that saw him score and assist numerous goals, and there was a tremendous work-rate applied with an intensity seldom shown by forward players.
Everyone agreed that Sanchez's pace and strong running was a major asset. When Guardiola signed him for Barca, he noted how "he shows intense defensive skills". Similarly, early on in his Arsenal spell, Arsene Wenger said of him: "He is dynamic and does both parts of the game, he wins you the ball back quickly as well, so the transitions are very good from defence to attack and attack to defence. He is important in the team because of that."
The Chilean was respected by team-mates too. Alex Oxlade-Chamberlain compared him to the Duracell bunny and Carl Jenkinson suggested his work-rate was underappreciated.
The stats backed up these claims. In 2015, an article in The Guardian entitled 'is Alexis Sánchez the best player in the Premier League' highlighted his phenomenal stats: 
"According to Opta, only Cesc Fàbregas, the Chelsea midfielder, has created more chances in the Premier League this season than Sánchez, who makes one every 29 minutes. To put it into context among leading goalscorers, the next best performer is Chelsea's Diego Costa, who creates a chance every 51 minutes.
"Sánchez blitzes his rival top scorers – Costa, Sergio Agüero, Charlie Austin, Saido Berahino, Papiss Cissé and Wilfried Bony – in other areas, such as passes made and number of dribbles, while no forward has made more sprints than him. He is third on the list for distance covered, behind Graziano Pellè and Robin van Persie."
Another 2015 report by Sky detailed how "no forward in the country has made more tackles than Sanchez".
Three years have since passed and there appears to have been a major change in Sanchez during that period.
A report by BT last year noted how during Arsenal's Champions League campaign, Sanchez had covered "the least ground per minute for the Gunners" by a considerable margin — even Mesut Ozil, routinely scapegoated for the team's poor performances and accused of laziness by some fans, had run far more than the Chilean.
At the time, Sanchez's unimpressive work-rate may have been perceived as a sign that he was unsettled in North London, and was consequently showing it on the field. Yet his lethargy has hardly abated since joining United. If anything, he has seemed less sharp and more laboured in his play than ever.
Perhaps, Sanchez is simply exhausted from participating in so many games. If you look many of the top experienced attacking players in the game today — the likes of Lionel Messi, Cristiano Ronaldo, Neymar and to a lesser extent Sergio Aguero — they generally try to refrain from doing too much running and compensate with their exemplary positional sense and goalscoring instincts, plus they have been tended to be used more sparingly by their clubs as they grow older.
Sanchez, for most of his career, operated at 100 miles per hour and has only recently begun to slow down. Without this intensity, he perhaps does not have the sheer talent to fall back on that a Messi or Ronaldo or even an Aguero would.
Moreover, Sanchez rarely is injured and by all accounts, always wants to play. Consider his stats over the course of his career at club level alone: 38 games (2005), 39 games (2006) 52 games (2007-08), 43 games (2008-09), 36 games (2009-10), 33 games (2010-11), 41 games (2011-12), 46 games (2012-13), 54 games (2013-14), 52 games (2014-15), 41 games (2015-16), 51 games (2015-17), 40 games (2017-18). On top of all that, he is his country's all-time record appearance holder with 121 caps.
Also consider when various seasons have begun and ended — 28 August to 17 July (2010-11), 14 August to 29 April (2011-12), 23 August to 1 June (2012-13), 18 August to 28 June (2013-14), 10 August to 4 July (2014-15), 9 August to 27 June (2015-16), 14 August to 2 July (2016-17), 27 August to 19 May (2017-18). And keep in mind, these are just the dates of his first and last competitive matches — they don't take into account pre-season training et cetera.
So owing to his international commitments in competitions such as the Copa America, Confederations Cup and not to mention the World Cup, there have been numerous summers where Sanchez has barely got a chance to enjoy a break in between seasons.
"It's a shock to the system for everybody who is not used to it," Wenger once said, in relation to Sanchez, as he was becoming accustomed to the unique rigours and physicality of English football. "You have to say 'be careful'. In England, there's no stop in winter."
Sanchez merely responded to his then-boss: "No chance. I play."
Such insatiable passion for the game would have seemed laudable to many at the time, but the star's recent performances make you wonder whether this cavalier attitude towards his body is beginning to catch up with Sanchez.
The42 is on Instagram! Tap the button below on your phone to follow us!