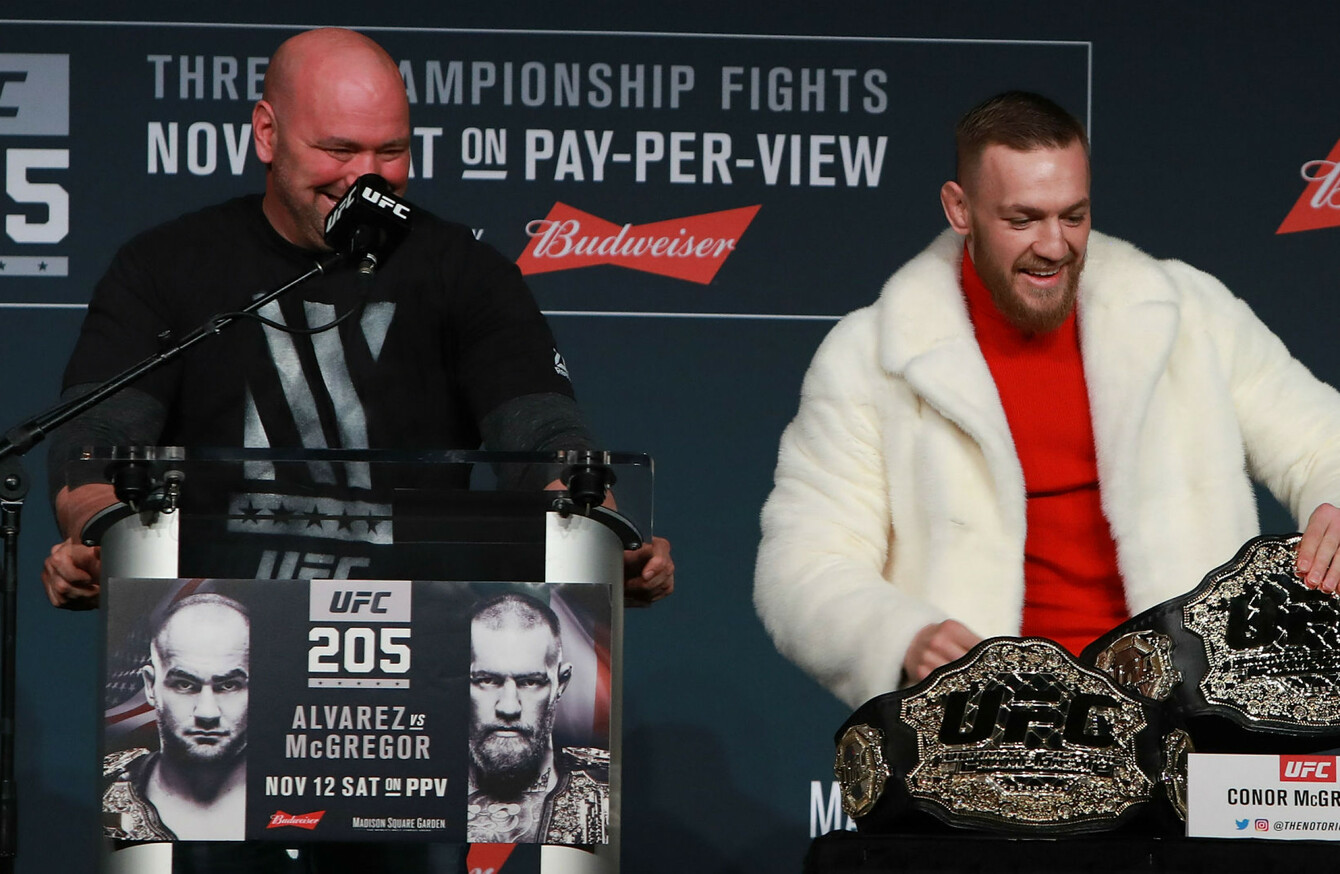 UFC president Dana White and lightweight champion Conor McGregor.
UFC president Dana White and lightweight champion Conor McGregor.
UFC PRESIDENT DANA White is eager for Conor McGregor to fight soon, insisting that if the lightweight champion does not agree to do so he'll be stripped of his title.
McGregor is the biggest draw in the UFC, but has not fought since taking the lightweight belt away from Eddie Alvarez in November 2016. In that time, Tony Ferguson and Khabib Nurmagomedov have both taken on tough opponents and dominated them.
Ferguson has earned the interim lightweight belt while Nurmagomedov has fought well enough to deserve a title shot of his own. All they can do is wait for McGregor to return, but White seems to be running out of patience.
"I don't think Conor wants to fight until August, but if he waits until August or September, that's around two years since the belt has been defended and that can't happen," White told Yahoo Sports.
"This is a game of time. We can't let this thing go on forever and not give other guys the opportunity. Tony Ferguson has been around for a long time and has earned his dues, Khabib has earned his dues and the list goes on and on."
Ferguson is currently on a 10-fight win streak and has not lost since 2012. Nurmagomedov has never lost and is a perfect 9-0 in the UFC. But because McGregor wants to wait to fight, these two men do not get a shot at the undisputed UFC title.
White says that's not acceptable so he's putting a deadline on McGregor and using the champ's belt to do it.
"As long as Conor is willing to fight by March, we could do Khabib versus Tony and then the winner fights Conor for the title," the UFC chief said. "Or if Conor doesn't want to fight and wants to sit out until next fall, then we would have to make Khabib versus Tony for the title, not the interim title."