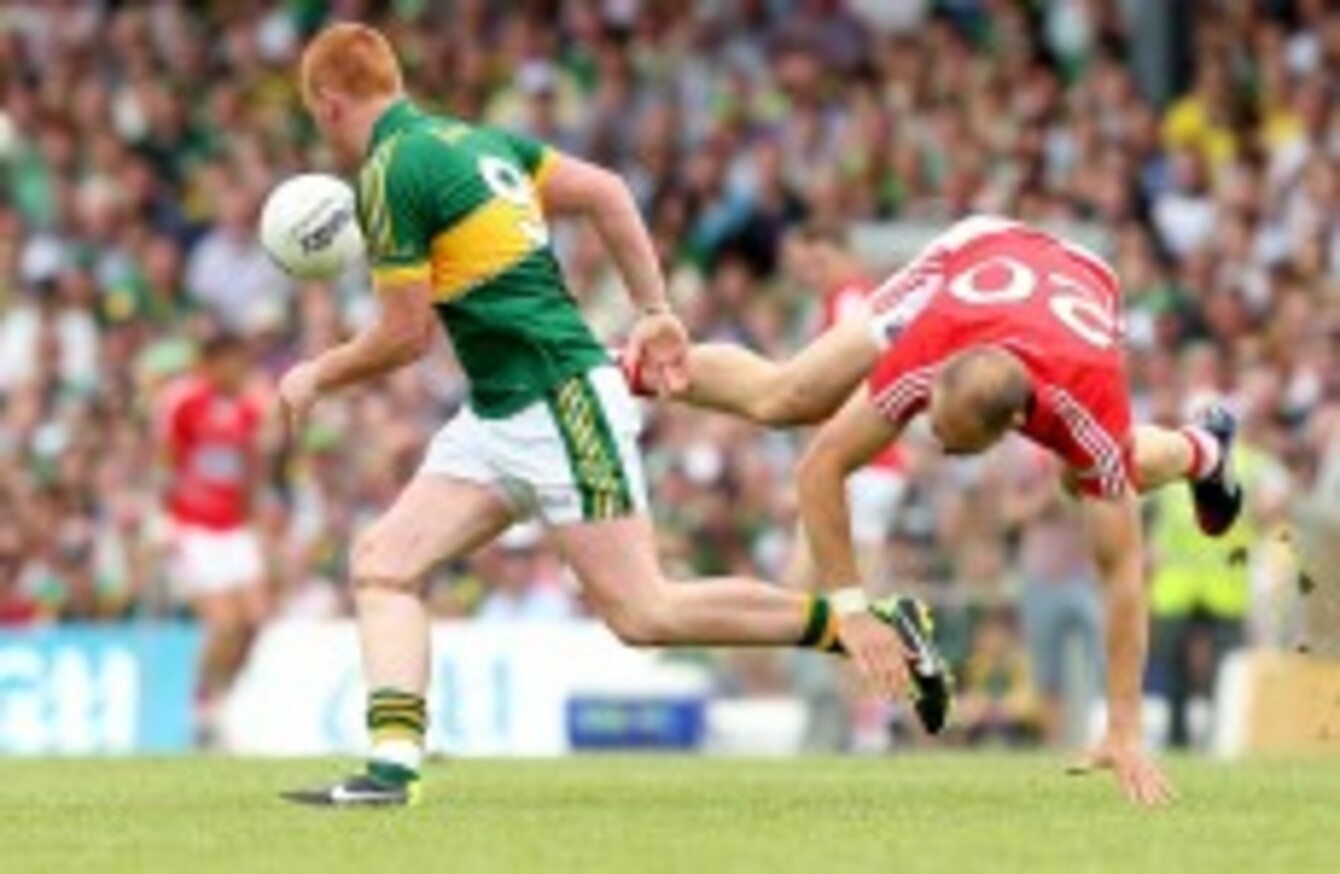 Alan O'Connor in action for Cork against Kerry in the 2013 Munster football final.
Image: James Crombie/INPHO
Alan O'Connor in action for Cork against Kerry in the 2013 Munster football final.
Image: James Crombie/INPHO
AMIDST THE WAVE of player losses that engulfed Cork after their 2013 championship campaign, Alan O'Connor's did not stand out.
The headlines were commanded by others. The 2010 All-Ireland winning captain Graham Canty departed.
One of Cork's most colourful football figures bowed out in Noel O'Leary.
And a bright young Cork attacker in Ciaran Sheehan moved to start an Australia Rules career.
O'Connor had been a strong midfield presence but his role was understated. In his absence Cork suffered last year before his recent return in May boosted a team reeling from a league final shellacking against Dublin.
"When the news came that Alan was looking to rejoin the panel again it was a great boost," admits attacker Colm O'Neill.
"We all know Alan's a fantastic warrior and he's probably been around the panel for seven or eight years. The commitment and desire he's shows, he's probably about a two-hour drive each way to training and it's just incredible really.
"He's a real leader to us and we're just delighted to have him back."
O'Connor's presence infuses Cork's midfield with a physical edge and a combative approach.
Twelve months ago Ken O'Halloran stood in goal as Cork were submerged around the middle and his kickouts couldn't stick on Cork hands.
The availability of the St Colum's man makes his life easier.
"Alan is colossal there in the middle of the park," says O'Halloran.
"He was always a brilliant player and he trains his heart out. He leaves everything on the pitch 100 per cent and it's great to have an option there.
"We were unlucky that Ian Maguire and Deano (Ruairi Deane) were injured there for all the league, so getting them back as well probably gives us a few more options.
"But Alan has been brilliant since he's come back."
O'Connor gives Cork an extra weapon in their arsenal and provides their opponents with an extra headache to combat.
"From Cork's point of view he definitely gives them something they were probably missing," states Kerry boss Eamonn Fitzmaurice.
"He's a great foil, he played well against Clare.
"Two years ago in the game here in Killarney himself and Ciaran Sheehan came on at half-time. Between them they almost turned the game in Cork's favour.
"I think he's the type of player that they need. He's experienced, very effective in the middle of the field, very honest, very hard-working so he's definitely the kind of guy you'd want on your side.
"Of all the fellas that retired and moved on, I was surprised when he left because I did think he still had a good bit to offer.
"The fact that he was playing club football and everything all along, he's in good shape."
Two years ago O'Connor was a powerhouse for Cork in Killarney. They'll hope he can replicate that today.