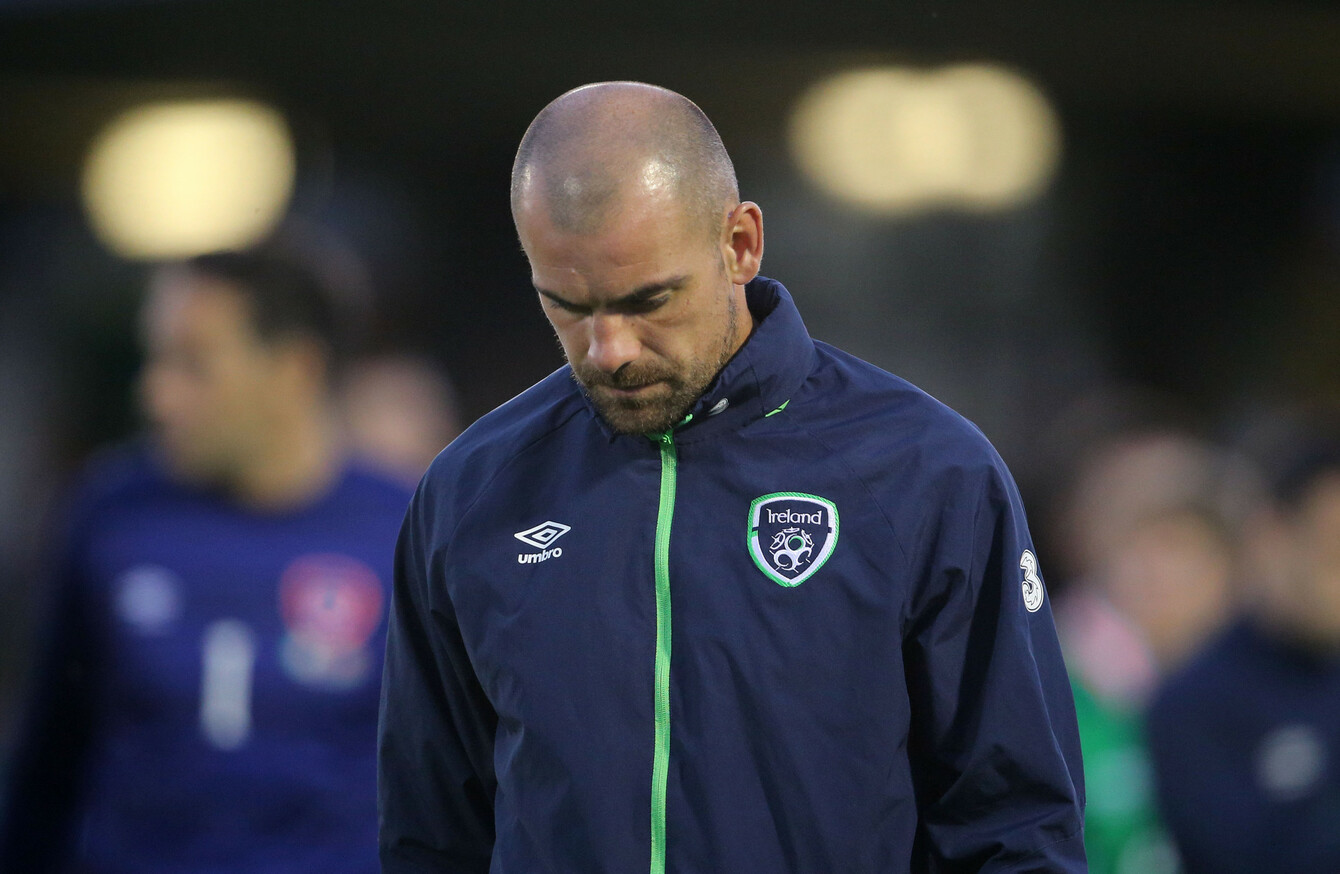 Gibson hasn't lived up to expectation levels for club or country.
Image: Cathal Noonan/INPHO
Gibson hasn't lived up to expectation levels for club or country.
Image: Cathal Noonan/INPHO
DARRON GIBSON IS undoubtedly a talented footballer, but it's not his performances on the pitch that have grabbed headlines in recent times.
Over the weekend, video footage emerged of the Ireland international criticising his Sunderland team-mates in a bar.
He described the Black Cats as "shit" and added: "I might be off my face in here but I still want to play for Sunderland. The rest of them fucking don't though."
The Championship club — relegated from English football's top flight under David Moyes last season — released a statement on Monday to confirm that it was opening an internal disciplinary process, while Gibson has since apologised.
It's not the first alcohol-related incident the 29-year-old has been involved in, as he was banned from driving for 20 months back in September 2015 after hitting a cyclist with his vehicle under the influence before fleeing the scene.
Former Blackburn Rovers midfielder Keith Andrews, who was a team-mate of Gibson's with Ireland, believes the comments were "naive" but he understands the frustration levels given the current state of the club.
"We're quick to judge players and say they're not in touch with reality and the average person out there," the Sky Sports pundit said. "This is a classic example of that.
You need to be very careful what you say. You can't speak in a way that he did about the club and team-mates — certainly not to people you don't know.
"If he is genuinely feeling that… and I have to be perfectly honest, I can sympathise with the frustrations that he has because I would be up the walls playing at that club. But you cannot say that type of thing to people you don't know — certainly under the influence of alcohol in that type of environment.
"It was very naive on his part and it's unfortunate because it's another negative story that Sunderland don't need at the moment."
Andrews added:  "I'm sure I've slagged certain team-mates at times throughout my career, but probably not to the level that he did. It was naive, especially from someone of that age who has been in the game a long time.
"It's an unfortunate episode in his career and Sunderland's saga goes on."
Gibson's career has not reached the heights many expected it to during his early days in the professional game. The Derry native joined Manchester United in 2004 and spent eight years there without becoming a regular first-team player.
Constantly dogged by injuries, he moved to Everton in 2012 but fitness issues continued and Gibson made just one appearance for the Toffees last season before heading to Sunderland during the January transfer window.
At international level, Gibson has 27 senior caps for Ireland but he's been unable to fulfill his potential and hold down a starting place for a prolonged spell.
"He was in squads with myself and was probably behind me and Glenn Whelan as the next midfielder in," explains Andrews. "We all know in that era the manager [Giovanni Trapattoni] didn't change the team too often.
"I very much thought I would have started to take a back seat and him and James McCarthy would kick on to another level. It would have been a natural progression.
"I'd have liked to stay in the squads to be part of that and I would have been very content to see it.
"It's a shame because I don't think he has played anywhere near the amount of football that he should have for the age he is. He's a very talented player but he certainly hasn't showed that as consistently as he should have down through the years."
Keith Andrews was speaking at Sky Sports preview of the 2017/18 Premier League season. Sky Sports will kick off the new Premier League season on Friday 11 Aug with Arsenal v Leicester. 159 live Premier League games will air on Sky Sports Premier League (Channel 402) this season including 3pm Saturday kick-offs exclusive to Sky Ireland customers. Sky Sports will also show all World Cup Qualifier matches including Georgia v Republic of Ireland and Republic of Ireland v Serbia, this September
The42 is on Instagram! Tap the button below on your phone to follow us!