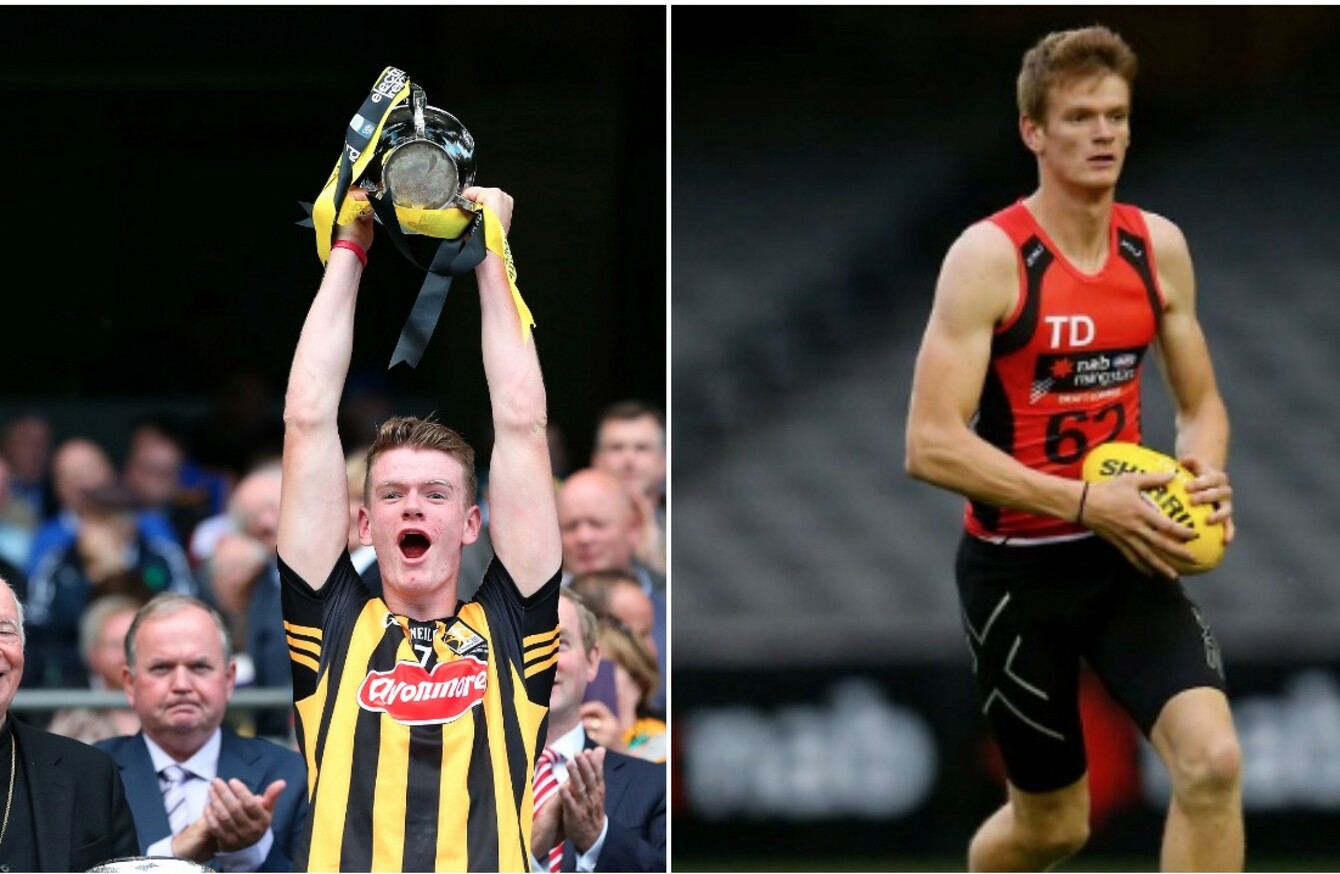 Image: INPHO/@StKildaFC
Image: INPHO/@StKildaFC
ON THE FACE of it, Darragh Joyce looked to have his sporting career mapped out.
His potential was illustrated over the course of three years with the Kilkenny minor hurlers.
The middle season in 2014 yielded an All-Ireland title and it was Joyce who had the honour of lifting the Irish Press Cup afterwards.
Either side of that memorable year, he lost out at the semi-final stage to the eventual champions in Waterford (2013) and Galway (2015).
His hurling upbringing was with the Rower-Inistioge. The south Kilkenny club holds a connection to the county's flagship team that can be traced back from Eddie Keher's celebrated scoring feats to Darragh's older brother Kieran becoming a modern defensive fixture to the emerging talents this spring of Pat Lyng and Richie Leahy.
2016 was Darragh's first season after graduating from the minor ranks. On Sunday 16 October last, he did his level best to book a spot for Rower-Inistioge in county senior final day for the first time in 39 years.
He wound up with 0-10 for his afternoon's efforts in that game in Nowlan Park, showcasing his nerveless free-taking, but O'Loughlin Gaels won out by three points.
A wing-back for the county, a centre-forward for his club, Joyce's versatility was one of the weapons that suggested this was the type of player Brian Cody would be taking a look at.
It'd be easy to imagine him having got run outs as the cobwebs were being shaken off in the early days of the 2017 season and then linking up with the squad for tonight's Saturday sellout as they head to Wexford town for their first championship assignment.
But Joyce is on the other side of the world, having taken the road less travelled for Kilkenny hurlers.
On the morning of county senior final day in Kilkenny last year – a fortnight after that semi-final defeat – he was holding his passport and boarding a plane in Dublin on the first step of a trek to Melbourne.
And that's where the 20-year-old's sporting life is now, another talented Irish youngster trying his hand at Aussie Rules after being snapped up by St Kilda.
Joyce's journey is the most curious of all the Irish GAA imports in Australia. He doesn't have an underage inter-county football career behind him and at club level it was all about hurling growing up. The Gaelic football tales don't take long to recollect.
"In primary school we'd a decent enough team. But in Kilkenny you might play one (club football) league game and get into a semi-final but you might play the semi-final the following year.
"That was as far as it went."
How did he then get lured to an oval ball game?
That's where the Wexford chapter comes in. In that south-east pocket of Kilkenny, the Rower-Inistioge are one of a few clubs where most of their players head to New Ross for secondary school.
In Good Counsel they promoted hurling with Walter Walsh and Ger Aylward using it as a recent springboard to land their All-Ireland medals and All-Star awards.
But it's also a place where plenty other sports are on offer.
"I loved hurling during the summer but during the winter, you don't really do much at club level anyway," recalls Joyce.
"So I wanted a different sport. I played a bit of soccer when I was younger. Then the Gaelic football in Good Counsel was just something else to do and something to keep me fit during the winter.
"I just really enjoyed it. I was lucky enough to be part of a good team. It was just another sport and I threw my hand at it."
Joyce fell under the guidance of good Wexford football men who taught in the school – Aidan O'Brien, Kevin Kehoe and Leigh O'Brien have all served various roles in playing and management for county teams.
They had a few special sides that made waves on the Leinster colleges circuit and worked their way up to land the senior prize in March 2015 with Joyce midfield on a team that saw off Offaly's St Mary's of Edenderry.
By that stage the AFL world had been alerted to his talents, Joyce popping up on their radar from the school games that were scouted.
When he was 16, a scout for Hawthorn got in touch with Kilkenny hurling coach Mick Dempsey and the message of interest was passed on to Joyce.
"He just said he wanted to go for a kick in the Phoenix Park. So that was my first time with an AFL footy.
"It was nothing serious, there was no bleep tests or anything, it was just a casual kick to see how my skills were.
"Prior to that, I just got a rugby ball and started practicing. I didn't want to go up there and not have a clue.
"I used to always watch Aussie Rules, especially when it was on TG4 and Tadhg Kennelly used to be out there. Myself and the two brothers used to watch it."
Kennelly invited him for further testing in Dublin and in late 2015, Joyce jetted off to the AFL Draft Combine. That's where the St Kilda interest became real.
"When I was on the plane going down for the draft, it was all guns blazing. When you get that close to an actual contract being put in front of you at that age, it's actually a bit daunting.
"I was too young for it at that stage. I went down when I was 18, a lot of lads get called for it when they're 20.
"They just said I was too young and they wanted to work with me for a year and that's when St Kilda stepped up.
"They told me go home, enjoy college for a year and figure out if I wanted to do this for real."
He went home to reflect. Studies started in UCD in Sports and Exercise Management. The pros and cons were weighed up. A chat with Kilkenny U21 manager Eddie Brennan last summer was helpful.
"I remember talking to Eddie and he said one of his biggest regrets, and after all that he's won, was that he didn't travel and go to places like Australia.
"That kind of settled it in my mind. There's no real risk in it for me but there's a chance of great reward.
"It's two years exploring another country, exploring another sport and there's the full time aspect to it. If it doesn't work out, I can go home and continue with my studies."
Last June, Joyce travelled out for three weeks, came home and was soon offered a contract by St Kilda. He signed up and found out he'd have Westmeath's Ray Connellan for company at the club.
In September there was another fortnight stint to sort out logistics ahead of the move and in October it was time to embark on a new way of life.
He wouldn't have known as a youngster watching that footage of Kennelly's exploits, what an influence the Listowel native would turn out to be.
"I can't say anything bad about the man. He's a legend in my eyes.
"The job he's in is a difficult one alright going back to his home country. He's just giving lads an opportunity.
"It was up to me myself whether I wanted to take it, he just put in front of me."
Home never strays far from Joyce's mind. He has a few hurleys with him in Melbourne and pucks around when he can.
ed remarkable hurling riches for the Joyce family.
In February that year, older brothers Kieran and Conor featured as Rower-Inistioge were crowned All-Ireland intermediate champions in Croke Park.
Then at the start of September, Darragh captained the Kilkenny minors to glory. Three weeks later Kieran was man-of-the-match as the seniors lifted the Liam MacCarthy Cup after a replay.
"I was a bit homesick but then Mam and Dad came out which settled things. 2014 was pretty crazy when you think about it. We sat down over dinner one night and we just talked about that year.
"I always looked up to Kieran and Conor. They taught me my trade in hurling. Conor's a very skilful chap. Kieran was always very determined.
"He was a big figure at club level and I used to go to all the club level games when I was a young lad.
"Some kids would be hurling out the back but I'd always be focusing on the game and seeing what he'd be doing. Seeing what he's done for Kilkenny, he just gets the job done a lot of the time and he's had a great few years.
"You'd have that feeling in your gut that you'd like to be back playing. It was a very tough decision.
"We had a successful few years there with the club but look it's a once in a lifetime opportunity."
So far he has revelled in the new setting. Lining out as a half-back for St Kilda's reserve team Sandringham in the Victorian Football League, he has found his body become accustomed to the relentless running and his mind become attuned to the intricacies of the sport.
The frequency of games is to his liking and yet he keeps an eye on matches on Noreside. Last week there was local radio commentary to listen to from the Kilkenny U21′s opening Leinster victory over Dublin.
This weekend there is a VFl game against Williamstown in the Burbank Oval before in the early hours of Sunday morning he plans to get a viewing of south-east neighbours duelling it out for a Leinster final place.
"It's always nice to get one over Wexford," he laughs.
"They were always talking in school about the All-Ireland back in '96, the claim to fame. It should be a great game.
"I'm really enjoying it over here. There's that bit of pinching yourself in the morning that your job is to go training. I don't think I'll ever get used to that really.
"I'm hoping to play as many games as possible this year, be it VFl or even AFL. I just want to get the body through the first season and keep learning."
A sporting career that swerved on a different path. Joyce is set to travel it and see where it takes him.
The42 is on Instagram! Tap the button below on your phone to follow us!