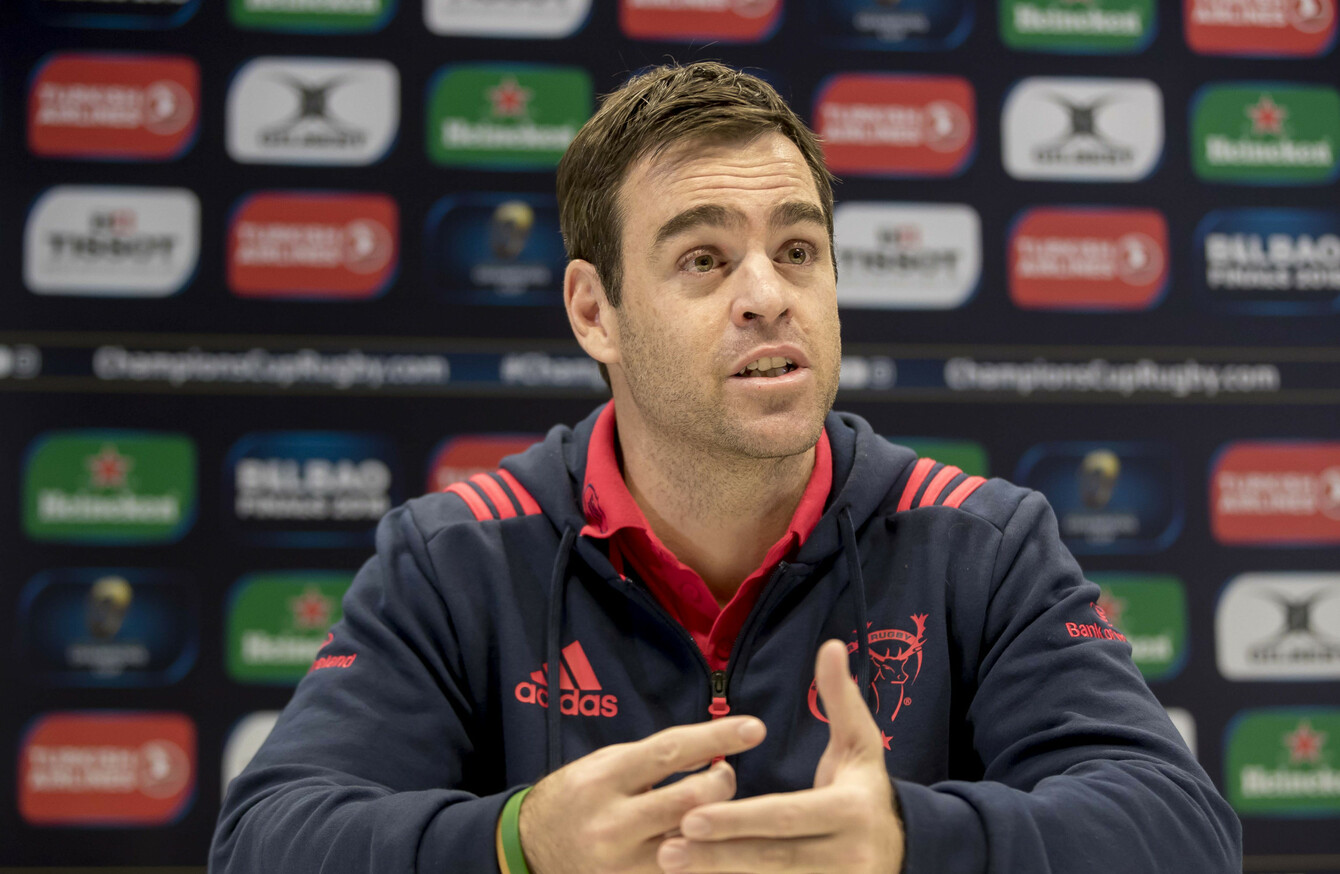 The Munster head coach speaking at Tuesday's press conference.
Image: Morgan Treacy/INPHO
The Munster head coach speaking at Tuesday's press conference.
Image: Morgan Treacy/INPHO
JOHANN VAN GRAAN, the Munster head coach, has defended his winger Andrew Conway following Matt O'Connor's insinuation that he lacked a duty of care and, in turn, was responsible for Telusa Veainu's double jaw fracture.
O'Connor, the Leicester Tigers head coach, made the accusation following his side's heavy defeat at Thomond Park last weekend, and, furthermore, his suggestion that Munster were 'cynical' in their play has added another layer of intensity and hostility to Sunday's rematch.
They weren't vague accusations, either.
Asked to elaborate on his comments immediately afterwards, O'Connor wasn't hesitant in doing so and in his weekly column for The Leicester Mercury newspaper — titled 'Forget interpretation, surely laws are laws?' — the Australian again questioned Jerome Garces' officiating at the breakdown.
"Don't get me wrong, there were aspects of the game where we were second best," he wrote.
"There is no hiding that. But our frustration at times, and what was being deemed legal and illegal, led to some of those inaccuracies."
It's something that has run and run — and at this stage very much its course — but still filtered into this week's narrative nonetheless, and is no doubt fuelling the Leicester fire as they seek revenge at Welford Road.
For his part, van Graan hasn't been interested in getting involved, although when asked about the Conway-Veainu incident which resulted in both players leaving the field — Conway with concussion — the South African had to back his player.
"Look, I respect Matt O'Connor," he said. "He is a coach who has been coaching at a high level for a very long time. He is a guy who has coached very successful teams.
"Obviously, he has got his opinion on the tackle. Having reviewed the incident again I thought Andrew made some contact. I felt he put his left arm around him. There are certain processes in place in this game to keep players safe.
"The referee didn't penalise him nor did the touch judge, nor did the TMO nor the citing commissioner. To me, it is in the past. It is unfortunate that both players got injured and like I said Saturday night, at the end of the day it is people, you don't want to see guys get injured. It is a physical game and in my opinion that is the only thing."
But did you feel O'Connor's criticism of Conway was unfair?
"Like I said before, every guy is allowed have his opinion. To me, the incident is in the past right now. Like I said before, I spoke to Andrew after the game and I spoke to him yesterday and today, he is fine.
"I think both players shook hands afterwards and that is the game of rugby, that is the beauty of rugby. It is a battle on the field but off the field all the effort is, for one thing, just enjoying the game of rugby, shaking hands and then moving on."
To that end, van Graan has instructed his players to reset to zero this week and effectively forget about the result and performance in Limerick as they prepare for an almighty backlash from the Tigers. Everything could be turned on its head on Sunday and you only have to go back 12 months for powerful evidence.
"It's a better position to be in from our side to have had a bonus point win at home, but I said a lot on my opinion on rugby games, (each game) has got different characteristics," he continues.
"It's a new referee, new teams, new ground, new conditions, new ball."
But one thing is likely to remain unchanged: the breakdown will have a significant bearing on where the game is won and lost and ultimately Munster's dominance in that area in round three was the platform for their 33-10 victory.
Van Graan's side, led in the trenches by the colossal Peter O'Mahony and tireless Chris Cloete, certainly adapted to conditions far better and were on the right side of Garces' interpretation of what is legal and what is not far.
That's essentially what irked O'Connor, as he wondered if Mathieu Raynal would this week give the same treatment to the home side.
"I think it's about consistency for us," says van Graan, refuse to engage in any tit-for-tat.
"I think every team in the world does their research on referees. It's about adapting to him. We had a good review on all areas of our games, pretty happy with the way out ball carriers fought on the ground and presented the ball, some good reaction speed by out cleaners.
"Some of the breakdown decision also went against us which might have been 50-50s. that's all in the past. It's about doing our research on the referee and the opposition and hopefully, we can produce another good breakdown performance on Sunday."
But one area van Graan wants improvement is in his side's discipline, citing the fact Munster conceded five penalties late in the game on Saturday while also recalling the manner in which the southern province were beaten at Welford Road last year — he watched that game on TV in South Africa.
Munster dominated possession and territory on their own patch, something they won't expect to repeat this weekend, so there's even more importance placed on how disciplined, precise and ruthless they are with and without the ball.
"It's been too high," van Graan says of his side's penalty count, which tallied at 13 last time out.
"We've got to get it down, we spoke about that as well. The interesting thing is we only had four penalties in the first half, the first 60 I think we had six or seven penalties, which is quite normal for a game of this magnitude.
"It was just the last bit, we conceded five in five minutes, which we can be a lot better in. I'll take the positive out of that, the way that we defended our own line with the game already won and a bonus point in the bag. All credit to the players who put their bodies on the line and defended that goal line of ours with all that they had.
"But we've got to be better in terms of our discipline."
The encouraging thing for van Graan, however, is that he doesn't see a common thread in the infringements his side are committing.
"You look at every penalty by itself, there's not a trend that we concede penalties in one specific area. There was one scrum penalty, a side entry in a maul, two holding on penalties, one offside where one of the guys got up and tackled a guy from an offside position.
"So it's not a trend when we concede 10 penalties in one area. Obviously, we'd like to concede zero penalties in a perfect world but like I said before we want to improve every single week and I thought we did so over the weekend."
And what about the challenge Leicester will pose?
"They've got quality players all around the park," van Graan adds. "I thought Dan Cole put a lot of pressure on at the breakdown in terms of stealing. I thought their maul went very well. They found a few spaces within our defensive line, especially out wide, which we'll have to have a look at.
"Their broken field, I thought they put us under quite a lot of pressure. The second play of the game went for three or four minutes. So they'll back themselves at home but I can't control them, We respect them a lot, playing at their home ground, in a massive game for both teams.
"So we'll prepare like any normal week, take it day by day and hopefully deliver a good performance on Sunday evening."
The42 has just published its first book, Behind The Lines, a collection of some of the year's best sports stories. Pick up your copy in Eason's, or order it here today (€10):