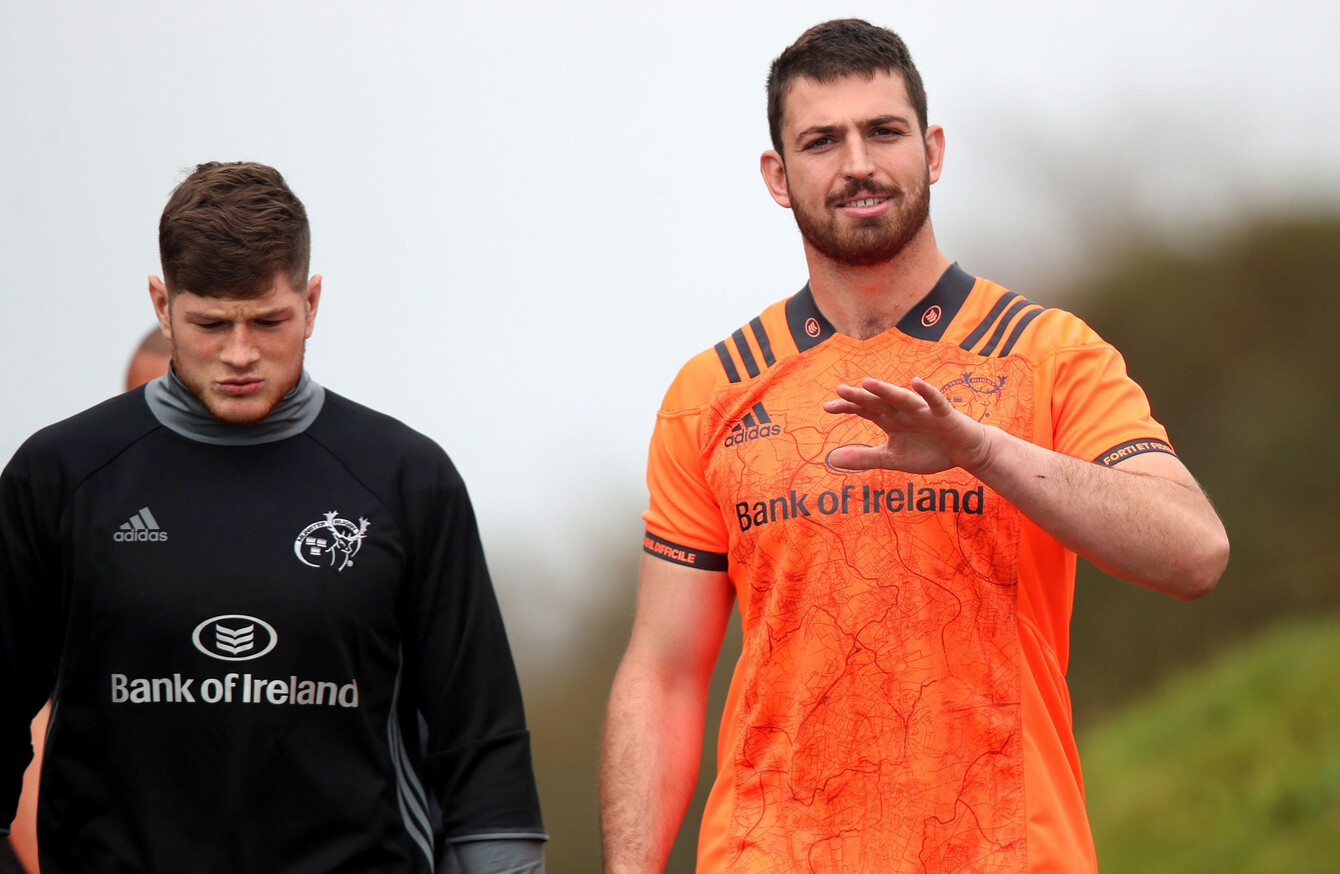 Image: Bryan Keane/INPHO
Image: Bryan Keane/INPHO
THE WHEEL HAS come full circle this week for Munster lock Jean Kleyn whose maiden season was brought to a halt last February when he suffered a neck injury against the Dragons in Cork.
This time around the South African is returning from another neck injury as they prepare to face the Welsh side in Cork on Friday evening.
And the 24-year old is hoping to play his part as a Munster side without their internationals bid to end this block on a winning note in what looks like will be Rassie Erasmus' final game.
Kylen said they want to send his fellow South Africans Erasmus and defence coach Jacques Nienaber out on a high note before welcoming another compatriot Johann van Graan to Munster.
"I haven't had much interaction with him myself but everyone I have talked to across the board have only good things to say so I'm very excited to work with the man," said Kleyn about the man who will become Munster's seventh head coach of the professional era.
"He seems to be an exceptional coach, and a very intelligent fellow. The will be the first time working with him but I am really looking forward to that. He has got sterling reviews from guys like Wayne Vermuelen.
"When you have got a quality coach leaving a place there are going to be people unhappy in South Africa and there are other people that accept it and wish him the best of luck."
Against that, Kleyn said that the return of Erasmus has been extremely well received in South Africa.
"Yeah, there was a massive outcry when he left in the first place and then just him coming here and the results the team has had in the year and a half and his and Jacques coaching ability as well. It has just reinforced South Africans' opinion of him so he's going back I'm sure to great applause and very happy Springbok supporters," added Kleyn.
Munster have not lost two games in a row since Erasmus took charge and, having gone down 20-16 to Connacht at the weekend, will be under pressure on Friday to maintain that record.
And while Munster won the corresponding fixture 45-17 last season, Kleyn said they can take nothing for granted against Bernard Jackman's men.
"I've played against them twice, once when I done my neck, last February at home, this very fixture so this will be sort of retribution for me. It's going to be a good match. The one thing you learn in rugby is never to write one team off just because they are currently appearing, so we are expecting big challenges and coping with those challenges will be tough. Forging our own game plan will give us a chance to re-focus our strategies," said Kleyn.