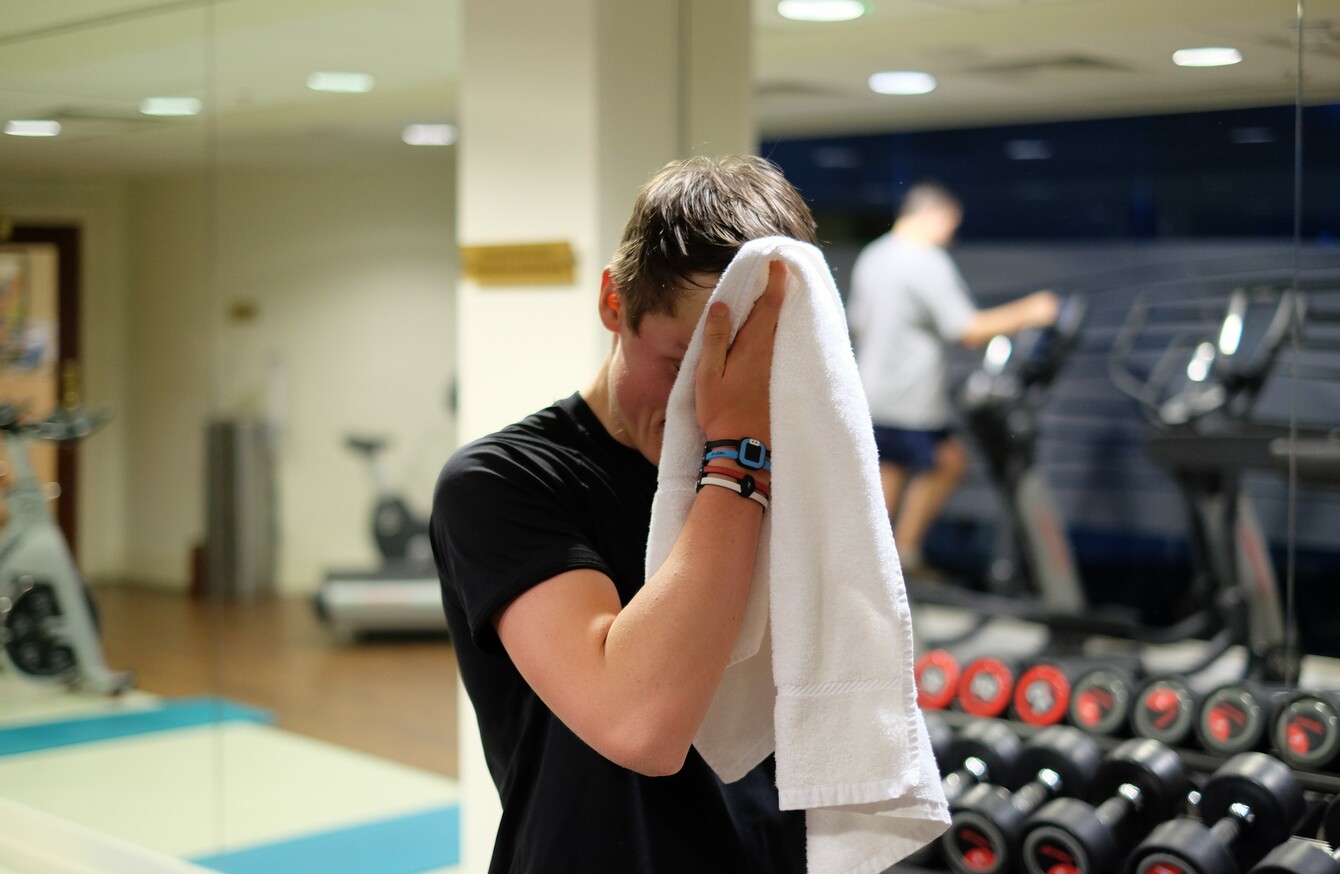 Blood, sweat and tears.
Image: Peter O'Doherty
Blood, sweat and tears.
Image: Peter O'Doherty
YOU DON'T FULLY appreciate the merit of something until you become fully immersed in the situation – and four weeks into this challenge, I'm beginning to realise what it takes to succeed.
As the weeks and sessions have progressed, the intensity levels have steadily increased and now that we've reached the one month juncture in the programme, the serious business is beginning.
The focus has shifted from laying the foundations to building the blocks and each hour spent with either Simon or Phil in The Shelbourne is proving to be hugely beneficial and enlightening.
I would consider myself generally well informed but you can't help but feel something of a fitness fraud when you're suddenly in the company of two professionals and you realise that, in fact, you didn't really know too much beyond the basics.
These 12 weeks will naturally be a learning curve but it's also about training as hard as I can and using all the tools in place to achieve discernible results – and two companies showed considerable support this week.
Both Avonmore and Wyldsson kindly sent out a range of their respective products to help me along the way and I certainly need all the assistance I can get when it comes to nutrition.
As we've established, my diet was extremely clean and I had been eating all the right foods but when you're on a bulking programme, the required calorie intake goes through the roof.
I need to eat plenty and regularly. It's easier said than done, particularly when you're in work and not at home with access to a fridge full of food and a kitchen. So the support of the two aforementioned companies is greatly appreciated, even if the Protein Milk or seeds won't last long.
And I'm heading in the right direction. The end of the month was a natural juncture to step back and review the first four weeks.
While it has been a hugely enjoyable process to date, at the end of the day it's about results and coming out the other end with a better knowledge of each of the components.
Given we're only getting into the serious work, the results from the first month were hardly going to be ground-breaking but they certainly provides grounds for optimism.
Most strikingly I have gained weight and increased my body fat percentage, as well as increasing my measurements across the board. A solid, if not unspectacular, start.
Shoulders: 109cm to 112cm
Chest: 86cm to 90cm
Arms: 25 R/25.5 L to 27.5 R/28 L
Abdominals: 79cm to 82cm
Hips: 85cm to 87cm
Legs: 42cm to 46cm
Body fat: 6.6% to 7.3%
Weight: 57kg to 59.9kg
Seeing positive results on paper acts as a great motivator and I'll head into next week encouraged and confident I can build on the foundations that have been put in place.
Four weeks down, eight to go!
Week 4
Here's my workout from last week. I did this once with personal trainer Phil and twice on my own. Recovery time between each set varied from one minute to two. Each exercise is performed from set one to three before moving on to the next exercise.
Warm-up: Rowing machine (1,000 metres)
Dumbbell bench press (22kg, 5 reps x 5 sets)
Dumbbell single arm row (24kg, 5 reps each arm x 5 sets)
Dumbbell shoulder press (20kg, 5 reps x 1 set, 18kg, 5 reps x 3 sets)
Man makers (8kg, 60 seconds)
Dumbbell goblet squat (28kg, 12 reps x 3 sets)
Swissball leg curl (15 reps x 3 sets)
Dumbbell walking lunges (1okg, 24 reps) super-setted with press ups (until failure)
More details on The Health Club at The Shelbourne can be found here. Facilities include an 18-metre swimming pool, sauna, steam room, dance studio and gym furnished with modern equipment.
Thanks to Avonmore for providing Protein Milk and Wyldsson for the starter bundle.