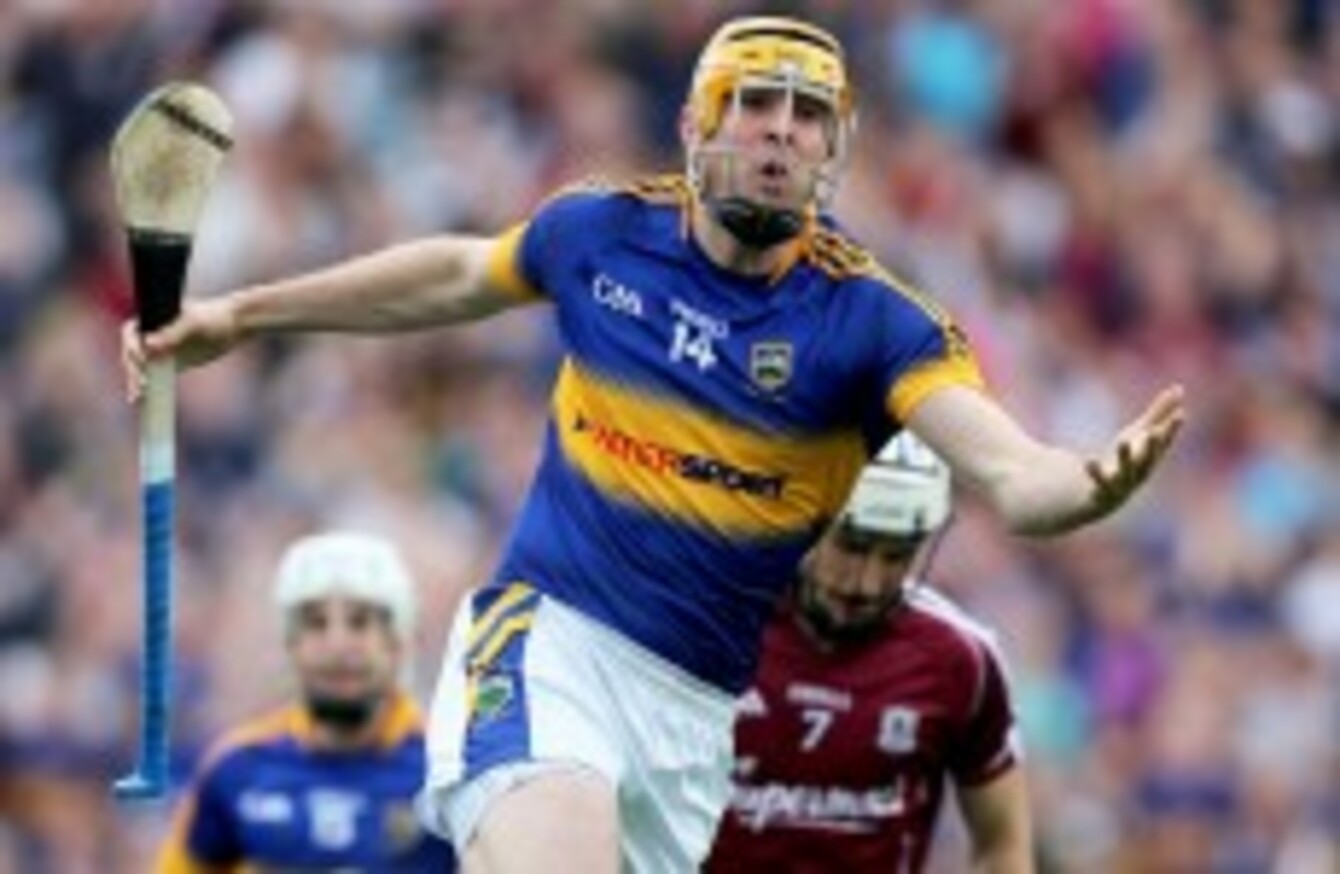 Seamus Callanan celebrates hitting the net for Tipperary against Galway.
Image: Donall Farmer/INPHO
Seamus Callanan celebrates hitting the net for Tipperary against Galway.
Image: Donall Farmer/INPHO
KIERAN MCGEENEY HAS been credited with helping transform Seamus Callanan from a peripheral Tipperary forward to the focal point of the Premier attack and a player nailed on to win a second consecutive Allstar this year.
26 year-old Callanan helped Tipperary lift the 2010 All-Ireland title, chipping in with 0-2 off the bench in the final win over Kilkenny.
But he struggled for form and consistency thereafter.
After he was substituted in the 2010 qualifiers against Wexford, the Drom-Inch man only finished two of Tipperary's next 16 championship matches and he only commanded a starting place for half of those games.
The past two years have seen Callanan's career undergo a remarkable turnaround. He may not have helped Tipperary lift the Liam McCarthy Cup but Callanan could not be faulted given his stunning form.
And he credits Armagh boss McGeeney, who has acted as a performance consultant with Tipperary, for helping him deliver on his potential.
"I worked with Kieran a good bit, outside of the training on a personal level. Kieran is very good.
"You'd have massive respect for someone who's had the career that Kieran had, the experience of the man and the knowledge of the man.
"He was a massive benefit to me and gave me great confidence and a great sense that I could work on my own visualisation and mentality towards what's going on. It was very, very helpful.
His services are there for whoever needs to use them. We don't use them as a group. It's for whoever wants, more a private issue.
"I couldn't tell you who was using him or not or how many of the players were using him but I just know I was using him and he was a great help."
Callanan has been on a hot scoring streak since the start of the 2014 season, shouldering the responsibility from frees and firing frequently from play.
2014 league: 5-62 from 7 games
2014 championship: 9-50 from 7 games
2015 league: 3-45 from 7 games
2015 championship: 5-20 from 3 games
He's placed an emphasis on hitting the ground running early in the season and it has served him well.
"I put a lot of it down to – obviously I put in a lot of hard work in pre-season. A lot of players or people looking in might think the league isn't important.
"But for the last few years I really treated it as my opportunity to play and get better and get fitter and get my confidence up.
"So instead of targeting the first round of the Munster championship I was targeting week by week what I could do to get the best out of myself in every league game.
"Eamon (O'Shea) instilled an awful lot of confidence in me by putting me on the frees, which gave me responsibility that I like to think I thrive on."
Callanan has paid tribute to O'Shea, who vacated his post after the recent loss to Galway.
"Eamon puts his life and soul into the players on and off the field. He really does care about your personal life, your hurling life.
"We felt like we'd love to be able to repay him and at the same time repay the hard work we're doing ourselves as players.
"He'll be a massive loss but we can't be looking back at Eamon. We can't be comparing someone else to Eamon or comparing Eamon to Liam. It's all different and we have to set out our stall for the year now again.
"Michael (Ryan) has been with us through the Liam Sheedy era and with Eamon O'Shea so he'd have learned an awful lot from them along with putting his own stamp on the game.
"I'm sure it's a positive having Michael there."