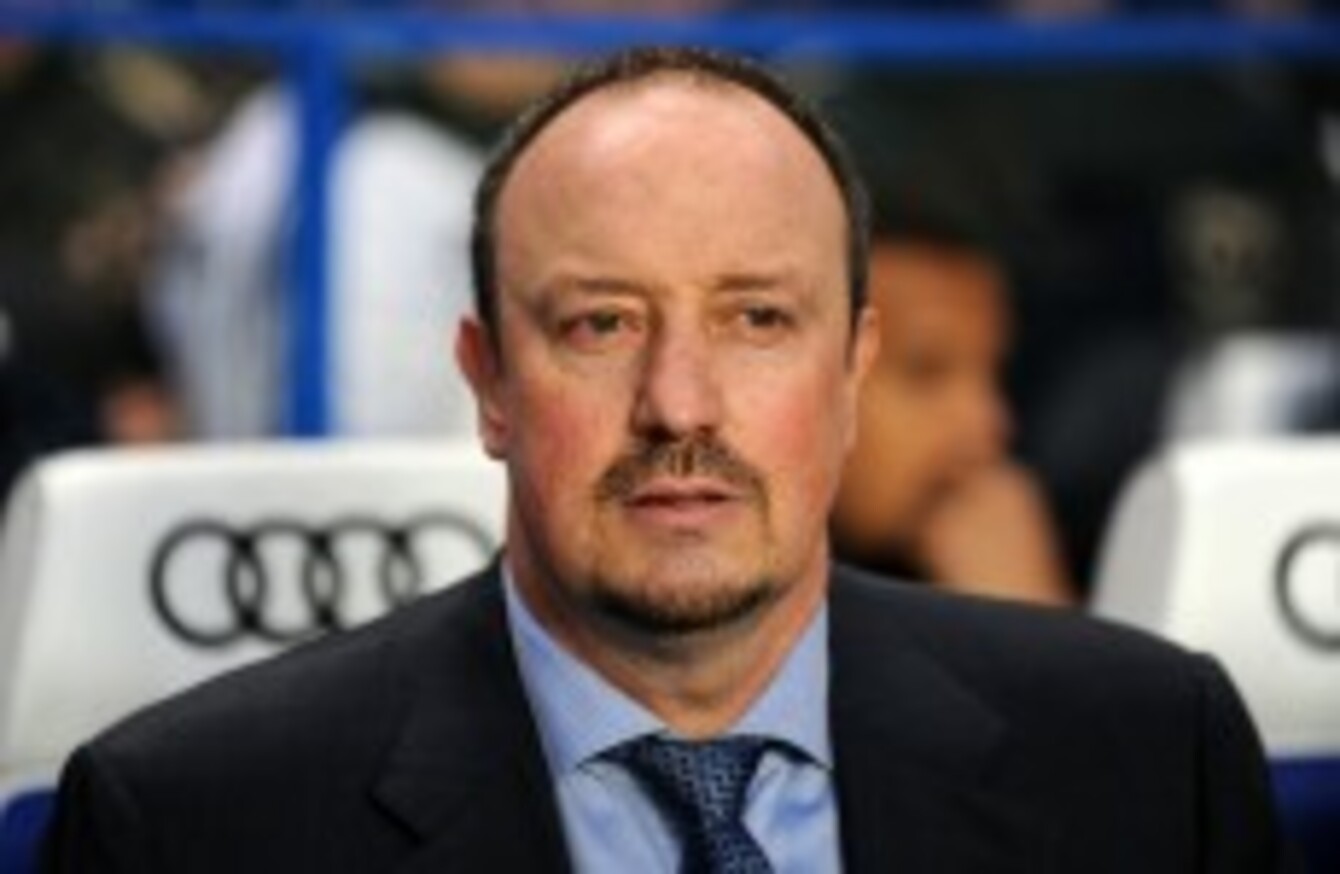 Rafa Benitez was given a hostile reception by Chelsea supporters this afternoon.
Rafa Benitez was given a hostile reception by Chelsea supporters this afternoon.
1. Just in case Rafa Benitez didn't already think he had a difficult job on his hands…
The former Liverpool boss was roundly booed by Chelsea fans during his first game in charge at Stamford Bridge today.
Justifiably unhappy at the shoddy treatment afforded to departing boss, Roberto Di Matteo, the fans made their feelings known in the form of a series of hostile chants directed at Benitez.
Yet while the Chelsea supporters clearly don't like the Spanish manager, the booing was surely also symbolic of their frustration with a greater malaise within the club, namely Roman Abramovich's all-too-impulsive readiness to sack managers who are unable to fulfill his exceedingly lofty expectations.
Consequently, Benitez faces an almost impossible task in the weeks ahead – he must somehow conciliate the fans while also keeping his notoriously hard-to-please chairman satisfied.
A 0-0 draw against City was not a bad start, though presumably both Abramovich and the supporters will expect more in the way of attacking flair in the near future.
Therefore, as Chelsea boss, Benitez has many luxuries at his disposal, but time is not one of them.
2. Manchester United's victory cannot hide continuing deficiencies in midfield
United have had a solid if unspectacular start to the season.
While Champions League qualification and a place at the top of the league suggest all is well at Old Trafford, yesterday's match against QPR told a different story.
Despite their healthy position, they've suffered worrying defeats against the likes of Everton and Norwich already this season, and the most glaring deficiency for Alex Ferguson's men has been in midfield.
Paul Scholes has been fantastic on occasion this year, though he looked his age in the match yesterday, as United delivered another less-than-convincing performance.
Consequently, if they are serious about competing against Europe's big guns, an urgent January investment in this department is patently required.
3. Luis Suarez is human
The Uruguayan striker has been in scintillating form this season, almost single-handedly dragging Liverpool to 11th place in the table.
However, he had a rare quiet day against Swansea this afternoon, and unfortunately for Brendan Rodgers, his teammates also failed to step up to the plate.
While progress has been made during Rodgers' reign, the stalemate against Swansea was a reminder that the club are a long way off emulating the title-contending Liverpool sides of previous seasons.
Come January, a second striker should be the priority for the Irish boss, who slowly but surely appears to be turning things around at Anfield, despite today's setback.
4. Arsenal a pale shadow of former incarnations
Arsenal's 0-0 draw with Aston Villa

on Saturday evening emphasised how far Wenger's team have sunk in recent seasons.

The loss of players such as Fabregas and Van Persie undoubtedly played a pivotal role in their decline.

Yet a lack of quality was the not the primary reason as to why they failed to collect all three points against a decidedly ordinary Aston Villa outfit yesterday.

When the players were walking off following the game's conclusion, shots of Arsenal fans pointing to their hearts were particularly telling.

The performance seemed peculiarly passionless, lacking any real urgency, as if the team were stuck on auto-pilot for the contest's duration.

Wenger said their sloppiness was a result of fatigue, but Arsenal in their prime seldom produced such anemic displays, tiredness notwithstanding.
5. Long becoming invaluable for high-flying Baggies
West Brom were elevated to nose-bleed territory in the Premier League yesterday, as they rose to third place following their win over Sunderland in Saturday's early game.
The game also provided plenty of encouragement for Ireland fans, with Shane Long again playing an influential role in their victory, scoring his side's second goal.
All of which means that provided he is fit by the time the World Cup qualifiers come around, Trapattoni can surely no longer consider leaving a player of Long's proven worth out.
To prefer a journeyman such as Simon Cox, or an ageing attacker such as Robbie Keane (who has been a wonderful servant to the country, but has seen better days) would be nothing short of laughable.
Moreover, Long's performance was not the only display of note from an Irishman in yesterday's encounter – John O'Shea looked decidedly uncomfortable at the back, and was lucky not to receive his marching orders for a clumsy tackle on Long, before being substituted at half-time.
O'Shea has been excellent at times for Ireland, but his recent performances for club and country suggest alternative options may be worth examining at this stage.