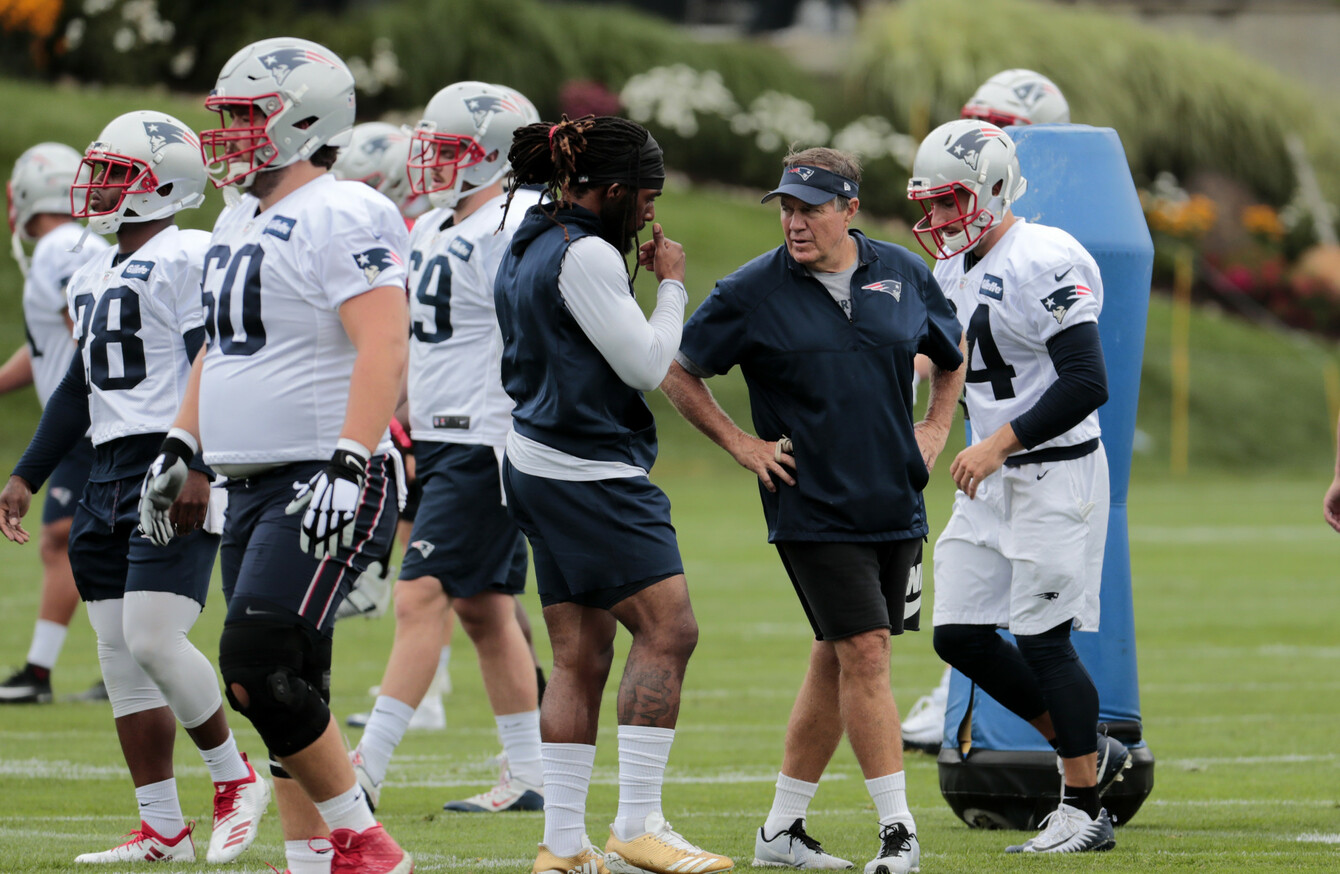 New England Patriots head coach Bill Belichick and his players during a training camp.
Image: Fred Kfoury Iii
New England Patriots head coach Bill Belichick and his players during a training camp.
Image: Fred Kfoury Iii
IT'S INCREDIBLE TO think that, if you were born in the year 2000, not only are you now somehow old enough to legally buy a pint, but you've only seen the New England Patriots miss the playoffs twice in your lifetime.
To put that in context, fans of the Oakland Raiders (ahem) have only seen their team make the playoffs three times in the same period.
Quite simply, because of the terrible division they happen to be in, the conference has consistently gone through New England and this season they aim for their eighth AFC championship game appearance in a row.
But will it be as easy for Belichick and company?
AFC East
Buffalo Bills
It's not sexy, but the Bills' biggest problem is an offensive line with more holes in it than Sean McDermott's excuse for dropping Tyrod Taylor last year. Additionally, Buffalo fans will soon learn that getting rid of Taylor proves the old adage that the grass isn't always greener.
Miami Dolphins
Ryan Tannehill returns to a Dolphins team that somehow managed six wins in his absence last season. However, they are missing three key players this year in Jarvis Landry and Mike Pouncey on offence and Ndamukong Suh on defence, so even with their quarterback returning, Miami is slightly worse of than in 2017.
New York Jets
The Jets could well end up as the only team starting a rookie in week one and that's what makes their 2018 season exciting. Sure, Sam Darnold has his issues, but he also has massive potential. It's doubtful a second team gets out of this division but New York has the best chance.
New England Patriots
You come at the king, you best not miss. Jacksonville thought they had New England dead and buried last year, but the Patriots somehow found a way to reach another Super Bowl. It will be interesting to see how they cope with the loss of their defensive coordinator to the Lions but, until Tom Brady retires, they'll remain the standard bearers in the AFC.
AFC North
Cincinnati Bengals
Marvin Lewis will start his 16th season as head coach of the Bengals and, really, he should have packed his bags a couple of seasons ago. For a start, Cincinnati's offence finished last in the NFL in total yards in 2017, the worst showing in franchise history and were the 17th ranked defence per DVOA. Judging by preseason, they won't be much better this year.
Cleveland Browns
You could honestly replace Hue Jackson with a cardboard cutout of Hue Jackson and it's likely the Browns would have done better than 1-31 over the past two seasons. His job is made even easier in 2018 with an excellent offence and above-average defence. Surely this is the season the Browns become players in the AFC North?
Baltimore Ravens
This is the Ravens' last season with Ozzie Newsome as their general manager. Remarkably, Newsome is the only GM the Ravens have had since they moved from Cleveland before the 1996 season. He used his final offseason to address Baltimore's receiving corps and pick up their quarterback of the future. But Joe Flacco is still the quarterback and that ends their playoff hopes.
Pittsburgh Steelers
Having won three of the last four divisional titles, the Steelers are the team to get past in the North again this year. At 36, Ben Roethlisberger is much closer to retirement than he is to his drafting, but he's surrounded by one of the best wide receiving units in the NFL, not to mention the luxury of Le'Veon Bell in the backfield.
AFC South
Indianapolis Colts
The entire Indianapolis Colts season rests on Andrew Luck's shoulder. It's been so long since he's played, it's easy to forget just how good Luck can be. If the former number one overall pick is healthy, the Colts can be a feisty six or seven win team. Without him, and they're looking at a top-five draft pick.
Jacksonville Jaguars
Last year, Jacksonville's defence jumped from 12th to 1st in DVOA despite ranking 27th against the run. It's impossible for them to play as well against the pass again this year and, with the continued blind belief in Blake Bortles on offence, expect them to fall back to the pack in 2018.
Houston Texans
It's easy to see why the Texans are the media darlings of the 2018 offseason. Tyrann Mathieu joins a defence already containing Jadeveon Clowney and the returning JJ Watt and Whitney Mercilus. While Deshaun Watson, if healthy, is billed as the best dual threat QB in the league since Michael Vick.
Tennessee Titans
I feel like I convince myself every offseason this will be the year the Titans make their real breakthrough, especially since Marcus Mariota arrived. The quarterback has never had more help so he needs to take advantage of it. On the other side of the football, Dean Pees says he only came out of retirement because he has such high hopes for the Titans' defence.
AFC West
Denver Broncos
John Elway got great credit for assembling one of the best defences the NFL has ever seen, but he did so at the expense of building an offence. His record with quarterbacks in particular — Brock Osweiler, Trevor Siemian, Paxton Lynch — has not been great. Can Case Keenum buck the trend?
LA Chargers
The Chargers have a good offence, a great defence, and an elite quarterback. They're the Super Bowl contenders you wouldn't mind seeing doing well. Unless, of course, you happen to support another AFC West team. If they can keep the injury curse at bay in 2018, this could well be a memorable season for the Chargers.
Kansas City Chiefs
Another team with Super Bowl aspirations, the big question mark over the Chiefs is how Patrick Mahomes will react to being the starting quarterback. The Chiefs are also 16-2 in the division since 2015, so Andy Reid can chalk down at least five wins before the season even starts.
Oakland Raiders
Oakland are also well set to win a Super Bowl. Unfortunately it's the 2005 Super Bowl as Jon Gruden has built a roster almost exclusively with what can politely be termed veterans. The fact the Raiders have not signed Khalil Mack is an indication of how the 2018 season might go for the silver and black.
Playoffs
LA Chargers
New England Patriots
Pittsburgh Steelers
Jacksonville Jaguars
Kansas City Chiefs
Tennessee Titans
LA Chargers to make the Super Bowl.
The42 is on Instagram! Tap the button below on your phone to follow us!