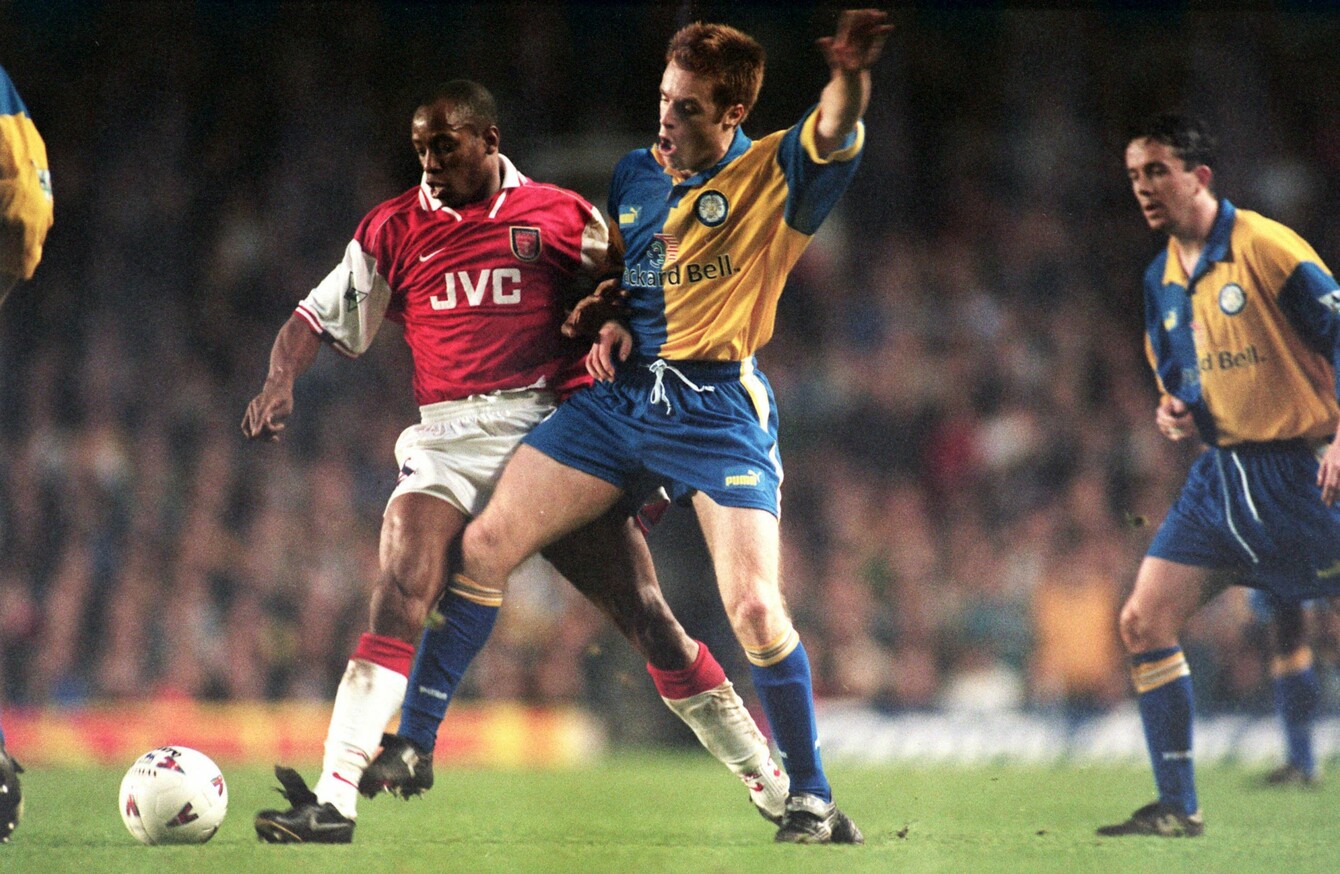 Maybury tackles Arsenal's Ian Wright during a Premiership clash in 1997.
Image: EMPICS Sport
Maybury tackles Arsenal's Ian Wright during a Premiership clash in 1997.
Image: EMPICS Sport
"WE RELEASED THREE boys today, and I was showing another boy around hoping to sign him for next year. It's a tough business."
Twenty years on from lifting the prestigious FA Youth Cup with Leeds United, Alan Maybury knows just how unforgiving professional football is.
Now working as a development coach at Scottish Championship side Falkirk, Maybury is on the other side of the table with the hopes and dreams of aspiring footballers in his hands.
The former Ireland international, who won 10 caps for his country, is not detached from the human side of the game though; he can easily recount his own memories of being a skilled young footballer, where anything seemed possible.
There were trials at Manchester United and Tottenham when he was 13, but ultimately a couple of years later a decision on where he should develop his blossoming talent came down to two clubs: Leeds and Rangers.
"I went up to the Milk Cup with Home Farm and did well in the tournament and I then got invited to go over to Rangers for a trial," Maybury explains to The42.
"They really took care of me over there, I loved it. They flew over my mum and dad and my little brother too, with Walter Smith taking time out to speak to them. We were really looked after.
"After that experience, it's a club you start to look out for, but I wouldn't say I supported Rangers."
Maybury says the decision to pick Leeds over a Rangers side that went on to dominate Scottish football in the 1990s was purely motivated by footballing reasons, but he acknowledges a move to Ibrox would have brought undue scrutiny and increased attention on his burgeoning career after already sampling the negative reaction on his return to Dublin.
"Going home, Rangers gave me a bag full of kit. I had no issue wearing it back in Dublin and having it on going to training.
"In my last season before going to England, I was with St Kevin's and you used to just wear your own kit going to training. I may have been going to training in a Rangers jumper or whatever and some people didn't like that.
"It certainly wasn't inside the club because these schoolboy teams want their players to do well, regardless of where they go, but people on the outside would give you abuse or say you're a disgrace.
"I'm quite thick-skinned, it didn't really bother me. You can't please everyone.
"In the end, it came down to whether I would sign for Rangers or for Leeds – I just felt the pathway and opportunities were better suited to me at Leeds.
"Rangers hadn't brought through a lot of young players. There were plenty of Irish boys at Leeds and I really liked how they sold the club to me. Then there is chance to play in England and to do well there which probably just helped me make my decision."
At Elland Road, Maybury was joined by some of the most gifted players to come through the club's ranks in recent memory including Jonathan Woodgate, Harry Kewell and Alan Smith, while the Irish trio of Damian Lynch, Stephen McPhail and a certain Nicky Byrne were also vying to make their mark in that period.
"Nicky and I went over on trial together. I remember the coaching staff at Leeds saying they never had a young goalkeeper as good.
"The first season he was there he was excellent, but the second season there were probably a couple of mistakes. They had also just signed Paul Robinson so it was a case of one mistake and you're out of the team.
"He had a two-year deal, I had three years, and he just left after his deal expired. There was always going to be a question mark over his height to be a top-class goalkeeper. He did really well in the first 18 months and it has worked out well for him in the end with Westlife.
"He was always a bit of a singer. Him and his dad had a karaoke machine one summer going around the pubs and clubs in Dublin. Then he told me one day that he went for an audition in a band and got in.
"I thought it was a bit of a joke, but then I met the rest of the band down at The Point. You then see how real it was becoming and then they got their break.
"I've been a bit of a groupie with them at times. At this stage, I've been at more Westlife gigs than I care to remember."
Although Byrne failed to make the grade, it didn't take long for the versatile full-back to make an impression in Yorkshire with Maybury handed a surprise Premier League debut in 1996 at the tender age of 17, just months after arriving at the club.
"During pre-season, I was trying to find my feet and reach the standard required. I had played nearly every game for the youth team, really trying to just establish myself. Just before Christmas I got into the reserves and played a couple of games.
"Then one Friday morning, I came into training and I was immediately called into the office. Paul Hart, who was the youth team coach, told me to go home and get my stuff because I was travelling with the first-team squad to Aston Villa, and I ended up playing in the centre midfield with Gary McAllister and Gary Speed."
However, the game did not go according to plan for the youngster as he lasted just 45 minutes with Brian Little's side taking a 2-0 lead into the break.
The public dropping of the teenager by manager Howard Wilkinson at a key point in Maybury's development could have negatively impacted other players less confident of their ability, but the Irishman insists it was all part of the learning curve.
"Villa were flying in the league with players like Bosnich, McGrath, Southgate, Yorke and Milosevic. Tommy Johnson was doing really well at the time, and I was meant to be man-marking him, but he didn't actually play in the end so my role became a bit redundant.
"I think I did alright, I was more defensively-minded and they had a couple more natural midfielders on the bench to come on. But we ended up losing the game 3-0.
"I wasn't daft, I knew what was happening. I spoke to the coaches afterwards and it was just about keeping my feet on the ground and to still work hard within the youth team and the reserves.
"It is like what we say to the young boys here; one good training session or one game doesn't make you a player, you need to produce consistent performances. And it works the other way around too."
Maybury wouldn't play in the Premier League again for nearly two years, continuing his progress outside the first team as he lifted the FA Youth Cup in 1997 after Leeds beat Crystal Palace in the final.
The squad that day was littered with players that would provide the foundations for the successful Leeds sides in the years that followed.
"Players like Paul Robinson wouldn't have been brilliant as a youth team goalkeeper, but he progressed really well in the reserves and this is the big thing; he got an opportunity in the first team and took it," Maybury continues.
"Looking back now, I can see there were opportunities that I got that I probably didn't play great in, while another player gets a chance and takes it, pushing you further down the pecking order.
"Harry Kewell was a standout, as was Jonathan Woodgate but Damian Lynch helped him out a lot in his first year. Lynch would have held the defence better than Woodgate.
"Wesley Boyle, who was from Northern Ireland, was excellent too. He had great ability but got a bad injury just as he was progressing past the youth team and that held him back.
"At Falkirk, what we try to tell players is that you need an ability to cope with both disappointment and praise. You also need to be able to take instructions and feedback.
"There will always be players that have a good work-rate and an ability to take instructions that will make sure they have a career in the game.
"Loads of players with technical ability don't want to work hard. They think they are superstars [and] just fall out of the game. You can't trust them. They are unreliable in the team."
The season following the Youth Cup triumph, Maybury started to make a breakthrough in the first team with then-manager George Graham keen to give the younger players an opportunity to prove themselves.
"On the back of the Youth Cup, we won the reserve league too. Some players floated between the two sides, but somebody like Kewell just cemented his place almost straightaway.
"I played some good games in the first team, but I also played some bad games. I remember I was out injured with a shin splint operation and Gary Kelly was injured at the same time.
"It was one of those things that if I wasn't injured, I would have had a really good run in the team. I was out for six months, the club then signed Danny Mills. Little things like that can go against you but it is part of being a footballer.
"Up until that moment everything was a success, and it was a real disappointment. It tests how you can cope with it, coming back into the team at the same level you went out, and I probably didn't do that."
Maybury, who made his Ireland debut against the Czech Republic in 1998 on the same night as Damien Duff and Robbie Keane made their first senior appearances, struggled to build momentum and claim a regular place for Leeds after returning to full fitness.
A total of 14 Premier League appearances during his six-year spell with the club coincided with Leeds transforming from a side languishing in mid-table to mixing it with the title contenders, but there was always good support network in place with competing right-back Gary Kelly helping the Irish contingent settle at the club.
"When I arrived he had just gotten in the first team. He made sure the kit man sorted us out with anything we needed, even if he had to pay for it out of his own pocket. He wasn't just brilliant with me, but with all of the Irish boys, and of course Ian Harte who is his nephew.
"If we needed new boots, he would tell the club to bill him. Coming back from Ireland trips he would bring us back his tracksuit or jersey. If he was sent boots he didn't want, he would tell me to send them home to my little brother. He would also take us out for Paddy's Day or golfing trips, just to help us settle in."
As Leeds famously reached the semi-finals of the Champions League in 2001, Maybury was a regular in the side's matchday squad and made his debut in the competition against Lazio with Pavel Nedved leaving a lasting impression on him.
"I was in and around the squad and if somebody was struggling with injury, I think I would have been first in. I wasn't expecting to play the game against Lazio, but we were already through and Lazio were already out.
"I played on the right of midfield in front of Gary Kelly. In a way I got more publicity because I got a whack of the knee from Nedved, but it was just great to be part of.
"I actually missed the first few games of that season with Leeds because I was on loan at Crewe trying to regain my fitness after breaking my leg.
"I played on the Saturday for Crewe before going back to Leeds on the Monday and I was on the bench in the San Siro for a Champions League match against AC Milan that Wednesday night. It just shows you how quickly things can change.
"But at the time you don't know how long that run is going to last. There was definitely a fearlessness within the camp.
"We got to the semi-finals of the Uefa Cup the year before and the boys loved it and got carried on a wave, but it may have been a couple of games too far."
Having departed Leeds for Hearts in 2001 just before the financial implosion left the club in turmoil and latterly in the third tier of English football, Maybury says there were no obvious signs that the club was in trouble before he moved, rather the opposite with the club seemingly going from strength to strength on the back of their lucrative European runs.
"Everything seemed to be getting better and better. The calibre of players we were getting in was improving. When I left, Robbie Fowler took my number. We also signed Rio Ferdinand for £18 million. It was ridiculous.
"Nobody my age at the time was bothered how we were affording these types of players. Everything seemed to be progressing, but it was obviously unravelling behind the scenes.
"I was 21 or 22, so I wasn't aware of anything that was going on at boardroom level.
"David O'Leary was very good with us as players. He wanted to get a bit more from us on the pitch, so in return he was sorting us out with better bonuses which were going up or the suits were a bit better or the way we travelled was that bit better.
"He was saying he was doing the best for us off the pitch, but he wanted that bit more on the pitch in return and that is how it worked."
After just under four years at Hearts, there was a return to England at Leicester and Colchester, before Maybury finished his career in Scotland with stints at St Johnstone, Hibernian and Falkirk with the 38-year-old now combing his development role with providing a helping hand to the first-team.
"Up until last year I was registered as a player. I didn't play in the first team but you can play over-aged players in the development side.
"I tended to play in those matches to help the young boys through the games. I was always debating when I should play and when I should step out to let the boys make the decisions themselves, and this is the first season I haven't been registered.
"As a player, I always the talker in the changing room and captain of a lot of the teams I played for, so I started the coaching badges to see if it was for me and really enjoyed it.
"As the licences have gone on they have become more difficult and more detailed – the more I have enjoyed it. I just hope I can progress and pass on my knowledge to the next generation."
The42 is on Instagram! Tap the button below on your phone to follow us!