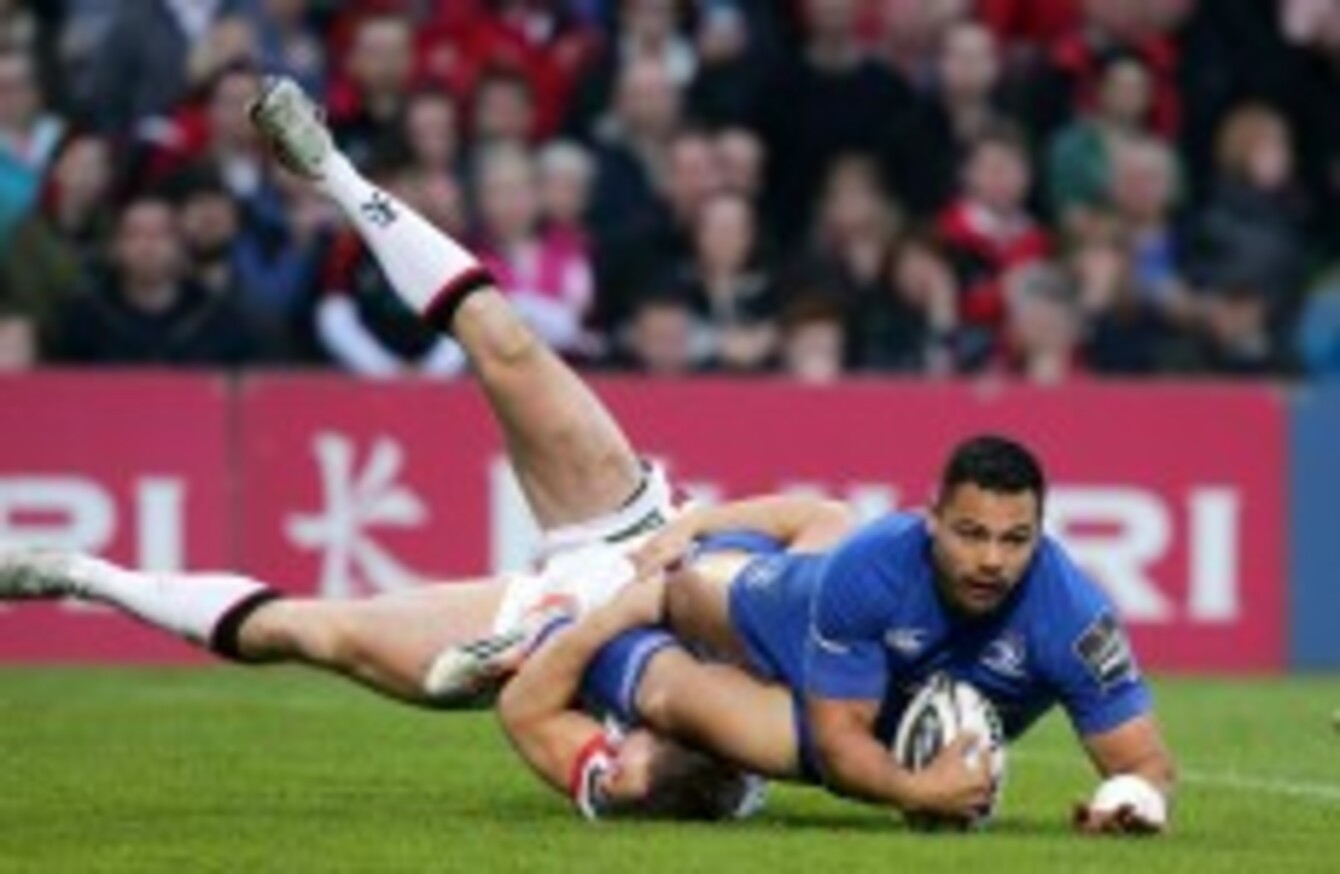 Te'o has been in prolific try-scoring form for Leinster in recent weeks.
Image: Morgan Treacy/INPHO
Te'o has been in prolific try-scoring form for Leinster in recent weeks.
Image: Morgan Treacy/INPHO
RUGBY UNION FANS are generally very harsh critics of league converts. If they don't immediately start offloading like Sonny Bill, most supporters are quick to brand them a flop.
And since most proponents of the 15-man game don't enjoy its 13-man cousin, there's almost a cruel glee taken when watching a big-name code-hopper struggle (example: Burgess, Sam).
Even rugby alien Israel Folau was initially criticised for his displays.
Ben Te'o's Leinster career didn't get off to the best start – but it wasn't his fault. A broken arm on his debut sidelined him until after Christmas and while Leinster's season has petered out in the last few weeks, Te'o is doing exactly what supporters hoped for when he was announced as Brian O'Driscoll's potential replacement.
His strong fend and curved running lines have punctured big holes in Pro12 defences and Te'o's big regret this season is that he couldn't get on the pitch earlier in the campaign.
"It was unfortunate situation [breaking his arm] because what I needed was game time," Te'o said.
"I needed to be out on the field and the training paddock. To have that big block that I missed, that's probably where the team needed me as well. Very unfortunate but that's rugby. I'm looking forward to a really good off-season to get rugby fit and spend a lot of time on the training paddock."
The transition from league to union is always tough but what made Te'o's journey even more daunting was that he was replacing arguably the best outside centre of all time. Before the season, Matt O'Connor said that Brian O'Driscoll would be mentoring Te'o as he bedded in, but the former South Sydney Rabbitohs man said he has never met with his predecessor.
"I have never worked with him [O'Driscoll]," Te'o said.
"We haven't met up. He is a busy man and I don't think it has come into conversation. I haven't really asked and it hasn't really been put forward to me."
Ever since Sonny Bill Williams transitioned so seamlessly from the six-tackle system to the never-ending slew of breakdowns, there has been an expectation on converts to adapt unreasonably quickly. Te'o spoke honestly about the difficulties in changing codes and didn't expect himself to be an overnight union sensation.
"There are probably a few little things that I'm not comfortable with but they will probably come in time," he said.
"I didn't set myself massive goals. I just wanted to earn myself a spot on the team. I didn't really think about those big games, I just wanted to be in the team. I think I've come a long way. There is still a lot of improvement," Te'o continued.
His former South Sydney colleague Burgess has admitted to being puzzled by some of union's intricacies and Te'o also acknowledges that he sometimes needs to rely on team-mates to understand what's going on at the breakdown.
"In terms of the referees, sometimes when we are playing I don't know what they are blowing the whistle for," he said.
"Their interpretation of what's happening and there are bodies everywhere, I always have to ask the boys if it is our ball or their ball. It is quite confusing. I just make sure that I'm doing the basic things right and the more rucks I clear out the better I will get at it."
Te'o's union career at the moment is all about potential. However, the New Zealander has definitely shown enough in the past few weeks to excite Leinster fans ahead of next season. He showed immense power in throwing off Roger Wilson against Ulster, in what was one of the best Leinster scores of the year.
Te'o was a highly decorated league player, winning the NRL in his final season down under. It was put to him whether or not he could be even better at his adopted code than the one where he made his name.
"Not yet," Te'o said.
"I played rugby league so long that there were a lot of really good things that had become instinct in my game. Now I'm having to change them. I'm 28 years old and there are a lot of things that are different in attack and defence. I think I'm a solid rugby union player at the moment but the best of me is yet to come. When I can figure out where to inject myself in the game, when to touch the ball and where to be. When they come along I will be able to influence the game much more."
If you follow the centre on social media, then you'll know that he has bedded in well with his team-mates and made some good friends in Dublin. But he does admit to doing some light pining for his old code when he comes across an NRL game.
"I definitely watch a game of league and maybe miss it sometimes," he said.
"The simplicity of it. In league, if you want to run, you just literally run and go get it. Whereas in union, depending on how the game is going, you might not see the ball and you are relying on being fed the ball. If there are a lot of penalties there can be a lot of kicking and a lot of stoppages. It kind of kills the flow but that is the game."
If you had been asked back in October, which of the two South Sydney league converts would have had a better first season, almost everyone would have said Slammin' Sam. Te'o thinks that Burgess' future lies at blindside flanker and also joked that the duo had swapped messages wondering if they had made the right choice.
"We probably have had a few conversations where we were like, 'Woah, I don't know about this'," Te'o laughed.
"Sometimes you have a poor game and feel that maybe I'm not up for this. But then you have a good game and you think that it is going along well."
Originally published at 15.39