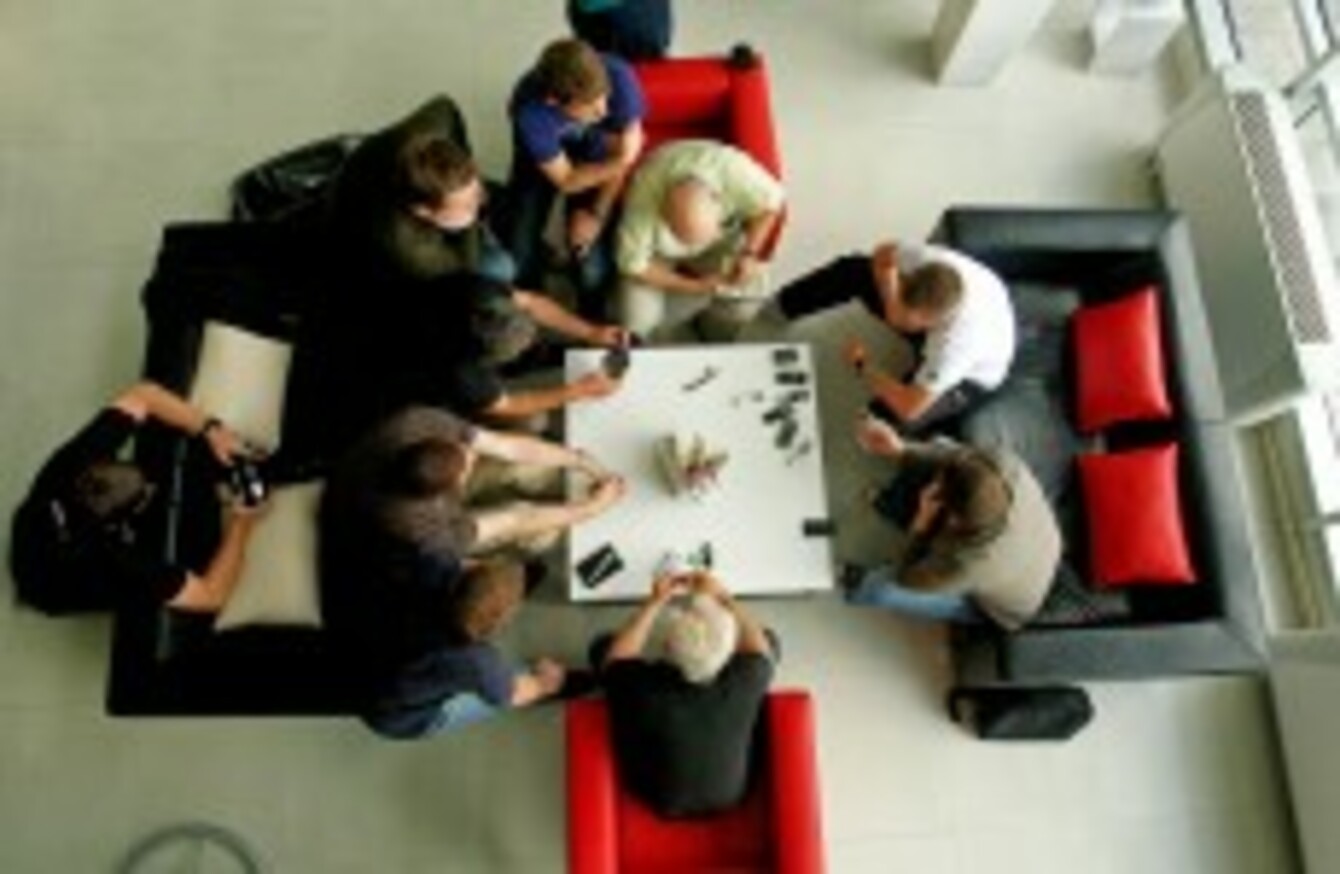 Republic of Ireland's James McCarthy speaks to the football press pack in Belgrade (file photo).
Image: INPHO
Republic of Ireland's James McCarthy speaks to the football press pack in Belgrade (file photo).
Image: INPHO
1. "If out of curiosity you come to see me play and can't pick me out because we all wear helmets, I'll be the one just in front of the loudmouth on the terrace with the megaphone. He'll be singing: 'He's gay / He's bent / His ass is up for rent / Donal Óg / Donal Óg.' People around him will be looking embarrassed and I'll be staring up the field. Not giving a fuck."
One of Ireland's few openly gay sports stars, Cork hurling goalkeeper Donal Óg Cusack got people talking about homophobia when he made this impassioned speech to launch the Foyle Pride Festival this summer.
2. "On it went for eight days as scores of Olympians, male and female, trickled into the shooter's house — and that's what everyone called it, Shooters' House — at all hours, stopping by an Oakley duffel bag overflowing with condoms procured from the village's helpful medical clinic. After a while, it dawned on Lakatos: 'I'm running a friggin' brothel in the Olympic Village! I've never witnessed so much debauchery in my entire life.'"
As the world prepared for London 2012, ESPN's Sam Alipour went behind the scenes to tell the story of the drunk and debauched lifestyle of the world's greatest athletes in the Olympic Village.
3. "Do you like slogans? Holy shit, do I have the town for you. This past Saturday, State College, Pennsylvania was a town awash in slogans. There were slogans on the windows and on the cars, on shirts and on tents, inside the stadium, and all around outside of it. Slogans, slogans everywhere, from the gentle to the menacing. Everyone had their slogan on Saturday, and that slogan was their personal statement about all this…this stuff that's gone on over the past year. Even the name of the school itself—PENN STATE—was a slogan on this day. If you wore it, you believed it. And if you didn't have a slogan, well, then you were probably me, and you probably felt very much out of place."
GQ's Drew Magary visited Penn State, still reeling from the fall-0ut of the Sandusky sex abuse scandal, as one of American's most famous universities started the new college football season.
4. "On 8 December 1999, at 8.23pm, I fell in love with another man. Roy Keane probably wouldn't care much for this revelation, but then I'm pretty sure I wasn't alone. The context was a long-forgotten match between Manchester United and Valencia in the long-forgotten second group stage of the Champions League. Long forgotten, that is, by everybody except those besotted with Roy Keane."
In the Guardian, Rob Smyth tells all about his man-crush on Roy Keane and why the Corkman has been the most interesting personality in British football for decades.
5. "The two sisters shared a bed, and each night, with their hearts hammering, they would listen for the turn of the knob and the push of the door. Quanitta Underwood was 10, her sister Hazzauna, 12. The walls of the house were thin, and the girls could hear every move their father made. Hear him sit up, hear him get out of bed, hear him walking their way. Quanitta pinched her eyes shut when her father entered the room, but she could imagine the presence of his familiar silhouette. She felt his weight sink into the bed while his hands traveled beneath the covers. As Quanitta feigned sleep, her father groped her sister and often rolled on top."
One of Katie Taylor's top boxing rivals, America's Quanitta "Queen" Underwood, tells Barry Bearak of the New York Times meets how she survived a childhood scarred by abuse.
6. "In the imagination of guidebook writers, who see places as they should be but rarely as they are, there is a passionate love affair between the city of Rosario and its famous progeny, global soccer star Leo Messi. I know this because it said so, right there on page 179 of the "Lonely Planet," which I thumbed through during the three hours of countryside between Buenos Aires and Messi's hometown."
In this brilliant interactive feature, Wright Thompson explores the strange relationship between Lionel Messi and his hometown in Argentina.
7. "All you have to do is say the words "That Night" and everyone at the Plano Super Bowl knows what you're talking about. They also refer to it as 'The Incident' or 'That Incredible Series.' It's the only time anyone can remember a local recreational bowler making the sports section of the Dallas Morning News. One man, an opponent of Fong's that evening, calls it 'the most amazing thing I've ever seen in a bowling alley.'  Bill Fong needs no reminders, of course. He thinks about that moment—those hours—every single day of his life."
D Magazine called it "the most amazing bowling story ever." Michael J. Mooney meets Bill Fong, the man who came so close to perfection that it nearly killed him.
8. "St. Patrick's Day is traditionally the day when New Yorkers wearing green and drinking beer stumble into Madison Square Garden en masse to see some Irish boxers beat up handpicked non-Irish opponents. On the day of the Puerto Rican day parade, a Puerto Rican fighter headlines a fight at the Garden, and wins; on St. Patrick's Day, an Irish fighter does the same. This is an important part of the care and feeding and nurturing of the tribal partisanship that sustains a slowly dying sport. The twist this year was that the Irish headliner, Matthew Macklin, was goddamn near guaranteed to lose. His prize was just getting the fight against Sergio Martinez, one of the world's best fighters, an Argentine with flashy head movement and movie star looks. Both of which are extremely non-Irish."
On St Patrick's Day, Hamilton Nolan was in Madison Square Garden Theater to watch Ireland's Matthew Macklin fight Sergio Martinez for a world middleweight title.
9. "'If someone described the scenario to me now I'd be out of there,' Stephen Roche says as he takes off his shirt. Naked from the waist up, Roche begins to detail the ordeal he endured when winning cycling's triple crown of the Giro d'Italia, the Tour de France and the world road race in the space of a few brutal months in 1987. Roche is already an hour late for his own party, and the launch of a revealing book which celebrates the 25th anniversary of that iconic achievement, but he is bruised on the inside.
Any one of Donald McRae's interviews for the Guardian would be worthy of inclusion on this list. In June he met the Irishman who ruled the cycling world in 1987, Stephen Roche.
10. "Ever since the premiere in 1996, Steinberg swears, he hasn't gone a single day without someone yelling 'Show me the money!' at him, whether he's walking around an NFL stadium or his local 7-Eleven. Plenty of others have heard him yell it too. But 16 years later, on a recent evening in Newport Beach, Calif., the world's most famous sports agent shuffles into a drab Urgent Care center, and there is only silence. At age 63, Steinberg — for years hailed as the real-life Maguire — now finds himself a bankrupt, recovering alcoholic, plotting a comeback from the bottom."
Leigh Steinberg, the NFL super-agent who inspired the character of Jerry Maguire, tells Daniel Roberts and Pablo S. Torre how he's battled alcoholism and bankruptcy to plot his comeback.