ANOTHER WEEK, ANOTHER iconic Irish sporting great releasing an autobiography.
Brian O'Driscoll's The Test doesn't quite have the pointed anger of Roy Keane's The Second Half, but even so there are plenty of interesting little snippets that try to give you a small sense of what made Ireland's greatest centre great.
Here's a Drico's dozen points that stood out to us.
1. He asked to wear 13 even when playing inside centre
With Keith Earls selected at outside centre for the first Test against New Zealand in 2012, O'Driscoll asked head coach Declan Kidney to retain his usual jersey:
"I ask him if I can wear the 13 jersey and he insists that I do."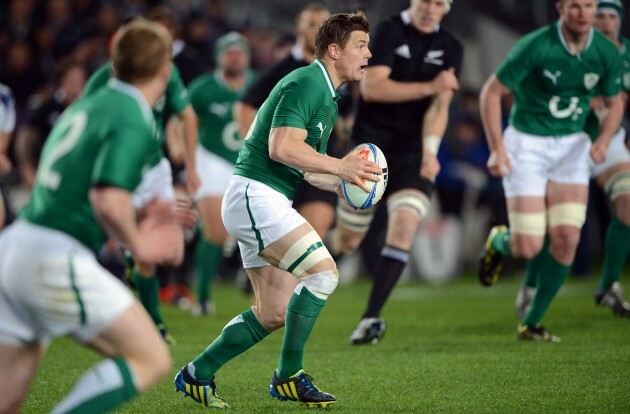 2. There was practically no defensive organisation until Mike Ford came into the Ireland setup in 2002!
"Fordy hammers it home in training: Structure. Accountability. Who are the pillars at this ruck? What's your job? And yours? And yours? He's relentless.
INPHO INPHO
"My mind boggles as to how we survived without knowing this stuff before."
3. He had stand-up blazing rows with Johnny Sexton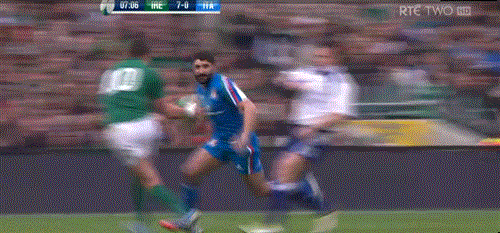 Apparently, it happened regularly enough during training, but sure it was all for the good of the team.
"I'm in [Barnes'] ear all the time about what's going on off the ball: he doesn't want to hear me."
Billy Stickland / INPHO Billy Stickland / INPHO / INPHO
O'Driscoll ended up with a fractured sinus mere weeks before the World Cup kicked off.
5. The Celtic League never really did it for him
"We're delighted with the win," he says after claiming the Magners League trophy in 2008, but because Munster in the Heineken Cup final, he adds:
"We fall over ourselves in trying to sound enthusiastic about our achievement. I call it 'a very worthy competition'.
James Crombie / INPHO James Crombie / INPHO / INPHO
6. He had never sampled the magic of the snooze button before Hubes came along
She's a keeper.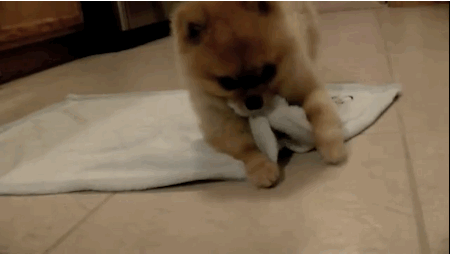 GIPHY GIPHY
"I've never used a snooze button in my life. I don't give myself the option of deciding if I'm too tired to get up. 20 seconds after the alarm goes off I'm under a power shower and wide awake."
gorpitsen junior / YouTube
The doctor asks, "What's the score?"
"Expecting the question, I've already looked up at the scoreboard – knowing that if I can nail it quickly it will help me get back on.
8. Later that summer, he was the heaviest he's ever been
5′ 10″ and 102.5 kilos spelled the end for his impromptu trips to McDonalds.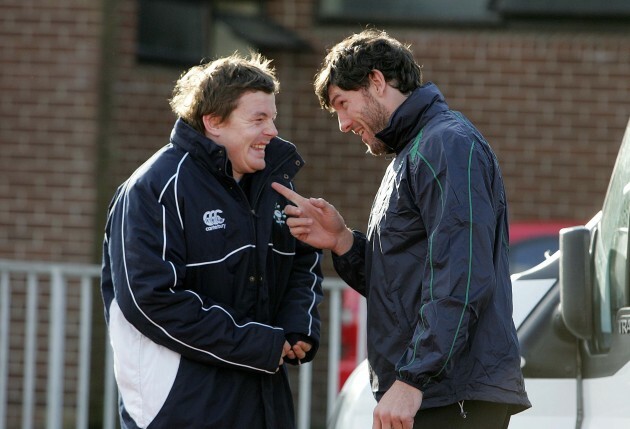 Morgan Treacy / INPHO Morgan Treacy / INPHO / INPHO
9. Shane Horgan is ruthless when it comes to fitness standards
On one of MIchael Cheika's killer hill runs, Horgan (after finishing the task first) went back to help and encourage an academy player, even offering to run with him.
"His offer is declined. Shaggy tells me about it later and mentally cuts the guy loose.
"'He's done with us.'"
10. The 2013 Lions centre partnership in the first Test was the combination he thought least likely
"I look at the four centres in the party and I rule out two of the potential partnerships on the grounds of balance.
"1. Jonathan [Davies] and me — two natural 13s.
"2. Jamie [Roberts] and Manu [Tuilagi] — two power runners."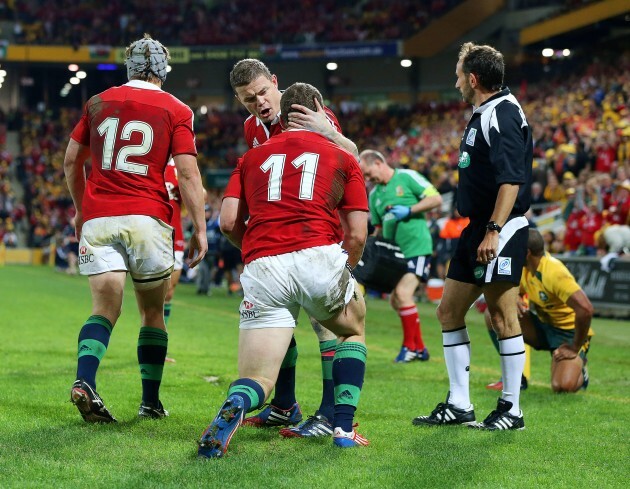 Dan Sheridan / INPHO Sure enough, it was Davies and O'Driscoll selected. Dan Sheridan / INPHO / INPHO
He and Gats are totally cool now after all that unpleasantness – but you knew that.
11. Declan Kidney's method of awarding international captaincy is the most Declan Kidney thing imaginable
Billy Stickland / INPHO Billy Stickland / INPHO / INPHO
"The ritual is always the same, we talk for 20 minutes, maybe half an hour, about nothing until finally he puts it out there:
'How do you feel about the captaincy?"Well… are you offering it to me?"Would you like to take it again?'

'Of course.'

'Grand, so.'
Brian O'Driscoll's autobiography The Test is available to buy from today.