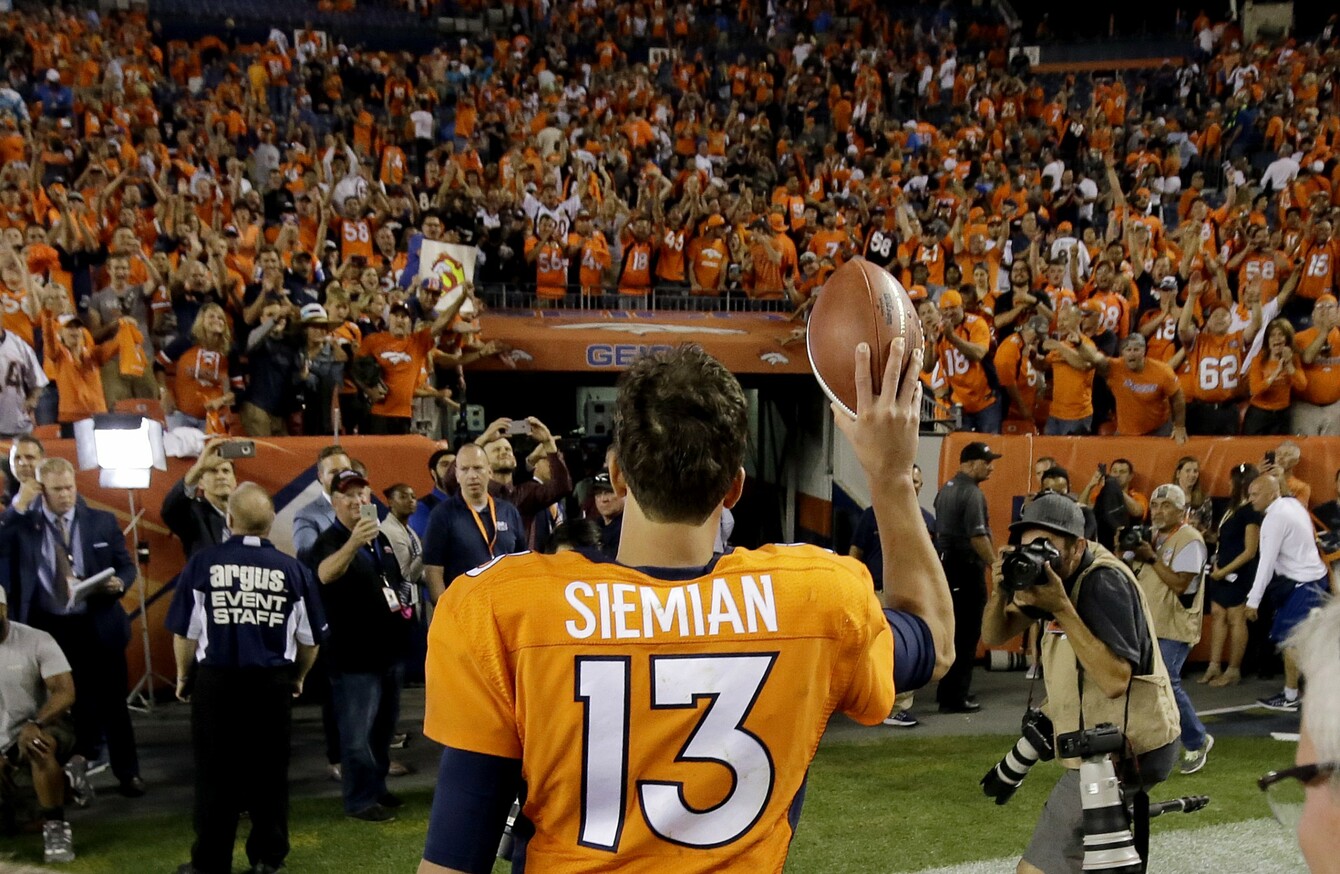 Denver Broncos quarterback Trevor Siemian (13) waves to fans as he leaves the field.
Denver Broncos quarterback Trevor Siemian (13) waves to fans as he leaves the field.
THE DENVER BRONCOS kicked off the NFL season by rallying from a 10-point halftime deficit to defeat the Carolina Panthers 21-20 in a Super Bowl rematch on Thursday night.
Graham Gano missed a 50-yard field goal in the closing seconds which would have given the Panthers redemption for their 24-10 loss in Super Bowl 50 in February.
Quarterback Trevor Siemian, starting in place of the retired superstar Peyton Manning, made the most of his first National Football League start on the biggest stage he's been on in his career.
He overcame two interceptions to throw for a late touchdown to help the Broncos rally and then hold on for the win.
Siemian, a 2015 seventh-round pick out of Northwestern University, has gone from being a player no one was talking about to the starting quarterback for the defending Super Bowl champions.
"He was just as poised and calm as we expected him to be," said CJ Anderson, who caught one touchdown pass from Siemian and ran for another score as the Broncos won their fourth straight home opener.
His ability to breath life into the offence after his rocky first half is a huge relief for the Broncos who headed into the 2016 home opener with the league's top defence but questions surrounding their offence.
The Broncos didn't announce their starter until the third pre-season game. Five-time league MVP Manning retired at the end of last season opening the door for someone else to take over the No. 1 spot.
Denver lost his backup Brock Osweiler in free agency and cut Mark Sanchez, the player acquired in March to become the starter.
- Lombardi Trophy on display -
Siemian credited his teammates with helping him get through his opening start jitters. "I got a lot of guys to lean on," he said.
Before the game, Denver showed off the Lombardi Trophy as Manning and general manager John Elway paraded it in front of the cheering crowd at Sports Authority Field in Denver, Colorado.
Be part
of the team
Access exclusive podcasts, interviews and analysis with a monthly or annual membership.
Become a Member
Carolina quarterback Cam Newton ran for a score, passed for another and led the Panthers to within field goal range in the final seconds, but Gano's long try was wide left.
Dominating possession time and twice thwarting Denver drives by forcing turnovers, Carolina took a 17-7 halftime lead.
"We just went back into the lockerroom said we were making too many mistakes," said linebacker DeMarcus Ware. "We said 'let's get our composure and go out and play ball the way we know how.'"
Anderson converted a fourth-and-one play in the fourth quarter to give the Broncos a fresh set of downs inside Carolina's two-yard line and then charged his way into the end zone to put Denver in front for the first time.
Newton gamely drove the Panthers to the Broncos 18, but his third-down pass for Devin Funchess was knocked down by cornerback Aqib Talib, leading to Gano's 36-yard field goal with 4:21 remaining to pull Carolina to within a point.
After forcing a Denver punt, Carolina got the ball at its 40-yard line with 3:06 left.
Denver's defence induced a false start penalty followed by successive sacks of Newton by Ware and Super Bowl MVP Von Miller.
But an illegal hands to the face penalty against Denver's Chris Harris negated a fourth-down incompletion and extended Carolina's last-ditch drive.
The42 is on Snapchat! Tap the button below on your phone to add!