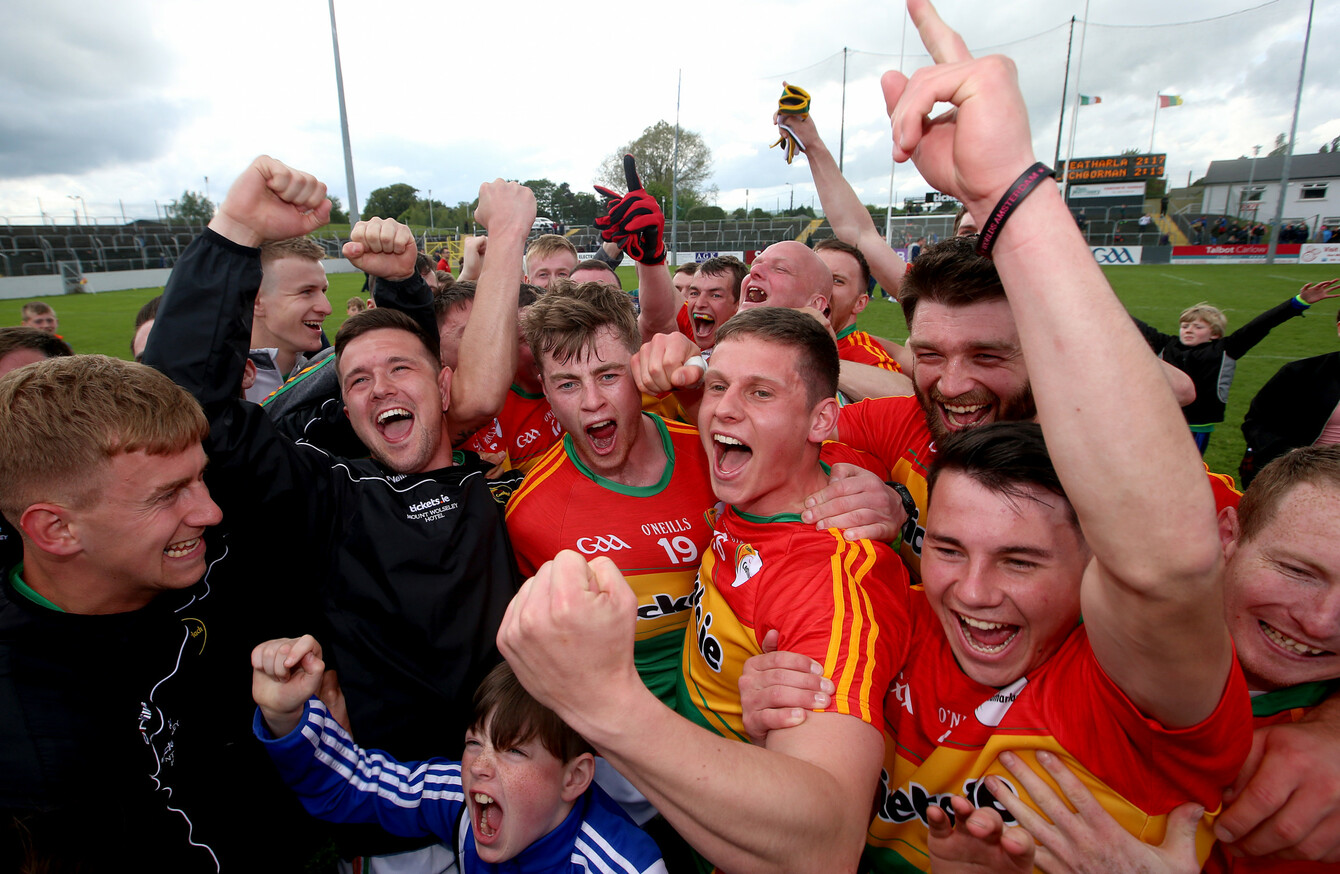 Carlow players celebrate after their win over Wexford.
Image: Tommy Dickson/INPHO
Carlow players celebrate after their win over Wexford.
Image: Tommy Dickson/INPHO
IN HIS WORK life at St David's CBS in Artane, Daniel St Ledger encounters another side of Gaelic football.
St Ledger has been soldiering with Carlow footballers for 11 seasons now has been teaching in the classrooms of the North Dublin school since August 2016.
Amongst his staff colleagues is Stephen Cluxton – the multiple All-Ireland winner, the captain most acquainted with lifting Sam Maguire of late and the model of goalkeeping excellence.
The pair inhabit different places in the Leinster football hierarchy but the Dublin leader is never pressed and probed for information by his Carlow compatriot.
"I don't think either of us want to be wasting our hours off talking about football. It definitely surrounds my life a lot and I'm sure it's the same with him.
"But you can see the personality coming through in other aspects, whether it's with school or he does a bit of badminton here in the school and he takes that as seriously as he does the football.
"He's a good personality to be around and you can see he has that drive inside him. If most other footballers had that same level of enthusiasm, they'd be in a better place."
The summer of 2017 saw their championship journeys intersect in early June. Carlow bounced on from a fine success over Wexford to pit themselves against the pace and power of Dublin.
Carlow provided the charm and novelty entering that Leinster quarter-final. A towering display by Sean Murphy helped them only trail by three points at the break and even if a 12-point defeat was the ultimate outcome, they won plenty admirers for their display.
"There was a good old bit of banter beforehand in the staff room, a good old atmosphere," recalls St Ledger of going up against Cluxton.
"But to be honest going into the game, it was an unknown as we'd never played championship against a Division 1 team.
"It was very hard to know what was going to happen. You're going out wondering could they potentially blow you away. That probably cost us in a certain way, we were very cautious.
"We really sat in, maybe a little too much, but then again you can't take any chances with some of the players Dublin have."
It didn't mark the end of Carlow's summer adventure. They went on to take care of London and Leitrim in qualifier assignments and by the time they were facing Monaghan, it represented the first time since 1944 that Carlow were experiencing championship action deep into July.
It was their most hectic campaign since 2001 when they also played five championship games but Carlow had not secured three victories in a campaign since lifting their only provincial crown 73 years ago. The Sky Sports cameras were rolling for their encounters with Dublin and Monaghan, adding to the increased level of coverage the county's team received.
If the inclination then is to dish out praise, St Ledger is not comfortable taking the acclaim. The Carlow defensive anchor appraises the 2017 season in a measured fashion and reveals the regrets he nurses from that five-point defeat to Monaghan.
"Maybe being on TV a couple of times lifted the profile which was fantastic and we got crowds coming to the games which was brilliant.
"But if we're being honest with ourselves, we beat two teams (in the qualifiers) that we would have been expecting to beat and they would have expected to beat us.
"To the outside world it seems we'd a great year and really improved, the reality is we didn't get left with a whole lot tangible at the end bar a little bit of goodwill."
"We've reviewed the Monaghan game and in the last ten minutes we gave away four easy turnovers. I gave away one myself. That lead to 1-3 and ultimately that was difference.
"That's kind of sickening in a way. While it was great that we ran them close, we had a result in our hands that we let slip. We didn't have the nous to finish it off."
St Ledger's approach is borne from a desire to reach higher standards. The sharp focus tends to be trained on summer championship ties yet the spring league fare is of major importance to a team like Carlow.
Their 2017 league was a maddening mixed bag of results. They finished just outside the promotion spots in third, were the only team to take a point off Division 4 winners Westmeath and were victorious in their last three games by an average of ten points.
But the irritating flipside was the costly losses away to London and Leitrim, two counties they would subsequently defeat in the championship.
"People notice the championship a bit more but from our own point of view I think we were left with a lot more questions than answers after the year," says St Ledger.
"Our consistency in the league wasn't where it should have been. Realistically the league is our primary competition. The championship is a secondary thing.
"There's no major pressure, you can go out and give it a shot and see what happens. The league is where you want to test yourselves. We've never really challenged the league majorly well.
"Last year was probably the closest we've got so I don't think there's any illusions there's going to be a handy Division 4 or anything. We've no right to be thinking like that."
There may be a school of thought that life in the basement division is a grind and unrewarding. St Ledger works a few miles from Croke Park and plays his club football now with St Sylvester's in Malahide.
But his year largely revolves around plotting to avoid the M50 traffic during the week and trek down to Carlow. He doesn't view it as a chore though.
"It's actually alright. I don't have kids or anything so it's nice to be basing your day around it, you're eating at certain times, it's something to do in the evenings. It's one of the more enjoyable aspects.
"You get to know five or six lads very well while being in the car for an hour and a half. I think if I was really starting to not enjoy it, I'd probably pull the plug because what's the point if you're forcing yourself through it?"
What are they
really like?
Rare insights on sport's biggest names from the writers who know them best. Listen to Behind the Lines podcast.
Become a Member
The approach of their coaching team helps.
"The lads that are there this year Turlough (O'Brien) and Steve (Poacher), they get the social element to it as well. They've no real interest in flogging us or taking up every hour of our day.
"I think they see the other side of it, the human. It's not just a footballer, it's a person who could have a job, wife or kids or whatever it is. That side of it is important.
"Sometimes it's important to have a night with your other half rather than being on the pitch or sticking in an extra gym session for the sake of it."
O'Brien is the ebullient character at the head of Carlow football striving to put the county on the sporting map.
"In fairness to him he's a real character. He'd be always on about his cycling routes, he wrote a book there recently. He's mad into going off for a cycle after a game to de-stress.
"There's a bit more to him than you'd see with most inter-county managers. This is his fourth year now and he's been building slowly and putting together his plans and getting a good crop of players together.
"I think that's starting to pay off now. Last year we saw some signs that things are starting to flourish for us a little bit."
They have parked 2017 now and looking towards 2018. In the Carlow camp the wish is that the season just gone will be a springboard to better days. That starts with hitting full speed when the Division 4 schedule commences.
"Everyone's mad to get going again," says St Ledger.
"I think we feel we left one slip a bit last year. The league is our competition. It's something tangible, do you know what I mean?
"While a bit of a run in the championship is nice and summer days are brilliant, there's nothing really at the end of it for us. Promotion from the league, winning six or seven games, playing consistently well, getting out of Division 4, that would be something tangible for us.
"We could look back at the end of the year and say that's something we've done."
The42 has just published its first book, Behind The Lines, a collection of some of the year's best sports stories. Pick up your copy in Eason's, or order it here today (€10):