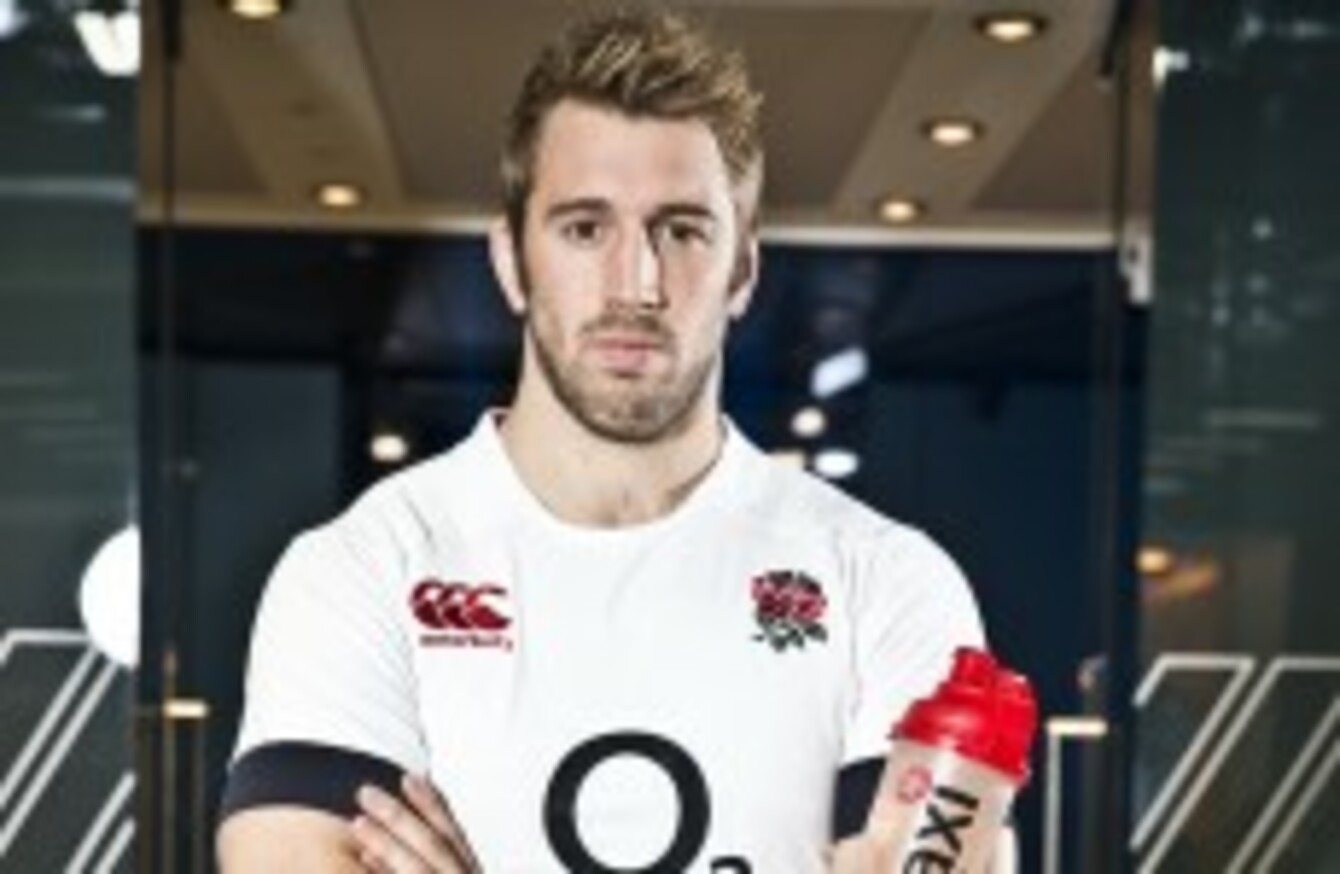 Chris Robshaw is a MaxiNutrition ambassador.
Image: MaxiNutrition
Chris Robshaw is a MaxiNutrition ambassador.
Image: MaxiNutrition
CHRIS ROBSHAW'S MORE dogged, battling skills are likely to be called upon in 'Le Crunch' this evening but if the clash at the Stade de France opens up, England's captain will be entirely comfortable.
One of those often underrated but hugely effective players, the 27-year-old has rounded his game in the past two years, aided by the inventive and ambitious coaching of Irishman Conor O'Shea at Harlequins.
While their Six Nations targets may have suffered a major setback by the time Nigel Owens blows the final whistle in Paris tonight, Stuart Lancaster's England are focused on "going one better" this year, having finished second to Wales in the previous two seasons.
Robshaw will be essential to those objectives, with his hard-tackling, link-passing and ruck-hammering contributions equally as important as his leadership. Speaking to TheScore.ie at MaxiNutrition's state of the art facilities in London, the flanker explains how a former Ireland international has been key to his individual development.
Conor's been massive for me. He's just one of the guys and when you've met him you realise how positive he is. It really reflects on the players, it gives us confidence to go out there and play our game.
"He believes in the guys, he backs them up and of course he knows when to give us a bit of a telling-off as well. Himself and his coaches around him have put a great structure in place and we can go out there and express ourselves."
Robshaw's handling skills have seen rapid improvement in recent times, to the extent that the Redhill native's linking passes inside and outside to fellow forwards have become a feature of his game. The 'Quins skipper also excels at sending passes 'out the back door,' behind decoy runners to his backs.
Robshaw has undergone notable development under Conor O'Shea's coaching at 'Quins. ©INPHO/Andrew Fosker.
The training philosophy imposed by O'Shea at the London-based club has contributed to that development.
"I think so and the way we play has probably helped too. We've got more touches each and we do train that way as well. All our training is fast, it's quick, it's trying to train the way we play. You've got to train under pressure. So a lot of it has come down to Conor and the other coaches at 'Quins."
Robshaw's improvement as a player has happened alongside a search for ways to become a better England captain. The 16-15 defeat to South Africa in November 2012 saw his decision-making skills come under some scrutiny after he elected to kick at goal when 16-12 down and with just two minutes left on the clock.
How does one go about attempting to improve as a broad skill as captaincy?
"We've done various things in the past at Harlequins and with England, whether it's public speaking or taking you out of your comfort zone. At 'Quins we had to do a stand-up comedy gig. Doing that in front of the rest of your team is probably one of the most intimidating things you can do for two minutes.
We had another one, which was an acting class. Stuff like that, where you are taken out of your comfort zone. Because that's what it is, there are situations in games that put you under pressure, under the pump, and you've got to make sure you're collected in your thoughts when making decisions.
"You can learn when you play against sides like the All Blacks. Richie McCaw is probably one of the most experienced captains in world rugby. You try to learn bits and bobs, you always try to pick up traits."
In what looks like being an evenly-matched encounter this evening, we may be provided with first-hand evidence of whether or not Robshaw's ability to make the right call has improved, but the impression is that the England captain is more comfortable in that area now.
"Yeah, I think so," says the MaxiNutrition ambassador. "I think you probably know your team a bit better. You know what's on, you have a better feel for the game. It's all an understanding and a reading of the situation. If it works for you, it's great. If it doesn't, it's a poor decision.
"It's as simple as that. In our sport, it is a pure result-based industry."
Be part
of the team
Access exclusive podcasts, interviews and analysis with a monthly or annual membership.
Become a Member
Robshaw uses the facilities at GlaxoSmithKline's Human Performance Lab during the London launch of MaxiNutrition.
As Lancaster's side kick off another attempt at the Six Nations, Robshaw acknowledges that each of the other five participants "has improved." He speaks of treating every game as a final, with "respect" given to all involved parties.
Having so emphatically fallen "short at the last hurdle" against Wales last year, the 20-times capped openside expresses clear, collective focus on taking the next step. The loss of several experienced backs hasn't been helpful, but the feeling is that England will look to add more creative touches behind what is often a physically dominant pack.
Taking a leaf out of the Harlequins book might be helpful, a risk-taking tome that Robshaw insists has progressed in the last two years.
"I think it's calculated risk, isn't it? It's not just throwing hell for leather balls. At times, I think we probably did that. We were probably a little bit naive trying to play the Harlem Globetrotters style and it worked against us too many times; loose offloads and things like that.
I think you look at our game now and it's about making those calculated risks, giving an offload if it's on, giving a pass out the back if it's on. If not, you go another phase, your rucking's good and then you've got a quality nine and 10 to make decisions."
So is that system – or something along those attacking lines – directly transferable into the Six Nations sphere? Robshaw feels that playing with England involves more tactical consideration, more safety, but also requires an element of that 'Quins' daring.
"I think with international rugby, it's probably a bit more set piece orientated, territory orientated. There's probably more pressure in certain aspects and it is a little bit different. But no matter if it's club or country, if an opportunity is on inside your own 22, you go.
The disappointment of last season's 30-3 defeat to Wales lingers for Robshaw and England. ©INPHO/Dan Sheridan.
"There isn't a simple kick, kick, kick game plan or a run, run, run. It's about seeing what's in front of you, having good enough players to identify things; have they left too many people in the back-field? Do you need to draw them up and then put balls in behind?"
Making those split-second decisions with a higher degree of success is what Lancaster wants more of from England, starting this evening in France. Robshaw cites men such as Louis Picamoles – "a big guy" who has excellent footwork and offloading skills as well – as typical of the onslaught that awaits.
They did extremely well in the autumn. I think you look at the physicality of the French. With 'Quins, we've had a couple of French teams [in their Heineken Cup pool], Leicester went to Montpellier, a couple of others. We've had good experience against French teams.
"I think with the French you always know they have that physicality element, they're big guys. But they have the flair as well to outdo anyone."
Chris Robshaw is a MaxiNutrition ambassador. The UK and Europe's leading sports nutrition brand is launching a new range, which will be divided into four categories: Recover and Rebuild; Mass and Size; Strength and Power; and Lean Definition.
Maxinutrition's new range will focus on the benefit of protein-led sports nutrition and caters from light exercisers to elite athletes. The new campaign 'feedyourmuscles' aims to educate everyday exercisers on the benefits of protein-based sports nutrition. Visit Maximuscle.ie for more information and purchase of products.