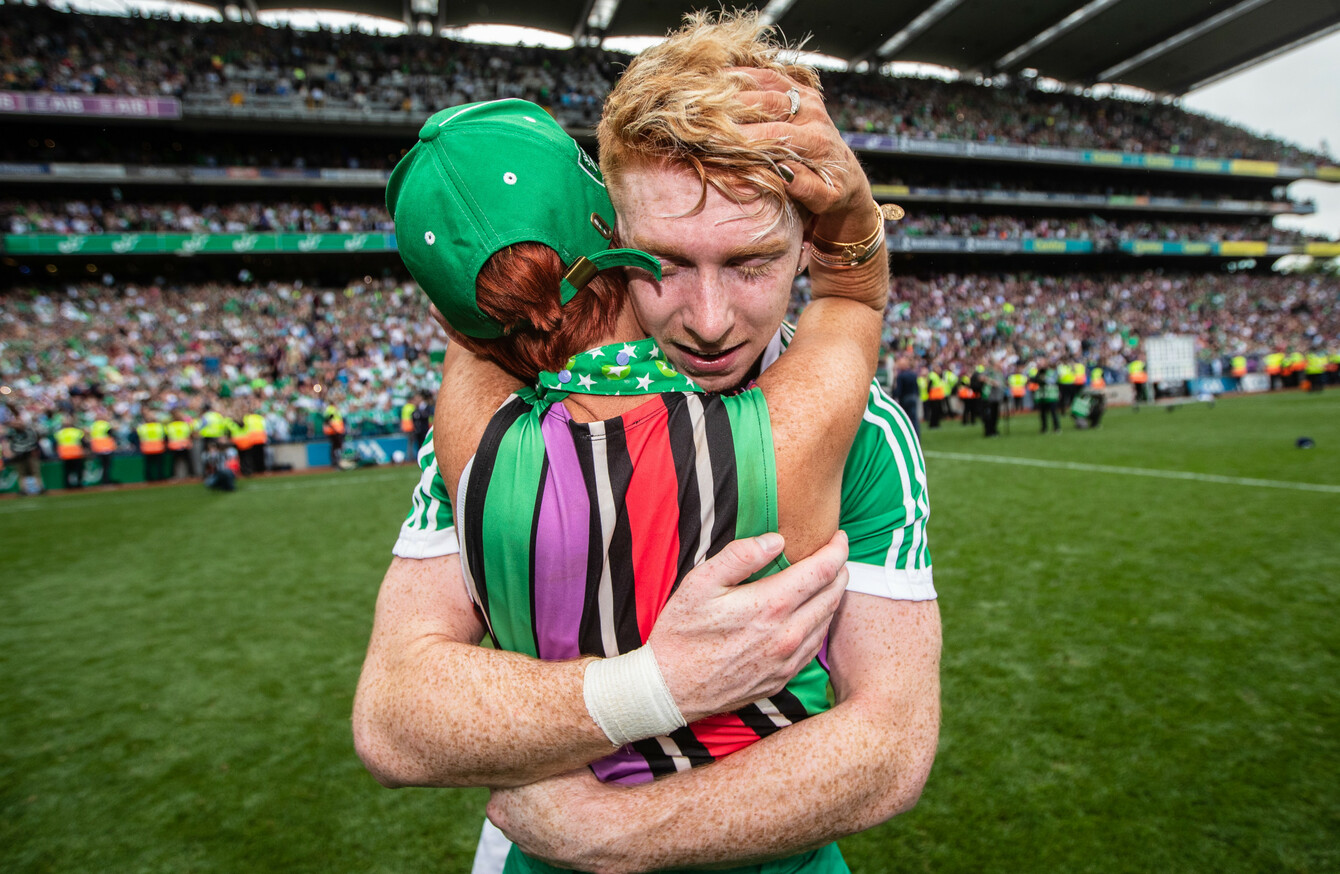 Cian Lynch with his mother Valerie after yesterday's game.
Image: James Crombie/INPHO
Cian Lynch with his mother Valerie after yesterday's game.
Image: James Crombie/INPHO
WHEN LIMERICK'S MOMENT of hurling deliverance finally arrived, Cian Lynch didn't expect to be celebrating on the pitch with someone so close to him.
As he tried to steady himself amidst the waves of emotion engulfing him after Limerick had landed the Liam MacCarthy Cup after 45 years, Lynch was taken aback by the sight of his mother Valerie racing onto the Croke Park turf.
"The minute the whistle went, I was kind of overwhelmed, even trying to get your breath," reflected Lynch at the Citywest Hotel this morning.
"Sure lads hopped the old fence. My own mother hopped the old fence. I just turned around, she grabbed me. I put my head on her shoulders. I took a deep breath and I realised, we actually got over the line.
"I don't know how she did it. Valerie now, where there's a will, there's a way with her. That's when I kind of gathered it. I don't know how she was still on the pitch. I was waiting for someone to rugby tackle her to the ground. There's stewards still looking for her.
"The last 10 minutes there was crazy. You're going from eight or nine points up to only being a point up. It shows what it means to family, friends and the people close to you. Even walking around after the game, seeing people crying in the crowd.
"45 years is a long time and for Limerick being such a sporting county, being such a hurling county, to see the pride that it's after bringing back. This evening now going back home, it's going to bring that auld thing in your belly, that feeling, the butterflies. I'd say a lot of them feel that this evening. It's going to make it real."
Family is a strong element of Lynch's life and his hurling endeavours. He's relied on that support structure after tough moments as a Limerick hurler, deeply appreciative of the sanctuary they have offered.
He was not the only family member to grace the Croke Park surface yesterday. His uncle Ciarán Carey, one of Limerick's most celebrated hurlers and a figure closely identified with those days when the All-Ireland breakthrough eluded them, was honoured before the game for his playing exploits in the 90s.
"I didn't see him last night but he gave me a text after the game alright, in fairness to him.
"Sure with all the old hype, you won't meet your family properly I'd say until the end of the week. In fairness it's the good and the bad days when you get the old text from the uncles and the aunts there. You've more bad days than good days, that's when you appreciate the old text more so.
"It's huge. Sure even Gary and Ciarán I think were presented with the Team of the 90s yesterday. It's huge (with) Patrickswell down through the years, what a lot of them have done.
"Even that team of the 90s and early 2000s there, even the 80s and 70s to go through careers like and not get over the line and knocking on the door, for them, a lot of this is for them.
"What they've done and they've instilled in with a lot of us advice and guidance they've showed us. There's not a man in Limerick not happy today."
As part of the Limerick group on the pitch for this seismic feat, Lynch will be applauded for his role. But for the 22-year-old, this success could be attributed to the senior members that have helped shape him as a hurler.
"I met Nickie (Quaid) straight away too after. You know he's been around that Limerick team since '08 and '09, Seamus Hickey and a lot of the lads as well.
"The work they've put in down through the years is just phenomenal. Even Seamus Hickey in 2007, I remember I was only 11 years of age up in Croke Park watching him. He was my hero, my idol and the dream was to play with Seamus Hickey. What he's done for me over the last four years as a role model and as a man. He's someone you can pick up the phone to and ring any time of day.
"He's that person, who'll put an arm on your shoulder and say keep going, keep driving on. For him I think this is actually what he deserves, what he's put in to Limerick hurling. 11 years, he is Limerick hurling what he's done. He's set the bar for all of us, his discipline and his mentality. It kind of puts the icing on the cake for him.
"I remember I was on it four years ago and there was only myself and Tom Morrissey, the only two 18-year-olds in at the time. The next oldest person I think was David Reidy so there was an old three or four year gap between us.
"I remember the older lads like Tom Condon, even Donal O'Grady, Wayne Mc, Seamus Hickey, Paul Browne, all them kind of welcomed us in. Even to this day if they're not playing, if they don't make the panels, they're there and put the arm on the shoulder and give us words of advice.
"Even Mike Casey would be saying that Richie McCarthy is in his ear the whole time, telling him, giving him words of advice and guide him. That's what you need. It's a panel game now and everyone is as important as the next man."
The experience of waking up on a Monday morning as an All-Ireland senior hurling champion was one Lynch particularly savoured. As a youngster he had witnessed those giddy post-match scenes as the sense of achievement sinks in.
"It's surreal still, even talking to people there. Last night in bed like, turning and twisting, I didn't know what was going on really.
"To come down this morning and still see people with Limerick jerseys on, you kind of dream of these kind of days. When I was younger, myself, my brother and my father used to go to All-Ireland finals.
"We'd come here after for the homecomings. If it was Kilkenny, I remember we used to be standing at the door, see Henry Shefflin or DJ Carey walk in the door.
"You dream of being that person walking in and the Limerick crowd, family and friends walking you in. Driving in on the bus last night, I don't know I kind of got that feeling, when I was looking down at kids and thinking when I was their age, I was looking at my heroes coming in, walking into the Citywest Hotel.
"It just puts it all into perspective. We actually got over the line and got the monkey off the back. getting over that hurdle that's been in our way for a long time. It's after opening a lot of valves and lot of airwaves for a lot of people, which is huge.
"The thing is now I know this is great, we'll enjoy this but the next few years (is about) staying up the top and keeping Limerick hurling where it needs to be."