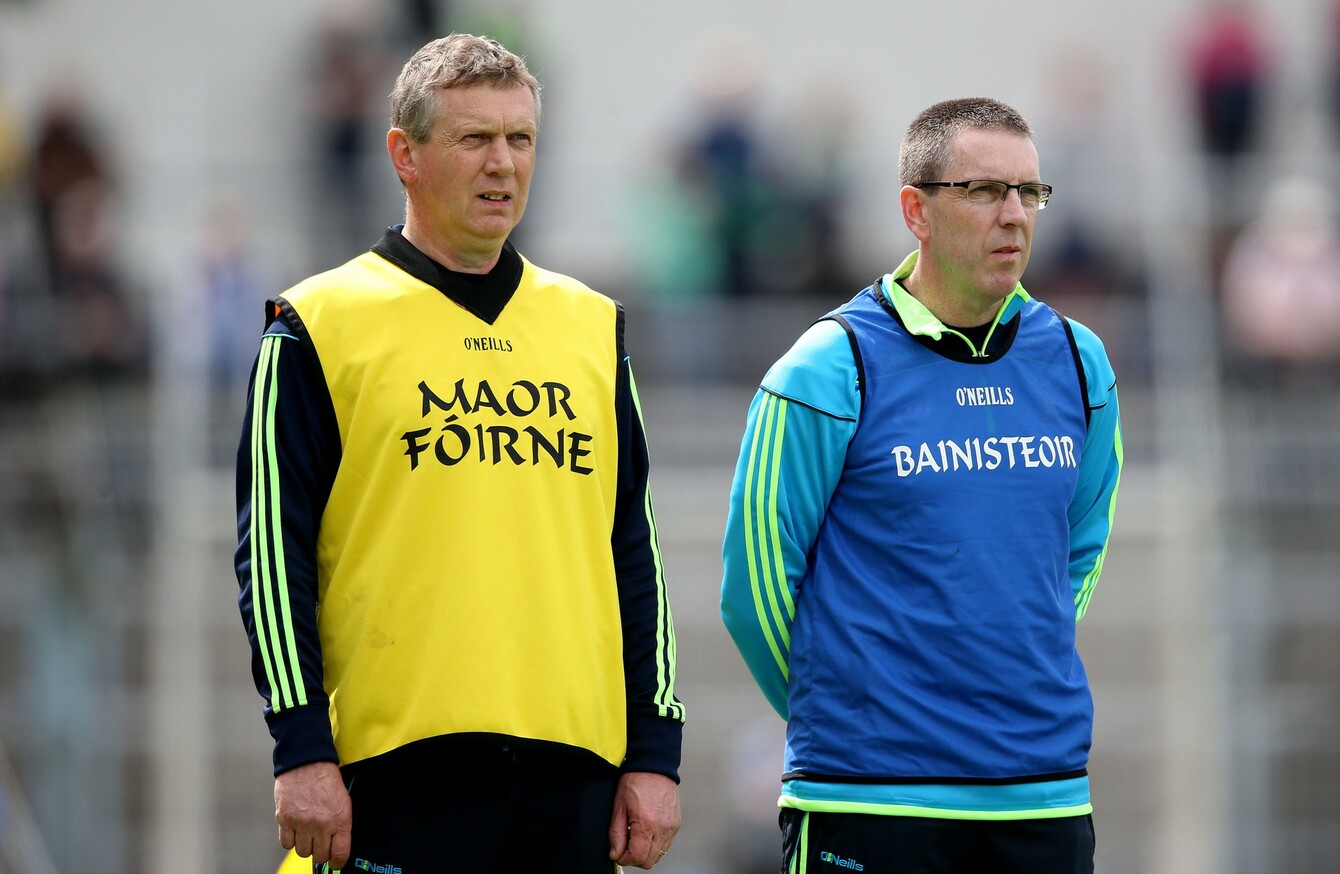 Clare joint managers Donal Moloney and Gerry O'Connor.
Image: Cathal Noonan/INPHO
Clare joint managers Donal Moloney and Gerry O'Connor.
Image: Cathal Noonan/INPHO
IN GERRY O'CONNOR'S mind this particular hurling narrative begins on Wednesday 5 May 2010.
And that was the night it could easily have ended as well, all their dreams scuppered in Cusack Park.
But Tony Kelly stood up and supplied a booming point from downtown that settled that Munster minor hurling playoff in Clare's favour against Tipperary.
It proved the springboard towards unimaginable riches in the underage grades for the managerial partnership of O'Connor from Killanena and Donal Moloney from Scarriff.
They won the Munster minor title that summer and retained it the following year. The province was ruled with an iron first at U21 level between 2012 and 2014, All-Ireland crowns collected every September in those campaigns as well.
With eight underage titles with Clare on their CV, now O'Connor and Moloney are set for their first steps into the arena on Munster senior final day.
"The reality is we would never be in this position only for Tony Kelly won that puckout," recalls O'Connor on an evening in Caherlohan as the Clare squad are limbering up for training.
"He'll tell me to this day that he did look but I know he didn't look. He just hit it over his shoulder and it went over the bar.
"We shouldn't have been in a position to be over the Clare minors in 2010 because we did such a bad job in 2009. But I think there was a reluctance again for anyone else to take up the job.
"So we got it again in 2010 but we knew we had to change something. We went about bringing in a really top class strength and conditioning coach. We found that in Paul Kinnerk but we also found out that he was a top class hurling coach.
"We prepared like no other Clare minor team did in 2010, went down to Waterford and promptly fell asunder and were beaten by six or seven points. Came back up and played Kerry, I think it was actually down in Ennis, beat them.
"It was three games in the space of seven or eight days. That game against Tipperary we had dominated from the start to finish, probably because I would say there was a small bit of complacency on Tipperary's part because certainly they probably wouldn't have seen us as any major threat but we stumbled over the line.
"This group of players trained unbelievably. That was the one thing we learned from the previous year, you had to train right through the Leaving Cert, despite players parents thinking otherwise.
"We bought the guys gloves, we did everything we could maybe to convince players there wasn't going to be much contact. We definitely convinced their parents, there wasn't going to be much contact. We got over the line against Waterford.
"But this journey started that night in Cusack Park against Tipperary and Tony Kelly's point."
Now the low-key, composed and intelligent stewardship of the duo sees Clare hurling fans dreaming of an end to their 19-year wait for their senior captain to hoist silverware on Munster final day.
There is plenty intrigue in how O'Connor and Moloney conduct their business. The GAA history books are littered with tales of joint partnerships that failed.
In their case, it works smoothly. They know no other way.
"The reason that it works is we actually wouldn't be able to do the job if we didn't do it the way we do it," says O'Connor.
"We've busy professional lives. We don't spend enough time in each other's company to have a row, that's probably the key difference.
"But we've got used to each other. We're two cranky East Clare farmers sons, we understand our strengths and weaknesses.
"I'm being a bit flippant there. But really the reason this works is we don't look at ourselves as joint managers, we've got seven guys in the management team and we manage through consensus.
"So that's ultimately why this is a success. Everybody has a very clear and specific role. Once they actually understand their role and deliver on that role, it works really well."
O'Connor has no shortage of demands off the pitch. His professional life sees him work for Mincon, a company based in Shannon but who require O'Connor to spend plenty times in the skies.
"Look it I've a very understanding boss first of all, a Canadian guy Bob Fassl. He started to take an interest in hurling since he moved here.
"I don't think he really appreciated or anticipated the amount of time that was involved when I first had that discussion with him. But ultimately you see, we train on a Tuesday night and we train on a Friday.
"So the window for travel is you possibly leave Caherlohan at ten o'clock on a Tuesday evening and you drive to Dublin airport, stay up in one of the hotels beside the airport and you fly out first thing Wednesday morning.
"You do whatever business you have to do in Europe and you fly back in on Friday and you're back down here for training on Friday night.
"That might sound very challenging but those hours on a plane and those hours in a car give you an opportunity to actually think and to talk to people as well.
"Look it this is what we've always wanted. If you've any competitive streak in you, once you get involved in inter-county at underage level, you want to see can you actually get to the pinnacle of management within Clare."
Not that the journey to here has been carefully plotted out from the start. O'Connor is not a marquee name from his playing days and he didn't set out a deliberate target for himself in management.
"I've certainly been the most accidental coach or manager that you've ever met. I stopped hurling, I finished up playing Junior B and I bought myself a set of golf clubs, which are rusting by the way at the moment.
"I would have to loved to actually play more, because it's a game that really challenges me. I love the game but I just don't get to play it often enough.
"I played hurling all my life with Killanena but my club is Éire Óg because that's where my kids grew up and that's where they actually started going.
"In a real moment of weakness, I gave out to a guy called Jim Cooney one evening that things weren't going as well as I thought they should have been.
"He said he'd sort it and he hauled me into Éire Óg to look after what was the U8′s at the time. That was back in 1998. The rest is where we are.
"It's a strange story because at the time I got involved reluctantly I'l be perfectly honest with you."
From the outset of the 2017 campaign, Clare funnelled all their energies into Thurles on 4 June. Beat Limerick that day and they knew the season would open up in an inviting fashion.
"We're a very unproven product a this level," says O'Connor.
"Ultimately we felt that what was going to define us as a management team for the year and what we were going to be judged on was the actual Munster semi-final.
"We're in a competitive world. I get judged on results at work, Donal gets judged on results at work. Donal Óg gets judged on results.
"So why would it be any different to shy away from that mentality in hurling? Rightly or wrongly as a group we agreed that the players record in Munster wasn't fantastic over the last few years and we set about rectifying that.
"We spoke about it. We publicly and privately flagged it as a major gain for us because the opportunity was huge and the prize was massive."
Another prize is on offer tomorrow. The unlikely joint manager partnership has the chance to strike another blow for Clare hurling.
The42 is on Instagram! Tap the button below on your phone to follow us!