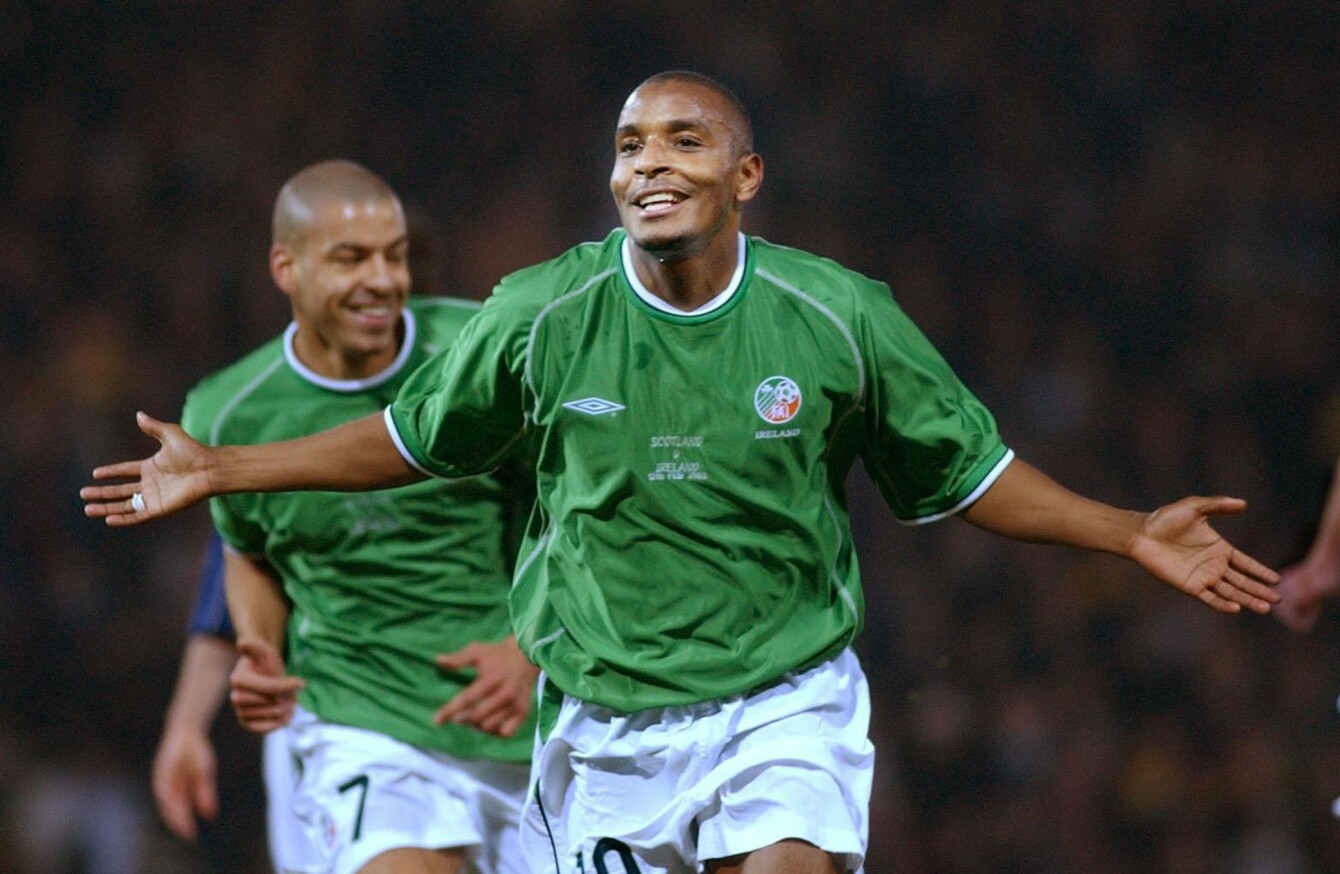 Clinton Morrison celebrates a goal for Ireland against Scotland in 2003
Image: PA Archive/Press Association Images
Clinton Morrison celebrates a goal for Ireland against Scotland in 2003
Image: PA Archive/Press Association Images
AT 36-YEARS-OLD, Clinton Morrison is still going strong.
The former Ireland striker will be part of the Exeter squad that hosts Liverpool at St James Park (nicknamed 'the Shed') in the FA Cup this evening and he is now a long way from the skinny teenager who scored off the bench in Palace's last Premier League match of the 1997-98 campaign on his senior debut.
The veteran forward has mixed memories of playing the Reds. In 2002, he scored a last-minute goal to earn Birmingham a 2-2 draw with Liverpool at Anfield.
Morrison was also part of the Crystal Palace team that faced Liverpool over two legs in the 2001 League Cup semi-final.
The first leg at Selhurst Park went well, with Palace winning 2-1 and Morrison scoring his side's second goal. After the match, Morrison appeared to mock the misfiring opposition strikers Michael Owen and Emile Heskey, who had wasted a number of good chances, with the then-21-year-old telling reporters: "I would have put at least two of them away."
Gerard Houllier, the Liverpool manager at the time, was incensed by Morrison's remarks, despite the striker since insisting they were said in a "tongue-in-cheek" fashion.
If you spit in the air it sometimes comes back on you," the French coach said. "We are grateful for his advice on scoring goals, but if there is one domain in which it is not a good idea to try giving lessons to others it is football."
And Houllier's warning proved prophetic — not only did Liverpool win the second leg 5-0, but Morrison missed a gilt-edged chance during the match, much to the delight of the Anfield crowd, who had not forgotten his provocative comments after the first leg.
Morrison did, however, gain partial revenge on Liverpool, during his second spell at Palace in 2005, as he was part of the team that defeated a Reds side that featured Steven Gerrard and Fernando Morientes to advance to the last 16 in the League Cup.
But in contrast with his younger self, Morrison is very respectful of the current injury-ravaged Liverpool side and chooses his words carefully when asked to assess his Exeter team's chances tonight.
"You've got to be excited for a game as big as this with Liverpool coming to town," he tells The42. "It's a great opportunity for fans and players and the management to test themselves against the best.
"I think you have to go into any game thinking you can win. Liverpool are a top-quality team. They've got a few injuries, but they've enough quality to cause us major problems. There's a big gulf in class.
"But we've got good footballers and we can play good football, so it should be an entertaining game.
"You've got to enjoy it and hope that when you cross that line, you're better than your opponent on the day and you get through to the next round."
Before joining Exeter on non-contract terms in 2014, Morrison had fallen out of love with football.
After leaving Colchester in May 2014, the striker found himself in semi-retirement, combining occasional games for Long Eaton United in the Midland League with media work.
But the Football League came calling again the following November. He ran into Exeter player and fellow veteran Matt Oakley at a party for Derby goalkeeper Lee Grant. The 38-year-old ex-Southampton midfielder urged Morrison to make a comeback and join Exeter in League Two.
Matt Oakley said 'do I fancy it'. I said I didn't really fancy it, 'I'm not really liking football at the minute,'" Morrison recalls. "But obviously, I came down and trained and really enjoyed it, and the rest is history."
Since signing for the club halfway through last season, Morrison has been improving gradually. While he appears from the bench more often than not and is expecting no more than a "cameo role" against Liverpool tonight, he has scored twice this season (having not managed a single goal the previous year) and the experienced striker also has more assists than any other player in the team. Back in October, he caught the eye with one of his efforts in particular — an acrobatic bicycle kick (see below) that belied his veteran status, in the process ending a 50-game goal drought in style.
"I'd like to get more game time, but I appreciate at my age, you're not going to play every match," he admits. "But playing against teams like Liverpool is good for everyone."
Source: FootballHighlights/YouTube
Morrison's improving form and commitment to the cause resulted in him signing a new contract recently, which will ensure he stays at Exeter until the end of the season.
"I had to speak to the family because I'm away from them, but I think it's the best thing, as long as I'm still enjoying football," he says, adding that he had become "bored" with life at home prior to joining the club.
Despite Exeter currently finding themselves in 16th position in League Two, Morrison remains hopeful that with 22 games remaining, they can launch a late bid for the play-off spots, from which the side are currently nine points adrift.
"I think we've still got a great chance (of promotion), but we're on a slippery run in the league, so I think this FA Cup tie has come at the right time… We've a lot of teams in and around us to play, so if we go on a run of form, we can get back up there."
Needless to say, Morrison has already thought extensively about life after retirement and he plans on doing his coaching badges in Ireland next summer.
I'll have maybe one more season of football and that'll probably be it for me. But I look back on my career with great memories, so I'm happy about that."
Indeed, Morrison can be proud of what he achieved. In over 700 appearances at senior level, he has managed just under 200 goals. His best days undoubtedly came at Crystal Palace. He scored 113 goals for the Eagles and is their joint-fourth highest scorer of all time — not bad for a humble south London boy who grew up on a council estate.
One particularly memorable season saw him score 22 goals in 45 games for Palace when he was still just 22, earning him a relatively big-money £4.25 million move to Premier League outfit Birmingham, for whom he played alongside the likes of World Cup winner Christophe Dugarry and former Ireland captain Kenny Cunningham.
Source: Marie Godbeer/YouTube
Yet despite many memorable moments during a distinguished club career, Morrison cites playing for Ireland as the "highlight" of his time as a footballer, having qualified to play for the Boys in Green through his Dublin-born grandmother.
In 36 appearances, Morrison scored nine goals for Ireland — as many as Roy Keane, Liam Brady and Jon Walters — meaning he ranks joint 13th on the country's list of highest goalscorers.
It was brilliant playing for Ireland, it was the best," he says. "I would have scored much more goals if it wasn't for Steve Staunton not picking me for whatever reason. To this day, that still hurts. But it was the best moment in my career playing football — putting on that green jersey. Every time I put on that jersey I just felt I would score goals and the buzz I would get off the fans was brilliant.
"Obviously, Steve Staunton had his way and wanted to change it. I don't think I deserved to be dropped… I thought I should have still been in the squad as I was still in the Championship and scoring goals, so it was disappointing. But with managers, if they say your name doesn't fit, it doesn't fit, and my name didn't fit."
Morrison admits he found the step up to international level "tough," but the transition was made easier by the quality players around him, with the likes of Damien Duff and Robbie Keane offering plenty of creativity to the Boys in Green at the time.
I thought: 'I'm lucky to be here,' it was hard to get into the squad, let alone the first 11, but I got my head down and managed to do that. I had some great times and I loved every moment of it."
The best form of Morrison's career and a season in which he hit 20-plus goals in the Championship (or the 'First Division' as it was known then) happened to coincide with the onset of the 2002 World Cup. Consequently, it was no surprise when Morrison, who had just turned 23, was included in Mick McCarthy's final squad for the tournament.
A relative rookie at the time, Morrison observed the infamous Saipan debacle and all the drama that ensued in close quarters.
"That was crazy," he remembers. "It was an experience. I was a young kid. We were without Roy Keane obviously, but still did really well. Obviously, it would have been better if Roy was there, but we moved on. The experience of just being there and training with such quality players was amazing. For me, as a young boy, coming from what I've come through to be part of that was just brilliant."
And was Keane as intimidating to be around at the time as seemed to be the case from the outside?
Nah, he was alright. He was just scary, he had that look, but when you actually get to talk to him and get to know him, he's fine. I spoke to him quite a lot when I was playing with him, you could ask him anything. He'd have his days where he'd have his moods, but Roy is Roy and I don't think you can change him. That's just how he is."
Without Keane, the Irish side defied expectations, reaching the last-16 before being knocked out by Spain on penalties. With Ireland needing a goal in normal time and Ian Harte struggling with an injury, Mick McCarthy decided to bring a striker off the bench to provide the team with added goal threat. Despite Morrison being in the form of his life, McCarthy gave the nod to the more experienced David Connolly, who proceeded to miss a decent half chance as well as a penalty. So for all the team achieved, for Morrison, the experience was bittersweet.
"I always remember Hartey had the penalty (in normal time) and if there was anyone you fancied to score a penalty, it was him. The goalie made a good save. We could have obviously gone on and won that game, so it was disappointing to lose on penalties, but it was a credit to get that far and take Spain all the way to penalties."
Morrison still watches the Irish team regularly these days, and he was one of a number of ex-Ireland internationals at the Aviva Stadium back in November to see the side secure their Euro 2016 qualification against Bosnia.
When asked to compare the current team with the 2002 side, he says McCarthy's men's "experience" and greater options up front gives them the edge, but also praises the "young and vibrant" current crop. And there is one player in particular Morrison singles out for praise.
Robbie Keane's coming to the twilight of his career. But I still think he'll score goals and when he's gone, he'll be sorely missed, because his record's unbelievable. I don't think people appreciate Robbie and what he's done, his ability and how many goals he's scored — his record's second to none."
So regardless of an upbringing in Tooting, Morrison will always be an Irish fan at heart and notwithstanding a career featuring many notable achievements, scoring on his Ireland debut against Croatia is a memory he cherishes more than most. It's therefore no surprise that the striker, with his perennial cheeky grin and eye for goal, took little time to endear himself to the Irish sporting public, despite private concerns to the contrary.
"That (Croatia goal) was amazing, because coming over from England, you think: 'Will I be accepted?' But I was accepted straightaway, so I couldn't really complain. It was brilliant — every time I put on that green jersey, I just felt part of the country."