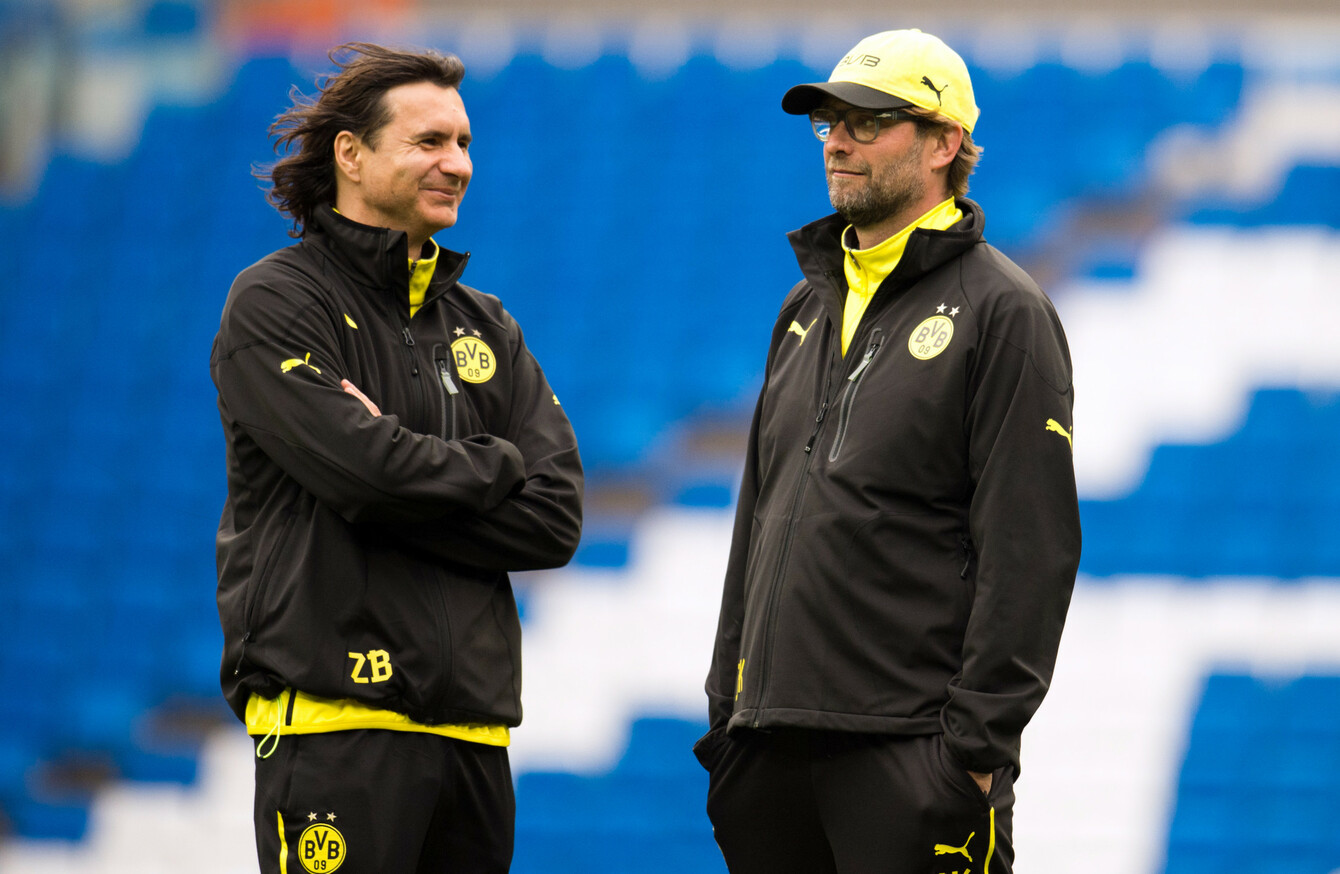 Klopp and Buvac during their Dortmund days.
Image: DPA/PA Images
Klopp and Buvac during their Dortmund days.
Image: DPA/PA Images
IRELAND WOMEN'S TEAM head coach Colin Bell has spent much of his life in Germany.
Having been on the books at Leicester City, the English defender moved to VfL Hamm as a 20-year-old, and followed that up with two seasons playing at FSV Mainz 05.
After retiring, he became reserve boss of the German outfit in 2001 — the same year Jurgen Klopp took the first-team job.
During that spell, Bell got to know Klopp and his right-hand man Zeljko Buvac. While he would go on to become a hugely-successful manager in the women's game — winning the Champions League with FFC Frankfurt — his former colleagues claimed a couple of Bundesliga titles with Borussia Dortmund before arriving at Liverpool in 2015.
This week, it was announced that Bosnian-Serb Buvac was stepping away from the Reds for personal reasons, just days before the Champions League semi-final second leg against Roma.
While he can't shed any light on the specifics of the split, Bell is hopeful that the duo will be reunited again in the future.
"We worked together for 5 years," said Bell. "Kloppo took over in February 2001, he saved the team [Mainz] from going down. In the 2001/2002 season, he brought Zeljko Buvac in with him and they did a fantastic job.
Zeljko is a football expert, he knows the game inside out, and is a fantastic coach. I haven't any inside information on what's happened. The timing is very suspect: Every journalist and fan will be asking 'Why now?'
"I just hope for both of them, whatever it is, that they get back together. They are a very strong team, they've been together so much. When Kloppo took over, that first full season they were in a promotion place the whole season, and on the last day of the season, they lost to Union Berlin and didn't get promoted to the Bundesliga. The same happened the following season [when Mainz won on the final day of the season but missed out on promotion on goal difference].
"So in those first two seasons, when you're looking for your biggest success and it becomes a nightmare situation, but they got through it. We were then promoted to the Bundesliga for the first time a year later. They took that Mainz philosophy to Dortmund, and they didn't just win the league twice at Dortmund — they annihilated all around them. And they are having success now at Liverpool."
Some reports have linked Buvac with the Arsenal job as Arsene Wenger is departing the Gunners this summer, but Bell can't see it.
"Never, I could not imagine that," he added. "He is a fantastic coach. You should never say never in football, but he is such a quiet and reserved person. He doesn't want that limelight. He is a fantastic guy and a fantastic coach, but I just couldn't imagine it. But you never know."
Republic of Ireland managers Martin O'Neill and Colin Bell were speaking at the launch of the 2018 SportsDirect FAI Summer Soccer Schools. Bookings open now at www.summersoccerschools.ie 
The42 is on Instagram! Tap the button below on your phone to follow us!