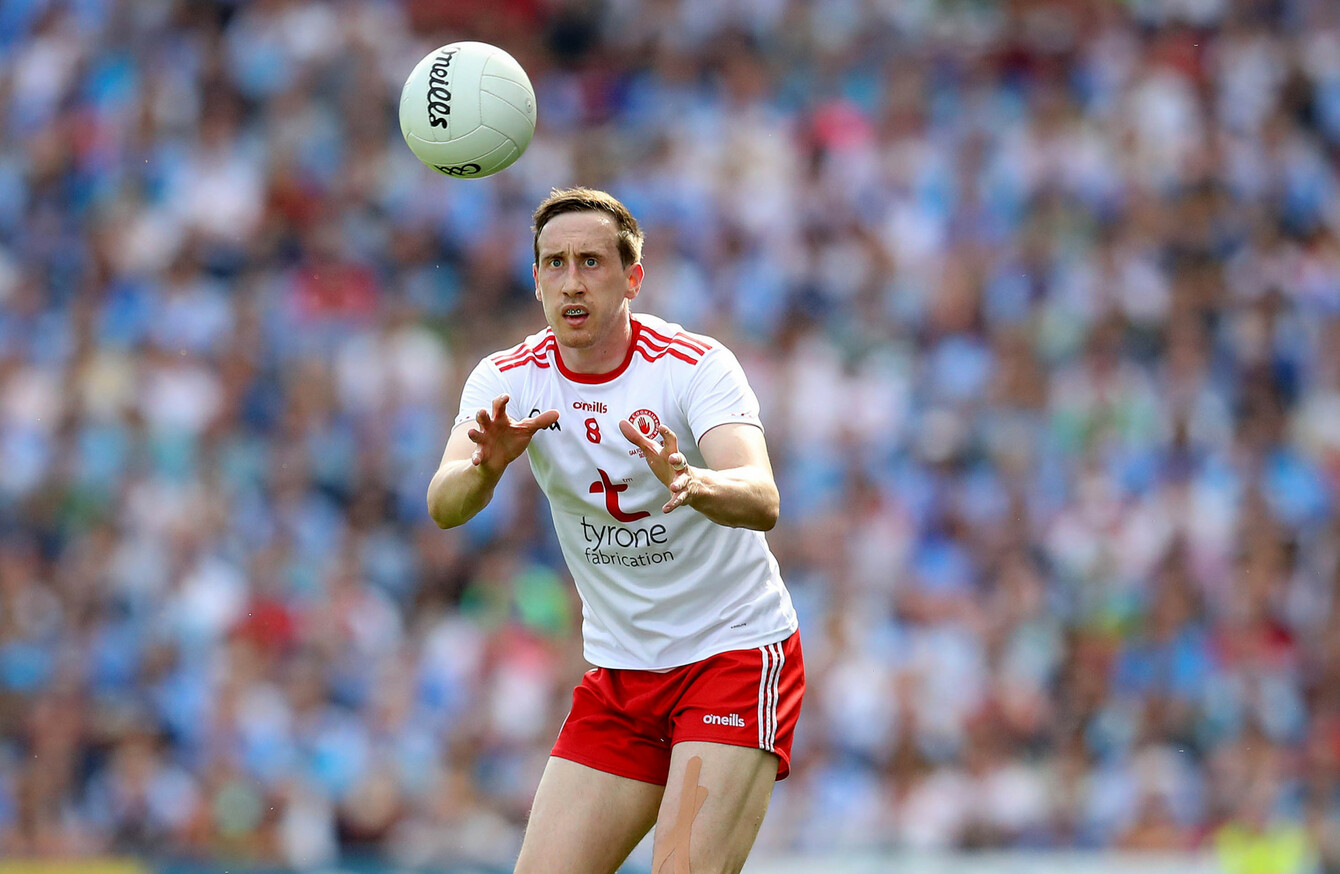 Colm Cavanagh has been involved in the Tyrone squad since 2007.
Image: Ryan Byrne/INPHO
Colm Cavanagh has been involved in the Tyrone squad since 2007.
Image: Ryan Byrne/INPHO
HE HAS 11 seasons done now with the Tyrone footballers, was an established pillar on the team that contested this year's All-Ireland final and has picked up two consecutive All-Star awards.
Yet before reaching his current peak, Colm Cavanagh experienced the difficult days as he sought to establish himself. He is mindful of that struggle in the early part of his Tyrone career as he withstood criticism and attempted to create his own Gaelic football identity as his older brother Sean starred on sides managed by Mickey Harte.
"I came into a team that was quite successful and had all the household names but, to be fair, I was probably unlucky. In 2007 I started the first few championship games for Tyrone and that was my first year, at full-forward. I got injured, carried off in the first game and rolled my ankle in the second game.
"2008 was similar, I started the first day up against Down and then I rolled my ankle again and was out until Westmeath up in Omagh where I dislocated my shoulder and I was out then until the All-Ireland semi-final. My early years were a bit bothersome.
"It took me a few years to probably nail it. I probably took plenty of flak in the early stages with Tyrone. It wouldn't have been social media, it would have been message boards at the time and I would have been well aware of that.
"In one way I have to appreciate that Mickey did stick with me the whole time because he obviously seen something there and it took a wee bit of time to tease out. I've a lot to be thankful for for that because I've seen the other side, I've seen the early stages of not doing so well and getting a wee bit of criticism, 'Oh he's only on now because Sean's there'. I've seen that side of it."
 
"It actually made me want to prove them wrong, like. I'm a stubborn enough sort of guy. Maybe in a way it sort of helped me in that I was going 'I see what you are writing about me and I don't like it. I'll show you down the line.'
"That was the curiosity of me. I've no problem now reading criticism or reading good things. I'm thick-skinned, I can take it. But yeah I would have went looking for it and said 'that's fine, I'll read that and deal with it.'
 
"It did annoy me but at the same token I read it and didn't say 'oh this is really getting to me.' I'd just go 'you know what I'm away to the gym here or down to the pitch here and get to where I need to be.' It's just having that focussed determined head on me during all them years.
"Don't get me wrong, you read stuff and you do feel a wee bit disappointed that people are writing it but a lot of the times the people who do write those negative things aren't sporting people themselves, in a way."
Cavanagh is content with his form over the past few years as he has grown in stature in the Tyrone ranks. His versatility is reflected in the various sectors of the pitch he operates in and his selection at full-back on the 2018 All-Star side.
"I sort of found a wee bit of a decent role in that sort of sweeper type thing. The last number of years I've been happy playing and I feel I've been playing good football and sort of taking on more of a leadership role.
"I think football has moved on from direct positions. I do see myself as a midfielder. I have tried to add more attacking, I scored more I think this year than I did last year.
"The picking process (for the All-Stars) is probably at a stage where it's very hard for people to do in that people are playing in every position. You see Conor McManus back defending at corner-back for a lot of the game so it's difficult to put people in their spots.
"That's just historically the way the process has went and obviously there'll be some grumbles with it with people but ultimately from a player, that's sort of irrelevant. You could say Drew Wylie who had a very good year at full-back could be saying 'well I could have got that very easily.' It's a hard process to establish."
The semi-final victory over Monaghan was marked by a crucial late intervention from Cavanagh when he dispossessed attacker Jack McCarron. He feels his tackling technique has improved over the years and recognises the excellence of Dublin in that department of the game.
"I was probably a reckless enough tackler (when he was younger). I was all blood and thunder, not very much coached. The game has evolved and people are very much focused on fine details.
"I probably refer back to the Dublin lads because they are up there. You watch the way they tackle. I love basketball and I believe they have had a basketball coach with them at some stage and the way they tackle and back off you.
"They are obviously coached to a very fine element because they very rarely will foul you unless they need to. The way they are coached to stand off, get the hand in and get back out again and try and do that, I love that. I think that's brilliant.
"Obviously, I have watched Jack (McCarron) playing. I knew he was going to for that bounce pass to go past you. It would have been very easy to stand off him and he potentially could have rolled me.
"Gone are the days of just going out and playing as hard as you can. Doesn't exist any more. There is that much footage out there so you are analysing players and teams and patterns and how people are playing. What foot they are with? You have to know that someone has a dummy or someone is going to try and step inside you and that's the time to get him. That's the way the game is gone."
2019 will see Cavanagh back committing to the Tyrone cause as they set out with the rest of the chasing pack in an attempt to catch Dublin.
"Dublin are still out in front. Everyone's in the chasing pack behind and I'd be totally honest about that. If any team has any ambitions of catching Dublin at the minute, we're going to have to do something different. There's not too many teams that look like beating them at the minute.
"But a new season brings new hopes and styles and everything will change. Mickey will be looking to bring in a few lads I'd imagine this year. There's a lot of good lads coming through the Tyrone club scene and hopefully that will shake things up a wee bit."
Subscribe to our new podcast, Heineken Rugby Weekly on The42, here: