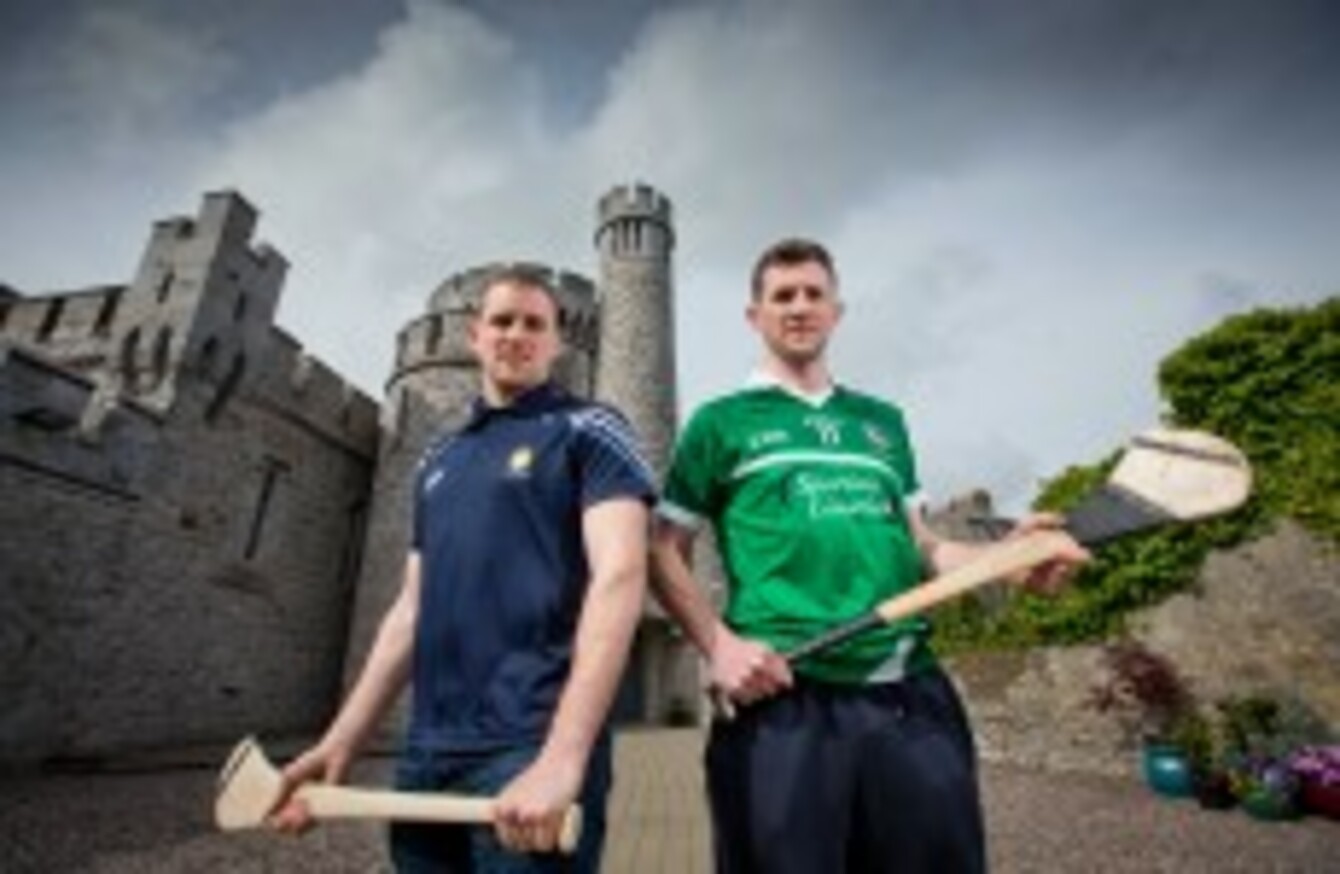 Colin Ryan of Clare and Donal O'Grady of Limerick at the launch of the 2015 Munster championship.
Image: Morgan Treacy/INPHO
Colin Ryan of Clare and Donal O'Grady of Limerick at the launch of the 2015 Munster championship.
Image: Morgan Treacy/INPHO
COLIN RYAN HAS no qualms about team-mate Colm Galvin uprooting this summer and jetting off for the United States.
Ryan feels that young players should go off and enjoy themselves rather than sticking around to play hurling all summer and ultimately regretting not broadening their horizons.
Clare face Limerick in the Munster quarter-final on Sunday in what is a highly anticipated opening game in this year's provincial championship. They will be without their All-Ireland winning midfielder but Ryan insists it was the right decision on his part.
"If someone could throw him out of America we'd take him back. He's young and when these lads come onto the scene so young, it's hard for them to devote every hour they have to hurling, when they could turn around at thirty and say, 'I've never been to America'" he said.
Worst thing
"We wish him well. The worst thing he could do would be not to go if he wanted to, staying around would be worse in that case. Only time will tell how he gets on but if he comes back he'd welcomed back in."
Ryan believes that Galvin is the only one of the group at the moment that was yearning to go on a J1 as most of the younger hurlers are happy to stay around.
"The young lads, the likes of Tony Kelly, they're as happy not to go (to America). I'd say to them to go and live their lives, it's not the end of the world. There's life after hurling and there's life before hurling. You must make the decision that's right for yourself."
Clare had a disappointing league campaign, ultimately falling to relegation at the hands of Kilkenny in a play-off. The wing-forward feels that the Banner men perhaps took the league too seriously and put too much pressure on themselves to perform.
"We took it upon ourselves to take the league really seriously, to try our best, and it might have been in our best interests to lighten off a small bit, but we didn't. Decisions were made and we were all happy with them at the time."
The league campaign for Clare was about more than just their performances on the field as Davy Fitzgerald and members of the squad were embroiled in controversy for a number of weeks due to Nicky O'Connell and Davy O'Halloran leaving the panel.
O'Connell has since apologised and rejoined the squad and Ryan says that there is no bad blood between him and Fitzgerald.
"Things were said, things were done and we're happy to move forward as a group. Nicky's a great lad. He came back, Davy's as fair as anything — he offered to take him back and he came back with no qualms. He's worked his way back in and there's nothing to say Nicky won't see action against Limerick."
Clare will look to bounce back from last year's poor championship campaign in which they failed to win a game.
"We don't want Biddy Early spells to go on that long again. We're fierce proud, and with the U21′s coming along and being successful, it's great to see," he said.