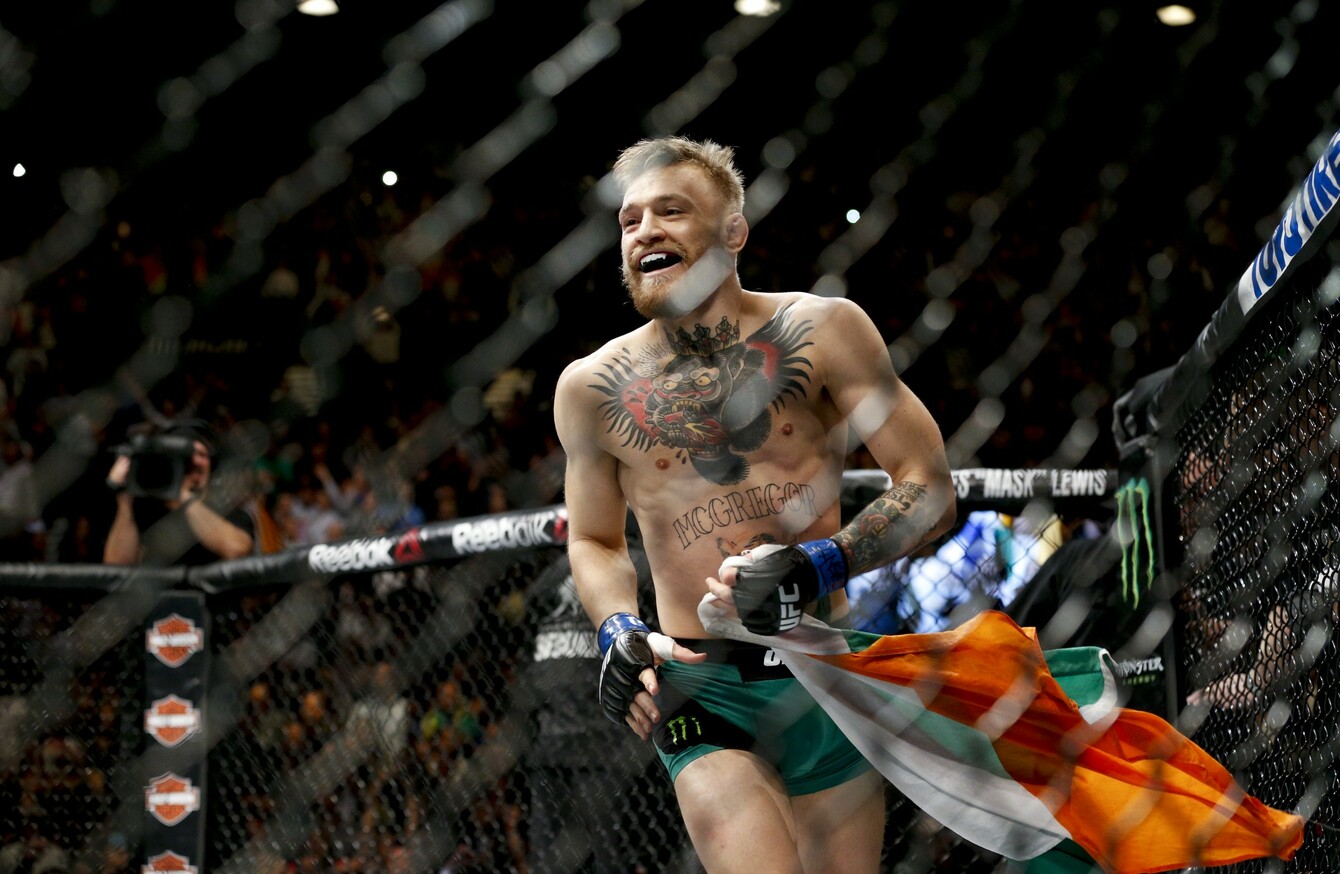 Image: John Locher
Image: John Locher
Conor McGregor revealed that he has bigger campaigns on the horizon beyond winning a UFC belt at another weight division. It prompted Dave O Keefe to read between the lines, has The Notorious got his eyes on Áras an Uachtaráin?
When's Michael D's term up?
With Eamon Dunphy's criticism of Barcelona's two-touch penalty still ringing in Aidan Baird's ears, he took a page out of the RTÉ pundit's book after seeing this stunning free-kick from the Malaysian Super League.
Enough of this bolloxology!! the swerve he put on that ball was disrespectfull to the opposition.
It's Sigerson Cup final weekend and Pat Mangan has serious respect for these third-level athletes.
Premier League players whinge about two games in 4 days. These lads will play two in 2 days and take more hits than you'd find in iTunes. #HardyMen
Former Ireland international Paddy Kenny has joined Rotherham United and William Joyce felt the latest image of the goalkeeper was far from flattering.
Looks like he enjoyed his time off over Xmas
Manny Pacquiao was widely condemned for saying homosexuals are "worse than animals". "Do you see animals mating with the same sex?" the Filipino boxer queried.
Andrea Rock Massey was quick to answer the important question.
Do you see animals mating with the same sex? Em, yes actually! My brother had 2 male dogs that were always at it for God's sake!! And I highly doubt they were the only ones.
Former Australia cricket star Shane Warne was bitten on the head by an anaconda in a Down Under version of 'Im a Celebrity …'. Richard Cynical couldn't help but point out the snake had bitten off more than it could chew when it comes the leg-spinner's ego.
there isn't a snake alive able to swallow his big head.
Obafemi Martins became the latest high-profile name to join the Chinese Super League and suspicions around his date of birth haven't been forgotten by conex.
A now , sure that lad must be in his late 40s by now .