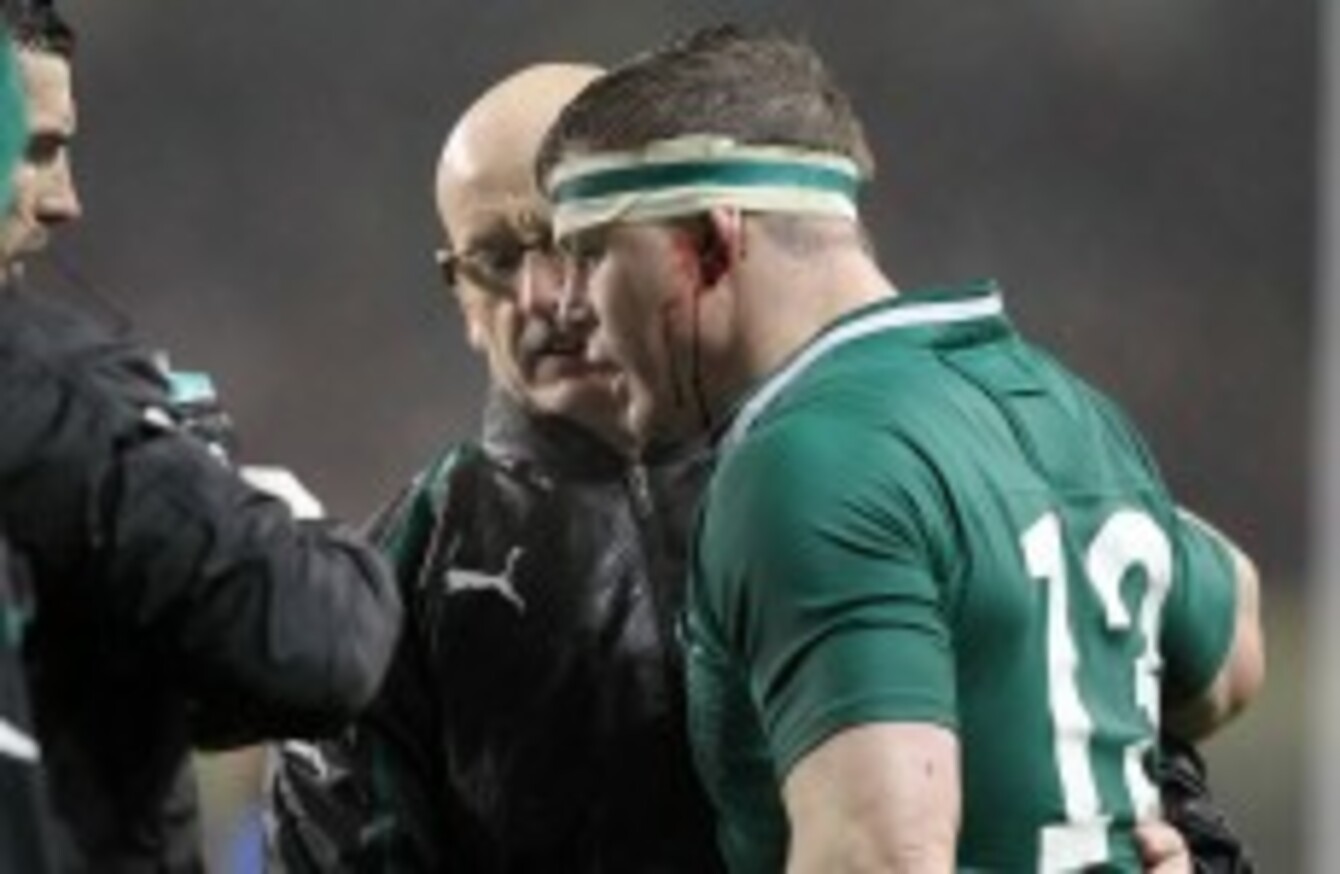 Brian O'Driscoll gets medical assistance after a suspected concussion against France in March.
Image: INPHO/Colm O'Neill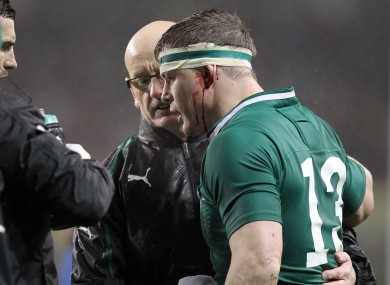 Brian O'Driscoll gets medical assistance after a suspected concussion against France in March.
Image: INPHO/Colm O'Neill
THE IRFU LAUNCHED a new guideline for recognition, treatment and return to play protocols for players with suspected concussion.
While the guidelines are intended for the amateur game [IRB guidelines remain in place for professionals], they are a clear sign that concussion has climbed the list of priorities in the game. Brian O'Driscoll's failure to return to action against New Zealand last month was a decision made by Ireland's medical team. Although the country's highest try-scorer was eager to return to the field, he accepted that the correct decision had been made.
TheScore.ie spoke with four players about their experiences with concussion and asked about changes needed within the sport.
Jean de Villiers
"I played a Super Rugby game and did not know I was concussed. It only became clear after the match. Someone had to tell me exactly what happened.
It was against the Cheetahs in Blomfontein. I played out the rest of the game and did cross the tryline but it was not awarded. It was quite funny, weird, to watch the game back. I watched it on TV the following day and could not remember any of it. I didn't play the following week and missed the weekend after too."
The Springbok captain and former Munster player was "gutted" for O'Driscoll that he will hang up his rugby boots next year having not defeated the All Blacks. He did, however, agree with the decision to withdraw the legendary centre from play after he suffered a suspected concussion.
De Villiers said, "Players always want to remain on the pitch but it is much better for them if someone else makes the decision. For the decision to be taken out of Brian's hands was the best thing for him. Being healthy is the most important thing because players will have a long life after rugby. The thought must always be about player welfare because, if you don't look after that, the long-term effects could be disastrous."
Gavin Hastings
With five minutes to play of the second Lions Test, against Australia, in 1989, Gavin Hastings took a bouncing pass from his brother, Scott, handed off David Campese and scored. The four-pointer put the Lions ahead for the first time and there would be no looking back. The try was perhaps the most important of the Scottish fullback's career but it is also one he could tell you the least about.
YouTube credit: ARU TV
"At the time, I was concussed," said Hastings. "Nick Farr Jones caught me with a punch before half-time and I don't remember any of the second-half. What I can recall is the physic coming on at the time and telling me 'If you come off the field now, you'll be going home on a plane on Monday'. I told him I could play on.
Be part
of the team
Access exclusive podcasts, interviews and analysis with a monthly or annual membership.
Become a Member
"I was talking to the press guys in a pack after the match and told them I would need to see a replay of the score as the details were sketchy. Truth be told, I had absolutely no recollection of scoring that try."
Scott Gibbs
The Welsh centre partnered Jeremy Guscott in the Lions midfield for a midweek game against Canterbury in 1993. The Englishman recalls his telepathic link with Gibbs and believes that is why they were selected together against the Springboks four years later. Gibbs' memories of the game are sketchy.
"We won in the end [28-10] but I don't remember much of it as I was heavily concussed. I took an open handed smack to the face, right under my nose. There was no half-time break back then so I can just remember standing in the middle of the huddle in a daze. I didn't know who I was, I didn't know where I was and I didn't know what was going on.
I looked up and saw the crowd and the scoreboard and then looked at my jersey. I was thinking 'Oh my God, I'm in a Lions jersey'. I started looking around the huddle and thought 'Wow, there's Rob Andrew, there's Jason Leonard, there's Jeremy Guscott'.
I was hoping the ball wouldn't come my way in the second-half but, of course, that's always when it does. I made a simple line bust and a feed, and Jeremy made a 60 yard burst. That got me back into it."
Bernard Jackman
Part of a statement the former Leinster and Ireland hooker Bernard Jackman (now coach of Grenoble), gave to Acquired Brain Injury Ireland in 2011: "There's a culture in rugby where concussion isn't taken as seriously as it should be by the players – in training when someone is left reeling, other players often joke and laugh about it."
Jackman believes he suffered about 20 concussions in his rugby career. INPHO/Ryan Byrne
He added, "Like most of the other front-line forwards I kept this information to myself as much as possible. Forwards like me get a bang, get dizzy and spend two or three minutes trying to get our senses back together.
"It's scary losing balance for a while like that but, after you get enough concussions you get used to it, and you enter a strange place called 'self-denial'. You accept that this is a normal, somewhat acceptable, part of your working life. The headaches. The sickness which follows. You know you have to get on with it. It's work."
Speaking to TheScore.ie this week, Jackman commented, "Education is huge; making people aware of concussion. There's a lot more talk about it in the media and that's a good thing."